Open Access This article is
freely available
re-usable
Article
Cyclic Competition and Percolation in Grouping Predator-Prey Populations
1
Instituto de Física, Universidade Federal do Rio Grande do Sul, CP 15051, 91501-970 Porto Alegre RS, Brazil
2
Normale Supérieure, International Center of Fundamental Physics, 45 Rue d'Ulm, 75005 Paris, France
*
Author to whom correspondence should be addressed.
Academic Editor: Attila Szolnoki
Received: 8 December 2016 / Accepted: 17 January 2017 / Published: 2 February 2017
Abstract
:
We study, within the framework of game theory, the properties of a spatially distributed population of both predators and preys that may hunt or defend themselves either isolatedly or in group. Specifically, we show that the properties of the spatial Lett-Auger-Gaillard model, when different strategies coexist, can be understood through the geometric behavior of clusters involving four effective strategies competing cyclically, without neutral states. Moreover, the existence of strong finite-size effects, a form of the survival of the weakest effect, is related to a percolation crossover. These results may be generic and of relevance to other bimatrix games.
1. Introduction
Cyclic dominance is an important mechanism underlying the coexistence of competing species or strategies in several different contexts [
1
,
2
]. When one or more intransitive loops are present in the effective flux graph that contains information on how those species interact, the hierarchy introduced by other transitive loops may be attenuated, enhancing the conditions for the persistent survival of several species. The simplest, one loop example is the Rock-Paper-Scissors (RPS) game in which all three species have one prey and one predator each. Generalizations with more than three species may have more overlapping loops, some of which may be transitive, and introduce asymmetries and heterogeneities. When interacting with an odd number of other species, the symmetry between preys and predators is broken. Not only the number of preys and predators may be different, but this may change from one species to the other, one having more preys while other, more predators. As a consequence of this non-homogeneity, the flux graph is not invariant upon a permutation of labels. In addition to those games in which cyclic dominance is explicitly included in the flux graph, in some cases it may emerge from the payoff matrix. One example is three-strategies games with optional participation: Although not explicit in the payoff matrix, dominance emerges in the presence of these agents that do not follow the rules of the game and prefer, instead, to earn a smaller payoff [
3
]. Another scenario in which cyclic dominance appears is among preys and predators choosing, respectively, their hunt and defense strategy while trying to outcompete each other [
4
]. Predators may attack in a cooperative, coordinated way, with their actions being correlated in space and time [
5
]. There are several examples of such group hunting, including lions [
6
,
7
,
8
,
9
], hawks [
10
], crocodiles [
11
], spiders [
12
,
13
], and several other species [
5
]. Interspecies collaborations exist as well: Fishermen and dolphins in the south of Brazil [
14
,
15
] or honey-hunters and honey-guides in Mozambique [
16
], among others [
17
]). Group hunting may improve the capability of capturing a large prey [
18
], defending the carcass from other predators [
19
], spotting and chasing preys [
20
], etc. In opposition, there may be costs as well: Resources should be shared between members of the group, searches focus on a smaller territory, etc. Grouping tactics may also benefit preys [
21
] by improving: Surveillance [
22
,
23
,
24
], hiding [
25
,
26
], distraction [
27
], intimidation, etc. On the other hand, a group of preys may be more easily spotted than an isolated one and the resources should be shared by all members [
28
,
29
].
Game theory and the replicator equation [
1
,
30
,
31
,
32
] were used to model coordinated hunting by Lett et al. [
33
] in a fully mixed system. The number of preys and predators were assumed constant but the fractions of each population using either an individual or collective strategy could vary (see also Refs. [
34
,
35
]). The main hypothesis is that grouping, for preys, lowers their risk of being preyed but increases the competition for resources, while predators have a greater probability of success at the expense of having to share the prey with others, sometimes referred to as the "many-eyes, many mouths" trade off [
28
,
29
]. Recently, Cazaubiel et al. [
4
] revisited the model and proposed a spatial version with local interactions and binary strategies, unveiling the mechanism underlying the stability of the coexistence phase. In this version, all predators in site
i
may form a single group () or hunt independently (), while the preys have a similar behavior (). Thus, the four possible combinations for each site are (): 00, 01, 10 and 11. Interestingly, these strategies obey cyclic dominance relations leading to persistent coexistence for a broad set of parameters [
4
]. This behavior is reminiscent of the generalizations of the RPS game with more than three species [
1
,
2
].
In this paper we further explore the spatial version of the model by quantifying some geometrical and percolative properties of the clusters formed by the above four strategies. When neighboring sites have the same strategy (for both
x
and
y
), we say they belong to the same geometrical cluster. Once a cluster spans the whole system, it is said to percolate. Whether or not such percolating clusters exist for a given finite-size realization of the system will have a strong role in its dynamics. In particular, the existence of a size dependent percolation crossover helps to understand, as a realization of the survival of the weakest principle [
36
], the strong finite-size effects presented by the model.
4. Discussion
Predators and preys, as a consequence of their continuous struggle for survival, may develop complex foraging and defense strategies. In this paper we explored the mechanisms sustaining the coexistence of individual and collective strategies used by spatially distributed populations of hunters and preys using the model introduced by Lett et al. [
33
]. In particular, agents not only form local groups (in each site) but these groups organize on larger scales forming clusters whose percolative properties seem relevant for the persistent coexistence in finite systems. This organization, that initially may be located in space and have short duration in time, can eventually unfold into more complex forms of sociability [
41
,
42
,
43
].
A further extension, that is related to the interesting phenomena caused by the change of the flux graph within the parameter space, is to consider spatially heterogeneous cyclic competition models, in which different regions of the system (or different agents) may play following different graphs. This may be relevant in complex landscapes where the prey-predator relations may change, or even be reversed [
44
], depending under which conditions the competitors interact. Another point to be explored in the future is the connection of this model with physical and chemical models presenting a transition between an active, coexistence steady state and an absorbing state (the Ziff-Gulari-Barshad [
45
] is an example, among many others [
46
]).
Acknowledgments
AC thanks the IF-UFRGS for the hospitality and the ENS-Paris for partial support during her stay in Porto Alegre. AFL is partially supported by a CNPq PhD grant. JJA thanks the INCT Sistemas Complexos and the Brazilian agencies CNPq, Fapergs and CAPES for partial support.
Author Contributions
J.A. conceived and designed the study; A.L. and A.C. performed the simulations; A.L., A.C. and J.A. analyzed the data; J.A. wrote the paper.
Conflicts of Interest
The authors declare no conflict of interest.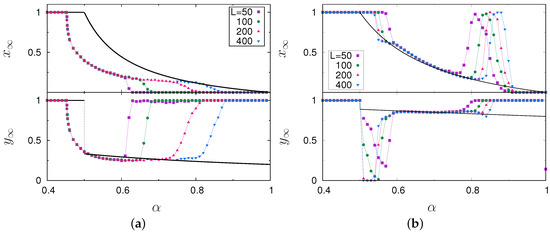 Figure 1.
Asymptotic fraction of the population of predators hunting (respectively, preys defending) collectively, and , for [
4
] (
a
) and 0.6 (
b
) as a function of
α
. The expected behavior from the replicator Equations (
3
)–(4), solid lines, is that the larger
α
is, the less efficient predators become because preys are grouped. The results on a two dimensional lattice (symbols) differ from that.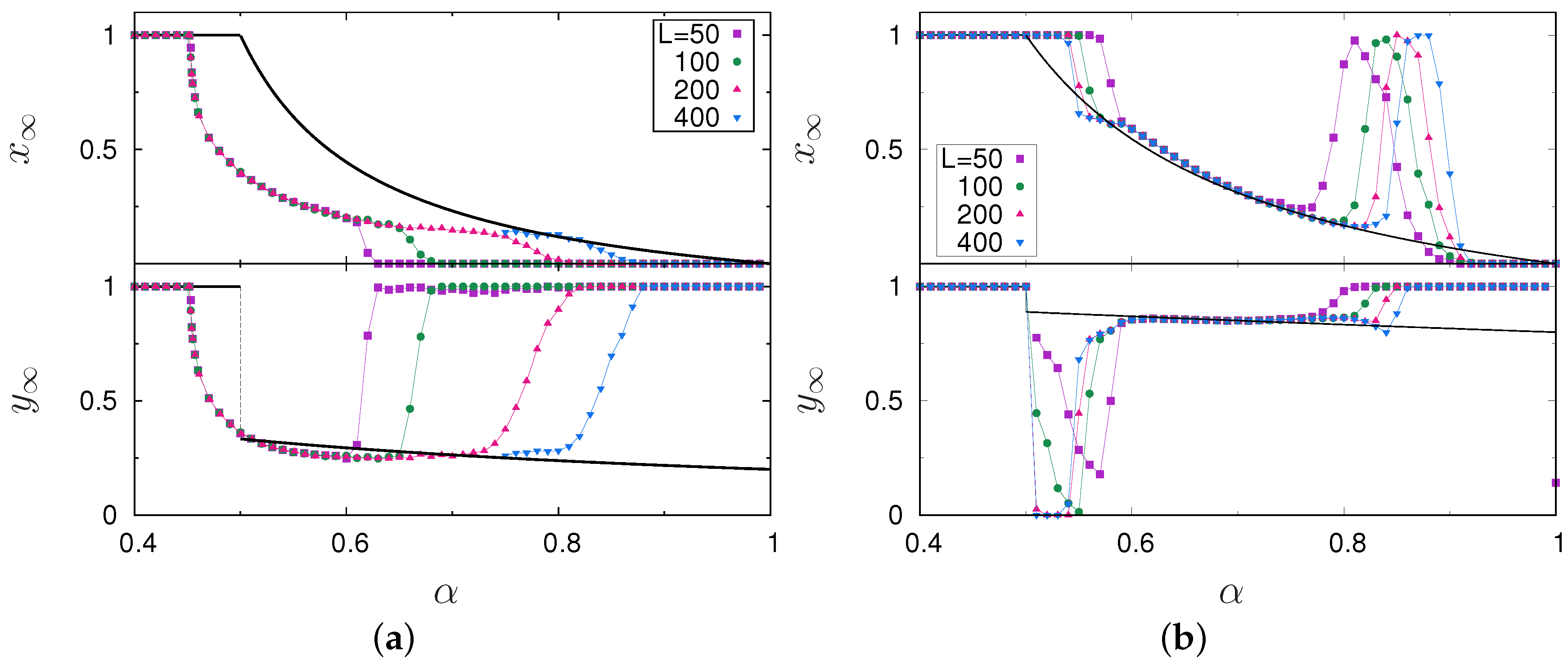 Figure 2. Snapshots of the combined strategy for (a-c) and 0.6 (d-f) with, from left to right, , 0.7 and 0.8.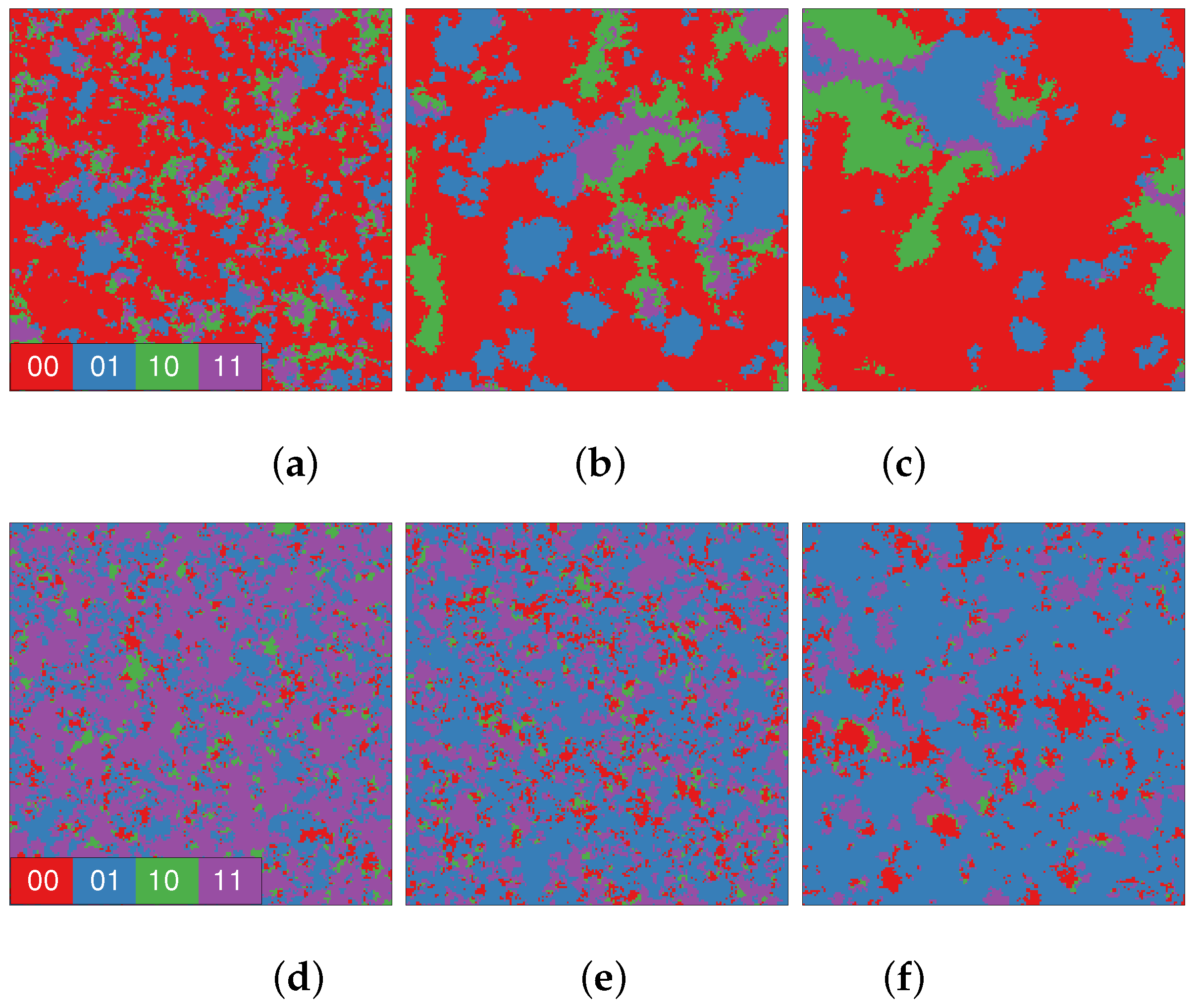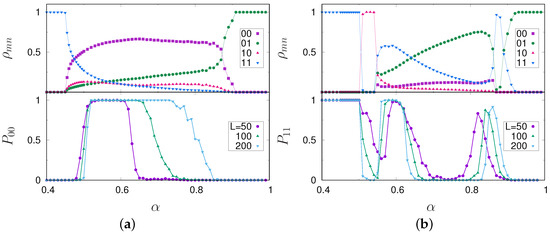 Figure 3.
Asymptotic value of , with and (
a
) and 0.6 (
b
), as a function of
α
, for . The percolation probability for the relevant cluster for each
β
, (
a
) and (
b
), and several system sizes are also shown.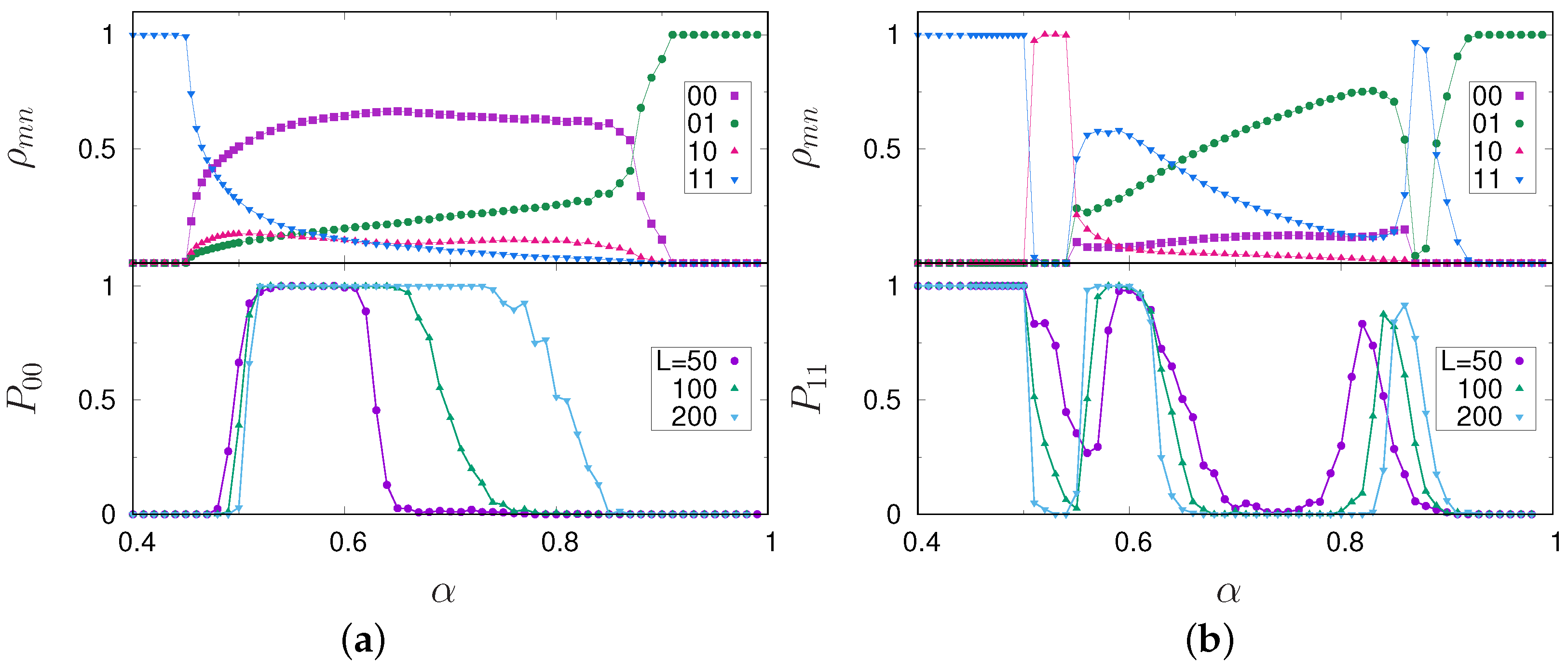 Figure 4.
Examples of flux graphs showing the direction of invasions for some values of
α
and
β
, the difference being the orientation of the diagonals, 01-10 and 00-11, invasions. Notice that there are no neutral strategies, although the invasions along the diagonals are not direct and involve the creation of the intermediate strategies.


© 2017 by the authors; licensee MDPI, Basel, Switzerland. This article is an open access article distributed under the terms and conditions of the Creative Commons Attribution (CC BY) license (http://creativecommons.org/licenses/by/4.0/).