Open Access This article is
freely available
re-usable
Review
Liver Cancer: Molecular Characterization, Clonal Evolution and Cancer Stem Cells
Department of Hematology, Oncology and Molecular Medicine, Istituto Superiore di Sanità, Rome 00141, Italy
*
Author to whom correspondence should be addressed.
Received: 17 August 2017 / Accepted: 15 September 2017 / Published: 20 September 2017
Abstract
:
Liver cancer is the second most common cause of cancer-related death. The major forms of primary liver cancer are hepatocellular carcinoma (HCC) and intrahepatic cholangiocarcinoma (iCCA). Both these tumors develop against a background of cirrhotic liver, non-alcoholic fatty liver disease, chronic liver damage and fibrosis. HCC is a heterogeneous disease which usually develops within liver cirrhosis related to various etiologies: hepatitis B virus (HBV) infection (frequent in Asia and Africa), hepatitis C virus (HCV), chronic alcohol abuse, or metabolic syndrome (frequent in Western countries). In cirrhosis, hepatocarcinogenesis is a multi-step process where pre-cancerous dysplastic macronodules transform progressively into HCC. The patterns of genomic alterations observed in these tumors were recently identified and were instrumental for the identification of potential targeted therapies that could improve patient care. Liver cancer stem cells are a small subset of undifferentiated liver tumor cells, responsible for cancer initiation, metastasis, relapse and chemoresistance, enriched and isolated according to immunophenotypic and functional properties: cell surface proteins (CD133, CD90, CD44, EpCAM, OV-6, CD13, CD24, DLK1, α2δ1, ICAM-1 and CD47); the functional markers corresponding to side population, high aldehyde dehydrogenase (ALDH) activity and autofluorescence. The identification and definition of liver cancer stem cells requires both immunophenotypic and functional properties.
Keywords:
hepatocellular carcinoma; cholangiocarcinoma; cirrhosis; hepatitis; hepatic adenoma; hepatic dysplastic nodules; cancer stem cells; tumor xenotrasplantation assay; gene sequencing
1. Introduction
Liver cancer is one of the major cause of cancer-related death in the world; in fact, this malignancy is the second most common cause of cancer-related death and its incidence and mortality rates are increasing [
1
,
2
,
3
]. It was estimated that about 700,000 deaths worldwide annually are related to this cancer. In the United States liver cancer is the neoplasm with the greatest increase in mortality during the past two decades. Primary liver cancers comprise a group of aggressive tumors, characterized by a consistent ethnic, etiological and geographical diversity. The major forms of primary liver cancer are hepatocellular carcinoma (HCC) and intrahepatic cholangiocarcinoma (iCCA). Both these tumors develop against a background of cirrhotic liver, non-alcoholic fatty liver disease and chronic liver damage and fibrosis. In addition, there are two rare malignant liver tumors occurring in adolescence—hepatoblastoma and fibrolamellar carcinoma—both developing in a non-cirrhotic liver. HCC is one of the cancers whose incidence and mortality increase in the world at the fastest rate, is more frequent in males (male/female ratio of about 3–5/1) and in Africa and Asia than in Europe. The major risk factors for this cancer are represented by infection with hepatitis B virus, chronic hepatitis C virus infection, alcoholic liver disease and non-alcoholic fatty liver disease and metabolic disorders, such as hemochromatosis [
1
,
2
,
3
]. iCCA is the second most common form of primary liver cancer, whose incidence and worldwide mortality are also increasing. This tumor also displays consistent racial and ethnic differences, with the highest incidence observed in Hispanic and Asian ethnicities. Risk factors for development of iCCA include primary sclerosing cholangitis, biliary duct cystis, hepatolithiasis and parasitic biliary infestations with flukes. Furthermore, shared risk factors with HCC represented by HCV and HBV [
1
,
2
,
3
].
Although HCC and iCCA are related to different etiological agents, both these primary liver cancers are strictly linked in their development to chronic liver damage, whereby a chronic liver disease causes a constant liver cell damage, resulting in a high cell turnover, a condition favoring the occurrence of errors related to the chronic repair processes. Because of these chronic reparation processes, the hepatic microenvironment is markedly altered, resulting in the generation of an oncogenic microenvironment, creating a pro-oncogenic milieu and thus promoting liver cell transformation.
Curative therapies are possible only for early-stage tumors and consist in resection, local ablation or liver transplantation [
2
]. At more advanced stages, no curative treatments are available and only chemoembolization or treatment with the multikinase inhibitor sorafenib (Nexavar
®
) have shown some benefits in terms of patient survival [
2
].
Cellular and molecular studies have shown that adult hepatocytes are the cells of origin ol liver tumors, with different possible pathways of hepatocarcinogenesis: these cells directly transform into HCC through the progressive acquisition of specific genetic alterations or de-differentiate into hepatocyte precursor cells which transform to HCC following the acquisition of genetic alterations or transdifferentiate into cells of the biliary lineage, whose malignant transformation generates iCCA [
3
].
In this review, we summarize the current understanding of the biology of liver cancers, moving from the study of genetic alterations, to the analysis of tumor heterogeneity and clonal evolution, and, finally, to the studies on the identification and characterization of cells initiating and maintaining these tumors.
2. Genetic Abnormalities in Liver Cancer
The observed intratumor heterogeneity in tumor livers has major implications for diagnosis and therapy of HCC. In fact, the observed intra-tumorigenic heterogeneity has wide implications in HCC therapy because the different clonal subpopulations within a single tumor may exhibit a differential sensitivity to drugs and may be responsible at large extent for drug resistance.
Hepatoblastoma (HB) is the most common pediatric liver malignancy: it accounts for about 1% of all pediatric tumors and about 100 new cases are diagnosed each year in the United States. HBs form a heterogeneous group of liver tumors originated from hepatoblasts, rapidly proliferation hepatic progenitor cells that in the developing liver give rise to mature hepatocyte and biliary cell progenies. HBs derive from the uncontrolled expansion of hepatoblasts arrested at various stages of differentiation. At histological level, HBs are classified as either wholly epithelial (about 65%) or mixed epithelial/mesenchymal tumors (about 35%), with a predominant epithelial component represented by embryonal and fetal hepatoblasts.
3. Molecular Classification of HCCs
4. Cell Origin of Liver Cancer
Many studies carried out in these last years have attempted to define the cellular elements whose malignant transformation generates liver cancers. Three distinct cellular elements are present in adult liver: hepatocytes and adult stem and progenitor cells, known as oval cells.
In conclusion, all these studies have underlined the high plasticity of resident adult hepatocyte and ductal liver populations. Thus, diploid hepatocytes, differentiated parenchymal cells and various populations of stem/progenitor cells have all been contributed to time homeostasis under steady-state and regeneration conditions.
5. Liver Cancer Stem Cells
6. Conclusions
Both HCC and CCA are genetically and biologically heterogeneous. The marked inter-tumor heterogeneity of HCC and CCA is attributed to the presence of multiple, different etiologies, such as infectious agents, like HBV, HCV and parasitic infections or chemical factors. Furthermore, other risk factors, such as dietary factors, cigarette smoking and excessive alcohol intake, favor the development of these tumors. HCC accounts for 90% of liver cancer in the world, and HBV and HCV are its major causative agents, while CCA is rare, with exception of South-East Asia, where liver fluke infection is endemic and CCA incidence accounts for 70% of all liver cancer cases. Importantly, the presence of causative agents, such as parasitic infection, affects the genetic alterations observed in CCAs.
In the last two decades, there have been enormous progresses in our understanding of the cellular and molecular basis of liver cancers. NGS-based studies have provided evidence on the genes that are more frequently altered in the various liver cancer, providing evidence about the complexity and the specificity of these alterations. These studies have shown that in consequence of these genetic and epigenetic alterations, some signaling pathways are activated and their activation plays a functional role in hepatocarcinogenesis, as supported by functional studies. The combination of cellular and molecular studies led to the development of in vivo lineage tracing experiments that have in part clarified the cellular origin of liver cancers, showing an unexpected plasticity of mature hepatocytes. In addition to mature hepatocytes, also hepatic progenitors may be involved in the genesis of various liver cancers.
The molecular studies led to the identification of three subsets of HCCs and two subsets of CCAs that can be distinguished according to genetic alterations, gene expression and methylation profiles to categories such as: (i) proliferation-progenitor, proliferation-transforming growth factor β and Wnt-catenin β1 for HCC; (ii) proliferation and inflammation for CCA. Furthermore, integrated genomic studies have led to the identification in HCCs of potential therapeutic targets for which inhibitors exist, including WNT signaling, MDM4, MET, VEGFA, MCL1, TERT and immune check proteins CTLA-4, PD-1 and PD-L1. Potential therapeutic targets for iCCAs are IDH1 and IDH2, MET, FGFR2, VEGF and its receptors and MEK 1 and MEK2.
In a future perspective, an integrated omics approach, combining and correlating genomics, epigenomics, transcriptomics, proteomics and metabolomics data, will provide a key to better define tumor heterogeneity and to identify cancer drivers and to define optimized individualized multitarget therapies for HCC and iCCA patients.
The definition of tumor heterogeneity in each patient is of fundamental importance because it will allow to define trunk mutations and branch mutations: trunk mutations promote tumor progression and should be the first targets of molecular therapies. Furthermore, it will be important to perform studies with a patient enrichment strategy, based on biomarkers that predict the response. This conclusion is supported by the observation that the two systemic therapies the improve survival in patients with HCC in first-line (sorafenib) and second-line (regorafenib − Stivarga®) regimens have been tested in patient populations enrolled according to any selection strategy [
183
,
184
]. Interestingly, meta-analysis of two studies analyzing the effect of sorafenib on the OS of HCC patients with unresectable tumors showed that significantly greater OS sorafenib benefit versus placebo was observed in patients without extrahepatic spread, with hepatitis C and with a lower neutrophil to lymphocyte ratio [
185
].
It is interesting to note that the importance of molecular studies is fundamental not only for the definition of the genetic alterations associated with liver cancer development, but also for the definition of the risk of developing HCC in the context of cirrhotic liver. In fact, a recent study, based on the transcriptomic meta-analysis of >500 human cirrhotic livers, showed the existence of regulatory gene modules driving HCC risk and the existence of the lysophosphatidic acid pathway as a central chemoprevention target [
186
].
Acknowledgments
The Italian Health Ministery supported the Ugo Testa for his studies on cancer stem cells through the "Programma Oncotecnologico". I am grateful to Istituto Superiore di Sanità, Rome, Italy, to have provided to us access to scientific journal databases.
Conflicts of Interest
The authors have no any conflict of interest to declare.

Figure 1.
Main genetic alterations (gene mutations, gene deletions and amplifications) observed in HCC patients of multiethnic origin. The data are reprinted from a recent study of the cancer Genome Atlas Network [
5
] and are derived from a study based on the analysis of 363 patients.


Figure 2.
Frequent somatic alterations observed in cholangiocarcinoma (CCA). The data were reported by the TCGA in 38 CCA patients [
29
]. The altered genes were subdivided into different groups according to their function.

Figure 3.
Frequently mutated genes in CCAs, subdivided into fluke-positive and fluke-negative patients. The data were based on the analysis of 489 CCAs and were reprinted from Jusakul et al. [
34
].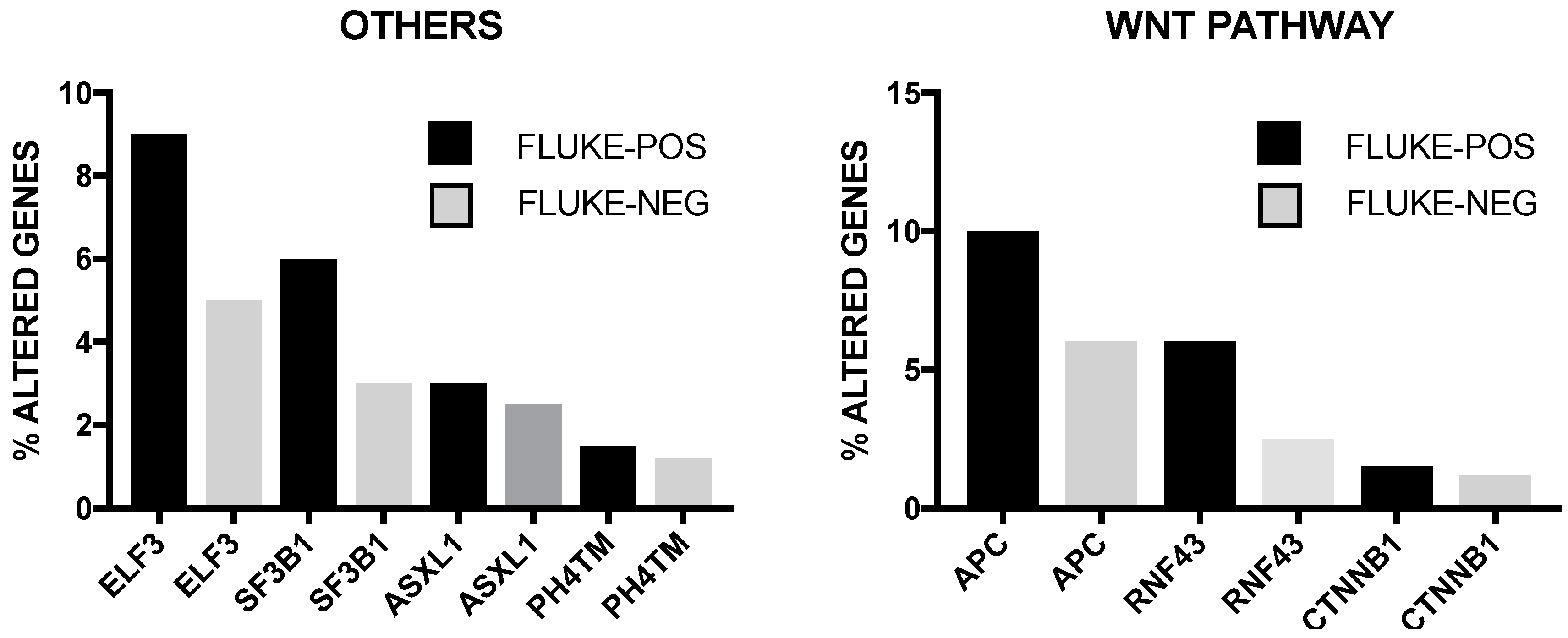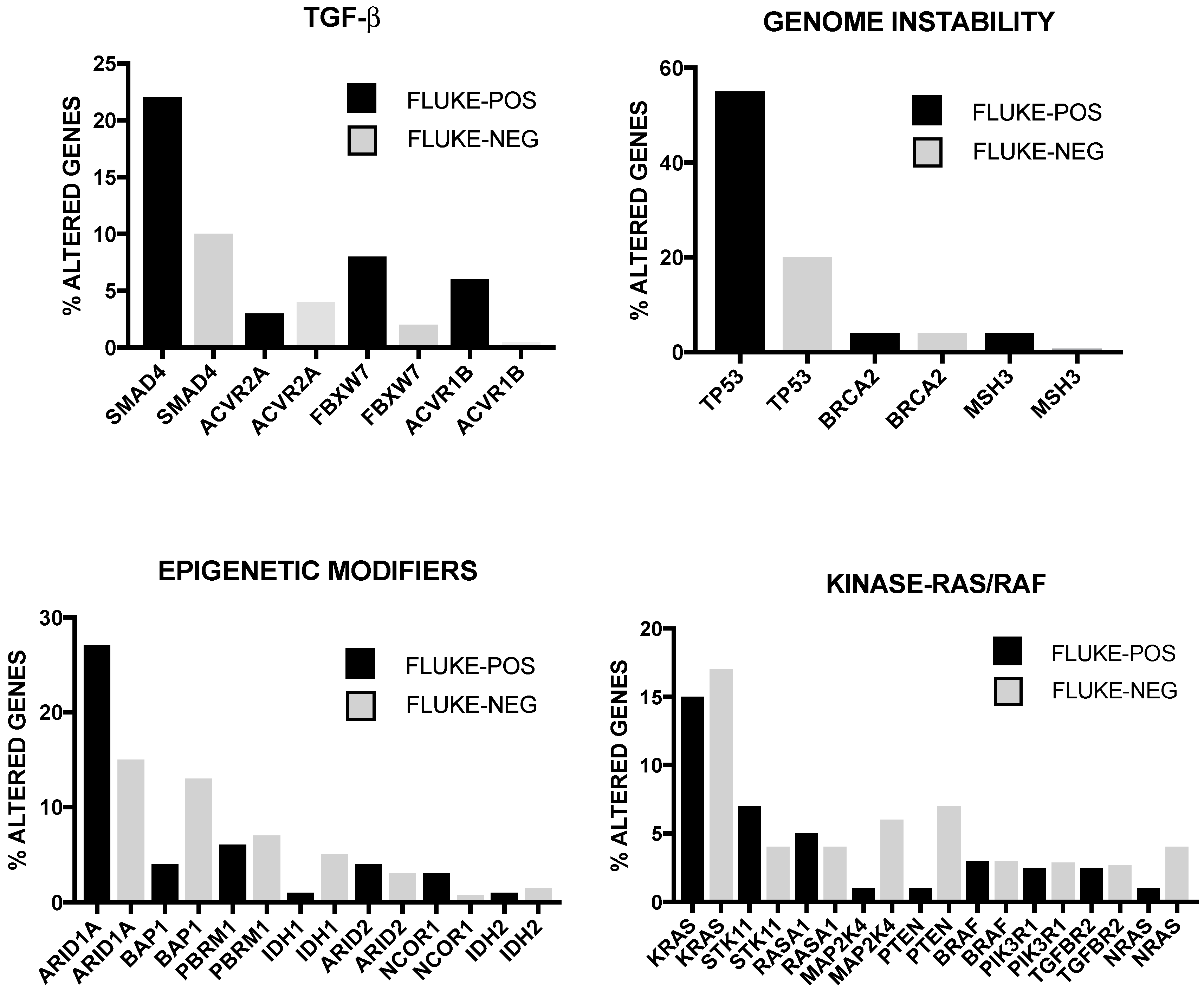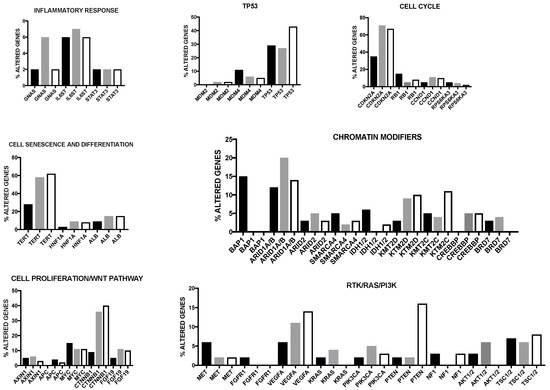 Figure 4.
Integrated molecular analysis of somatic alterations in signaling pathways in HCC patients subdivided into three different clusters (cluster 1, black bars; cluster 2, gray bars; cluster 3, white bars). The data are reprinted from a recent study of the Cancer Genome Atlas Network [
5
]. Somatic alterations include mutations, copy number alterations and epigenetic silencing of CDKN2A.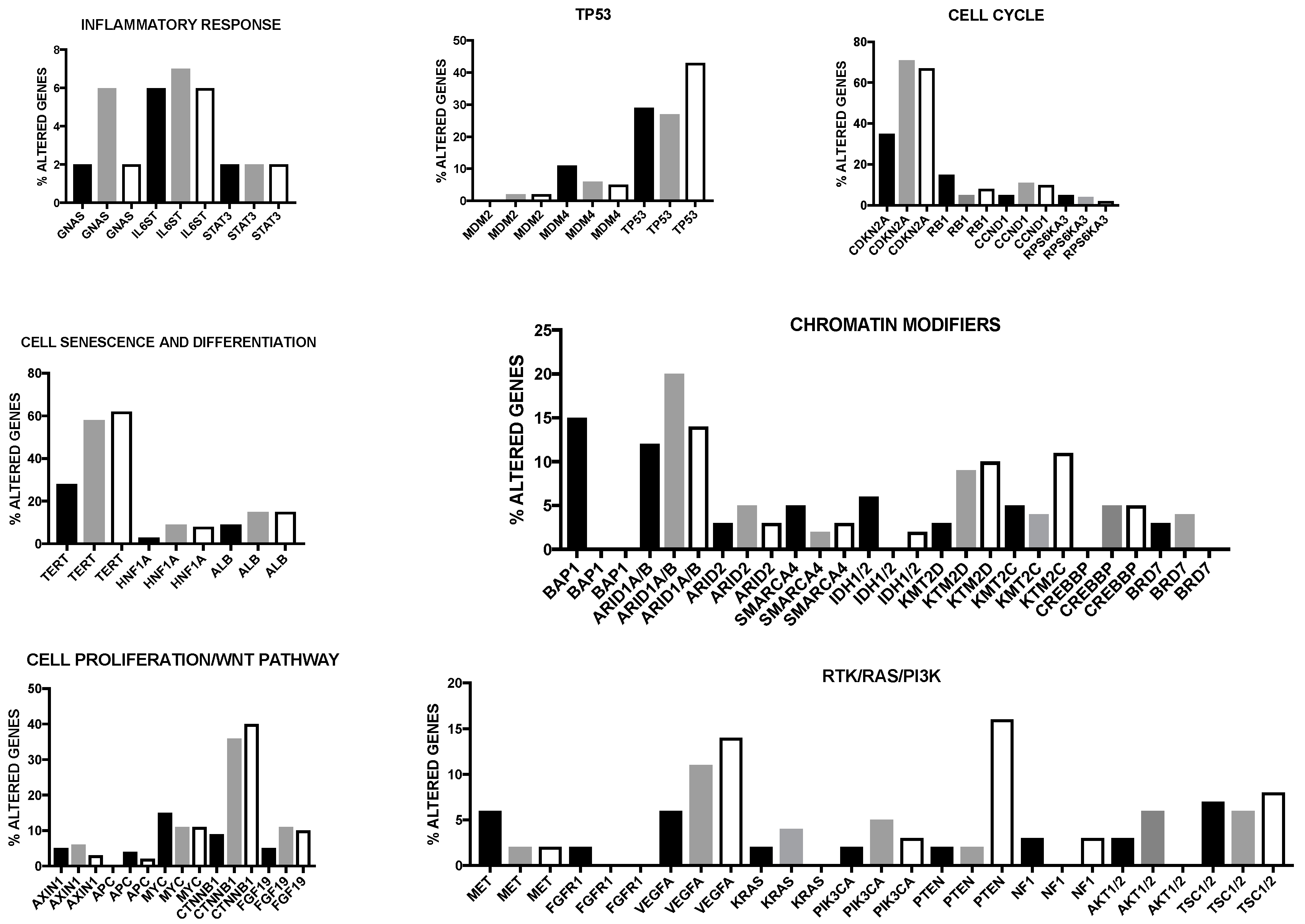 © 2017 by the authors. Licensee MDPI, Basel, Switzerland. This article is an open access article distributed under the terms and conditions of the Creative Commons Attribution (CC BY) license (http://creativecommons.org/licenses/by/4.0/).