Integrin Activation Contributes to Lower Cisplatin Sensitivity in MV3 Melanoma Cells by Inducing the Wnt Signalling Pathway
Department of Pharmacy, University of Bonn, An der Immenburg 4, 53121 Bonn, Germany
*
Author to whom correspondence should be addressed.
†
These authors contributed equally to this work.
Academic Editor: Helen M. Sheldrake
Received: 28 July 2017 / Revised: 12 September 2017 / Accepted: 13 September 2017 / Published: 16 September 2017
Abstract
Background: integrins have been associated with the development of chemotherapy resistant tumour cells, mostly those of hematopoietic origin, by mediating the binding to the extracellular matrix. The relevance for solid tumour cells and the underlying mechanisms remain elusive. Methods: using MTT assays, we detected the loss in cisplatin sensitivity of human MV3 melanoma cells upon integrin activation. Underlying cellular pathways were evaluated by flow cytometry. A crosstalk between integrin activation and the canonical wnt signalling pathway was tested by measuring β-catenin activity. Results: MV3 cells display a higher resistance against cisplatin cytotoxicity when cellular integrins were activated by manganese or collagen. Proteome profiler array showed a deregulation of the integrin expression pattern by cisplatin. Integrin activation by manganese induces the phosphorylation of PI3K/AKT. The inhibition of PI3K using BEZ235 strongly increases cell sensitivity to cisplatin, blocking manganese and collagen effects. PI3K/AKT activates wnt signalling by blocking Gsk3-β, which was confirmed by β-catenin up-regulation and nuclear localization. Integrins did not affect E-cadherin expression levels, thus endothelial to mesenchymal transition (EMT) can be excluded. Conclusion: This is the first report on an integrin/wnt signalling activation axis addressing the consequences for chemotherapy sensitiveness of melanoma cells, which thus offers novel therapeutic targets for approaches to interfere with chemoresistance.
View Full-Text
►

▼

Figures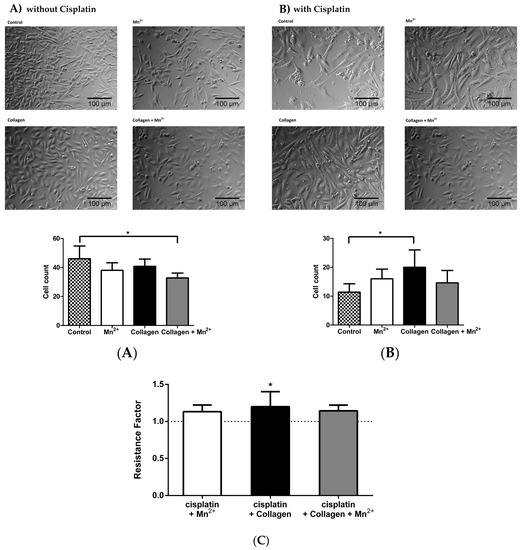 Figure 1
This is an open access article distributed under the
Creative Commons Attribution License
which permits unrestricted use, distribution, and reproduction in any medium, provided the original work is properly cited (CC BY 4.0).

Share & Cite This Article
MDPI and ACS Style
Piva, M.B.R.; Jakubzig, B.; Bendas, G. Integrin Activation Contributes to Lower Cisplatin Sensitivity in MV3 Melanoma Cells by Inducing the Wnt Signalling Pathway. Cancers 2017, 9, 125.
Note that from the first issue of 2016, MDPI journals use article numbers instead of page numbers. See further details here.
Related Articles
Comments
[Return to top]