Open Access This article is
freely available
re-usable
Review
EMT and Treatment Resistance in Pancreatic Cancer
1
Digestive Molecular Clinical Oncology Research Unit, Section of Medical Oncology, Department of Medicine, University of Verona, Verona 37134, Italy
2
Medical Oncology Unit, Azienda Ospedaliera Universitaria Integrata, Verona 37134, Italy
*
Author to whom correspondence should be addressed.
Academic Editor: Joëlle Roche
Received: 27 July 2017 / Accepted: 10 September 2017 / Published: 12 September 2017
Abstract
:
Pancreatic cancer (PC) is the third leading cause of adult cancer mortality in the United States. The poor prognosis for patients with PC is mainly due to its aggressive course, the limited efficacy of active systemic treatments, and a metastatic behavior, demonstrated throughout the evolution of the disease. On average, 80% of patients with PC are diagnosed with metastatic disease, and the half of those who undergo surgery and adjuvant therapy develop liver metastasis within two years. Metastatic dissemination is an early event in PC and is mainly attributed to an evolutionary biological process called epithelial-to-mesenchymal transition (EMT). This innate mechanism could have a dual role during embryonic growth and organ differentiation, and in cancer progression, cancer stem cell intravasation, and metastasis settlement. Many of the molecular pathways decisive in EMT progression have been already unraveled, but little is known about the causes behind the induction of this mechanism. EMT is one of the most distinctive and critical features of PC, occurring even in the very first stages of tumor development. This is known as pancreatic intraepithelial neoplasia (PanIN) and leads to early dissemination, drug resistance, and unfavorable prognosis and survival. The intention of this review is to shed new light on the critical role assumed by EMT during PC progression, with a particular focus on its role in PC resistance.
Keywords:
pancreatic cancer; EMT; resistance
1. Introduction
According to the American Cancer Society, pancreatic cancer (PC) is ahead of breast cancer as the third leading cause of cancer-related death in the United States, and is predicted to become the second leading cause of cancer-related death by 2020 [
1
,
2
]. Currently, PC has a distinctive adverse prognosis, with an overall five-year survival rate of <6%. This is primarily due to late diagnosis, which is aggravated by the absence of early recognizable symptoms in patients and by the lack of effective diagnostic and prognostic markers [
3
]. In the last two decades, development of new therapeutic drugs has been disappointingly stagnant. Indeed, since the late 1990s gemcitabine has represented the standard of care for advanced PC, although it does not show a drastic improvement in median survival rate [
4
]. This is mainly explained by the unique chemoresistance of PC cells [
5
].
Although the histology and the genetic of pancreatic carcinogenesis have been well described [
6
], the molecular mechanisms that promote the metastatic spread of PC are less clear [
7
]. These mechanisms include the ability of cancer cells to break away from extracellular matrix (ECM) and to overcome apoptosis process. This behavior has been associated with an early epithelial-to-mesenchymal transition (EMT) in premalignant lesions [
8
].
EMT is a well-coordinated process triggered by many signaling pathways during embryonic development, however it is also a pathological feature in neoplasia and fibrosis [
9
]. Cells undergoing EMT progressively lose the expression of components in the epithelial cell junctions. Instead, they produce a mesenchymal vimentin cytoskeleton and acquire both invasive and chemoresistance properties. Recent studies have also proposed that metastasis is an early event in the natural history of PC and could even precede tumor formation [
10
].
Thus, improving knowledge of molecular mechanisms that impair the response of cancer patients to chemotherapy is essential to designing more effective treatments for this deadly disease. In this review, we summarize the role of EMT in the context of drug resistance and metastasis in PC, with a special focus on inflammation.
2. EMT and Cancer Progression
3. KRAS-Addiction of Pancreatic Cancer
4. Markers of EMT in Advanced Pancreatic Neoplasia
Roles and functions of EMT driving forces, described in the previous paragraph and normally upregulated in several cancers [
38
], were also studied in PC. In an immunohistochemistry analysis conducted by Hotz and colleagues in resected PC tissue samples, the expression of Snail and Slug factors accounted for a total of 80% and 50% respectively, whereas Twist showed little or no expression [
39
]. In a different study performed on 68 PC and 38 normal pancreas tissue samples, Twist nuclear levels were found to be decreased in tumor tissues, while staining of Slug or N-cadherin markers did not show a significant difference among healthy patients [
40
]. ZEB1 is considered one of the main inducers of EMT conversion in PC tissue in response to stimuli received from TGF-β and NF-κB pathways. Silencing of
ZEB1
in different PC cell lines resulted in a sensitive upregulation of epithelial markers and overall increased sensitivity of chemo-resistant cell lines to different chemotherapeutic agents, measured by an enhanced apoptotic response [
41
].
Loss of function mutations or downregulation of miRNA-200 family members, principally expressed by epithelial cells and identified as essential negative regulators of EMT and metastatic processes, were determined to indirectly stabilize ZEB1 expression levels and, in the meantime, to reduce E-cadherin expression in pancreatic β-cells, thus enhancing cells progression toward a mesenchymal phenotype [
42
]. The expression levels of miRNAs assume a tissue-specific pattern both in normal tissue and in PC and could function as potentially predictive diagnostic biomarkers. Downregulation of miR-148a and miR-217 and upregulation of miR-196a, miR-155, miR-203, miR-210, miR-222, and especially miR-21, were associated with a reduction of E-cadherin, an increase of vimentin levels, and with an overall poorer survival rate of patients [
43
,
44
]. Interestingly, miR-21 and miR-155 are both widely known as onco-mi-RNAs and their overexpression is linked to enhanced invasiveness, metastasis, and tumorigenesis onset in PC. This effect is thought to take action by compromising anti-inflammatory signaling pathways such as Ship1, or through the suppression of SOCS1 cytokine signaling [
45
] and the targeted modulation of peculiar tumor suppressor genes in tumor-supporting stromal cells [
46
].
PC is histologically recognized by an advanced fibrotic response, often referred as pancreatic desmoplasia, which is proved to confer the tumor microenvironment an increased resistance from many external stimuli including chemotherapeutic drugs, hormones, or cytotoxic mediators released by the host immune system [
47
]. Moreover, the discovery of a small subpopulation of cells with stem cell-like properties, termed cancer stem cells (CSCs), and residing within the tumor microenvironment, opens new possibilities for a more targeted therapy in several types of cancer. Pancreatic CSCs were initially isolated from a niche presenting the cell surface markers CD44 and epithelial-specific antigen (ESA). Many other markers of stemness—including CD133, CD24, c-Met, and CXCR4—were identified to selectively isolated PC stem cell (PCSC) population [
48
]. These special cells exhibit peculiar stem cell properties of self-renewal, including the ability to produce a differentiated progeny and an enhanced tumorigenic potential compared to control pancreatic cells [
49
]. Although the direct molecular correlation between EMT and CSC is still largely unknown, it is believed to rely on the similar pattern of activated signaling pathways, like Notch, Wnt/β-catenin, and the sonic hedgehog pathway (SHH), that are commonly shared in both.
5. EMT and Metastasis
Two main models of metastasis progression are hypothesized in the scientific community: a "Darwinian" linear model of evolution, which describes metastasis as a result of stepwise accumulation of genetic and epigenetic mutations that ultimately promote invasive behavior and dissemination during late tumor stage, and a parallel model of progression, where metastatic founder cells are believed to develop into circulating tumor cells (CTCs) and disseminate long before disease is clinically detected [
50
]. The early dissemination (parallel progression) model is dated back to the early 1950s and states that primary tumor and metastasis develop in parallel and acquire different genetic and epigenetic mutations throughout the progression. A recent mathematical modeling study, using the autopsy and the adjuvant cohort data from PC patient samples, predicted the presence of cells that are able to establish metastasis (not necessarily metastatic disease) even when the size of the primary tumor is still small [
51
,
52
]. More recently, in a pioneer study conducted by Rhim et al. [
10
], a sensitive method to tag and track pancreatic epithelial cells throughout cancer evolution was developed. Surprisingly, those cells were found to enter the bloodstream and seed in the liver even before the original cancer mass could be evidently detected through histologic analysis. In particular, they developed a Cre-Lox based mouse model of PC (called PKCY). In 8–10-week-old PKCY mice, only PanIN lesions were present, and 2.7% and 6.8% of PanIN 2 and 3 lesions, respectively, showed at least one YFP
+
ZEB1
+
cell on staining. Among these, they identified single YFP
+
cells that had crossed the basal lamina and had started to acquire a mesenchymal-like phenotype, making them almost identical to surrounding stromal cells. Surprisingly, cytofluorimetric analysis identified circulating pancreatic cells (CPCs) in the bloodstream of 8–10-week-old PKCY mice; moreover liver seeding of YFP
+
cells was detected in 4 out of 11 PanIN mice, although most of them were single cells located near blood vessels but with no evident expression of ZEB1. Overall, these data support a model for PC progression in which metastasis seeding in distant organs occurs before/in parallel to tumor development at the origin site. In another pilot study by Yu et al. [
53
], RNA sequencing analysis on circulating pancreatic tumor cells (CPCs) originating from genetically engineered mouse models of PC showed a pronounced enrichment for
WNT
2 gene, a member of non-canonical WNT pathway, compared to primary tumor cells. Expression of
WNT2
in PC cells suppresses anoikis, enhances anchorage-independent growth of spheres, and increases metastatic propensity in vivo. Moreover, an upregulation for
WNT
genes was also confirmed in the CPCs directly isolated from PC patients. Conversely, Zheng et al. [
54
] proposed a study where two engineered (KrasLSL.G12D/+; p53R172H/+; PdxCretg/+) (KPC) mouse models were created, one carrying a deletion in Twist1 and the other in Snail1 genes. Unexpectedly, PC evolvement and metastasis formation were not prevented by the absence of the two principal genes involved in EMT progression; indeed, metastasis occurred both in lung and liver. Moreover, engineered mice developed PanIN lesions with the same frequency as normal KPC mice, despite exhibiting a significant loss in the EMT course. Hypothetically, this behavior might be due to a partial balance effect provided by other cellular factors involved in EMT. However, resistance to gemcitabine was significantly lower in the two mouse models. This is the first study claiming that EMT is a side process that is significant for cancer progression and metastasis evolution but not rate-limiting as universally believed [
54
].
6. Molecular Mechanisms of EMT and PC Treatment Resistance
7. Role of Desmoplasia in Pancreatic Cancer
8. Inflammation Sustains EMT in Pancreatic Cancer
9. Microbiota, EMT, and Treatment Resistance
Novel functional analysis of patient-derived microbioma paired with preclinical models will enable the development of new types of anticancer therapy and could improve clinical intervention.
10. Conclusions
Increasing evidences suggest that EMT plays fundamental roles in cancer progression and resistance through several possible mechanisms, leading to a dramatic increase in disease aggressiveness, poorer disease elimination and overall patient survival.
Therefore, a thorough understanding of the underlying molecular features driving PC evolution is of utmost importance in order to develop effective therapies toward the original tumor, but also toward the population of cells responsible for drug resistance and metastasis formation. Moreover, the high inflammatory status and the complex network of immune cells recruited within advanced pancreatic tumor environment positively promote cancer progression and EMT transition of primary cancer cells rather than destroying malignant cells. Thus, new strategies targeting the EMT phenotype could increase sensitivity to both standard and targeted therapies and could improve the outcome of patients with PC.
Acknowledgments
This work was supported by the Basic Research Project 2015 through the University of Verona. Support was also provided by the Associazione Italiana per la Ricerca sul Cancro (AIRC) under Investigator Grant (IG) n°19111 to Davide Melisi. Partial support was also provided by the Nastro Viola Patient Association donations to Davide Melisi. Part of the work was performed at the Laboratorio Universitario di Ricerca Medica (LURM) Research Center, University of Verona.
Conflicts of Interest
The authors declare no conflict of interest.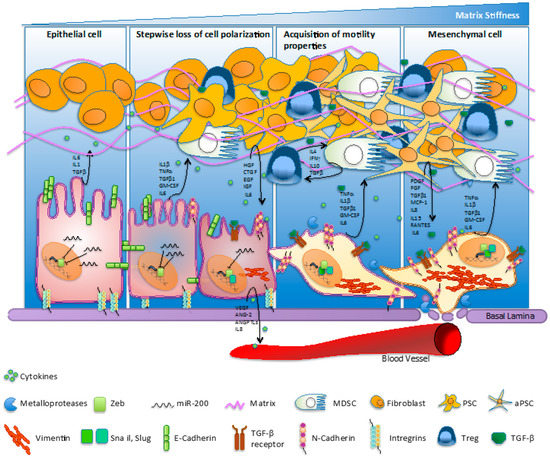 Figure 1. Molecular hallmarks/fluctuations/switching regulating the epithelial-to-mesenchymal transition (EMT) process in pancreatic cancer. The EMT process involves loss of cell polarization, a gain in migratory abilities and progressive acquisition of a mesenchymal phenotype. The EMT mechanism is characterized by the 'cadherin switch', where E-cadherin expression is progressively downregulated and replaced by the expression of N-cadherin. The transition process is associated to a decrease of miR-200 levels and an increase of classical E-cadherin transcriptional suppressors—such as ZEB1, Snail, and Slug—activated upstream by TGF-β. Cells undergoing EMT commonly quit the expression of extracellular matrix (ECM) elements mediating structural rigidity and cell adhesion in favor of proteases, cytokines, growth factors, and ECM components which improve cell migration and intravasation in bloodstream. Pancreatic cancer cell cytokines accelerate transformation of fibroblasts into quiescent pancreatic stellate cells (PSCs) and then into activated pancreatic stellate cells (aPSCs). Furthermore, inflammatory cytokines recruit myeloid progenitor cells and mediate their subsequent differentiation into myeloid-derived suppressive cells (MDSCs), which suppress the immune surveillance function. IL: interleukin; TGF: transforming growth factor; TNF: tumor necrosis factor; GM-CSF: granulocyte-macrophage colony-stimulating factor; HGF: hepatocyte growth factor; CTGF: connective tissue growth factor; EGF: epidermal growth factor; IFN: interferon; PDGF: platelet-derived growth factor; MCP-1: macrophage inflammatory protein 1; RANTES: regulated upon activation normally T-expressed and presumably secreted; VEGF: vascular endothelial growth factor; ANG-2: angiopoietin-2; ANGPTL: angiopoietin-like.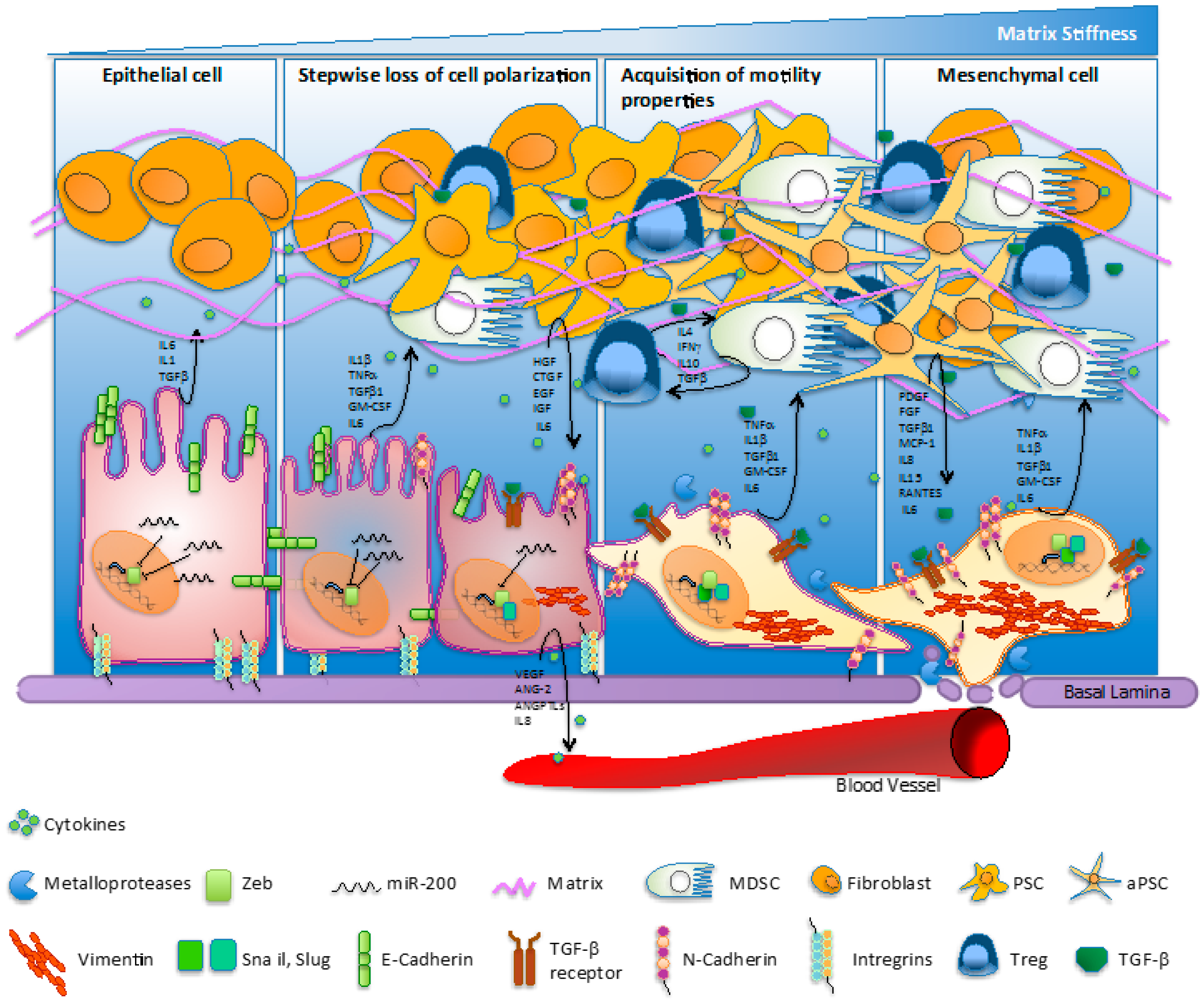 © 2017 by the authors. Licensee MDPI, Basel, Switzerland. This article is an open access article distributed under the terms and conditions of the Creative Commons Attribution (CC BY) license (http://creativecommons.org/licenses/by/4.0/).