Open Access This article is
freely available
re-usable
Review
Targeting Platelets for the Treatment of Cancer
1
Faculty of Health Sciences, Curtin University, Perth 6100, Australia
2
Curtin Health Innovation Research Institute (CHIRI), Curtin University, Perth 6100, Australia
3
School of Biomedical Sciences, Curtin University, Perth 6100, Australia
*
Author to whom correspondence should be addressed.
Academic Editor: Samuel C. Mok
Received: 30 June 2017 / Accepted: 19 July 2017 / Published: 22 July 2017
Abstract
:
The majority of cancer-associated mortality results from the ability of tumour cells to metastasise leading to multifunctional organ failure and death. Disseminated tumour cells in the blood circulation are faced with major challenges such as rheological shear stresses and cell-mediated cytotoxicity mediated by natural killer cells. Nevertheless, circulating tumour cells with metastatic ability appear equipped to exploit host cells to aid their survival. Despite the long interest in targeting tumour-associated host cells such as platelets for cancer treatment, the clinical benefit of this strategy is still under question. In this review, we provide a summary of the latest mechanistic and clinical evidence to evaluate the validity of targeting platelets in cancer.
Keywords:
cancer; cancer therapy; platelet; antiplatelet
2. The Role of Platelets in Cancer Metastasis
3. The Role of Platelets in Tumour Angiogenesis
4. The Role of Platelets in Tumour Growth
5. The Role of Platelets in Chemotherapy Resistance
The ability of malignant tumours to grow despite chemotherapy is considered a significant contribution to treatment failure and low survival rates associated with highly resistant types of tumours, such as pancreatic cancer. Malignant tumours are usually made up of multiple populations of cancer cells which differ in their metastatic ability and response to chemotherapy. The more resistant cancer cells eventually dominate the tumour as the more sensitive cells are eradicated by chemotherapy. The principal mechanisms mediating chemotherapy resistance are enhanced proliferation of cancer cells through activation of the MAPK signalling pathway, activation of anti-apoptotic proteins, or phenotypic conversion in cancer cells through the epithelial-mesenchymal transition, all of which could potentially be affected by platelets. The platelet secretome is rich in growth factors and is used clinically to enhance tissue regeneration [
103
]. During the wound healing process, platelets display a pro-proliferative role through the secretion of various growth factors. Platelets thus possess the ability to counter the anti-proliferative effect of chemotherapeutic agents.
Currently, only a few studies have examined the contribution of platelets to chemotherapy resistance. In 2012, Balicka et al. demonstrated a role for platelets in paclitaxel and 5-fluorouracil resistance in colon (Caco-2) and ovarian (59 M) cancer cells [
27
]. Platelets and their releasate antagonised the cytotoxic effect of paclitaxel and 5-fluorouracil via several complementary mechanisms. First, by shifting the balance between anti-apoptotic and pro-apoptotic genes towards cell survival through upregulation of anti-apoptotic proteins such as NFκB1. Second, by blocking cell cycle arrest caused by the anticancer drugs. This occurred through upregulation of cyclins, the principal regulators of cell cycle progression. Third, platelets also enhanced the phosphorylation of DNA repair proteins, for example, Chk1, BRCA1, and Mre11. Moreover, platelets upregulated the MAPK signalling pathway, which is involved in cell growth, invasion, and migration [
27
]. Similarly, D'Alessandro et al. recently demonstrated the ability of platelet factors to hinder the cytotoxicity of the chemotherapy drugs, sorafenib and regorafenib, in hepatocellular carcinoma by increasing the phosphorylation of ERK, p38 and by inhibiting the induction of apoptosis Moreover, platelets also counteracted the efficiency of both drugs in halting cancer cell migration and invasion [
104
]. Clinically, chemotherapy resistance has been correlated with high platelet count [
105
].
Platelets also drive EMT in cancer cells with a subsequent increase in migration, invasion and metastasis [
2
]. The presence of platelets around breast cancer primary tumour cells was associated with EMT morphological features and chemotherapy resistance [
106
]. Independent of platelet activity, EMT has been shown to impart chemotherapy resistance in lung [
107
], pancreatic [
108
], breast [
109
] and ovarian cancers [
110
]. Zheng et al., demonstrated using a pancreatic adenocarcinoma mouse model with deleted mesenchymal transcriptional factors, Snail and Twist, that EMT inhibition did not prevent metastasis but contributed significantly to enhanced gemcitabine sensitivity [
111
]. Pancreatic cancer is a highly metastatic type of cancer, and is known to trigger platelet activation, aggregation, and secretion [
31
,
112
,
113
]. Platelets are considered the primary source of TGFβ1 in the blood circulation, which is a primary inducer of EMT [
2
]. Therefore, targeting the activity of platelets in cancer may not only diminish cancer metastasis but also suppress chemotherapy resistance. Chemotherapy in combination with antiplatelet therapy may thus represent a potential approach to overcome tumour chemoresistance.
6. The Effects of Cancer Cells on Platelets
Cancer cells can directly trigger platelet activation by releasing factors that act as agonists or by direct physical contact [
20
,
114
,
115
]. One of the best characterised mechanisms of tumour cell-induced platelet activation is through podoplanin/CLEC-2 interaction. Podoplanin (PDPN) is a transmembrane sialoglycoprotein highly expressed on metastatic cancer cells. It is also found on tumour-initiating cells and is associated with poor prognosis in lung adenocarcinoma [
116
]. PDPN can trigger platelet activation, aggregation and secretion through interaction with the CLEC-2 receptor on the surface of platelets. MS-1, an anti-PDPN antibody, which blocks PDPN/CLEC-2 interaction, significantly reduced tumour metastasis and tumour growth in vivo [
117
]. Direct contact with platelets, however, is not always required to trigger activation as ADP released from cancer cells can activate platelet P2Y
1
and P2Y
12
receptors [
9
,
118
,
119
], while an unknown factor released from prostate cancer cells can instigate activation of platelets through the FcƳRIIa receptor [
115
].
Moreover, cancer cells can activate platelets indirectly through the coagulation pathway. The procoagulant potential of different tumours is highly dependent on their expression of tissue factor (TF). TF mediates thrombin generation through activation of the extrinsic pathway of coagulation, which can directly activate platelets [
120
]. Tissue factor has also been found in tumour-derived microvesicles associated with enhanced venous thromboembolism in mice [
121
]. Cancer cells of different origin express varying levels of TF. For example, the pancreatic cancer cell line BXPC3 expresses a higher level of TF compared to the breast cancer cell line MCF7 [
122
]. Notably, pancreatic cancer is highly associated with venous thromboembolism, which can be related to TF either expressed or released by pancreatic cancer cells [
31
,
121
,
123
]. On the other hand, platelets can promote TF expression in cancer cells as shown with ovarian cancer cells co-cultured with platelets [
47
]. Ovarian cancer is also associated with a high risk of venous thromboembolism [
124
]. In addition to tissue factor, cancer cells can activate platelets indirectly through eliciting neutrophils to release neutrophil extracellular trap (NET). NETs are an extracellular mesh of DNA associated with histones, elastases and myeloperoxidase (MPO), previously known for their antimicrobial function [
125
]. Recent studies have shown the ability of cancer cells to prime and induce neutrophils to generate NETs which are associated with thrombus formation [
126
,
127
]. Furthermore, NETs can instigate platelet activation and aggregation [
128
,
129
,
130
].
As mentioned earlier, cancer cell adhesion to platelets is vital for successful metastasis, which can be mediated through surface proteins and predispose platelet activation. For example, interaction between integrins (transmembrane glycoproteins) expressed on platelets (e.g., αIIbβ3), and some types of tumour cells via ligands that are normally present in plasma such as fibrinogen and fibronectin can lead to activation of platelets. Integrins are involved in tumour-platelet adhesion and subsequent tumour arrest within the blood circulation [
17
,
131
]. In addition to integrins, tumour cells can adhere to platelets via the P-selectin ligands. PSGL-1 as acts as a P-selectin counter-receptor in non-small cell lung cancer cells, multiple myeloma cells, and prostate cancer cells [
19
,
132
,
133
]. Other P-selectin ligands, CD24 and CD44, are found on breast cancer cells and colon cancer cells, respectively [
134
,
135
]. In mice, engagement of P-selectin by PSGL-1 results in platelet activation and enhanced micro-aggregate formationwhile P-selectin null mice display inadequate thrombus formation [
136
]. Finally, podocalyxin is a membrane mucin protein expressed by testicular cancer cells that can also mediate platelet adhesion via P-selectin and integrins [
137
].
Figure 3
summarises the effects of cancer cells on platelets.
7. Challenges to Antiplatelet Therapeutic Approaches in Cancer
There is increasing evidence supporting an active role of non-cancer cells within the tumour microenvironment in cancer progression, thus introducing additional strategies in cancer therapy in which different classes of drugs could be combined to target different cell types that collectively would impede tumour growth and metastasis. Available preclinical data provide examples of this approach; for instance, in a mouse tumour model, a treatment combining low dose cyclophosphamide with the thrombin inhibitor, Dabigatran etixulate, reduced tumour growth and metastasis through potentially limiting tumour-platelet crosstalk [
138
]. In addition to its role in the direct activation of platelets, thrombin generates fibrin. Some cancer cells can also release thrombin [
114
].
The use of antiplatelets in cancer therapy may be confounded due to declining platelet function as a consequence of disease progression, myelosuppressive chemotherapy and/or radiotherapy (reviewed by Liebman) [
139
]. For example, platelets obtained from thrombocytopenic cancer patients before platelet transfusion have shown impaired responses to thrombin, collagen-related peptide, and ADP as measured by αIIbβ3 activation and P-selectin translocation [
140
]. Thus, bleeding risk needs to be carefully evaluated, especially in cancer patients with comorbidities such as cardiovascular disease, before use of any antiplatelet drug. Although there is a well-established pro-metastatic role of platelets in cancer, the effect of platelets on cancer progression could vary based on type and stage of the tumour. Thus, the addition of antiplatelet treatment to cancer therapy should be individualised based on the clinical and experimental evaluation. Many factors must be considered before deciding to administer antiplatelets in cancer therapy; these include the risk of bleeding, comorbidity, chemotherapy and radiotherapy dose and duration, drug interaction, and type and stage of the tumour.
Table 2
highlights the effect of a group of cytotoxic drugs on the platelet count. Platelet studies and presence of specific markers of platelet activation are among the experimental factors that should be assessed before administering antiplatelet drugs to cancer patients.
Figure 4
highlights potential challenges with targeting platelets in cancer therapy.
8. Clinical and Preclinical Use of Antiplatelet Therapies in Cancer
8.1. Aspirin in Cancer
The impact of a common household drug, aspirin, on cancer progression has attracted considerable interest. Here, we present an overview of the anti-platelet and anti-metastatic efficacy of aspirin. Despite the encouraging results from preclinical models and the molecular rationale, the results obtained in human trials are less clear.
8.1.1. Preclinical Studies
In 1962, Gasic et al. reported a reduction in metastasis of TA3 tumour cells in mice injected with
Vibrio
Cholera neuraminidase (VCN); a potent thrombocytopenic agent [
141
]. In a subsequent study by the same group, tumour cells that were able to aggregate platelets in vitro showed more lung metastasis compared to tumour cells devoid of this ability. Furthermore, platelet-deficient mice showed reduced lung metastasis from tumours that aggregated platelets in vitro. In contrast, tumour cells that did not aggregate platelets in vitro still formed metastases in thrombocytopenic mice although the number of metastatic foci was fewer. Interestingly, aspirin significantly decreased lung metastasis without affecting the size of the primary tumour [
6
].
In another study, pre-incubating platelets with aspirin inhibited murine sarcoma cells (mFS6)-induced platelet aggregation [
142
]. Similarly, Bradley et al., demonstrated a pro-aggregation effect of uterine carcinosarcoma (Colo 562) cells on human washed platelets. However, aspirin did not prevent platelet adhesion to tumour cells, platelet secretion or micro-aggregate formation [
143
]. Further, in an in vivo model, aspirin reduced lung metastasis of rat mammary carcinoma (Mtln3) but did not provide an additive effect when combined with the fibrinolytic agent, streptokinase, which itself caused a significant reduction in metastasis [
144
]. In contrast, a combination of aspirin and ATP102 (an ADPase) significantly decreased breast cancer and melanoma bone metastasis in mice. However, each alone did not show an anti-metastatic effect [
143
].
Although aspirin is a potent inactivator of cyclooxygenase-1 (COX-1), thus an inhibitor of platelet function, its failure to demonstrate an anti-metastatic role in some studies may be due to the ability of the tumour to activate platelets efficiently without COX-1-dependent synthesis of thromboxane A2 (TxA2), a hormone responsible for promoting platelet activation and aggregation. For example, limited effect of aspirin has been observed on platelet activation, aggregation and adhesion with agonists such as ADP, thrombin, high-dose collagen and elevated shear stress [
145
,
146
,
147
,
148
].
8.1.2. Clinical Studies
Overall, several studies have documented the positive effect of aspirin (low or standard dose) on cancer incidence and cancer associated mortality in gastrointestinal tumours. However, it is not clear whether the effect of aspirin is related to its direct effect on cancer, platelets, both or unidentified mechanism. Therefore, randomised clinical trials are required to assess the use of aspirin and/or other antiplatelet medications in types of cancers associated with high risk of thrombosis e.g., pancreatic and ovarian cancer.
8.2. Other Antiplatelet Strategies in Cancer Therapy
While there has been considerable interest on the use of aspirin in cancer due to its direct effect on tumour cells and also its antiplatelet activity other antiplatelet drugs have also been examined in the context of cancer. More detailed information on general antiplatelet strategies can be found in reviews elsewhere [
167
,
168
].
Table 4
highlights studies that examined antiplatelet drugs in combination with chemotherapy in animal models or analysis of cancer incidence in patients taking antiplatelet for non-cancer diseases.
In addition to using antiplatelets in cancer treatment, their use may offer additional benefits in controlling venous thromboembolism (VTE) associated with cancer. Cancer patients have a high risk of developing VTE, which is related to low survival rate [
169
]. The cancer site and type are among factors that determine the incidence and severity of VTE in cancer [
170
]. For example, pancreatic cancer is associated with a high incidence of VTE [
170
,
171
,
172
]. Platelets are a key player in thrombosis, and several studies have shown a close interplay between pancreatic cancer cells and platelets [
123
,
173
]. Factors such as tumour cell induced platelet aggregation, and increased expression of pro-coagulant factors including tissue factor and thrombin, promote a pro-thrombotic state which ultimately contributes to the development of VTE [
121
]. Platelet count and activity may predict the risk of VTE in cancer patients [
174
,
175
]. The series of events that lead to cancer-associated VTE is still unclear; however recent studies indicate interactions between platelets, tumour and immune cells (especially neutrophils) can instigate the process. Neutrophil extracellular traps (NETs), generated from activated neutrophils, has been shown to act as a scaffold for platelet aggregation and thrombus formation [
127
,
128
]. Experimental evidence from infection and inflammation models suggests a role of activated platelets in promoting NET-derived thrombus formation [
176
,
177
,
178
]. Whether antiplatelet use may reduce the risk of NETs and VTE in cancer is still unknown.
9. Conclusions
The past 50 years have witnessed considerable advancement in our understanding of the tumour microenvironment and its role in cancer progression. Gasic et al. [
6
] provided the first experimental data for a pro-metastatic role of platelets in cancer. The accumulating evidence has since established the experimental rationale for targeting platelets in cancer.
Concomitant use of antiplatelet therapy in cancer patients carries both benefits and risks. Further collaboration between clinicians and research scientists is needed to investigate side effects and antiplatelet drug interactions with chemotherapeutic medications. The presence of specific cancer-related biomarkers could potentially predict patient response or necessity for antiplatelet therapy. For example, podoplanin is a potent platelet agonist and has been shown to be upregulated in several types of tumours. Aspirin is both an inhibitor of podoplanin-induced platelet aggregation in vitro and metastasis in vivo. Hence, podoplanin expression on tumour cells could serve as a predictive biomarker for individualised therapy.
Whether the addition of antiplatelet treatment alongside chemotherapeutic medication could increase therapeutic efficacy by reducing resistance, needs to be addressed. Nevertheless, the available evidence suggests targeting platelets in cancers known to have a high risk of thrombotic events, e.g., pancreatic and ovarian cancers, is therapeutically beneficial.
Acknowledgments
The authors acknowledge Norbaini Binti Abdol Razak for proofreading, the infrastructure and staff support provided by CHIRI, School of Biomedical Sciences, Faculty of Health Sciences, Curtin University. The authors also acknowledge support of Avner Pancreatic Cancer Foundation, Keith & Ann Vaughan Pancreatic Cancer Fund and Curtin University Health Sciences Faculty International Research Scholarships.
Author Contributions
Omar Elaskalani, Michael C. Berndt, Marco Falasca and Pat Metharom wrote the paper.
Conflicts of Interest
The authors declare no conflict of interest.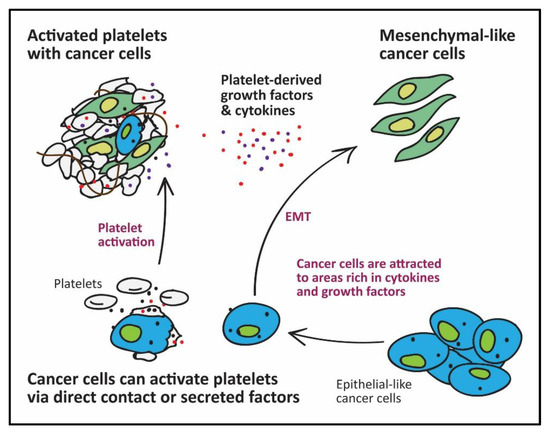 Figure 1. Platelets in Metastasis: Cancer cells can activate platelets. Activated platelets secrete growth factors and chemokines to attract other cancer cells to areas rich in survival factors. Platelet TGFβ1 induces EMT in cancer cells, which are characterised by an elongated shape and improved metastatic ability.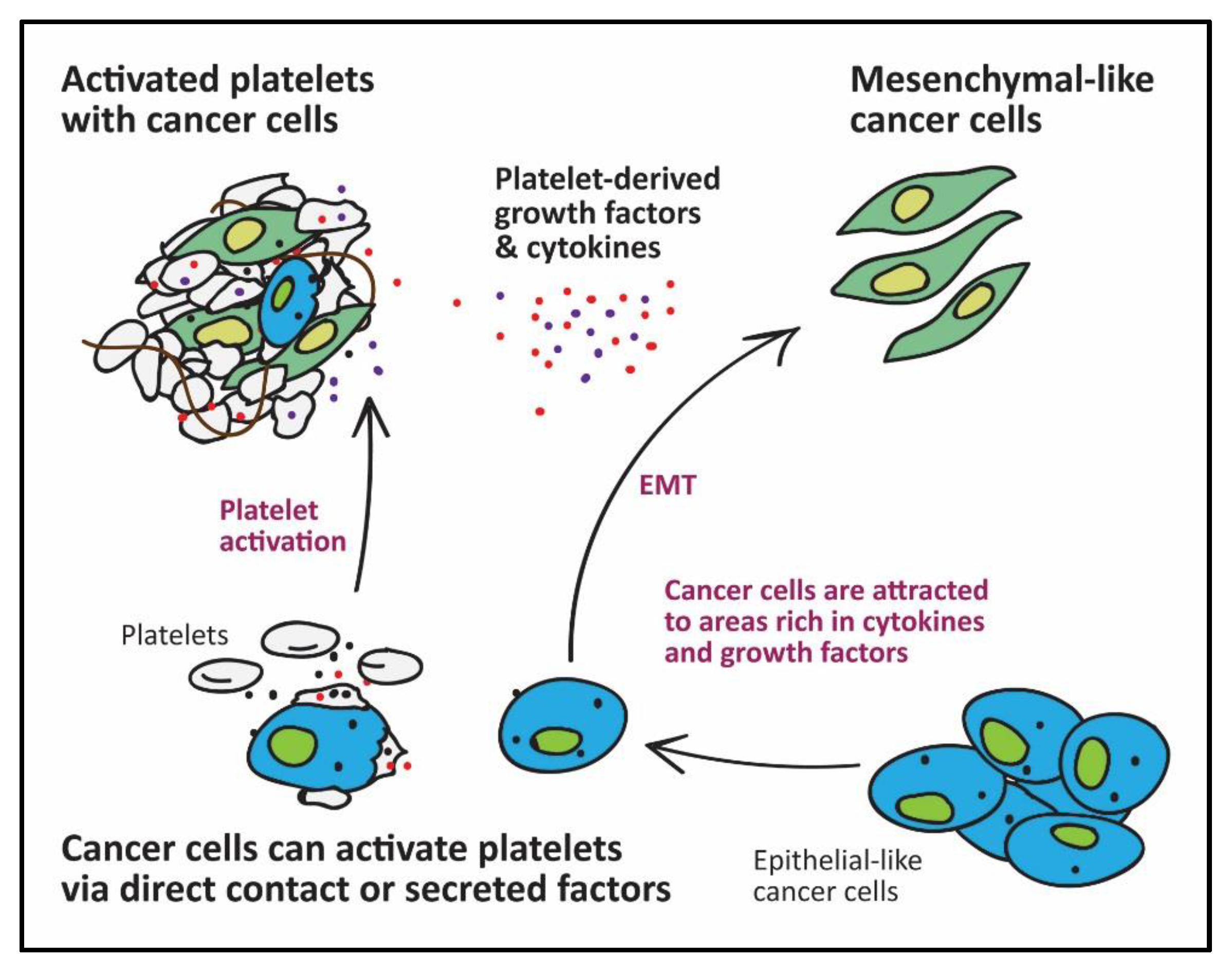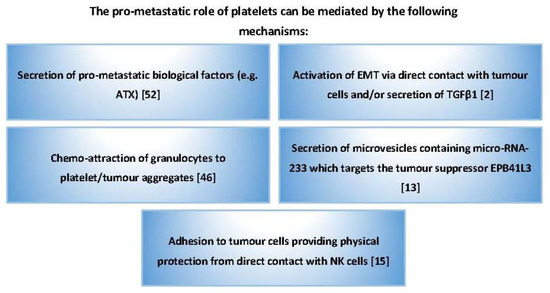 Figure 2. Summary of the pro-metastatic properties of platelets in cancer. Platelets promote cancer progression by releasing an array of pro-metastatic biological factors and by shielding cancer cells from NK-mediated cytotoxicity.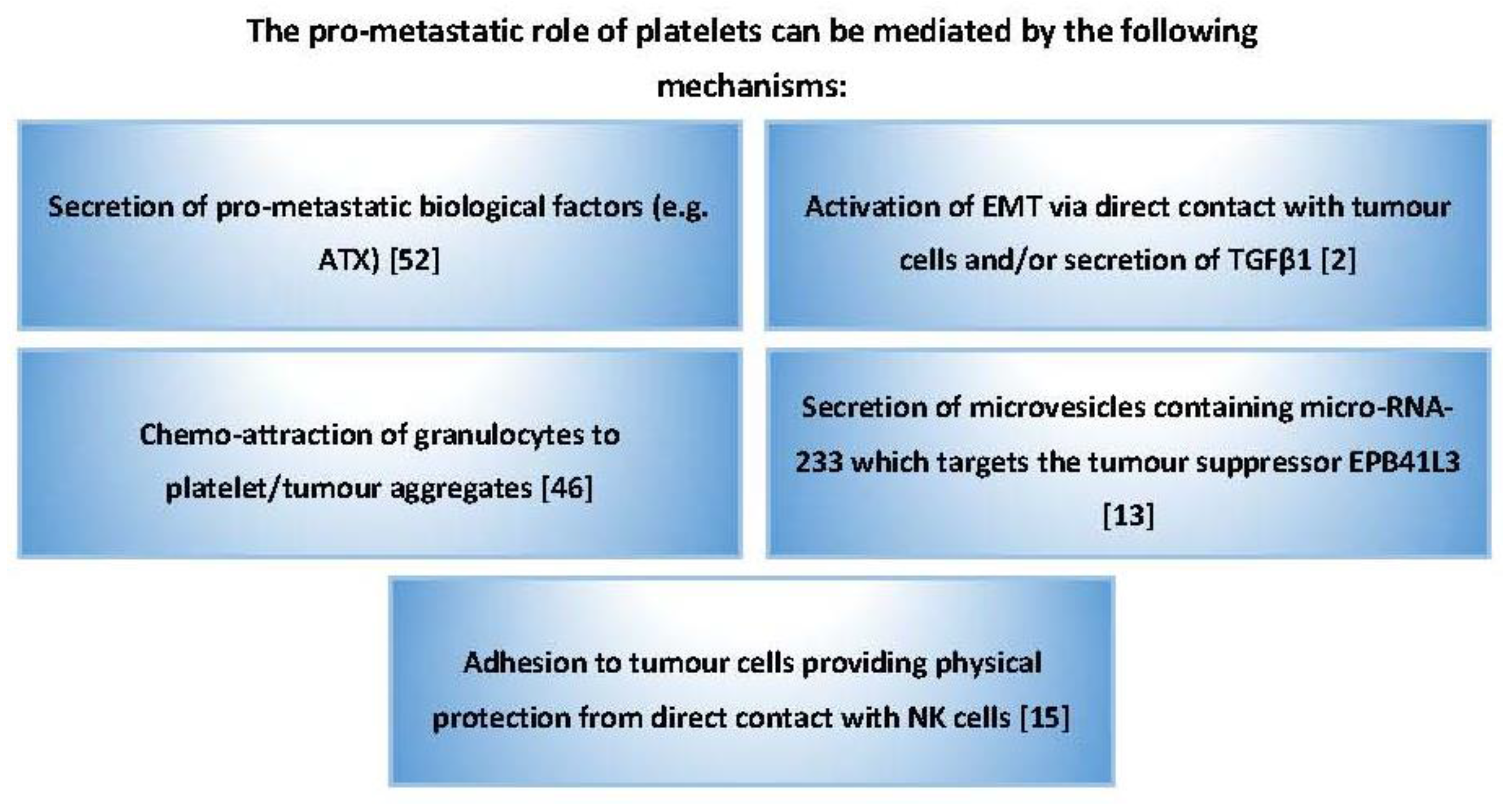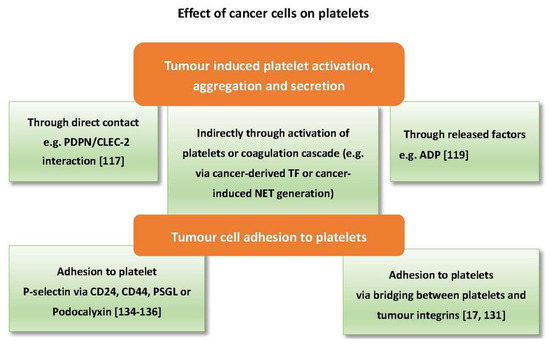 Figure 3. Summary of cancer cell-platelet interactions. Cancer cells can activate platelets through expression or release of platelet agonists (e.g., PDPN and ADP). Cancer cell-derived tissue factor (TF) can also indirectly activate platelets via the coagulation cascade and generation of thrombin. Cancer cells can also express ligands (e.g., CD24, PSGL, and integrins) that facilitate cancer cell-platelet adhesion.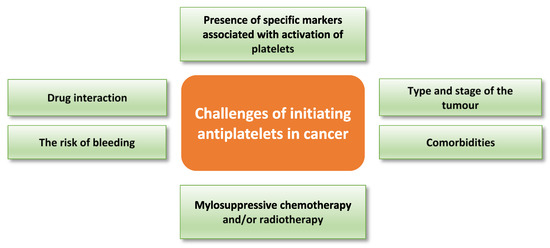 Figure 4. Potential challenges in targeting platelets during cancer therapy. Clinical implementation of antiplatelets in cancer may face several confounders which can be patient-related or therapy-related.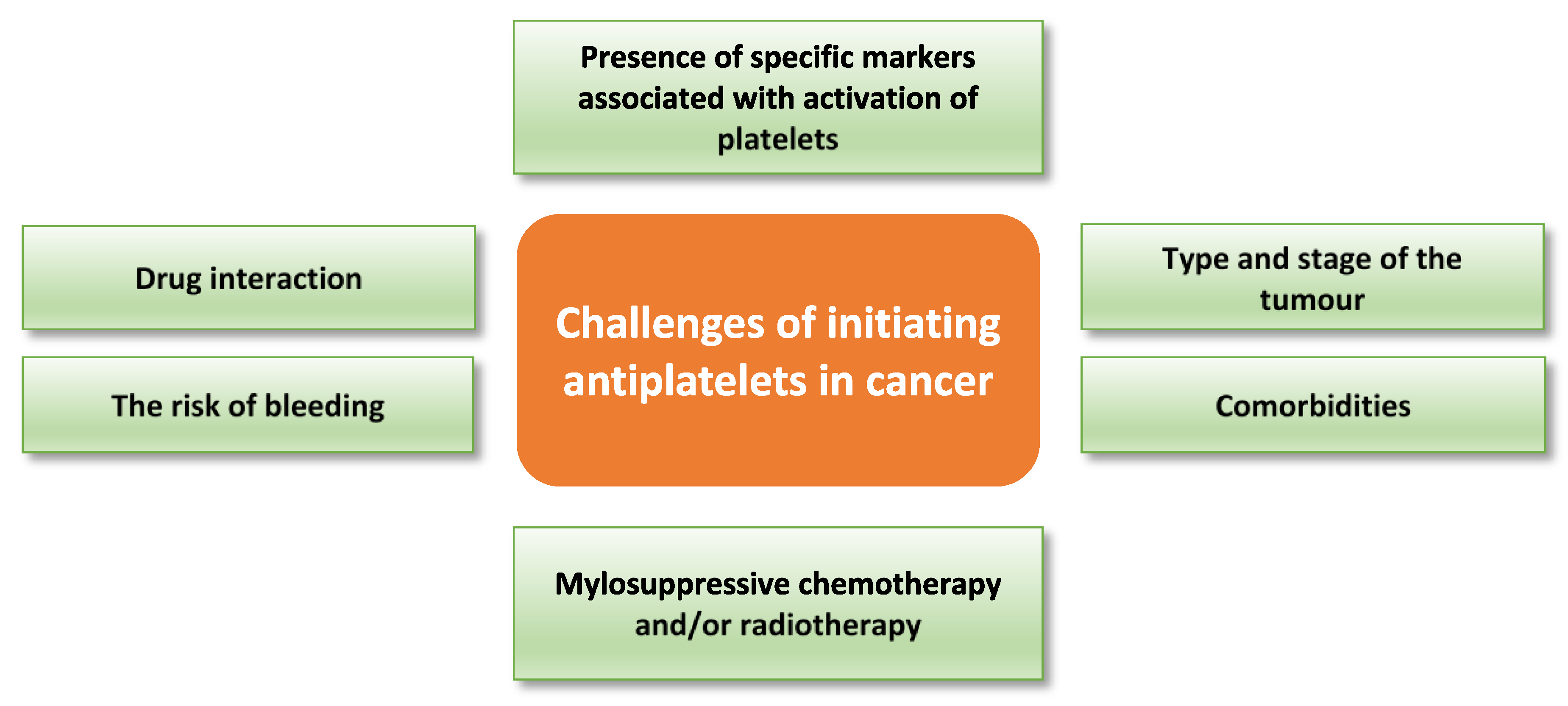 Table 1. Normal physiological levels of angiogenic factors in platelets.

| Angiogenic Factor | Normal Physiological Level in 106 Platelets (Median (Range)) |
| --- | --- |
| VEGF | 0.68 (0.02–1.47) pg [75], 0.9 (0.1–2.3) pg [73] |
| PDGF | 21 (12–33) pg [75], 19.1 (9.3–48.9) pg [73] |
| PF4 | 10 (2.4–22) ng [75], 10.2 (4.2–20.5) ng [73] |
| TSP-1 | 27 (7–54) ng [75] |
| bFGF | 0.42 (0.15–0.75) pg [75] |

Table 2.
Commonly used anticancer drugs and risk of thrombocytopenia [
94
].
Table 2. Commonly used anticancer drugs and risk of thrombocytopenia [94].
Drug
Side Effects

Alkylating Agents

Cyclophosphamide
Lesser effect on peripheral platelet count compared to other alkylating agents.
Ifosfamide
Greater suppression of platelet count than cyclophosphamide
Carmustine
Delayed and prolonged suppression of platelet count, reaching a nadir at 4–6 weeks after administration, with slow reversal
Busulfan
Prolonged and cumulative effect lasting months or years
Thiotepa
Delayed effect compared to cyclophosphamide with platelet nadir at 3 weeks
Streptozocin
Suppression of platelet count in 20% of patients
Dacarbazine
Mild suppression of platelet count which is reversible within 1.2 weeks
Temozolomide
Similar to dacarbazine
Procarbazine
Suppression of platelet count after one week of initiating treatment and reversed within two weeks off treatment

Platinum analogues

Cisplatin
Transient thrombocytopenia

Antimetabolites

Methotrexate
Effect on platelets is completely reversed within two weeks. However, prolonged suppression may occur in patients with compromised renal function.
5-Florouracil
Thrombocytopenia, less often with infusion compared to bolus regimen
Cytarabine
Potent myelosuppression with severe thrombocytopenia
Gemcitabine
Mild haematological toxicities [95]. Myelosuppression is more prominent with longer duration infusion.
6-mercaptopurine
Gradual thrombocytopenia
Cladribine
Cumulative thrombocytopenia with repeated administration.

Others

Topotecan
Neutropenia with or without thrombocytopenia.
Etoposide
Infrequent thrombocytopenia, which is usually, not severe.
Bleomycin
Minor myelosuppression
Mitomycin
Marked thrombocytopenia
Hydroxyurea
Occasional thrombocytopenia
Vorinostat
Thrombocytopenia is more prominent with intravenous administration.
Table 3. Summary of reported platelet effects on tumour growth.

| Platelets Decrease Tumour Growth | Platelets Enhance Tumour Growth |
| --- | --- |
| In in vitro experiments, platelets showed a cytotoxic effect on cancer cells (Malme, a melanoma cell line, and 786, a renal carcinoma cwll line). The platelet effect was abrogated by aspirin [78] | Platelet-derived TGFβ1 enhances ovarian cancer growth in vitro and in vivo [84]. |
| Platelets kill tumour cells (LU99A, a lung cell line, and K562, a chronic myeloid leukaemia cell line) via cyclooxygenase or nitric oxide-dependent pathways [79]. | Platelets promoted proliferation of cancer cells (PLC/PRF/5, Hep3B and HepG2 cells hepatocellular carcinoma cell lines) in vitro via activation of the MAPK pathway [91]. |
| Platelets kill tumour cells via activation of an apoptosis pathway in cancer cells (CEM, leukaemia cell line) through interaction between platelet-derived FAS-L and FAS receptor on the cancer cell [82]. | Platelets enhance the growth of an SKOV3 human ovarian cancer xenograft [101]. |
| Platelets prevented murine cancer cell growth (EG7 (H-2b), L1210, YAC-1 (H-2a) lymphoma cell lines, B16 H-2b, a melanoma cell line, and RM1 (H-2b), a prostate cancer cell line) by inducing cell cycle arrest rather than activating apoptosis [83]. | Deposition of platelets in a solid tumour, as well as tumour growth (pancreatic islet insulinoma), was significantly reduced in P-selectin deficient mice [90]. |
| | In a genetically modified lung cancer mouse model, PF4 enhanced platelet production and accumulation in the lung, which accelerated cancer progression [30]. |
| | Platelets enhance the proliferation of colon and pancreatic cancer cells by upregulating the oncoprotein c-MYC [102]. |
Table 4. Examples of antiplatelet drugs investigated in the context of cancer.
Antiplatelet drugs
Study outcome
References
Dipyridamole and RA-233
In a pancreatic cancer mouse model, the combination of dipyridamole and RA-233 (cAMP-PDE inhibitor) reduced hepatic metastasis
[179]
Prasugrel
In the TRITON-TIMI 38 double-blinded randomised multicentre clinical trial of more than 13000 individuals assessing prasugrel versus clopidogrel in patients with acute coronary syndrome, prasugrel was associated with an increased incidence of gastrointestinal cancer. The exact mechanism is not entirely understood.
[180]
Clopidogrel
In prostate, breast and colorectal cancer patients, there was no increased risk of cancer-specific mortality among clopidogrel users. This study was in response to TRITON-TIMI 38
In a pancreatic cancer mouse model, clopidogrel reduced tumour growth, metastasis and thrombosis associated with cancer cell microparticle-derived tissue factor
In a lung adenocarcinoma mouse model, clopidogrel reduced cancer growth and progression. [181]
[30,181,182]
Aspirin /Clopidogrel
In HBV transgenic mice, aspirin /clopidogrel delayed or prevented the development of hepatocellular carcinoma and improved the overall survival.
[183]
Clopidogrel with or without aspirin
In a large retrospective study involving 184,781 patients, use of clopidogrel with or without aspirin was associated with lower incidence of cancer
[184]
Ticagrelor
In melanoma and breast cancer mouse models, ticagrelor significantly reduced cancer metastasis and improved survival.
[185]
© 2017 by the authors. Licensee MDPI, Basel, Switzerland. This article is an open access article distributed under the terms and conditions of the Creative Commons Attribution (CC BY) license (http://creativecommons.org/licenses/by/4.0/).