Open Access This article is
freely available
re-usable
Review
Potential of Integrin Inhibitors for Treating Ovarian Cancer: A Literature Review
Department of Obstetrics and Gynecology, Osaka University Graduate School of Medicine, 2-2, Yamadaoka Suita, Osaka 5650871, Japan
*
Author to whom correspondence should be addressed.
Academic Editor: Helen M. Sheldrake
Received: 10 June 2017 / Accepted: 3 July 2017 / Published: 8 July 2017
Abstract
:
Epithelial ovarian cancer is a fatal disease, with a cure rate of only 30%. Several recent studies have targeted integrins for cancer treatment. Preclinical studies have shown the effectiveness of several integrin inhibitors for blocking cancer progression, especially by blocking angiogenesis. Because the initial critical step in ovarian cancer metastasis is the attachment of cancer cells to the peritoneum or omentum and because clinical trials have provided positive results for anti-angiogenic therapy, therapies targeting integrins may be the most feasible approach for treating cancer. This review summarizes the current understanding of integrin biology in ovarian cancer metastasis and various therapeutic approaches involving integrin inhibitors. However, no integrin inhibitor has shown favorable results thus far. However, conjugates of cytotoxic agents with the triplet sequence arginine-glycine-aspartate (RGD) peptides targeting α5β1-, αvβ3-, and αvβ6-integrins may be promising integrin-targeting therapies for further clinical investigation.
Keywords:
integrin; ovarian cancer; angiogenesis; RGD peptide; volociximab
1. Introduction
Epithelial ovarian cancer (EOC) is one of the most common gynecologic malignancies and the fifth leading cause of cancer-related death in women [
1
]. EOC is a highly metastatic cancer characterized by widespread peritoneal dissemination and ascites accumulation. Therefore, it is typically diagnosed in advanced stages [
2
]. The standard treatment of EOC is debulking surgery, followed by repeated courses of platinum- and taxane-based chemotherapy. However, most patients with EOC eventually relapse despite receiving intensive treatment, including several lines of chemotherapy, with a 5-year survival rate of patients with advanced-stage EOC being only 30%. The current treatment of EOC is highly associated with the rapid development of drug resistance. Therefore, new therapeutic strategies, including molecular targeting therapies, have been recently considered for treating EOC [
3
]. During ovarian cancer dissemination, cells detach from the primary tumor site, which was initially thought to be the ovary but is now believed to be the fallopian tube [
4
]. Subsequently, ovarian cancer cells float in the peritoneal cavity and attach to secondary sites of implantation, most notably the omentum, which is the most common site of ovarian cancer metastasis [
5
]. Several integrins have been identified as important mediators of ovarian cancer metastasis to the mesothelium [
6
], suggesting that use of integrin inhibitors could be a new therapeutic strategy to prevent the attachment of cancer cells to the peritoneal cavity. In this review, we describe the critical roles of integrins in ovarian carcinoma metastasis and recent progress in targeting integrins for treating several cancers, including ovarian cancer.
2. Biology of Integrins
Integrins are heterodimeric adhesion receptors expressed on the cell surface and consist of two non-covalently bound subunits, namely, an α subunit and a β subunit. The α subunit has four extracellular domains, namely, β propeller, thigh, calf-1, and calf-2 domains. The β subunit has an ectodomain containing eight sub-domains, a β1 domain, a hybrid domain, a plexin-semaphorin-integrin domain, a β-tail, and four integrin-epidermal growth factor domains. Thus far, 18 α subunits and 8 β subunits of integrins have been identified, which combine to form 24 different integrin heterodimers with different specificities toward extracellular components such as collagen, laminin, fibronectin, and vitronectin [
7
] (
Figure 1
). Many integrins recognize and bind to Arg-Gly-Asp (RGD), Arg-Gly-Asp-Val (REDV) or Glu-Ilo-Leu-Asp-Val (EILDV) motif present in extracellular matrix proteins. For instance, αvβ1, αvβ3, αvβ5, αvβ6, αvβ8, α5β1, α8β1 and αIIbβ3 recognize RGD motif found in fibronectin, collagen, vitronectin, osteopontin and thrombospondin [
8
]. α4β1-Integrin recognizes REDV and EILDV motif in an alternatively spliced form of fibronectin [
9
]. Molecular and physical interactions among cancer cells and between cancer cells and the extracellular matrix strongly affect their behavior, thus inducing cancer cell invasion and dissemination [
10
]. Moreover, cell adhesion is crucial for inflammation, platelet aggregation, and tissue repair. Several previous studies have reported the overexpression of some integrins during cancer development and have targeted overexpressed integrins for treating several cancers, including ovarian cancer [
3
].
3. Current Treatment of Ovarian Cancer
4. Biology of Integrins in Ovarian Cancer
5. Clinical Trials of Integrin Inhibitors for Treating Ovarian Cancer
Great progress has been made toward targeting integrins in ovarian cancer. Several preclinical studies on various integrin antagonists have shown their effectiveness in blocking tumor progression. Integrin antagonists inhibit tumor progression by affecting both tumor cells and tumor-associated host cells, especially the angiogenic endothelium. Some of these integrin antagonists have progressed to clinical studies and have shown certain efficacies for cancer treatment.
6. Future Directions and Conclusions
Numerous integrin inhibitors have been evaluated clinically for a range of therapeutic indications. For instance, cilengitide alone has been studied in at least 35 clinical trials that have reported issues with its efficacy rather than its safety [
56
]. Until 2017, only αIIbβ3-integrin inhibitors (abciximab, eptifibatide and tirofiban) were approved for treating thrombosis because platelet αIIbβ3-integrin, also known as glycoprotein receptor-IIb/IIIa, is an important target for preventing clot formation [
56
]. Although various integrin inhibitors such as volociximab and etaracizumab have been assessed for treating solid tumors, including ovarian cancer, none of these inhibitors have shown sufficient efficacy for further clinical investigation. Agents targeting only a single integrin such as αvβ3- or α5β1-integrin have failed to show evident clinical benefits for treating metastatic cancers, indicating that more than one integrin-associated pathway is involved in cancer progression.
Recent studies have assessed RGD peptides as carriers for drug delivery. For instance, αvβ3-integrin is expressed on tumoral endothelial cells as well as on some solid tumor cells, including ovarian cancer cells. RGD peptides preferentially bind to αvβ3-integrin. Therefore, RGD peptides can be conjugated with drugs or radionuclides or can be grafted on the surface of nanoparticles (polymeric nanoparticles, liposomes, polymeric micelles, etc.) that encapsulate various agents such as anticancer drugs, peptides or proteins, nucleic acids, and radionuclides [
57
]. An in vivo preclinical study by Danhier et al. showed enhanced cellular uptake of paclitaxel-loaded RGD- conjugated nanoparticles in the tumor endothelium [
58
]. Meng et al. used liposomes as a nanocarriers to improve the solubility and specific targeting ability of paclitaxel toward the tumor vasculature in mice harboring A547 lung adenocarcinoma cells [
59
]. RGD peptides can be successfully integrated into lipid bilayers. RGD-integrated liposomes containing paclitaxel showed higher cellular uptake and resulted in lower tumor microvessel density than paclitaxel alone, indicating that integrin-based strategy can be used to enhance tumor-specific recognition of nanocarriers [
59
]. Because paclitaxel is the key drug for ovarian cancer treatment, such efforts may improve the chemoresensitivity of patients with refractory ovarian cancer in the near future.
Thus, although integrins play key roles in ovarian cancer metastasis and angiogenesis, none of the integrin inhibitors analyzed to date have shown favorable results, indicating that inhibition of a single integrin may not be sufficient to control ovarian cancer. However, RGD peptides addressed to α5β1-, αvβ3-, and αvβ6-integrin may be a promising drug delivery system, and integrin-targeting therapies may be a promising approach for further clinical investigation.
Acknowledgments
We thank Mami Morikawa (Osaka University, Japan) for her secretarial help.
Conflicts of Interests
The authors declare that they do not have any conflicts of interest related to this study and have not received any funding for preparing this manuscript.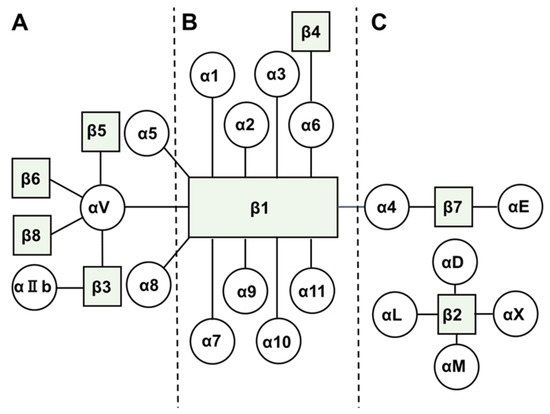 Figure 1.
Members of integrin family and their interactions to form heterodimeric integrins [
7
]. (
A
) Integrins are roughly grouped into three classes and bind to provisional extracellular matrix, (
B
) basal extracellular matrix, and (
C
) cell surface adhesion molecules.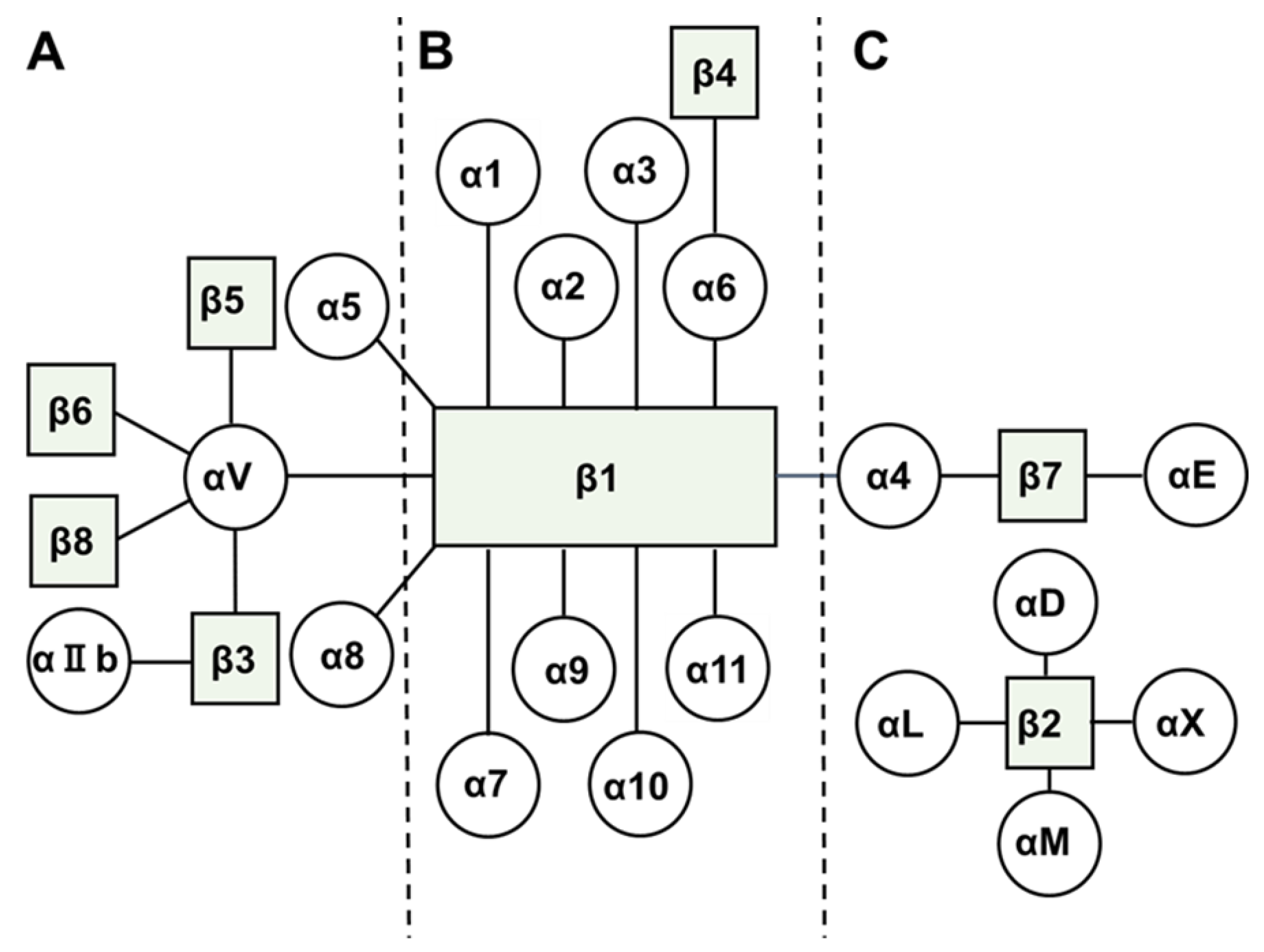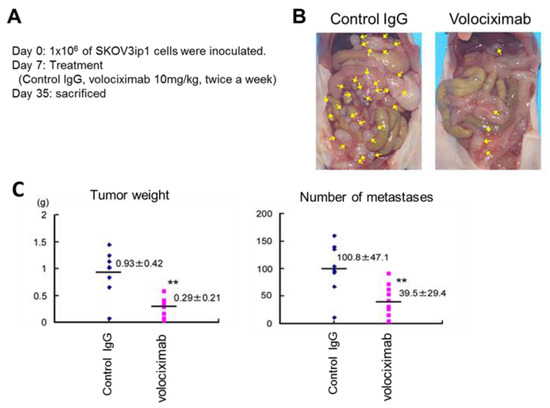 Figure 2.
Blocking of α5β1-integrin (by volociximab) inhibits tumor metastasis in a xenografted model [
42
]. (
A
) Protocol: 1 × 10
6
SKOV3ip1 cells were intraperitoneally injected into Balb-c female nude mice. The mice were randomized into two groups containing 10 mice each and were treated with 10 mg/kg volociximab or control IgG twice a week. On day 35 after the injection, the mice were sacrificed. (
B
) Representative images of each group. (
C
) Tumor weight (left) and number of tumor metastases are shown (**
p
< 0.01).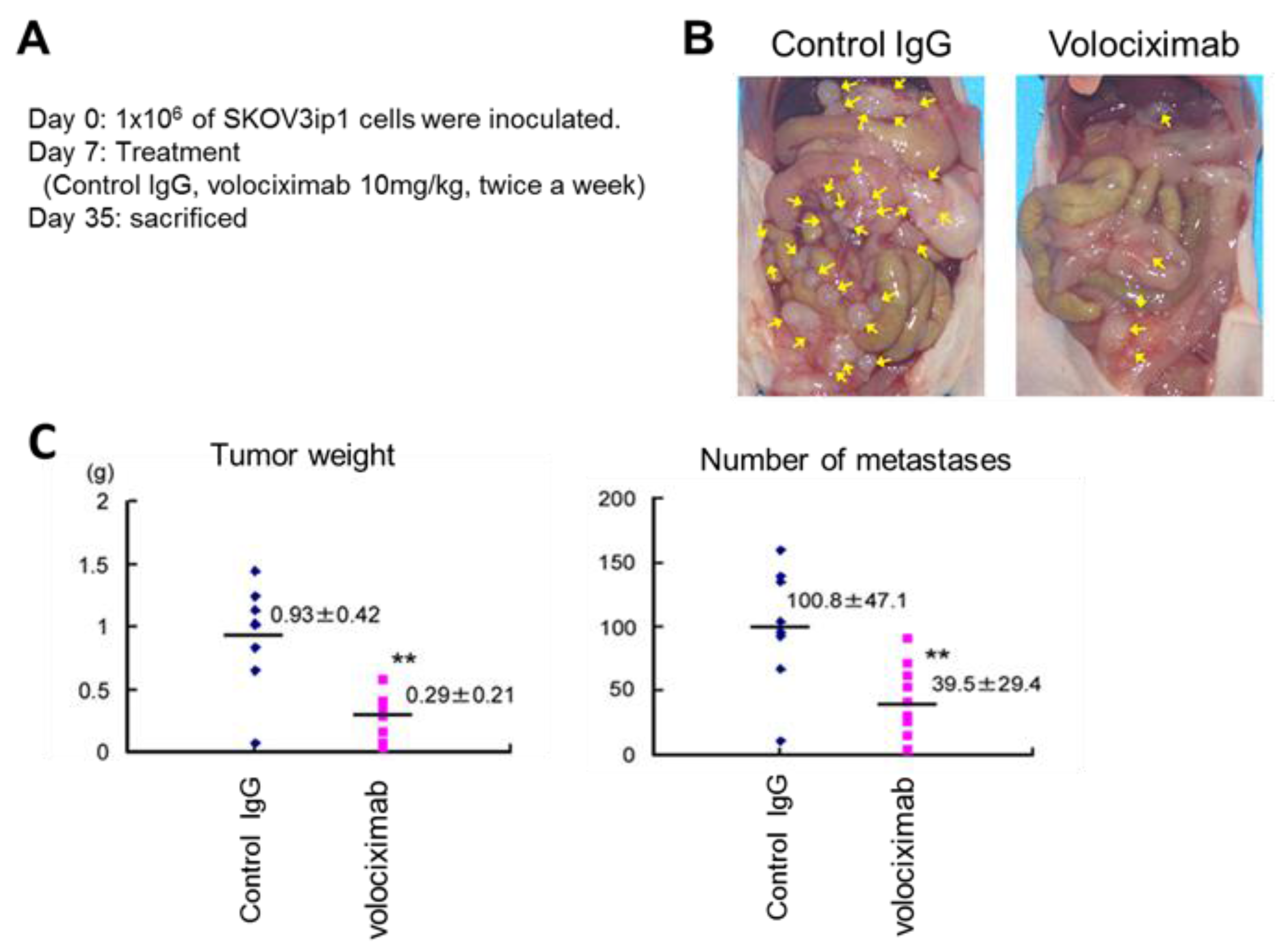 © 2017 by the authors. Licensee MDPI, Basel, Switzerland. This article is an open access article distributed under the terms and conditions of the Creative Commons Attribution (CC BY) license (http://creativecommons.org/licenses/by/4.0/).