Open Access This article is
freely available
re-usable
Review
Can Integrin Agonists Have Cards to Play against Cancer? A Literature Survey of Small Molecules Integrin Activators
1
Department of Chemistry "G. Ciamician", University of Bologna, Via Selmi 2, 40126 Bologna, Italy
2
Department of Pharmacy and Biotechnology, University of Bologna, Via Irnerio 48, 40126 Bologna, Italy
*
Author to whom correspondence should be addressed.
Academic Editor: Helen M. Sheldrake
Received: 6 June 2017 / Accepted: 3 July 2017 / Published: 5 July 2017
Abstract
:
The ability of integrins to activate and integrate intracellular communication illustrates the potential of these receptors to serve as functional distribution hubs in a bi-directional signal transfer outside-in and inside-out of the cells. Tight regulation of the integrin signaling is paramount for normal physiological functions such as migration, proliferation, and differentiation, and misregulated integrin activity could be associated with several pathological conditions. Because of the important roles of integrins and their ligands in biological development, immune responses, leukocyte traffic, haemostasis, and cancer, their potential as therapeutic tools is now widely recognized. Nowadays extensive efforts have been made to discover and develop small molecule ligands as integrin antagonists, whereas less attention has been payed to agonists. In recent years, it has been recognized that integrin agonists could open up novel opportunities for therapeutics, which gain benefits to increase rather than decrease integrin-dependent adhesion and transductional events. For instance, a significant factor in chemo-resistance in melanoma is a loss of integrin-mediated adhesion; in this case, stimulation of integrin signaling by agonists significantly improved the response to chemotherapy. In this review, we overview results about small molecules which revealed an activating action on some integrins, especially those involved in cancer, and examine from a medicinal chemistry point of view, their structure and behavior.
Keywords:
integrins; agonists; ligands; signaling; lactams; RGD mimetics; activation
1. Introduction
Binding of ligands to integrins activates outside-in signaling, which triggers a vast array of intracellular signaling events that determine cell fate, as above mentioned. As such, tight regulation of signaling via integrins is paramount for normal physiological function, and misregulated integrin activity is associated with many pathological conditions including cancer.
In this paper, we overviewed the literature about small molecules that directly target integrins and revealed an activating action on some of them, especially those involved in cancer. These agonist molecules were examined in terms of structure and behavior from a medicinal chemistry point of view.
2. Agonists or Antagonists: That Is the Question
The complex roles of integrins in several pathologies identify this family of adhesion receptors as valuable drug targets. To date, most efforts have prompted the development of small molecules targeting integrins, especially those implicated in cancer (such as αvβ3, αvβ5, α5β1), in platelet aggregation (αIIβ3), and in the regulation of inflammation and immune functions (such as α4β1, α4β7, αLβ2 and αMβ2), although to date, no anticancer drug targeting integrins has been approved.
As previously described, integrins can mediate their own functions by changing conformation, as they exist in a dynamic equilibrium of several conformations that are determined by ligand interaction, or that induce ligand binding (
Figure 2
). As classical signaling receptors, following ligand binding, integrins promote signal transduction processes. Since several reports have shown that different ligands behave in a dissimilar way, it has been hypothesized that integrin ligand binding could mediate more than one downstream signaling mechanism [
26
]. On the basis of this hypothesis, the binding of different ligands may result in distinct events.
Pharmacologically, ligands can be classified on the basis of their action at the receptor. Agonists are compounds which bind to receptors and mimic the signaling of endogenous compounds; on the contrary, antagonists bind to the receptor and block its interaction with endogenous agonists, but do not induce any receptor activation and signal transduction, and therefore do not possess intrinsic activity. Additionally, some ligands, defined as partial agonists, possess less ability to activate the receptor and associated signal transduction, while inverse agonists are compounds that are able to stabilize the receptor in its inactive conformation. Moreover, a ligand can modulate receptor activity or binding of agonists/antagonists acting allosterically on a topographically distinct position from the site of activity or ligand binding: they are defined as allosteric agonists/antagonists.
All these definitions may apply to integrins and integrin-mediated signal transduction, suggesting that it could be possible to develop small molecules to target specifically a definite integrin conformation and downstream signaling: a sort of "biased ligand" for integrins [
27
]. Several studies suggest that integrins may share this feature with G-protein coupled receptors (GPCRs) for which "biased agonism" or differential signaling has been a deeply studied phenomenon over the last 10 years [
28
]. However, further investigations will be necessary to deepen our knowledge on these processes in integrin functions.
Recently, several studies have reported the development of small molecules acting as integrin agonists, that may display potential clinical applications. Analyzing those ligands, it has been recognized that not all agonists behave in the same manner, supporting the idea of biased agonism for integrins.
Integrin activation and signal transduction may be differently modulated by different integrin agonists (
Figure 3
). Faridi and coworkers reported that small molecule agonists for the α
M
β
2
integrin induce modest and local changes in integrin structure, while the binding of activating antibodies, which activate integrins or that bind in an activation-sensitive manner, prompt more global conformational changes, inducing outside-in signaling [
29
].
These new insights into integrin functions require a better characterization of synthetic compounds (both agonists and antagonists): it is crucial to investigate deeply their effects on several functions mediated by integrins such as cell adhesion, intracellular signaling and integrin trafficking. Furthermore, integrin internalization regulates several processes, like cell migration and adhesion, and is relevant in many pathological conditions, especially in cancer [
30
,
31
]. It would be interesting also to investigate the effects of integrin agonists and antagonists also on integrin trafficking: for example, these data could be useful to develop small molecules able to deliver selectively cytotoxic molecules into cancer cells. It is currently unclear whether integrin agonists and antagonists may mediate internalization in a different way.
3. RGD-Binding Integrin Agonists
4. Leukocyte Integrins
The mutual relationship between inflammation and cancer is nowadays well established, and immunomodulation is considered a useful tool not only for the treatment of inflammatory pathologies and autoimmune diseases, but also in cancer therapy [
50
,
51
]. When the release of chemokines and growth factors due to inflammation is chronic, oxidative damage and DNA mutations may occur, thus supporting tumor development [
52
]. On the other hand, the effects of cancer on the immune system include several pathways such as the up-regulation of immune-suppressive cytokines, and the dysregulation of T-cell mediated host responses. In this context, the role of adhesion molecules is fundamental for leukocyte recruitment and migration and for T-cell infiltration in tumor tissues. Moreover, regulation of the expression and activity of specific adhesion molecules has a strong impact on B-cell homing, survival and environment mediated drug resistance in malignancies such as non Hodgkins lymphoma (B-NHL) [
53
,
54
]. An important aspect is the binding-detachment ratio that controls cell movement and is responsible for the dynamic aspects of the process. Recent studies have shown that fast leukocyte recruitment to the site of injury occurs during acute inflammation, while slower processes may be observed for the immune response in pancreatic and hepatic cancer [
55
]. In this complex scenario, modulation of integrin activity plays a fundamental role. While antagonists may interfere in leukocyte primary functions, agonists may induce a stronger adhesion that, avoiding detachment, prevents normal cell migration processes [
56
]. Leukocytes express on their surface, selected classes of integrins (see
Figure 1
), and, among them, α
L
β
2
(LFA-1, CD11a/CD18), α
M
β
2
(CD11b/CD18, Mac-1), α
4
β
7
(LPAM) and α
4
β
1
(VLA-4) received major attention as targets for small molecule ligand-induced immunomodulation.
4.1. β2 Integrin Agonists
4.2. α4β1 Integrin Agonists
The α
4
β
1
integrin is a key player in the homing of progenitor cells to inflammation sites and mediates cell adhesion to VCAM-1 and to the alternatively spliced segment-1 (CS1) of fibronectin. This receptor lacks an I domain, and ligand binding occurs at the interface between α and β subunits, through coordination to a MIDAS in the α subunit. Crystal structure of α
4
β
1
integrin is still not available, and all the designed ligands have been planned based on the structure of α
4
β
7
integrin that shares the same α subunit [
72
].
As reported above [
60
], potential application of integrin agonists as therapeutic agents started after the observation that freezing the α
4
β
1
integrin (VLA-4) in a high-avidity state by activation with monoclonal antibodies generated a strong interference with trans-endothelial migration of leukocytes. Although this study suggested a novel approach to prevent rapid tissue invasion by VLA-4-positive cells during inflammation, α
4
β
1
integrin agonists have been poorly explored in comparison with antagonists. The first agonist THI0019 (compound
20
,
Figure 8
) was synthesized using a potent antagonist as template, by introducing a methyl ester instead of a carboxylic function, thus avoiding MIDAS affinity [
73
]. Cell adhesion assays with T lymphocyte cells in the presence of VCAM-1 showed an enhancement of cell binding with an EC
50
of 1.2 μM; comparable agonist activity was also observed toward α
4
β
7
, α
5
β
1
and α
L
β
2
integrins, while negligible effects were observed on α
v
β
3
, α
1
β
1
and α
2
β
1
integrins. Further bioassays, supported by docking experiments based on the α
4
β
7
crystal structure, suggested that THI0019 temporarily occupies the ligand binding pocket, bridging both α and β subunits and inducing a small conformational change in the β unit that favors ligand binding and agonist displacement, in agreement with the binding mode of other small-molecule integrin systems [
72
,
74
]. Different from previously described β
2
integrin agonists, THI0019 is a full agonist and promotes rolling, migration and cell homing, and, in this case, the up-regulation of integrin activity should be useful for cell retention in stem cell therapy. In fact, in patients who have had a myocardial infarction, early retention of transplanted stem cells may significantly improve heart functions [
75
,
76
]. Co-administration of stem cells with a α
4
β
1
integrin agonist such as THI0019 may potentially improve cell retention at the site of injury, and in this way enhance stem cell therapy.
The switch from antagonist to agonist behaviour, due to small changes in the molecule backbone, was also recently reported for β-lactam ligands, designed to target RGD-binding and leukocyte integrins [
45
]. A library of small molecules was indeed synthesized and screened for the affinity and selectivity to different classes of integrins. Within this study, compound
21
(
Figure 8
) was found to be a selective agonist of α
4
β
1
integrin, having an EC
50
of 12.9 nM in T lymphocyte cell adhesion assays to VCAM-1, and activating outside-in signaling, evaluated quantifying ERK1/2 phosphorylation. The binding mode of the lactam was further explored by using a conformation-specific anti-β1 integrin antibody (HUTS-21) able to recognize a ligand-induced binding site (LIBS) epitope that is exposed upon agonist binding or partial integrin activation. Agonist 21 significantly increased HUTS-21 antibody binding in a concentration-dependent manner, thus demonstrating the induction of a conformational rearrangement in the β
1
subunit that resulted in exposure of the HUTS-21 epitope and a more active conformation.
5. Laminin-Binding Integrins
Engagement of laminins by a group of integrin family proteins, including integrins α
3
β
1
, α
6
β
1
, α
7
β
1
and α
6
β
4
, is an important event in the interaction of cells with basement membranes. Different isoforms of both integrins and laminins showed specific affinities in binding studies, thus inducing different effects in cell physiology [
77
]. Laminin-binding integrins have been suggested to be potent mediators of tumor cell motility, migration and invasion during metastasis but, depending on the conditions, they may have pro-metastatic or anti-metastatic functions [
78
].
Within this class of receptors, integrin α
3
β
1
[
79
] is highly expressed in podocytes, terminally differentiated visceral epithelial cells, and primarily binds to laminin expressed in the glomerular basement membrane (GBM). Integrin α
3
β
1
mediates stable adhesion and maintains the integrity of podocytes and the glomerular filtration barrier. Damages or protein mutations that reduce either integrin activation or expression, may result in podocyte alteration and may cause proteinuria.
The small molecule pyrintegrin (
Figure 9
) behaves as an activating/protecting agent of integrins from puromycin aminonucleoside (PAN)-induced damage, via a dose-dependent effect on the podocytes (EC50 = 0.8 μM) [
80
]. Moreover, pyrintegrin showed a strong survival-promoting effect on dissociated human embryotic stem cells (hESCs), inducing in a few hours a dramatic increase in the adhesion to laminin-coated plates. Further experiments confirmed that pyrintegrin increases integrin activity and activates intracellular signaling [
81
]. This molecule was also capable of promoting adipose tissue formation from either transplanted human adipose stem/progenitor cells or host endogenous cells, both in vitro and in vivo. The efficacy in endogenous adipogenesis without cell transplantation suggest that pyrintegrin treatment may be also exploited as an alternative to autologous fat transfer in post-operative volume reduction [
82
].
6. Collagen-Binding Integrins
Under disease conditions, such as inflammation, tissue regeneration events, and tumors, collagen-binding integrins α
1
β
1
, α
2
β
1
, α
10
β
1,
and α
11
β
1
play a more-prominent role. Integrins α
1
β
1
and α
2
β
1
might be needed for a correct and innate immune response in various populations of immune cells, whereas α
10
β
1
and α
11
β
1
appear to be central to how connective tissue cells perform in the musculoskeletal system [
83
].
Examples of small molecules that act as agonists of collagen-binding integrins are very poor. Chung et al. reported on the effect of some snake venom toxins such as the C-type lectin protein Aggretin, which induces vascular smooth muscle cell proliferation and migration, and stimulates the signaling pathways via activation of α
2
β
1
[
84
]. However, a recent contribution by the same authors reported that a small mass peptide fragment of aggretin may bind integrin α
2
β
1
and acts as antagonists of angiogenesis, thus reversing the behavior compared to aggretin [
85
].
7. Conclusions
Integrins are crucial transmembrane receptors, whose action mode is quite complex and not yet completely understood. Integrins interconnect extracellular and intracellular compartments, thus acting as a bidirectional hub transmitting outside-in or inside-out cellular signals.
Although the potential therapeutic application of integrin agonists exists, it is important to ascertain the exact behavior of new integrin ligands (antagonist or agonist) towards several cellular events mediated by integrins, such as adhesion, signaling, clustering, and trafficking. In case of an ambivalent role (antagonist and agonist together) it would be extremely important to determine if this is concentration-dependent, such as the case of Cilengitide. Appropriate knowledge of this aspect should limit possible failures at a late stage of clinical trials of future lead compound.
Another important point to be addressed is the effect of ligands (agonists and antagonists) on integrin trafficking and internalization, because these processes regulate several events such as cell migration and adhesion, and are relevant in many pathological conditions, especially in cancer. Investigations on integrin internalization could be useful to exploit small molecules such as drug cargoes, which able to selectively bind and activate integrins, and to deliver cytotoxic molecules into cancer cells via integrin endocytosis. Now, it is currently unclear whether integrin agonists and antagonists mediate internalization in a different way.
The realization that different ligands can activate or inhibit integrins in a dissimilar way and that "biased agonism" could be applied also to integrins, suggests that it should be possible to design synthetic agents that specifically target an integrin-mediated effect. Therefore, a better and complete characterization of small molecules that behave as integrin agonists or antagonists will be paramount for the development of novel drugs that target integrins with high potential and reduced adverse effects.
Acknowledgments
Authors thank Santi Spampinato for fruitful discussions and for reading the manuscript.
Conflicts of Interest
The authors declare no conflict of interest.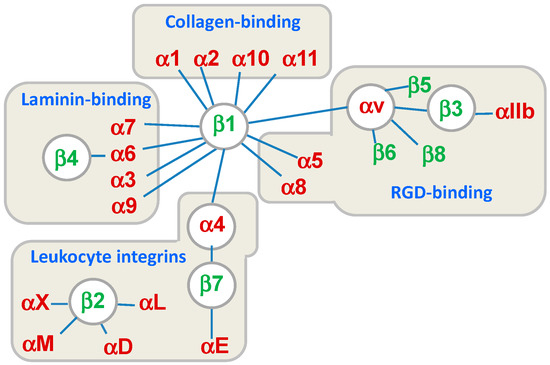 Figure 1. Classification of the 24 integrin heterodimers according to the combination of the subunits α and β, their specific ligands, or cell type. RGD: Arg-Gly-Asp.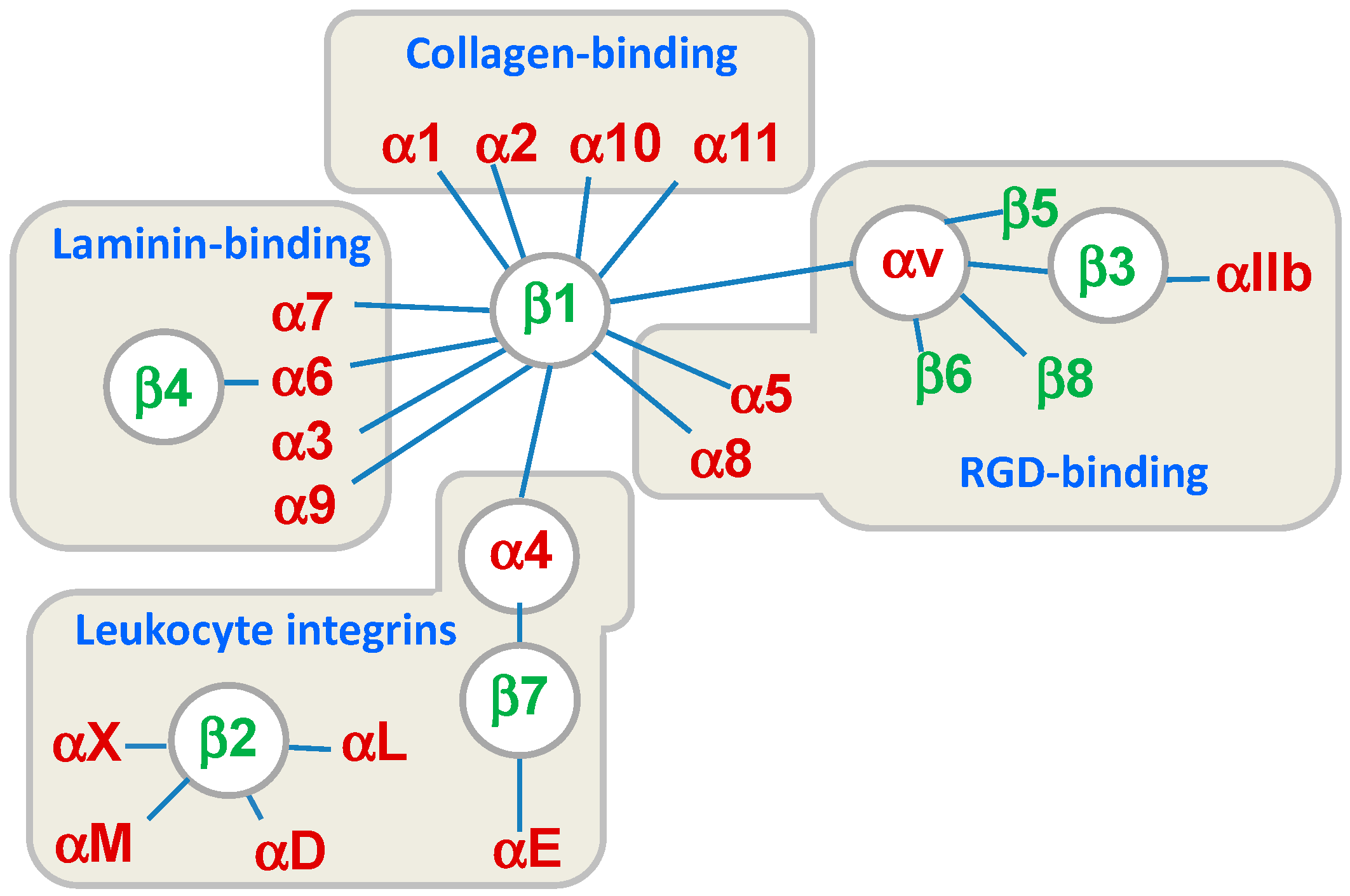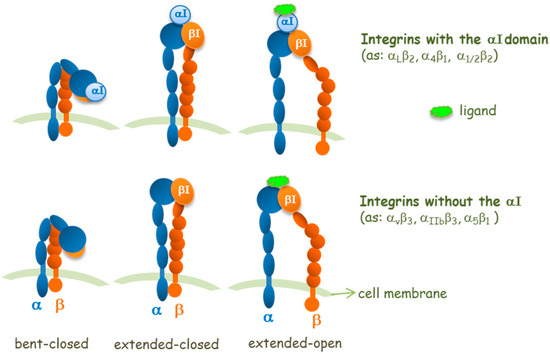 Figure 2. Schemes for three conformational states of αI-integrins and integrins without the αI domain, and interaction sites of a ligand.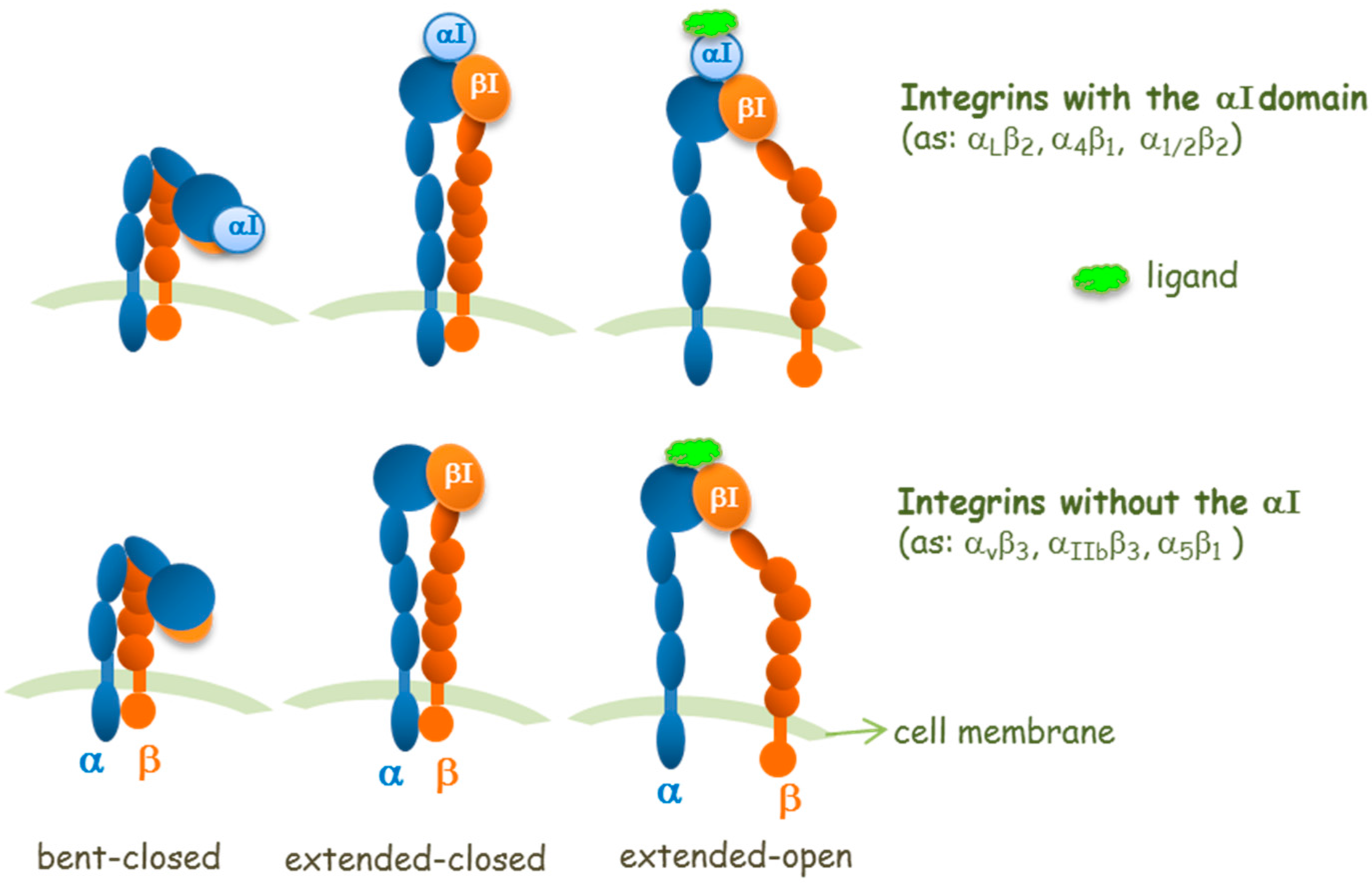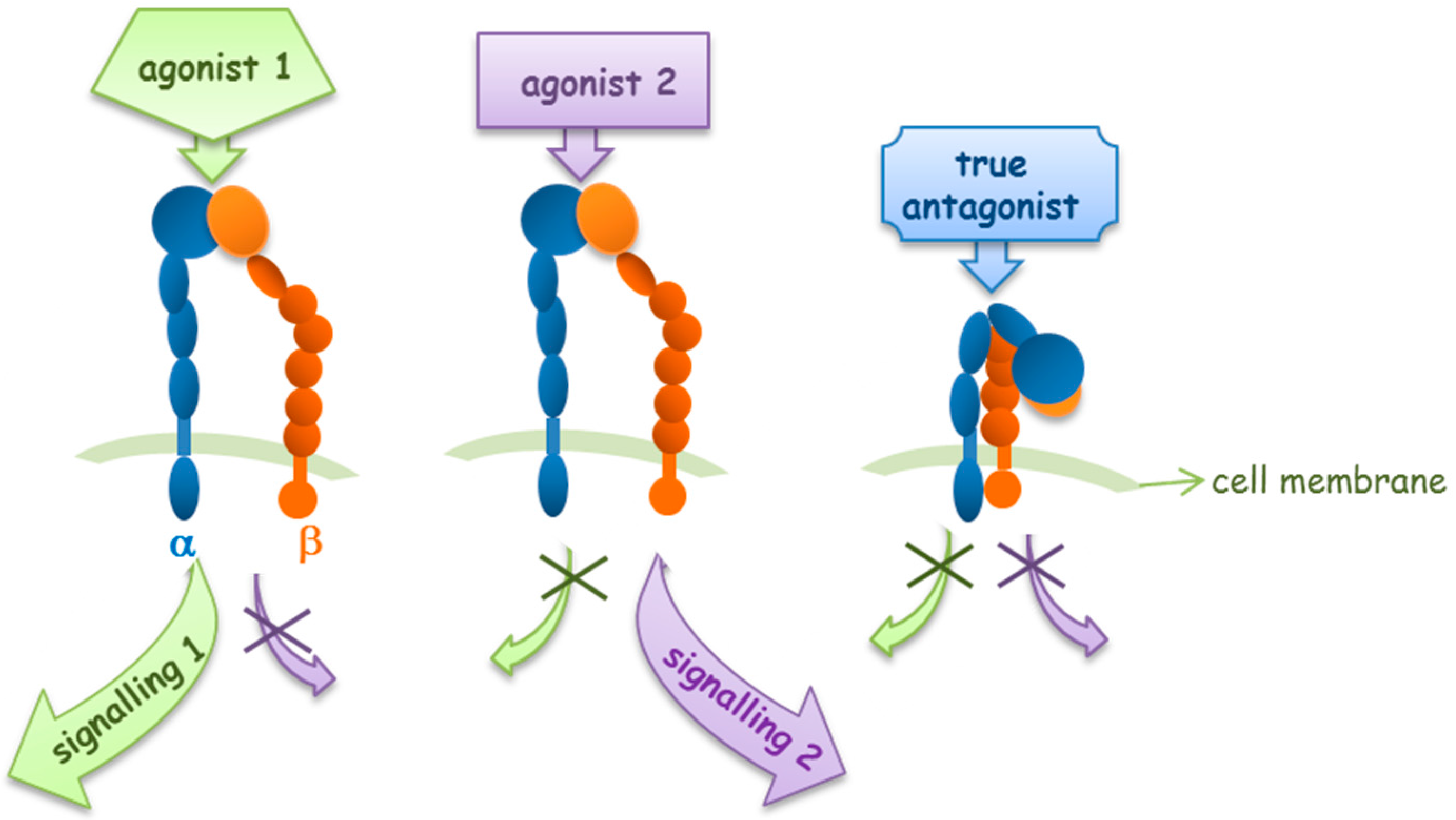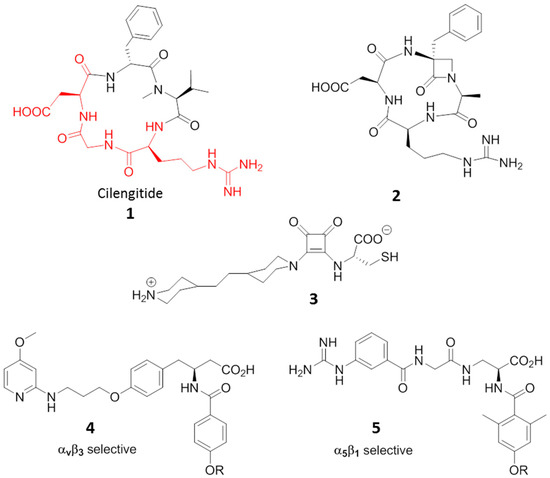 Figure 4. Ligands to RGD-binding integrins displaying agonist behaviour. RGD sequence in Cilengitide is highlighted in red.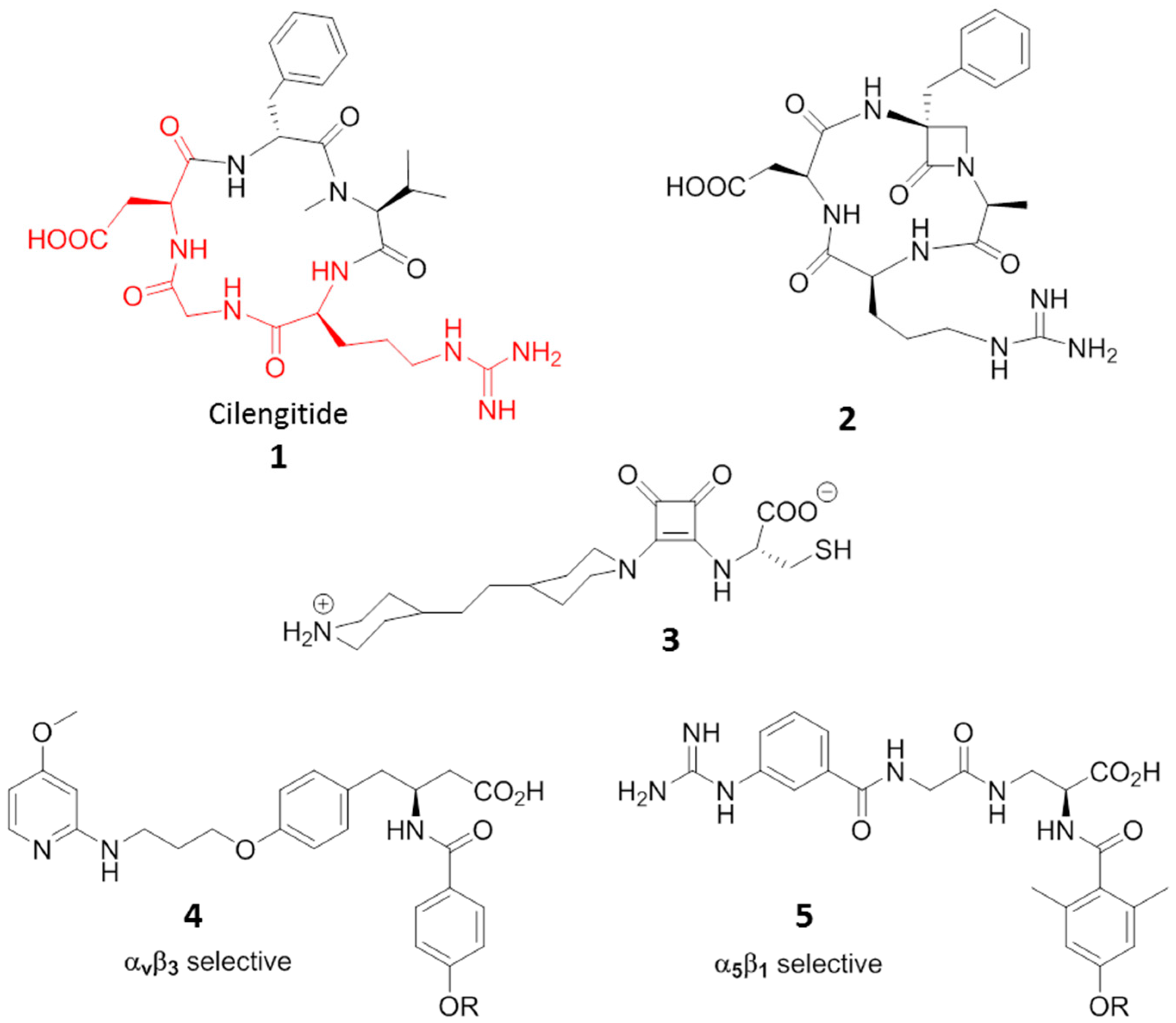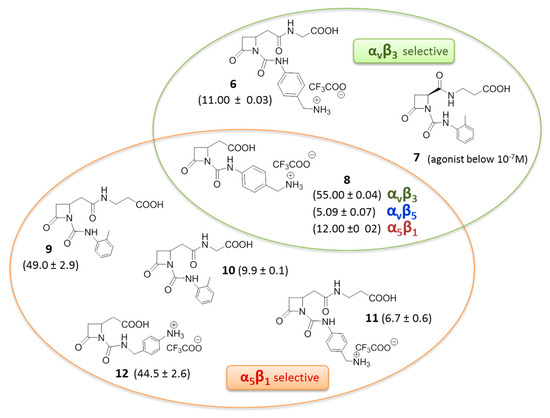 Figure 5. β-Lactam-based agonists to RGD-binding integrins, in parenthesis half maximal effective concentration EC50 (mean ± SD, nM).

Figure 6. Chemical structure of TSRI265, an αvβ3 ligand able to disrupt the integrin-MMP2 interaction and showing antiangiogenic activity.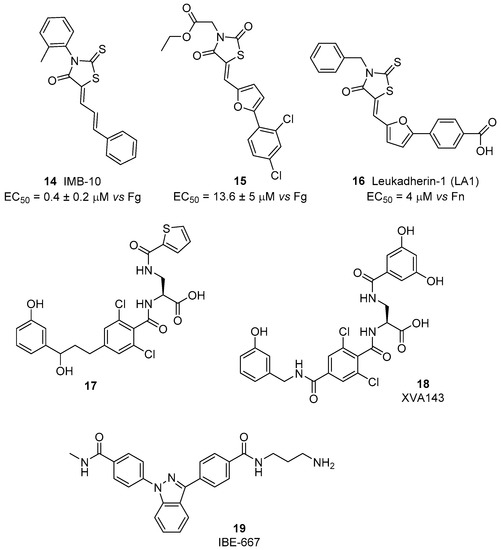 Figure 7. β2 integrin agonists; data are expressed as EC50 (mean±SD, nM) vs. ligand employed in cell adhesion assay.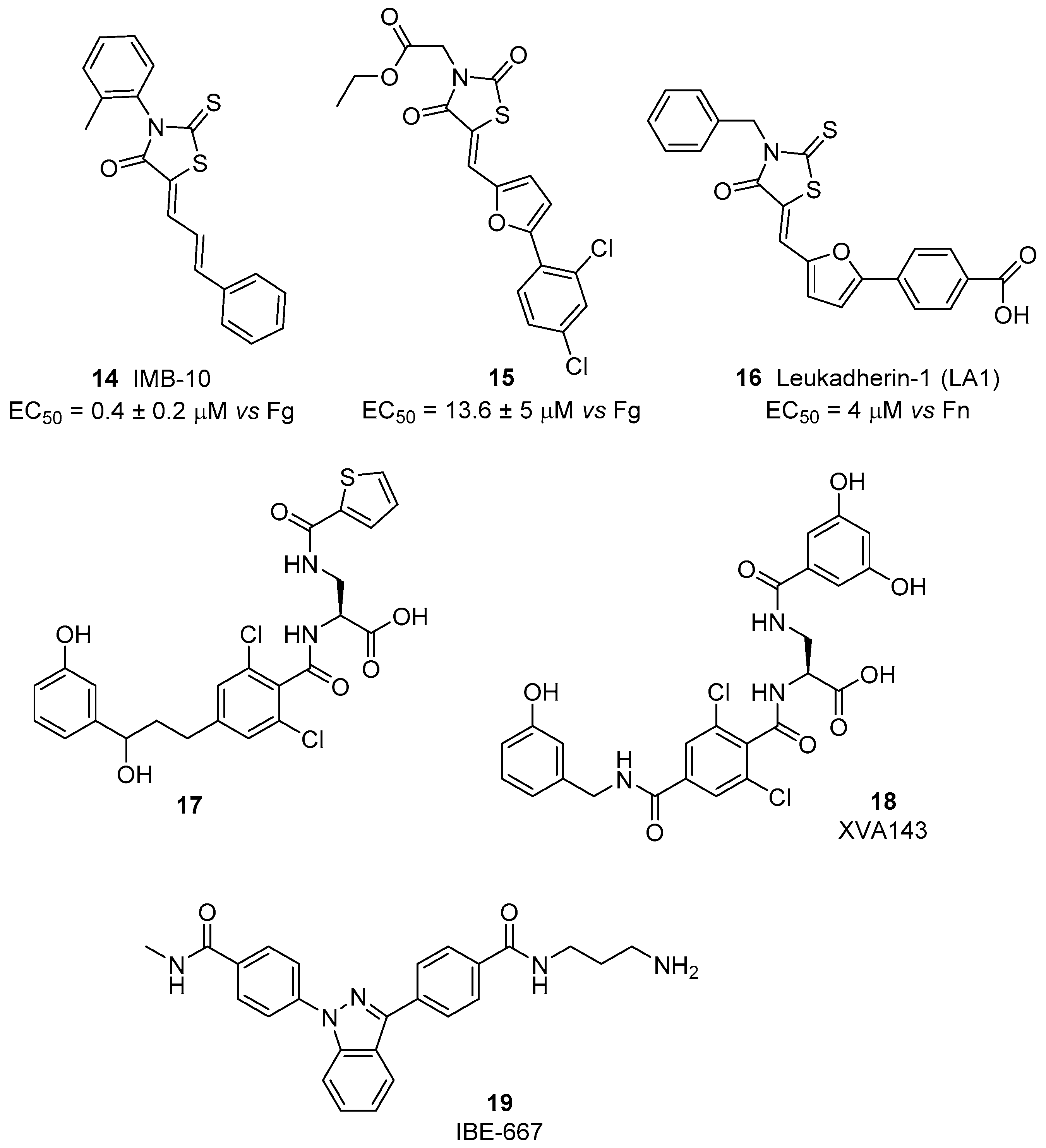 Figure 8. α4β1 integrin agonists; data are expressed as EC50 (mean±SD, nM) vs. ligand employed in cell adhesion assay.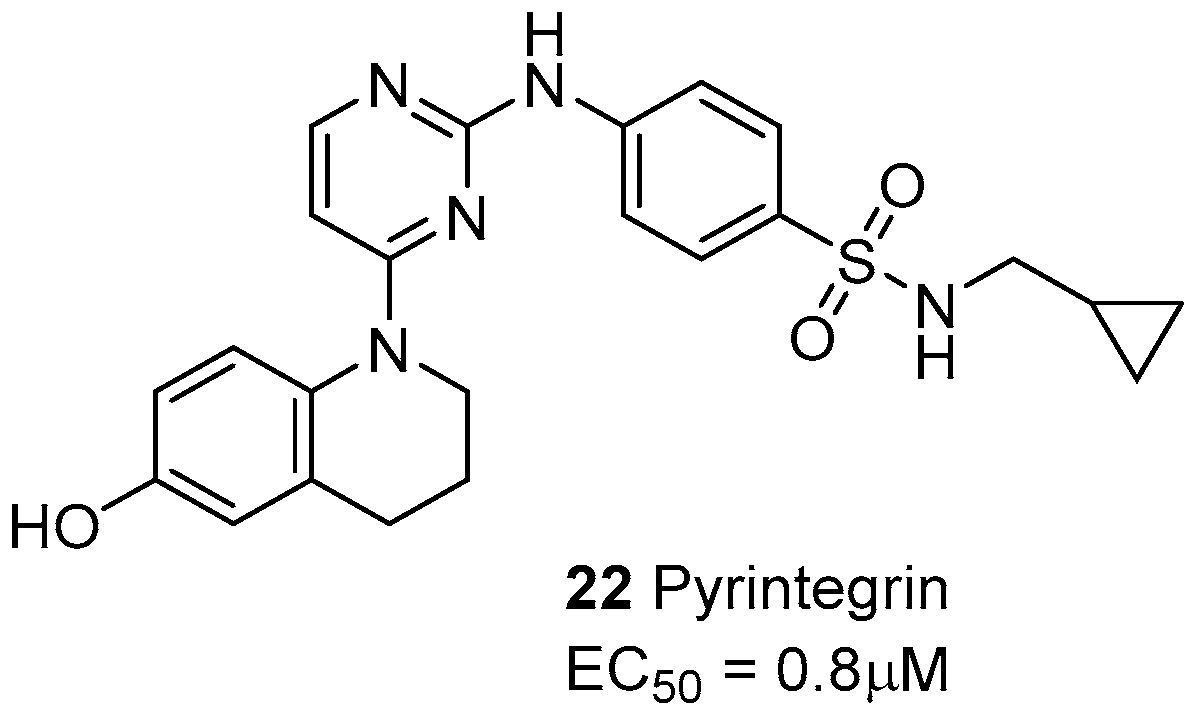 © 2017 by the authors. Licensee MDPI, Basel, Switzerland. This article is an open access article distributed under the terms and conditions of the Creative Commons Attribution (CC BY) license (http://creativecommons.org/licenses/by/4.0/).