Open Access This article is
freely available
re-usable
Review
From Pathology to Precision Medicine in Anaplastic Large Cell Lymphoma Expressing Anaplastic Lymphoma Kinase (ALK+ ALCL)
Department of Pathology and Laboratory Medicine, University of Pennsylvania, Philadelphia, PA 19104, USA
*
Author to whom correspondence should be addressed.
Academic Editor: Samuel C. Mok
Received: 26 July 2017 / Accepted: 13 October 2017 / Published: 16 October 2017
Abstract
:
Anaplastic large cell lymphoma expressing anaplastic lymphoma kinase (ALK+ ALCL) is a distinct subtype of non-Hodgkin lymphoma. In this review, we discuss the historical findings that led to its classification as a unique disease, despite its varied clinical presentation and histology. We discuss the molecular mechanisms underlying ALK+ ALCL pathology and the questions that remain in the field. Finally, we visit how decades of ALK+ ALCL research has yielded more precise drugs that hold promise for the future.
Keywords:
anaplastic lymphoma kinase; anaplastic large cell lymphoma; NPM-ALK; ALK+ ALCL; precision medicine
1. Anaplastic Large Cell Lymphoma in Historical Context
2. ALK Biology in the Crosshairs of Medicine
3. Targeting STAT3 in ALK+ ALCL
One of the emerging stories stemming from the molecular characterization of NPM-ALK function is a consistent role for STAT3 signaling in the pathogenesis of ALCL. STAT3 is phosphorylated in normal cells by members of the JAK family in response to cytokine-cytokine receptor interaction. Phospho-STAT3 translocates into the nucleus, and functions as a transcriptional activator. Several lines of evidence support its role in ALCL. First, STAT3 is required for ALK-mediated tumorigenesis in lymphoma [
26
]. Second, a striking correlation exists between ALK-dependent and IL-2-dependent transcriptional changes in ALK+ ALCL [
44
]. Third, convergent mutations of JAK1 and/or STAT3 itself in ALK-negative ALCL also result in STAT3 activation [
21
]. STAT3 is thus an attractive drug target (
Figure 1
). However, targeting STAT3 has proven difficult [
45
] and so other potential targets in this pathway have garnered attention.
In dissecting the role of the JAK/STAT pathway in ALK+ ALCL, a controversy has emerged as to whether NPM-ALK can bypass JAK to phosphorylate STAT3 directly. If JAK3, or other members of the family, were an intermediary of NPM-ALK signaling, then it would function as a suitable drug target. Initial evidence suggested that this was indeed the case. JAK3 was found to be constitutively active in ALCL cells and to physically interact with NPM-ALK [
46
,
47
,
48
]. Accordingly, JAK inhibition revealed a dose-dependent loss of STAT3 activity [
46
]. However, these reports were in contrast to a previous study in which an NPM-ALK mutant unable to bind JAK3 could still phosphorylate STAT3 [
49
]. A potential explanation for this discrepancy is that the JAK inhibitors used in the Amin et al. [
46
] study had off-target binding to the kinase domain of ALK thus ultimately reducing STAT3 phosphorylation independently of JAK3. This explanation was further supported by later work which showed that the JAK3 inhibitors used in the Amin et al. [
46
] study could directly inhibit NPM-ALK kinase activity in vitro and that JAK3 was, in fact, unnecessary for STAT3 phosphorylation [
50
].
Recent technological advances should help resolve this controversy and further elucidate targetable pathways in ALK+ ALCL. First, with many ALK inhibitors now available as research tools, a thorough analysis of JAK kinase function upon ALK inhibition could be conducted. If NPM-ALK phosphorylates STAT3 via JAK, then treatment with structurally different ALK inhibitors should always simultaneously reduce phosphorylation of JAKs and STAT3. Second, using CRISPR-based genome editing tools, JAK knockout ALCL cells could be generated to determine the contribution of JAKs to NPM-ALK function and ALCL cell growth. Finally, to identify additional drug targets potentially outside of the NPM-ALK-JAK/STAT pathway, a more general CRISPR-screen could be completed in ALK+ ALCL cells.
4. Conclusions
In summary, ALCL initially appeared as an enigmatic disease. However, as the clinical, histological, and genetic evidence mounted, a distinct entity of T cell lymphoma for the ALK-expressing subtype emerged. The pathogenesis of ALK-negative ALCL strongly parallels that of the ALK+ subtype in that intracellular cytokine signaling pathways are often engaged. Based on these findings, new and more precise therapies have been developed. It appears likely that such precision medicine will become the mainstay of treatment in ALCL.
Acknowledgments
Our studies cited in this review were supported in part by the National Cancer Institute grant R01-CA96856 and NE Colleluori Lymphoma, Berman Family, and Allanoff Research Funds. No funds were allocated specifically to publish in open assess.
Author Contributions
Michael T. Werner wrote the manuscript. Qian Zhang wrote and revised the manuscript. Mariusz A. Wasik wrote and edited the manuscript.
Conflicts of Interest
All authors declare no competing financial interests.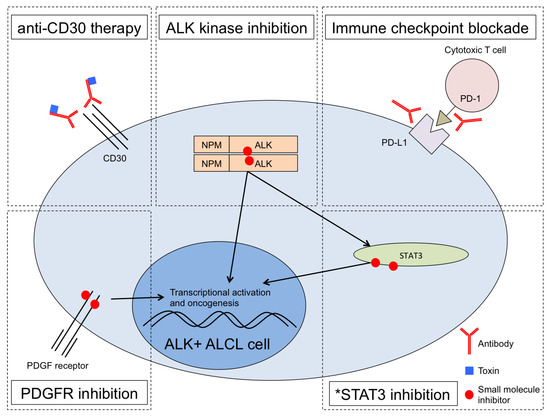 Figure 1.
Multiple therapeutic pathways in ALK+ ALCL can be combined for optimized treatment. Anti-CD30 treatment with brentuximab vedotin is FDA-approved [
23
]. ALK inhibitors such as the first-generation drug crizotinib are in various stages of clinical development with strong preliminary clinical results in ALCL [
28
,
29
,
30
]. PD-1 checkpoint blockade resulted in complete remission for a patient with chemotherapy-resistant and ALK inhibitor-resistant ALCL relapse [
35
]. Experimental treatment using the PDGFR inhibitor imatinib resulted in a full remission of a patient in relapse [
36
]. *STAT3 inhibition is an area of active research in ALCL and other cancers but remains experimental, limited so far in ALCL to pre-clinical studies.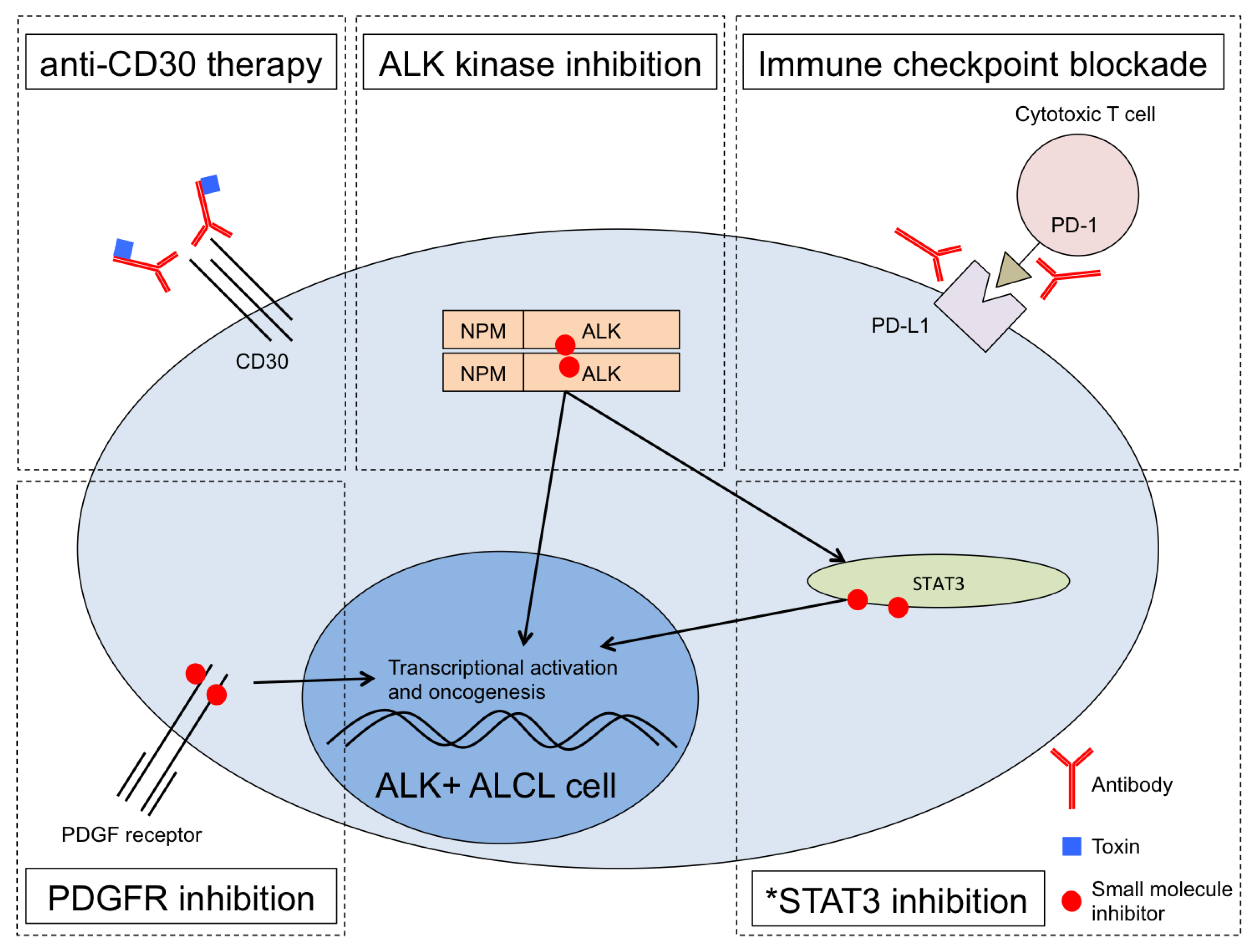 © 2017 by the authors. Licensee MDPI, Basel, Switzerland. This article is an open access article distributed under the terms and conditions of the Creative Commons Attribution (CC BY) license (http://creativecommons.org/licenses/by/4.0/).