Open Access This article is
freely available
re-usable
Review
Alcohol and Hepatocellular Carcinoma: Adding Fuel to the Flame
1
Department of Internal Medicine III, University Hospital RWTH Aachen, Pauwelsstrasse 30, D-52074 Aachen, Germany
2
Department of Immunology, Complutense University School of Medicine, Madrid 28040, Spain
3
13 de Octubre Health Research Institute (imas12), Madrid 28041, Spain
4
Department of Animal Physiology II, Faculty of Biology, Complutense University, Madrid 28040, Spain
*
Authors to whom correspondence should be addressed.
Academic Editors: Helmut K. Seitz and Sebastian Mueller
Received: 14 August 2017 / Accepted: 19 September 2017 / Published: 25 September 2017
Abstract
:
Primary tumors of the liver represent the fifth most common type of cancer in the world and the third leading cause of cancer-related death. Case-control studies from different countries report that chronic ethanol consumption is associated with an approximately 2-fold increased odds ratio for hepatocellular carcinoma (HCC). Despite the substantial epidemiologic data in humans demonstrating that chronic alcohol consumption is a major risk factor for HCC development, the pathways causing alcohol-induced liver cancer are poorly understood. In this overview, we summarize the epidemiological evidence for the association between alcohol and liver cancer, review the genetic, oncogenic, and epigenetic factors that drive HCC development synergistically with ethanol intake and discuss the essential molecular and metabolic pathways involved in alcohol-induced liver tumorigenesis.
Keywords:
alcohol; hepatocellular carcinoma; acetaldehyde; oxidative stress; apoptosis
1. Introduction: Alcohol Consumption and Its Impact on Human Health
Although epidemiological studies have validated a causal association of alcohol intake with several types of cancer, the underlying mechanisms through which alcohol triggers carcinogenesis are still not well understood. Moreover, how alcohol might drive the development and growth of certain cancers but not of others still represents an interesting area to investigate. Therefore, the main thrust of this review is to provide an update on both previous and current studies regarding alcohol and HCC molecular pathogenesis, to evaluate genetic and epigenetic risk factors, and to identify gaps in our current knowledge of alcohol-related tumorigenesis.
2. Alcohol Metabolism in the Liver
3. Pre-Carcinogenic Alterations of Hepatic Metabolism: From Steatosis to Oxidative Stress
The effects of alcohol on liver pathophysiology include a wide-spectrum of clinical features that are classically grouped under the general term of alcoholic liver disease (ALD). In fact, chronic alcohol consumption leads to changes of hepatic metabolism that, in association with other factors like sex, genetics or dietary habits progressively develop through simple steatosis, alcoholic hepatitis and fibrosis, to cirrhosis, with 1–2% of cirrhotic patients progressing to HCC, as end-stage liver disease. As outlined in the previous section, alcohol affects various aspects of hepatic metabolism through direct and indirect effects. At first, the reactions operated by the enzymatic systems ADH and ALDH lead to an increased intracellular NADH/NAD+ ratio, affecting important metabolic pathways including fatty acid oxidation and lipogenesis.
Although these changes in the redox balance might be sufficient to contribute to alcoholic liver steatosis, additional mechanisms have recently been proposed to increase hepatic triglyceride content (
Figure 2
). The pathways contributing hepatic steatosis and how this metabolic reprogramming might influence disease progression and progression to cancer are still poorly understood. In vitro studies have shown that ethanol reduces lipid catabolism via inhibition of β-oxidation in hepatocytes, and increased lipid biosynthesis and fatty acid up-take [
36
,
37
,
38
]. In this process, many factors participate in the metabolic changes occurring following alcohol intake. Acetaldehyde was shown to interfere directly with the transcriptional activity of two important transcription factors involved in lipid metabolism, notably PPAR (Peroxisome proliferator-activated receptors) family members and SREBP-1 (Sterol regulatory element binding protein 1). PPAR-α, a nuclear receptor known to be a major regulator of FAO, is negatively regulated by ethanol consumption, while pharmacological agonists of this nuclear receptor were shown to exert protective effects in the context of ALD [
39
,
40
]. Conversely, another member of the PPARs family, PPAR-γ, transcriptionally regulates genes responsible for fatty acid synthesis and uptake. Accordingly, several recent experimental studies shed light on the therapeutic potential of targeting of PPAR-γ in the context of alcoholic steatosis [
41
]. In particular, epigenetic modifications of this transcription factor, such as increased acetylation, have been proposed to be responsible for its activation during chronic alcohol consumption [
42
]. Interestingly, activity of Sirtuin-1 (SIRT-1), a NAD
+
-dependent deacetylase, is strongly inhibited by ethanol, and this has been shown to induce a reduction of PPAR-γ deacetylation, thereby enhancing its transcription. Similarly, the transcriptional activity of SREBP-1 is also increased during alcohol consumption through epigenetic modifications leading to up-regulation of genes involved in lipogenesis [
43
]. Chronic ethanol exposure can also reduce the activity of AMPK (5′ AMP-activated protein kinase), a critical regulator of cellular homeostasis, contributing to increase hepatic lipogenesis and decreased gluconeogenesis [
44
].
Lipid droplets' turnover is a dynamic cellular process partly regulated by autophagy, a conserved mechanism enabling degradation and recycling of damaged cellular components such as proteins in order to promote efficient cell functionality. Ethanol consumption additionally influences autophagy in hepatocytes in different ways depending on the duration, and possibly amount, of alcohol administration [
45
]. Acute alcohol intake has been shown to enhance autophagy via FoxO3a activation [
46
] whereas chronic alcohol consumption appears to inhibit the autophagic process in a CYP2E1-dependent manner therefore contributing to lipid droplet accumulation in the liver [
47
]. Moreover, a particular form of autophagy occurring in the mitochondrial compartment, defined as mitophagy, recently emerged as a cytoprotective mechanisms against alcoholic mitochondrial damage-favoring mitochondrial turnover and improving β-oxidation, as demonstrated in Parkin-deficient mice [
48
].
In the context of inter-organ communication, alcohol was shown to decrease adipose tissue depots via increased CYP2E1 activation and oxidative stress. Cellular stress triggers a massive increase of lipolysis in adipocytes, possibly mediated by the hormone fibroblast growth factor-21 (FGF-21), with consequent release of fatty acid in the circulation, so contributing to hepatic steatosis [
49
]. Uptake of fatty acids therefore represents an important metabolic mechanism in alcohol-induced steatosis, as demonstrated in mice lacking the fatty acid transporter CD36. These mice actually display reduced triglyceride accumulation following ethanol feeding [
50
]. So far, the significance of hepatic fatty acid accumulation during alcohol consumption and how these metabolic changes impact on cell death and proliferation in the progression of the disease still remain elusive. Of note, genetic targeting of lipid droplet associated proteins like Perilipin-2 (Plin2) and Fat-specific protein (Fsp27) have been reported to successfully attenuate steatosis and related features of steatohepatitis in murine models of alcohol feeding [
51
,
52
]. Furthermore, recent interesting work by Bin Gao's group [
29
] indicated that lack of functional ALDH2 in mice results not only in amelioration of steatosis, but also in an enhanced inflammatory response. This work suggests a possible dissociation of these two features in the progression of the disease.
Although a causal link with the hepatic increase of lipid accumulation is still to be elucidated, a key role for oxidative stress in the cytotoxic and mutagenic effects derived from alcohol consumption shows recent consolidation. As previously mentioned, induction of CYP2E1 activity and the exhaustion of mitochondrial GSH stores induced by accumulation of acetaldehyde are the most relevant and abundant sources of free radicals responsible for the increased oxidative stress triggered by chronic alcohol exposure. Ethanol can also react with hydroxyl radicals to generate 1-hydroxyethyl radicals (HER), a very reactive molecule that binds to protein-generating adducts which lead to organellar damage and mitochondrial dysfunction [
53
]. A vicious circle ensues, since reduced mitochondrial functionality represents in turn an important source of ROS production. Moreover, alcohol consumption can induce increased hepatic iron concentrations, as observed in in vitro experiments and in alcoholic patients [
54
], a phenomenon also contributing to ROS generation. Notably, chronic alcohol consumption in human and in experimental animals was shown to decrease tissue oxygen tension, with development of hypoxic areas in the liver contributing to ROS generation via activation of xanthine oxidase [
55
]. Together with altered metabolism of methionine, ethanol-dependent hypoxia might also impair the activity of the methionine adenosyltranferase leading to depletion of S-adenylmethionine (SAMe), a metabolic precursor of glutathione [
56
]. Accordingly, several studies have shown that administration of exogenous SAM exerts hepatoprotective effects, ameliorating steatosis and alcohol-related liver injury [
57
].
ROS generated via multiple sources can therefore, as a consequence of hepatic ethanol metabolism, react with several cellular components, and result in: lipid peroxidation, DNA mutation and enzyme inactivation-with consequent cellular damage and death. Aldehydes are bio-products of lipid peroxidation that, similarly to acetaldehyde, can form adducts with DNA, and are able to generate mutations of onco-suppressor genes, or oncogenes. In this regard, the aldehydes malondialdheyde (MDA) and 4-hydroxynonenal (4-HNE) were shown to exert mutagenic potential on the
p53
gene through reaction with deoxy-guanosine, deoxy-adenosine and deoxy-cytidine residues in DNA [
58
]. Furthermore, aldehydes can also react with protein-forming complexes which are able to trigger immune reactions, so generating epitope-specific antibodies, typically associated with ALD development [
59
]. In fact, patients in advanced stages of alcoholic disease display detectable circulatory levels of antibodies directed against protein adducts with either MDA or HNE [
60
]. It is, therefore, a reasonable approach that in recent years many efforts have been undertaken to demonstrate the beneficial effects of antioxidant therapies in this specific context. For example, pharmacologic or genetic targeting of CYP2E1 activity revealed an efficient therapeutic strategy limiting ROS production, steatosis and apoptosis in experimental models of alcohol consumption [
61
]. Moreover, selective inhibition of CYP2E1 was shown to prevent cancer development in mice treated with a combination of alcohol and the hepatocarcinogen diethylnitrosamine (DEN) [
62
]. Recent experimental work in mice shed light on the therapeutic potential of targeting the nicotinamide adenine dinucleotide phosphate oxidase (NADPH) oxidase complex (NOXs family) in the context of ALD [
63
]; although neither the particular isoform that may play a major contributory role nor the cell-specific localization in the liver have not been fully clarified [
64
]. Pharmacologic and genetic activation of the anti-oxidant regulator nuclear factor (erythroid-derived 2)-like 2 (Nrf2) has been reported to protect against alcoholic steatosis and alcohol-induced liver injury. Activation of Nrf2 via natural activator sulforaphane has been shown to increase the anti-oxidant levels of GSH and reduce liver steatosis in a model of acute alcohol injury [
65
]. Nonetheless, mice lacking Nrf2 are more susceptible to alcohol-induced liver damage-displaying a Srebp1-dependet increase in steatosis, and a dramatic depletion of glutathione associated with increased mortality [
66
]. In the context of carcinogenesis however, Nrf2 was shown to be overexpressed in many tumor entities including HCC [
67
]. Considering the intimate relation between alcohol consumption and HCC development, experimental evidence analyzing a possible role of Nrf2 as a catalyst within this partnership is still absent.
Finally, ethanol consumption has been associated with reduced hepatic levels of retinol (Vitamin A) [
68
], and it has been widely reported that alcoholic patients display decreased plasma retinol levels related to the severity of liver disease [
69
]. Alcohol appears to be a competitive inhibitor of vitamin A oxidation to retinoic acid, as the metabolism of these two compounds share enzymes critical in their catabolism, such as alcohol dehydrogenase and acetaldehyde dehydrogenase [
70
]. Moreover, alcohol-induced cytochrome P450, particularly CYP2E1, enhances catabolism of vitamin A and retinoic acid, whereas it alters retinoid homeostasis by increasing vitamin A mobilization from liver to extrahepatic tissues. Decreased hepatic retinol content has been proposed to play a contribution to the development of HCC through mechanisms affecting apoptosis and cell proliferation [
71
,
72
].
4. Genetics and Epigenetics of Alcohol-Related Liver Cancer
5. Alcohol and the Cell Cycle Machinery: Hepatocyte Cell Death and Proliferation
Therefore, it is currently not understood precisely how alcohol could trigger HCC development (involving excessive proliferation of hepatocytes/oval cells), and simultaneously inhibit the hepatic cell cycle. It has been hypothesized that ethanol per se might not be a tumor inducer but rather a tumor promoter. However, experimental proof of this concept is still incomplete. Accordingly, identifying the genetic factors and oncogenes that drive HCC development synergistically with ethanol intake would allow the design of optimized therapeutic strategies.
6. The Gut-Liver Axis: Alcohol Effects on Primary Tumor Development and on the Pro-Metastatic Niche
The progression of alcoholic liver disease is also influenced by the communication with other organs like the intestine. Consolidating evidence arose in recent years indicating that alcohol not only alters the quantitative and qualitative composition of the microbiome, but also induces alterations of the epithelial intestinal barrier with consequent release of bacteria and bacterial products that fuel the inflammatory response in the liver (
Figure 4
). It has been demonstrated that, upon alcohol exposure, lipopolysaccharide (LPS) and other bacterial products are released into the circulation and can bind to members of the toll-like receptors (TLRs) family on the cellular membrane of hepatic resident macrophages (Kupffer cells), thereby triggering the production of pro-inflammatory mediators in these cells [
114
]. In particular, mice lacking TLR4 displayed protection against steatohepatitis despite increased concentrations of plasma endotoxin following alcohol feeding [
115
]. Recent evidence in this regard shows that fecal microbiota transplantation and fecal microbiota manipulation via use of prebiotics might represent a valuable therapy against alcoholic liver injury and steatosis [
116
]. Similarly, dietary approaches and probiotic supplementations aimed at maintaining intestinal eubiosis revealed protective effects against ethanol-induced liver injury in mice and humans [
117
]. Moreover, interesting work from Schnabl's laboratory sheds light on alterations of the mycobiome during alcohol consumption [
118
]. In fact, not only bacterial populations seem to be affected by ethanol intake but also the richness and the composition of intestinal fungi dramatically change under these conditions. Indeed, fungi can also be released in the circulation and behave as pathogen-associated molecular pattern molecules (DAMP/PAMP) binding specific receptors on Kupffer cells and promoting local IL-1β release.
Genetic depletion of the TLR4 receptor was subsequently shown to attenuate alcohol-associated steatosis and liver injury through MyD88-independent pathways [
119
]. In the context of cancer, TLR4 has been shown to interact with and activate the stem cell marker NANOG and induce liver tumorigenesis in mice fed high caloric diets. Accordingly, mice lacking TLR4 receptor developed much less tumors under the same dietary regimen [
120
]. A similar mechanism has been reported by Machida and co-workers indicating an interaction of TLR4/Nanog in tumor-initiating stem cell-like cells of the liver in a carcinogenetic combined model of alcohol consumption and HCV infection [
121
]. A connection between TLR4 and the microbiome in the context of HCC development has been elegantly demonstrated by Schwabe's group in murine models of chronic liver injury [
122
]. Here, the authors demonstrated the efficiency of TLR4 depletion and the use of antibiotics or gut sterilization in limiting hepatic tumor promotion and formation.
The generation of a strong inflammatory environment derived from a direct effect of alcohol on non-parenchymal hepatic cells or indirectly fueled by the increased intestinal permeability, represents a condition that would amplify the process of liver injury and repair, and certainly favors the generation and proliferation of hepatic neoplastic foci (specific mediators of alcohol-induced inflammation are reviewed in detail elsewhere [
123
]). Additionally, a preclinical study of excess alcohol consumption indicates a 2.5-fold increase of hepatic metastases of colon cancer cells spreading from the spleen in ethanol-fed mice as compared to controls receiving water [
124
]. This enhanced aggressiveness is consistently reported to be associated with an enhanced inflammatory response and a systemic decrease of CD8
+
and NKT
+
-cells [
125
].
In summary, recent pioneering work has identified gut-liver communication and the microbiome as important components involved in the development of ALD. However, intensive future investigations will be necessary to ascertain whether manipulating the intestinal microbiome might be a suitable approach to ameliorate or prevent ALD, and its progression to HCC.
7. Extra-Hepatic Effects of Alcohol
According to novel experimental and clinical findings, chronic alcohol intake appears to induce a series of systemic disturbances favoring optimal metabolic and immune conditions for the development of cancer. Beyond the effects on the gastro-intestinal tract that we described above, physiological homeostasis and functionality of other organs, such as white adipose tissue (WAT) and skeletal muscle, can be compromised influencing, in turn, the progression of liver disease. Supporting this, recent clinical and experimental findings suggest that chronic alcohol consumption reduces white adipose tissue mass via increased oxidative stress and inflammatory response [
126
]. This process induces a release of pro-inflammatory mediators (adipokines) that fuel the inflammatory response in liver. Moreover, mobilization of free fatty acids from the WAT due to excessive lipolysis is a potential source inducing hepatic steatosis [
49
]. In fact, the premise of a WAT-liver axis influencing metabolic and inflammatory alterations involved in ALD progression has recently emerged [
127
].
Moreover, acute alcohol intoxication or chronic alcohol consumption have been shown to induce atrophy of skeletal muscle, mostly related to a general impairment in protein synthesis, modulation of autophagy and reduction of the mTOR kinase activity [
128
]. Chronic alcohol exposure has been reported to induce muscle myopathy through altering the expression of genes involved in myogenic differentiation [
129
]. Autophagy seems also to be a factor in alcohol-induced sarcopenia. Indeed, increased expression of autophagy-related markers have been detected in skeletal muscle of alcoholic cirrhotic patients, as well as in the gastrocnemius of ethanol-fed mice, and murine myotubes exposed to ethanol treatment [
130
]. Interesting, inhibition of autophagy via knockdown of a central autophagic executer, Atg7, resulted in restoration of normal, physiological myotube size upon alcohol exposure. Furthermore, alcohol consumption results in reduced production of insulin-like growth factor (IGF-I) in muscle and liver with consequent alterations of muscular anabolic reactions and an imbalance of total protein turnover [
131
]. Thus, the injured or wasted muscle can produce inflammatory mediators (e.g., IL-6) that can in turn aggravate hepatic inflammation. It is noteworthy to consider that the cirrhotic patient frequently presents muscle loss related to malnutrition and metabolic deficiencies (e.g., Vitamin D) [
132
]. This could therefore indicate that beyond the direct effects of alcohol exposure on the skeletal muscle, the metabolic alterations of the chronic injured liver also indirectly impact muscular functionality.
8. Pre-Clinical Models of Alcohol Induced HCC
Given the multi-factorial complexity of alcoholic cytotoxicity and the interplay between both immune cells and hepatocytes and also between liver and other organs, there is an urgent need to re-create experimental conditions in vivo that reproduce clinical features of the alcoholic patient. Whereas in vitro studies analyzing the effects of alcohol on hepatocytes and hepatoma cell lines are quite exhaustive and mainly focused on aspects related to ethanol metabolism, in vivo pre-clinical models have recently been developed in order to evaluate the systemic influence of alcohol consumption in the context of hepatic carcinogenesis. Although representing a good reproducible model of chronic alcohol consumption, the typical experimental Lieber-Decarli liquid diet (using alcohol in combination with nutritionally adequate diets) did not, somewhat surprisingly, induce hepatic fibrogenesis and subsequent spontaneous hepatocarcinogenesis in mice. Thus, the Lieber-Decarli model per se is not suitable to mimic the pathogenesis normally observed in alcoholic patients with advanced stage of the disease. To the best of our knowledge, only two independent studies reported spontaneous development of liver neoplasia in alcohol-preferring rats (P-rats) after consumption of 10% alcohol in water for 18 months [
133
,
134
]. To this end, alcohol-induced injury protocols of chronic feeding in mice have been modified with combination of acute alcohol binge (NIAAA model) or high caloric feeding to increase liver injury and inflammation. Unfortunately, development of liver fibrosis and induction of carcinogenesis were not reported in these models.
Recently, multiple series of intraperitoneal diethylnitrosamine (DEN) injection followed by Lieber-Decarli diet feeding for up to 12 weeks has been adopted as a mouse model of HCC, promoted by alcohol consumption via alterations of the immune response [
125
]. Mice overexpressing the HCV Ns5a protein in hepatocytes develop HCC when fed long-term alcohol [
120
]. Also the combination of high caloric feeding with alcohol was reported to aggravate the effects of ethanol and induce liver fibrosis mainly through TLR4-dependent mechanisms, mimicking a clinical situation quite common in developed countries [
135
]. As this model recapitulates with good fidelity the human setting, a more consistent body of experimental evidences is required to understand how metabolic alterations driven by different dietary regimens influence the progression of the disease. It is quite well-demonstrated that fatty acids exert additive effects on alcohol-induced hepatic mitochondrial functionality, CYP2E1 activity and modulation of the immune response [
136
,
137
,
138
]. However, studies concerning the effects of diet composition at longer time-points on HCC development are still scarce and controversial [
139
,
140
,
141
].
It seems therefore necessary that further hepatic insults or a pro-inflammatory stimulus favor the conditions initiating cellular transformation in mice. Differences that are evident between experimental mouse models and the human condition, including genetic background, enzyme catabolic activity and environmental exposure to toxicant, should be considered in the interpretation and translation of data collected. Altogether, optimal animal models mimicking the different stages of the pathogenesis, from simple alcoholic steatohepatitis to liver fibrosis and HCC, are not yet available but are urgently required.
9. Conclusions
The studies reviewed here clearly indicate the complexity and multi-factorial etiology of ALD in relation to liver cancer. The effects of ethanol metabolism do not only impact the liver, but also involve a systemic and multi-organ crosstalk that inevitably contributes to a feedback loop that can aggravate the metabolic damage in hepatocytes. It is, therefore, crucial to understand all aspects of the disease in order to limit the tightly interconnected triggering events that irreversibly drive neoplastic alterations. Alcoholic liver damage represents a condition mainly related to psychosocial and cultural habits, and for this reason likely very difficult to eradicate. The combination of bad dietary habits, sedentary lifestyle and alcohol consumption represents a high-risk condition for developing chronic liver disease. Understanding how these factors interact at the metabolic level, in the progression of the disease, could indicate novel therapeutic/preventative approaches in the management of the alcoholic patient. Moreover, alcohol and high-caloric feeding have been shown to induce dysbiosis and alter intestinal permeability. In this regard, modulation of the intestinal microbiome is emerging as a promising therapy, and intensive studies are needed to establish safe and efficient intervention protocols. In the context of HCC, alcohol appears to be a promoter rather than initiator. Even so, the molecular pathways through which alcohol induces hepatocyte death are so far, still unclear.
Recent epidemiological data indicate that almost 5.8% of cancer deaths all over the world are attributable to alcohol consumption [
2
]. In times in which the enormous burden of infectious diseases, such as HCV, appears to be under increasing therapeutic control, more scientific efforts should focus on defining cellular pathways that could represent safe therapeutic targets in the limitation and management of chronic alcohol-induced liver damage.
Acknowledgments
The authors would like to express their sincere gratitude to Leonard J. Nelson (University of Edinburgh) for the critical reading of the manuscript. Yulia A. Nevzorova is funded by the German Research Foundation (SFB/TRR57/P04 and DFG NE 2128/2-1). Christian Liedtke and Christian Trautwein are funded by the German Research Foundation (SFB/TRR57, projects P04 and P06, respectively). Yulia A. Nevzorova and Francisco Javier Cubero are Ramón y Cajal Researchers RYC2015-17438 and RyC2014-15242, respectively. Francisco Javier Cubero is funded by the Spanish Ministerio de Economía y Competitividad SAF2016-78711.
Author Contributions
Pierluigi Ramadori and Yulia A. Nevzorova: outlined and wrote the review and designed the figures; Francisco Javier Cubero: drafted the manuscript; Christian Liedtke and Christian Trautwein: critically revised the manuscript for intellectual content.
Conflicts of Interest
The authors declare that they have no conflicts of interests.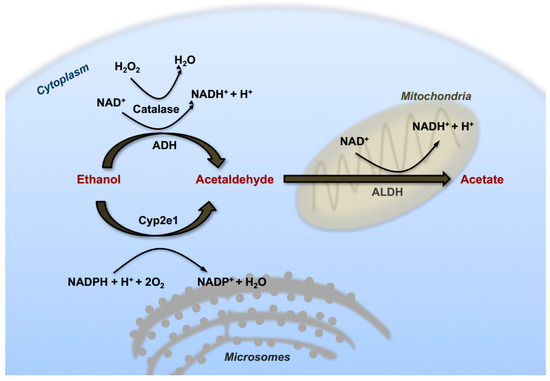 Figure 1. Hepatic alcohol metabolism. Schematic representation of the most important cellular pathways involved in ethanol metabolism localized in the different cellular districts. Alcohol is at first oxidized to acetaldehyde by alcohol dehydrogenase (ADH) in the cytosol or through the activation of the inducible microsomal enzyme CYP2E1. The heme-containing enzyme catalase can also participate to ethanol oxidation in the peroxisomes. Thereafter acetaldehyde is converted to acetate by the acetaldehyde dehydrogenase (ALDH) located in the mitochondria. Acetate can freely diffuse into the circulation.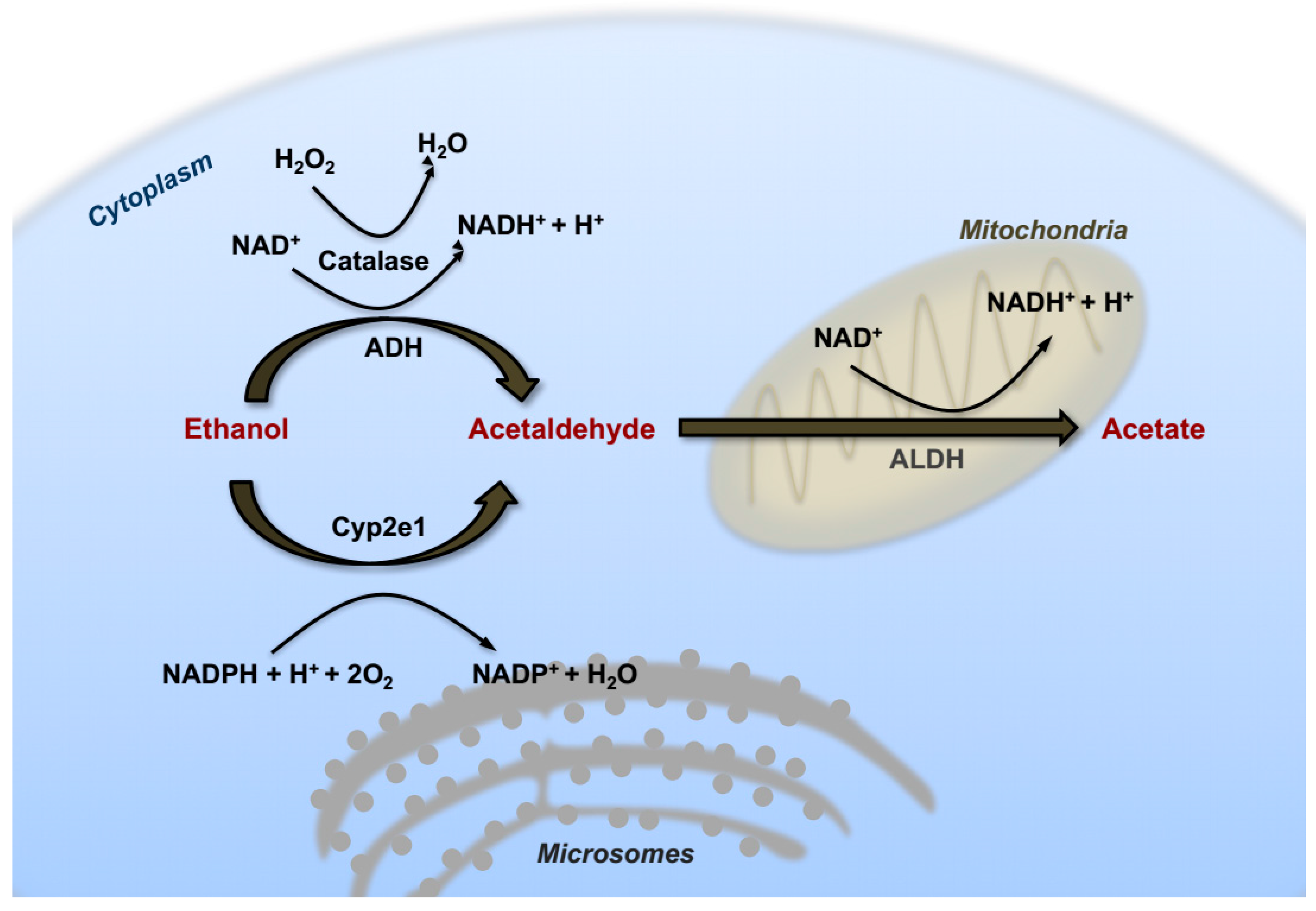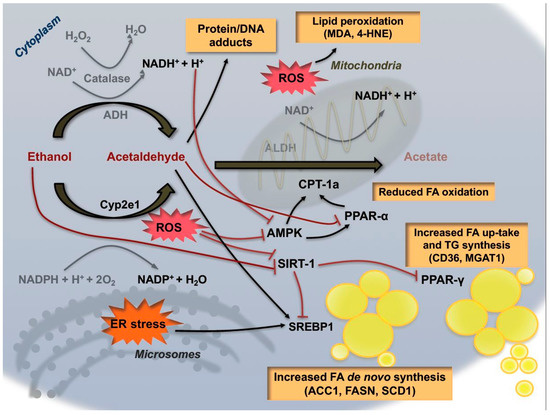 Figure 2.
Metabolic effects of alcohol exposure on hepatocytes. Ethanol consumption directly and indirectly enhances lipid accumulation in hepatocytes via promoting the transcriptional activity of SREBP-1 and PPAR-γ. Acetaldehyde and ER stress also contribute to steatosis by inducing SREBP-1 activity and inhibiting PPAR-α expression. Moreover, alcohol metabolism increases ROS production via induction of CYP2E1 and impairment of mitochondrial functionality. Acetaldehyde and ROS exerts cyto-toxicity through generation of protein/DNA adducts and lipid peroxidation. ACC1: Acetyl-CoA-carboxylase-1; FASN: Fatty acid synthase; SCD1: Stearoyl-CoA desaturase-1; CPT1a: Carnitine Palmitoyltransferase 1a; CD36: Cluster of differentiation 36; MGAT1: Mannosyl(alpha-1,3)-glycoprotein beta-1,2-
N
-Acetylglucosaminyltransferase.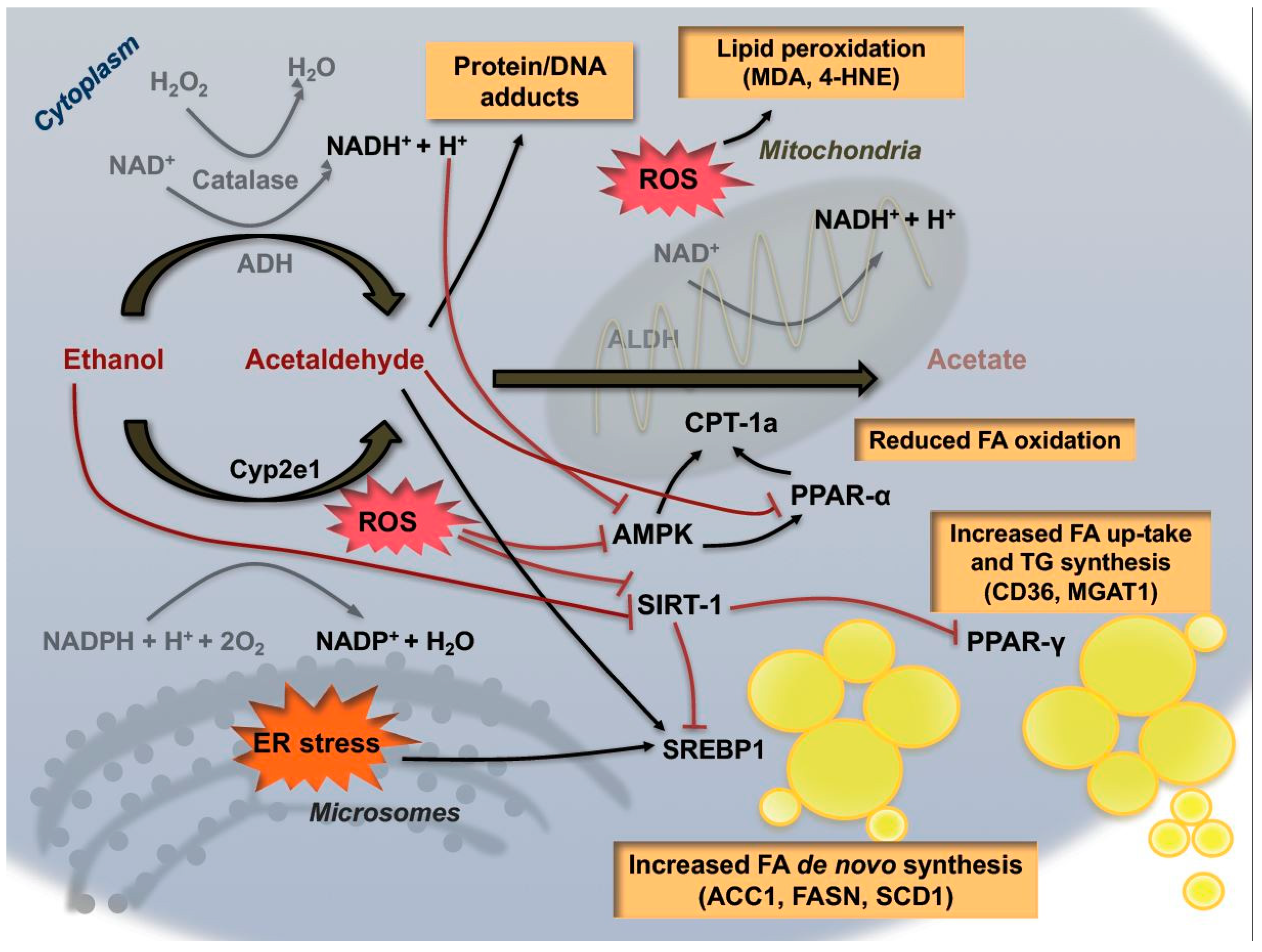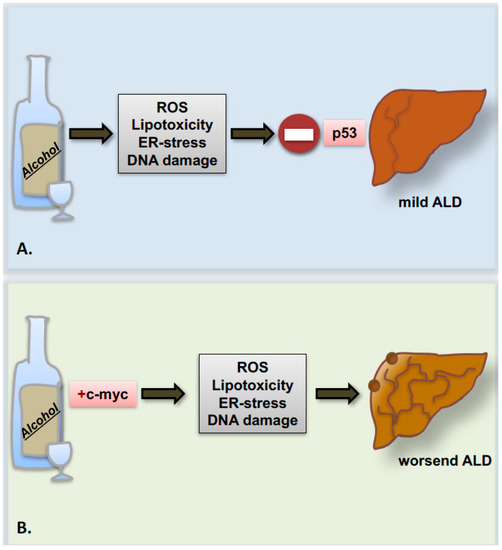 Figure 3.
Enhanced expression of
c-myc
in liver promotes ALD progression. (
A
) Ethanol consumption leads to liver injury by generating ROS, lipid peroxidation, ER-stress and DNA-damage reactions: an effect buffered by "guardian" function of p53. (
B
) Alcohol intake and concomitant
c-myc
overexpression abrogate p53 activation and cause ALD progression to advanced precancerous stages.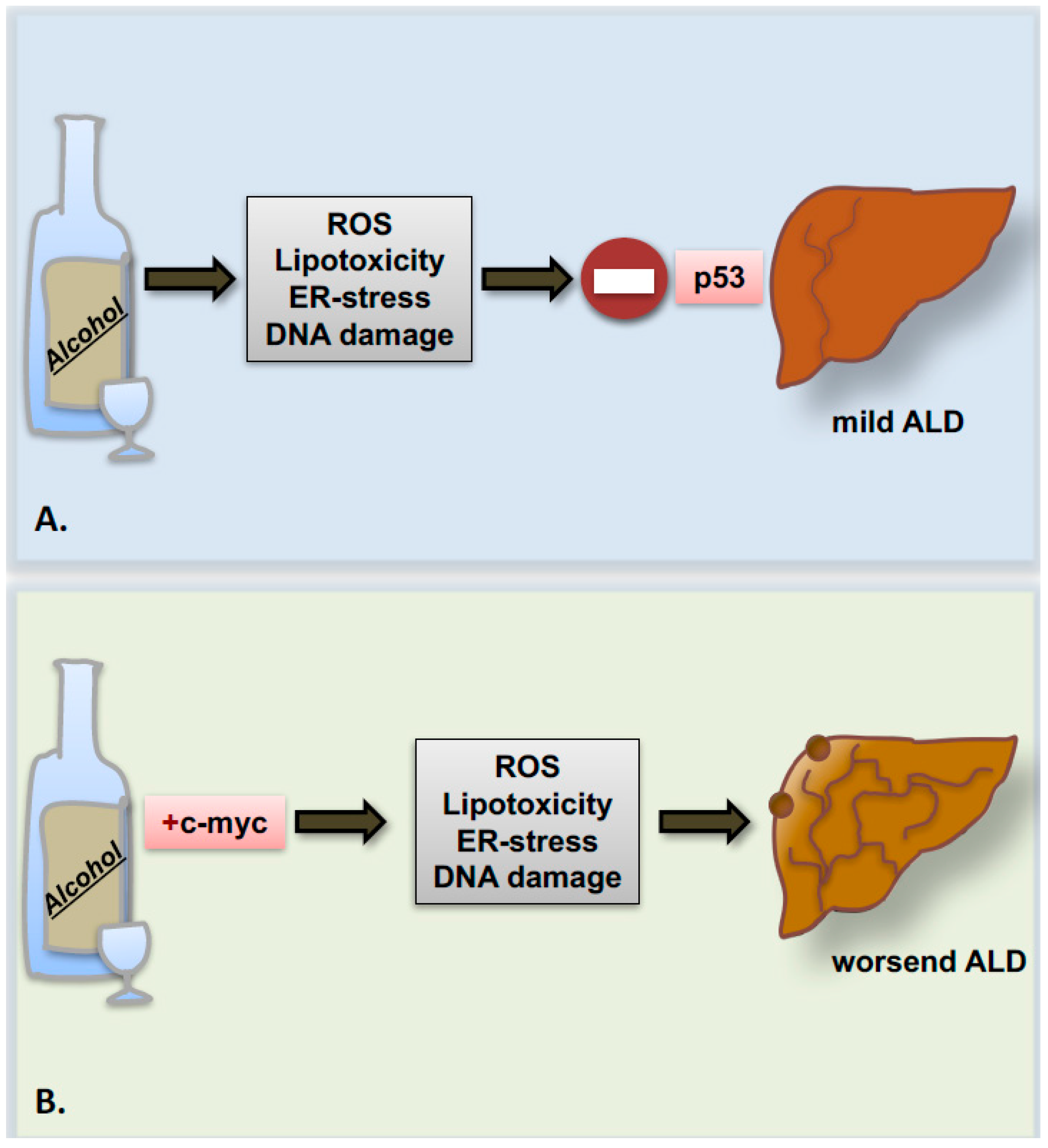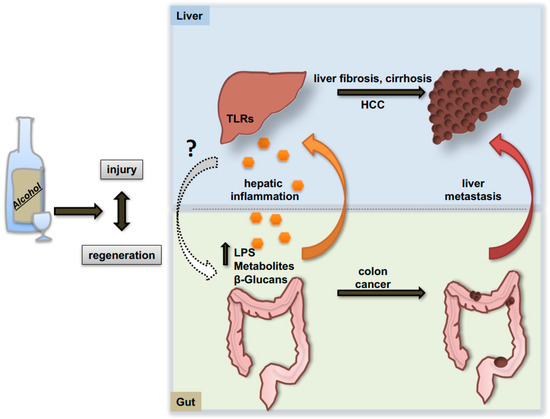 Figure 4. Gut-liver axis in the patho-physiology of alcoholic liver disease. Alcohol cyto-toxicity strongly affects the balance between hepatocyte death and proliferation through mechanisms not fully understood. Similarly, also the intestinal epithelial cells seem to be particularly susceptible to alcohol toxicity resulting in dysbiosis and alteration of intestinal barrier permeability. Bacterial and fungal products together with other metabolites released by the leaky gut contribute to exacerbate the inflammatory response in the liver by binding specific receptor on non-parenchymal hepatic cells, like toll-like receptors (TLRs) and other pattern recognition receptors (PRRs). In turn, injured and inflamed liver might influence intestinal epithelial cell survival and proliferation via systemic release of molecular mediators (left side of the slide). The alternation of alcohol-induce chronic damage and repair might favor the proper environment for the development of intestinal and liver cancers. Moreover, the inflammatory environment generating upon chronic alcohol consumption has been shown to enhance the migration of intestinal metastases towards the liver parenchyma (right side of the slide).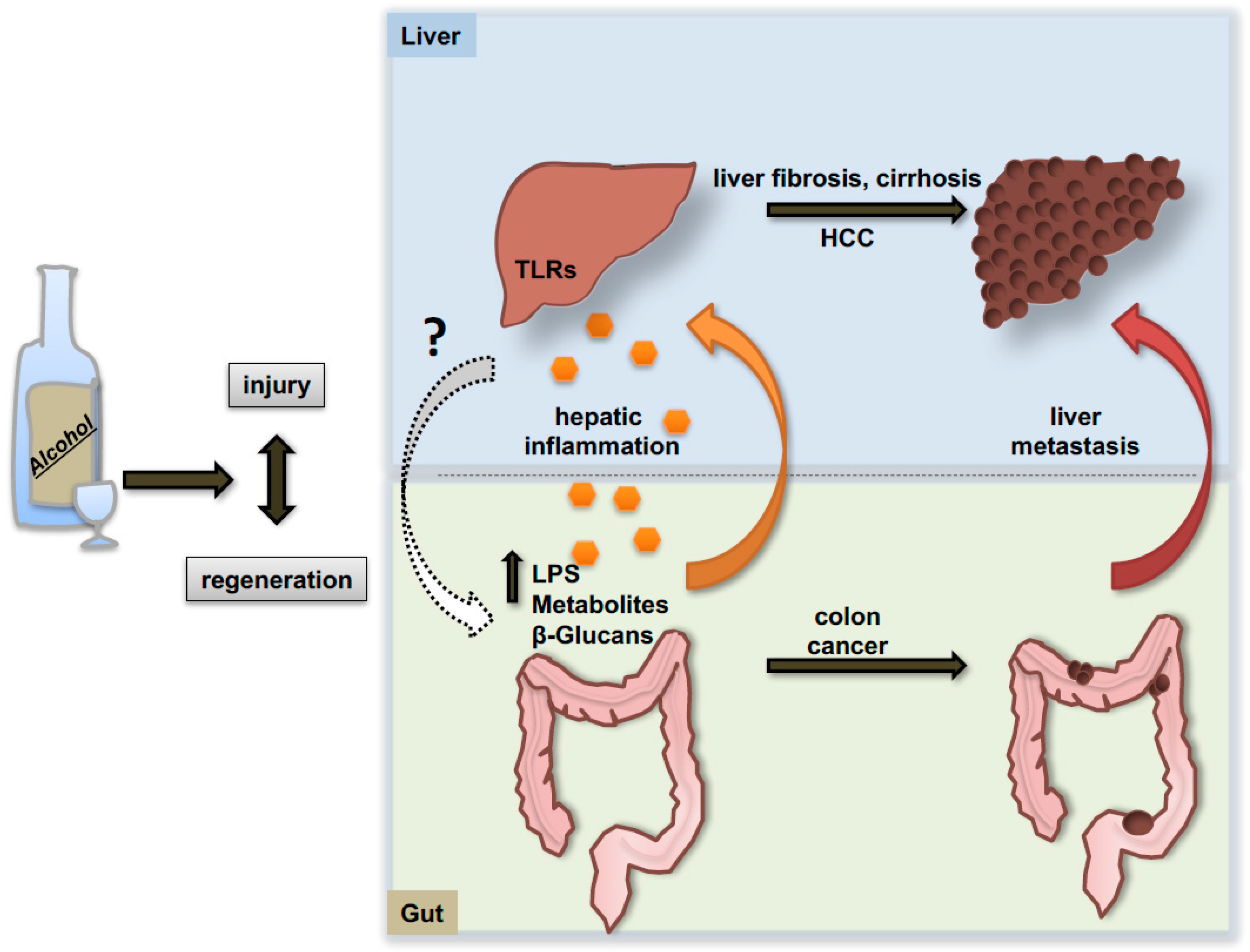 Table 1. Summary of the most frequent single nucleotide polymorphisms associated with ALD progression and HCC development.
Table 1. Summary of the most frequent single nucleotide polymorphisms associated with ALD progression and HCC development.
Gene Name
Identified SNPs
Protein Functionality
ALD/HCC Association
Alcohol dehydrogenase (ADH)
ADH1B*2 (rs1229984)
ADH1B*3 (rs2066702)
ADH1C*1
ADH2*1
ADH2*2 (rs1229984)
ADH3*2
Increased enzymatic activity
Associated with gastric cancers, but unknown association with ALD/HCC [74,75]
Aldehyde dehydrogenase (ALDH)
ALDH2*2 (rs671)
Reduced enzymatic activity
Correlation with HCC development in combination with ADH2*2 in a Japanese cohort [79]
Cytochrome P450 Family 2 Subfamily E Member 1 (CYP2E1)
PstI/RsaI (rs2031920/rs3813867)
Increased enzymatic activity
Association with HCC development in combination with alcohol consumption [80]
Methylenetetrahydrofolate reductase (MTHFR)
C677T (rs1801133)
Reduced enzymatic activity
Correlation with HCC in a population of alcohol-related cirrhotic patients [81]
Patatin-like phospholipase 3 domain containing 3 (PNPLA3)
I148M (rs738409)
Loss of enzymatic function
Important association with ALD progression and HCC development in alcohol-related cirrhotic patients [83], [84]
Transmembrane 6 superfamily member 2 (TM6SF2)
E167K (rs58542926)
Loss of expression and Function
Associated with HCC development in ALD setting in combination with I148M [83]
Neurocan (NCAN)
NCAN (rs2228603)
Altered functionality, unclear mechanisms
Association with HCC development in patients with ALD etiology [85]
© 2017 by the authors. Licensee MDPI, Basel, Switzerland. This article is an open access article distributed under the terms and conditions of the Creative Commons Attribution (CC BY) license (http://creativecommons.org/licenses/by/4.0/).