Open Access This article is
freely available
re-usable
Review
The Role of TAM Family Receptors in Immune Cell Function: Implications for Cancer Therapy
IMBA, Institute of Molecular Biotechnology of the Austrian Academy of Sciences, Dr. Bohrgasse 3, A-1030 Vienna, Austria
*
Authors to whom correspondence should be addressed.
Academic Editors: Deric L. Wheeler and Toni M. Brand
Received: 5 September 2016 / Accepted: 14 October 2016 / Published: 21 October 2016
Abstract
:
The TAM receptor protein tyrosine kinases—Tyro3, Axl, and Mer—are essential regulators of immune homeostasis. Guided by their cognate ligands Growth arrest-specific gene 6 (Gas6) and Protein S (Pros1), these receptors ensure the resolution of inflammation by dampening the activation of innate cells as well as by restoring tissue function through promotion of tissue repair and clearance of apoptotic cells. Their central role as negative immune regulators is highlighted by the fact that deregulation of TAM signaling has been linked to the pathogenesis of autoimmune, inflammatory, and infectious diseases. Importantly, TAM receptors have also been associated with cancer development and progression. In a cancer setting, TAM receptors have a dual regulatory role, controlling the initiation and progression of tumor development and, at the same time, the associated anti-tumor responses of diverse immune cells. Thus, modulation of TAM receptors has emerged as a potential novel strategy for cancer treatment. In this review, we discuss our current understanding of how TAM receptors control immunity, with a particular focus on the regulation of anti-tumor responses and its implications for cancer immunotherapy.
Keywords:
TAM receptors; Gas6; Protein S; cancer immunotherapy; NK cells; Cbl-b
2. TAM Receptors and Ligands: A Brief Overview
Tyro3, Axl, and Mer, compose the TAM subfamily of receptor tyrosine kinases (RTK). The classification is based on their distinctive domain structure and the unique KW(I/L)A(I/L)ES sequence in their catalytic domain [
31
,
32
,
33
]. The ecto-domain of these receptors exhibits two immunoglobulin Ig-like domains followed by two fibronectin type III domains. It is through the Ig-like domains that TAM receptors bind their ligands [
25
] (
Figure 1
). The hydrophobic transmembrane domain is of a single-pass type, and is followed by the intracellular portion that includes the tyrosine kinase domain, several autophosphorylation sites, and a conserved immunoreceptor tyrosine-based inhibitory motif-like (ITIM-like motif) [
25
]. The traditional agonist ligands for TAM receptors are the growth arrest-specific gene 6 (Gas6) and Protein S (Pros1) [
34
,
35
]. Both are soluble circulating proteins, which despite sharing 42% protein identity [
36
], exhibit distinctive specificities for TAM receptors [
37
]. Whereas Gas6 is able to activate all TAM receptors (Axl>Tyro3>>>Mer), Protein S is only capable of activating Tyro3 and Mer (Tyro3>Mer). In addition, three other TAM ligands have recently been described: Tubby, tubby-like protein 1 (Tulp-1) and Galectin-3 [
38
,
39
]. However, the physiological relevance of these ligands is still unclear.
In a basal state, TAM receptors are silent and display low kinase activity. Adhering to the dogma for RTK activation [
2
], initiation of the downstream phosphorylation cascades events occurs upon ligand binding induced dimerization of the receptor. Besides classical homodimerization, heterodimerization has also been suggested for TAM receptors [
40
]. Similarly, TAM ligands can form dimers [
41
]. Shedding of the extracellular domain upon receptor activation has been described, in particular for Axl and Mer [
42
,
43
], and is believed to be of physiological relevance, for instance, to acquire resistance to chemotherapy [
23
] or as decoy soluble receptors [
44
]. Similar to several proteins of the coagulation cascades, TAM ligands possess a gamma-carboxyglutamic acid-rich (Gla) domain [
36
]. The vitamin K-dependent γ-carboxylation of the glutamic acids residues in the Gla domain is required for TAM receptors to bind, via Ca2
+
, to the phospholipid phosphatidylserine (PtdSer) [
45
], exposed in the membranes of apoptotic cells, activated platelets, enveloped viruses, and activated T cells. Importantly, only γ-carboxylated ligands bound to PtdSer can significantly activate TAM signaling pathways [
37
,
44
]. Like many other oral anticoagulants, warfarin acts as a vitamin K antagonist to inhibit γ-carboxylation of the Gla domains in blood-clotting proteins [
46
]. By the same mechanism, warfarin can efficiently prevent γ-carboxylation of TAM ligands, and it is because of this property that warfarin is used as a TAM antagonist in research [
44
,
47
,
48
,
49
,
50
].
Cellular co-expression of two or even three receptors is exceptionally common in this family, and highly overlapping functions are often described [
15
]. Cells expressing TAM receptors frequently produce TAM ligands [
15
]. TAM receptors and ligands are predominantly expressed in myeloid cells, including macrophages [
51
,
52
], dendritic cells [
17
,
53
], monocytes [
54
], platelets [
55
], but also in NK [
29
] and NKT cells [
56
]. Although lymphocytes do not express TAM receptors [
18
], T lymphocytes express Pros1, but only upon cellular activation [
57
]. TAM components are additionally expressed in non-hematopoietic cells, such as neurons [
13
], osteoclasts [
11
], epithelial [
9
,
10
], and endothelial cells [
7
,
58
]. Despite their wide expression pattern and functional overlap, unusually for RTKs, TAM signaling appears dispensable for embryologic development, since TAM-deficient mice, including the triple knockouts, are viable [
8
].
3. TAM-Mediated Regulation of Immunity
It was not until the generation of gene-targeted mice that the relevance of TAM-mediated pathways in maintaining immune homeostasis became apparent. The first mouse line described was the Mer
KD
catalytic dead line, where Mer kinase activity was inactivated [
59
]. These mice succumb to low doses of lipopolysaccharide (LPS), due to the immune hyper-activation and excessive production of pro-inflammatory cytokines, revealing for the first time an essential role for TAM kinase activation in dampening inflammation [
59
]. Later, total body knockout mice for each of the TAM receptors, as well as the combinatory double and triple TAM knockouts, were created [
8
]. Besides defects in retina, nervous, and reproductive organs [
8
], the prominent alterations associated with ablation of TAM receptors occurred within the immune system [
18
]. Notably, a gene dosage effect is evident, and most immunological phenotypes are visible or exacerbated only when Tyro3, Axl, and Mer are simultaneously ablated (TAM
−/−
mice) [
8
,
18
].
At around one month of age, TAM
−/−
mice start to display significantly enlarged spleens and lymph nodes, a common sign of lymphoid over-activation [
8
,
18
]. In these mutant mice, dendritic cells and macrophages are spontaneously activated and can secrete excessive inflammatory cytokines [
18
]. Transplant of TAM
−/−
bone marrows into wild-type recipient animals recapitulated the hyper-proliferative phenotype of lymphoid cells, confining the defects to the leukocyte compartment of TAM-deficient mice [
18
]. By six months, these mice also exhibit generalized organ infiltration, high serological titers of autoantibodies, swollen joints, and IgG-induced glomerulonephritis [
18
], key clinical features of rheumatoid arthritis and systemic lupus autoimmune diseases. Mechanistically, it was postulated that, if TAM signaling is absent, the consequently excessive activation of innate cells results in aberrant activation of self-reactive lymphocytes [
18
]. This hypothesis pioneered the concept that TAM receptors control immune responses at the interphase of innate and adaptive immunity. Subsequent studies reinforced this notion, providing additional insight into the most prominent cellular and molecular mechanisms of TAM-dependent immunity. A summary of the major TAM-dependent immunological mechanisms is discussed below and is presented in
Figure 2
.
4. Functional Diversification for TAM Receptors
Triple and double TAM knockout mice reveal an apparent functional redundancy between Tyro3, Axl, and Mer in immune regulation [
8
,
18
]. However, recent efforts have started to illuminate degrees of functional dedication for TAM receptors and their ligands [
37
,
44
,
89
]. Firstly, although receptor co-expression can be detected in several immune cells in diverse tissues, a preferred differential expression is observed; whereas Axl shows a comparatively higher expression on dendritic cells, Mer is the predominant receptor in macrophages [
37
]. Of note, tissue location can alter these patterns [
15
,
37
]. Probably because of this distinctive expression profile, initial studies suggested a coherent predominant role for Axl and Mer in distinctive TAM-mediated events in these cells [
17
,
64
].
Interestingly, it has now been revealed that it is the immunological environment that alters the expression patterns of TAM receptors, and in turn, their immunological bioactivities, regardless of the cell type [
37
]. Tolerogenic agents instruct the immune system to use Mer receptors for the phagocytosis of apoptotic cells and the subsequent mediation of tissue-repair responses. Immunosuppressive glucocorticoids, such as dexamethasone, greatly induce the expression of Mer while simultaneously repressing Axl transcription in both dendritic cells and macrophages [
37
]. Hydrocortisone, aldosterone, and progesterone also can promote Mer expression [
37
]. In the absence of Mer, Pros1-induced phagocytosis of apoptotic cells by glucocorticoids is impaired [
90
]. On the contrary, inflammatory agonists such as Interferon alpha (IFN-α) or polyinosinic:polycytidylic acid (poly (I:C)) strongly upregulate the expression of Axl while reducing Mer levels in dendritic cells and macrophages [
37
,
83
]. In this scenario, Axl takes over the phagocytic role of engulfing apoptotic cells to engage the TAM-dependent inhibitory pathways required to resolve inflammation. In summary, whereas Mer, activated by Gas6 or Pros1, is predominantly responsible for homeostatic phagocytosis in immunosuppressive environments, Axl, activated by Gas6 but not Pros1, preferentially regulates phagocytosis and negative feedback pathways under inflammatory conditions. Importantly, evolutionary conservation of these immunoregulatory mechanisms has been demonstrated in human cells [
83
,
90
].
Apart from the recently revealed function of Tyro3 in controlling Th2 responses [
76
], little else is known about the physiological roles of Tyro3 in immunity. Basal expression of Tyro3 in dendritic cells is low, and it is even undetectable in macrophages [
37
]. Inflammatory stimuli decrease Tyro3 expression but only minimally, and no significant upregulation was observed with tolerogenic agonists [
37
]. Additionally, absence of Tyro3 does not perturb Mer- or Axl-dependent phagocytosis of apoptotic cells after dexamethasone and poly(I:C) stimulation [
37
]. Thus, Tyro3 functions in the regulation of apoptotic cell clearance and inhibitory inflammatory pathway in macrophages and dendritic cells will require additional rigorous investigation. Interestingly, TAM receptors have been shown to regulate immune responses by acting on non-immune cells [
91
,
92
]. All three TAM receptors are expressed in Sertoli cells [
8
,
93
] where they maintain testicular immune homeostasis by controlling the phagocytosis of apoptotic spermatogenic cells [
94
], as well as by negatively regulating the production of inflammatory cytokines downstream TLR3 receptors [
91
]. It would be interesting to expand the study of this novel TAM-dependent immunoregulatory mechanism to other epithelial tissues.
5. TAM Signaling in Autoimmunity
In humans, there is vast evidence showing an association between autoimmunity and abnormalities in TAM signaling components. Polymorphisms in the Mer gene are associated with systemic lupus erythematosus and multiple sclerosis [
95
,
96
]. Additional relations exist between single nucleotide polymorphisms (SNPs) in the Pros1 and Gas6 genes and patients with Behcet's uveitis or type 2 diabetes [
97
,
98
]. Aberrant expression of TAM members also has been reported in autoimmune disorders. For instance, reduced expression of TAM receptors in circulating immune cells as well as low plasma concentrations of TAM ligands are evident in lupus, Behcet's disease, rheumatoid arthritis, inflammatory bowel disease, and psoriasis patients [
58
,
99
,
100
,
101
,
102
,
103
]. Interestingly, elevated concentrations of circulating soluble TAM receptors have also been detected in patients with lupus, Sjogren's syndrome, rheumatoid arthritis, and Behcet's disease [
95
,
104
,
105
,
106
,
107
], which suggest that TAM receptor shedding could have an important role in the pathogenesis of autoimmunity.
In mice, as previously mentioned, triple TAM deficiency results in spontaneously develop systemic autoimmune responses that resemble lupus and rheumatoid arthritis [
18
]. Recently, an autoimmune hepatitis phenotype has been further described in these mice [
108
]. Of note, despite spontaneously developing autoimmunity, TAM-deficient mice have a normal life expectancy [
8
]. Lastly, also observed in mice, TAM deficiency enhances susceptibility to autoimmune experimental models of type 2 diabetes, experimental autoimmune encephalomyelitis, and rheumatoid arthritis [
53
,
109
,
110
]. Interestingly, administration of Gas6 or Pros1 resulted in anti-inflammatory therapeutic benefits in collagen-induced arthritis [
111
], as well as reduced in vitro demyelination in a cuprizone-induced model for multiple sclerosis [
112
]. This suggests that reconstitution of TAM signaling pathways could be of use for the treatment of autoimmune disorders. However, this hypothesis has yet to be tested in clinical trials.
Keeping in mind that animal studies were performed in total body knockout mice, an exclusive causal role for TAM-defective immune response in the pathogenesis of autoimmunity cannot be firmly concluded yet. However, most evidence points in this direction. For instance, transplanting wild-type leukocytes can reverse the spontaneous liver damage observed in TAM
−/−
mice [
108
]. In a T cell receptor (TCR)-transgenic diabetes model, where autoimmunity is triggered by pancreatic beta-islets apoptosis, wild-type transgenic T cells become highly activated and inflammatory when transplanted into Mer
KD
mutant mice [
53
]. If dendritic cells are depleted, the hyperactivation of the autoreactive T cells significantly diminishes in this model [
53
]. Furthermore, studies performed in two independent Mer mutant mouse lines have linked the inefficient clearance of apoptotic cells with increased production of autoantibodies and enhanced B and T cell activation [
113
,
114
]. Ineffective clearance of myelin debris in the absence of Axl has been associated with enhanced autoimmune susceptibility in experimental autoimmune encephalomyelitis (EAE) models of multiple sclerosis [
110
]. Accumulation of apoptotic cells and debris can cause tissue toxicity, as shown in the testes and retinas of TAM-deficient mice [
8
]. Moreover, prolonged accumulation of apoptotic cells is predicted to aberrantly over-expose self-antigens and can further result in secondary necrosis [
115
]. It is commonly believed that, if presented by APCs in an inflammatory milieu, self-antigens can break down peripheral immunotolerance and activate self-reactive lymphoid cells [
115
]. Finally, buildup of apoptotic cells has been associated with human autoimmune disorders, particularly lupus [
116
]. Taken together, evidence strongly suggests that the autoimmune phenotype of TAM
−/−
mice arises from the detrimental combination of accumulation of apoptotic debris and unresolved chronic inflammation. Additional experimentation is needed to determine if other cellular or molecular mechanisms participate.
6. TAMing Anti-Tumor Immunity
7. Conclusions and Perspectives for TAM-Based Cancer Therapy
In this framework, and based on the overall literature herein presented, we would like to reinforce the potential therapeutic use of TAM signaling inhibition not only for cancer therapy but, crucially, for cancer immunotherapy. We anxiously await future research that could help translate the exciting experimental observations into the clinics.
Acknowledgments
This review and the research described on the TAM/Cbl-b inhibitory role in NK cells was conducted at the Penninger laboratory with support from IMBA, the Austrian National Foundation, the Austrian Academy of Sciences, GEN-AU (AustroMouse), Era of Hope/DoD Innovator Award, and an EU ERC Advanced Grant.
Conflicts of Interest
The authors declare no conflict of interest.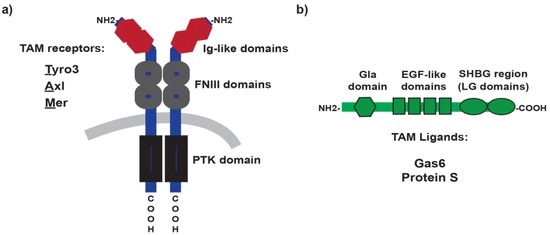 Figure 1. The structural domains of TAM receptors and ligands. Representation of the domain organization of the three TAM receptors: Tyro3, Axl and Mer at the plasma membrane of cells (a). TAM ligands: growth arrest-specific gene 6 (Gas6) and Protein S (Pros 1) are soluble circulating proteins (b). TAM receptors use their immunoglobulin-like (Ig-like) domains to bind the laminin G (LG) domains in the sex hormone binding globulin (SHBG) region of TAM ligands. PTK: Protein tyrosine kinase domain; FNIII: fibronectin type III domains; Gla: gamma-carboxyglutamic acid-rich domain; EGF-like: epidermal growth factor-like domain.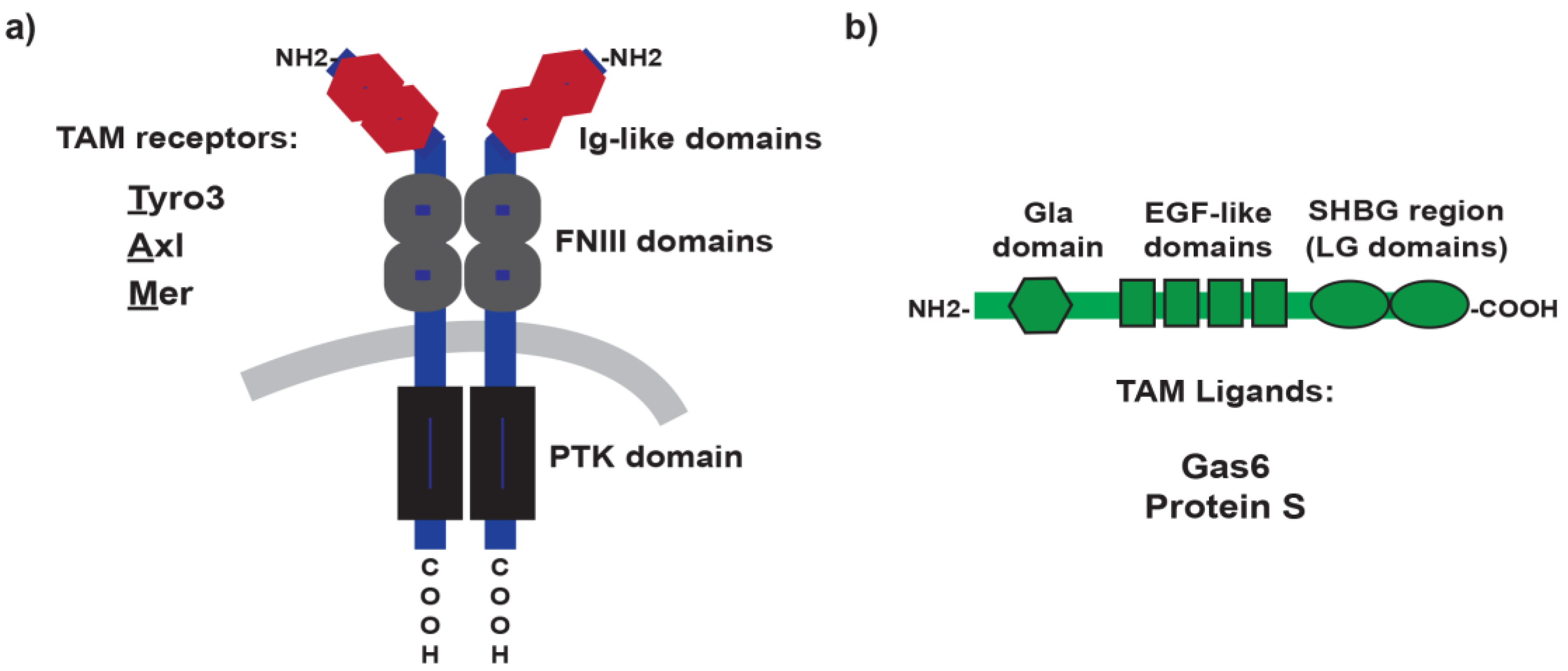 Figure 2. TAM-dependent immunity. Schematic representation of the major cellular functions of TAM receptors in the regulation of immunity. TAM-signaling functions as a pleiotropic inhibitory pathway in charge of resolving inflammation by dampening the activation of innate cells as well as restoring tissue function through promotion of tissue repair and clearance of apoptotic cells. Viruses can mimic apoptotic cell death to usurp TAM-dependent inhibitory pathways for their benefit. In a cancer setting, tumor cells induce TAM signaling to: (i) dampen NK-cell based anti-tumoral responses; (ii) reduce innate cells-mediated inflammation and possibly increase the ratio of M2-to-M1 intratumoral macrophages; and (iii) to directly promote its own growth and metastasis. A possible role for TAM signaling inhibiting Natural Killer T (NKT) cells has been proposed but is not presented here (see main text). A simplified view of the as yet identified underlying molecular mechanisms regulating these bioactivities is presented. Arrows indicate activating interactions. Flat-ended lines indicate inhibitory interactions. Ub: Ubiquitin; HGF: hepatocyte growth factor; IFNs: type-1 interferons; IFNAR: type-1 interferon receptor; NFkB: Nuclear Factor kB; RhoA: Ras homolog gene family member A; STAT-1: Signal transducer and activator of transcription 1; Th2: Lymphocyte T helper 2; APC: Antigen-presenting cell; TLR: Toll-like receptor; SOCS1/3: Suppressor of cytokine signaling 1/3; NKG2D: natural-killer group 2 member D; Cbl-b: Casitas B-lineage lymphoma-b; M1: classical macrophages; M2: alternative macrophages; IL-10: Interleukin-10; M-CSF: macrophage colony-stimulating factors; TNF-α: Tumor necrosis factor alpha.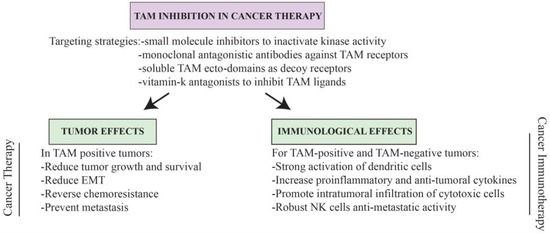 Figure 3. TAM signaling for cancer therapy. Different strategies for targeted TAM inactivation and the expected anti-cancer benefits of such therapies by directly affecting the tumor, or indirectly, via activation of the immune system. Possible side effects are discussed in the text. EMT: Epithelial–mesenchymal transition; NK: Natural-killer.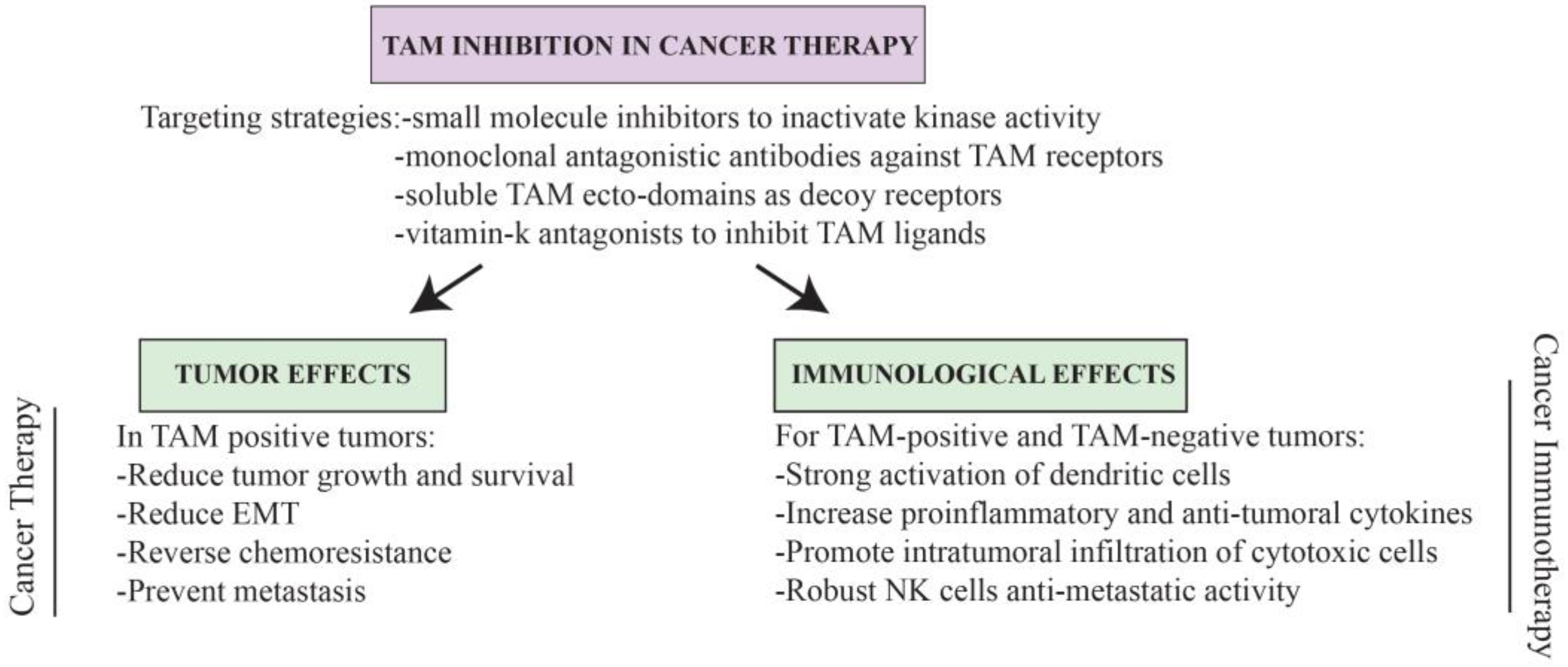 © 2016 by the authors; licensee MDPI, Basel, Switzerland. This article is an open access article distributed under the terms and conditions of the Creative Commons Attribution (CC-BY) license (http://creativecommons.org/licenses/by/4.0/).