Open Access This article is
freely available
re-usable
Review
Leptin's Pro-Angiogenic Signature in Breast Cancer
Department of Microbiology, Biochemistry and Immunology, Morehouse School of Medicine, 720 Westview Dr. SW., Atlanta, GA 30310, USA
*
Author to whom correspondence should be addressed.
Received: 5 July 2013; in revised form: 23 July 2013 / Accepted: 30 August 2013 / Published: 6 September 2013
Abstract
:
Obesity is linked to increased incidence of breast cancer. The precise causes and mechanisms of these morbid relationships are unknown. Contradictory data on leptin angiogenic actions have been published. However, accumulating evidence would suggest that leptin's pro-angiogenic effects in cancer play an essential role in the disease. Leptin, the main adipokine secreted by adipose tissue, is also abnormally expressed together with its receptor (OB-R) by breast cancer cells. Leptin induces proliferation and angiogenic differentiation of endothelial cells upregulates VEGF/VEGFR2 and transactivates VEGFR2 independent of VEGF. Leptin induces two angiogenic factors: IL-1 and Notch that can increase VEGF expression. Additionally, leptin induces the secretion and synthesis of proteases and adhesion molecules needed for the development of angiogenesis. Leptin's paracrine actions can further affect stromal cells and tumor associated macrophages, which express OB-R and secrete VEGF and IL-1, respectively. A complex crosstalk between leptin, Notch and IL-1 (NILCO) that induces VEGF/VEGFR2 is found in breast cancer. Leptin actions in tumor angiogenesis could amplify, be redundant and/or compensatory to VEGF signaling. Current failure of breast cancer anti-angiogenic therapies emphasizes the necessity of targeting the contribution of other pro-angiogenic factors in breast cancer. Leptin's impact on tumor angiogenesis could be a novel target for breast cancer, especially in obese patients. However, more research is needed to establish the importance of leptin in tumor angiogenesis. This review is focused on updated information on how leptin could contribute to tumor angiogenesis.
Keywords:
leptin; breast cancer; tumor angiogenesis; Notch; IL-1; VEGF; VEGFR2; NILCO; Leptin Peptide Receptor Antagonist
2. Angiogenesis and Tumor Angiogenesis
Angiogenesis is a natural process that occurs during embryogenesis, wound healing, and hormonal processes such as, menstruation, ovulation, and pregnancy. Angiogenesis involves the formation of new blood capillaries from preexisting microvessels and venules. This process comprises a cascade of events driven by growth factors.
3. Leptin and OB-R Expression and Signaling
Leptin and OB-R are mainly expressed in the hypothalamus and adipose tissue [
30
]. These molecules are weakly expressed in non-malignant cells, but overexpressed in cancer cells in the colon [
53
,
54
], liver [
55
], brain [
56
,
57
] and breast [
11
,
58
,
59
,
60
]. Leptin and OB-R are expressed in more than 80% of breast cancer tissue [
61
] according to immunohistochemistry results in which only cancer cells were evaluated for antigen expression, however, the expression of leptin or OB-R in stroma was not determined. In whole tissue breast cancer tissue arrays (n = 75; Pantomics, Inc., Richmond, CA, USA), leptin and OB-R stained cells were detected in 46%−70% of samples [
62
].
Leptin is a small adipokine (precursor: 167 amino acids and mature protein: 146 amino acids, 16 kDa) encoded by the obesity (ob or LEP) gene. Leptin shows hormonal features and highly conserved sequences in mammals. Only conservative amino acid substitutions within leptin's potential binding sites to its receptor are found among all leptin molecules reported [
63
]. Leptin showed no homology with any other proteins, exists as a unique isoform, and binds with high affinity to leptin receptor OB-R. In contrast, several isoforms of the membrane-bound leptin receptor, OB-R, (coded by db gene) were found in diverse tissues. OB-RL or OB-Rb is the longest and fully functional isoform. Other isoforms (OB-Ra-f) showed truncated cytoplasmaic tails of different lengths and were derived from posttranscriptional splicing of OB-RL. OB-R belongs to the class I cytokine receptor super-family, which lacks autophosphorylation activity, but needs auxiliary kinases for activation. OB-R only bound leptin and leptin can only bind OB-R. Therefore, strict biunivocal binding-affinity and activation of leptin/OB-R complex have been suggested [
11
]. However, leptin binding to OB-R triggered diverse signaling pathways according the presence of two loci in the OB-R cytoplasmic tail. Leptin binding to OB-RL containing Box 1 and 2, induced canonic (JAK2/STATs, MAPK/ERK1/2 and PIK-3/AKT) and non-canonic (PKC, AMPK, p38, JNK) signaling pathways. Leptin binding to shorter isoforms of OB-R lacking Box 2 did not activate JAK/STATs signaling [
64
,
65
].
4. Regulation of Leptin Expression
5. Leptin's Impact on Tumor Angiogenesis
5.1. Leptin Regulation of VEGF and VEGFR2
5.2. Leptin Regulation of IL-1
5.3. NILCO: Notch, IL-1, Leptin Crosstalk Outcome
5.4. Leptin Regulation of MMPs and Integrins
Angiogenesis mechanisms involve the specific proteolytic cleavage of the basement membrane and extracellular matrix via MMPs and other proteases and, the degradation and synthesis of several adhesion molecules [
18
]. Leptin stimulation of circulating angiogenic cells involved Src kinase phosphorylation of αvβ5 integrins, which was linked to JAK2 and phospholipase C (PLC) γ activation. These leptin actions induced the formation of new vessels in chicken embryo chorioallantoic membrane and improved neovascularization of ischemic murine hind limbs [
35
]. Similarly, leptin activation of JAK2/STAT3 impacted the expression of αvβ5 and α4 integrins in human endothelial progenitor cells (EPCs), which affected vascular remodeling. Therefore, leptin enhanced EPC capacity to promote vascular regeneration
in vivo
[
121
]. In human prostate cancer and chondrosarcoma cells, leptin increased expression of αvβ3 via IRS-1/PI3K/Akt, and NFκB signaling cascades promoting cell migration [
122
,
123
]. Moreover, in a well-characterized human endometrial adenocarcinoma cell line, Ishikawa cells, leptin increased avβ3 expression [
21
,
23
,
34
].
Leptin can further contribute to tumor angiogenesis via induction of MMPs and integrin expression. In invasive human cytotrophoblast, whose invasive potential closely resembles cancer cells, leptin induced α5 and α6 integrins and MMP9 activity [
34
]. In human atherosclerotic lesions, rat cornea, HUVECs and human coronary artery smooth muscle cells (HCASMCs) leptin mediated angiogenesis by increasing MMP2 and 9 and TIMP1 and 2 [
36
]. Furthermore, glioma cells expressed high levels of leptin and leptin receptors than nonmalignant astrocytes and increase proliferation, migration and secretion of several MMPs, MMP2, 9 and 13 by leptin activation of p38 MAP kinase and NFκB pathways [
124
]. Leptin also induced migration of gastric cancer cells via enhanced interaction of MT1-MMP with kinesin 1B, a microtubule plus end-directed monomeric motor protein, (KIF1B) [
125
]. Conversely, in human hepatic stellate cells (LX-2) leptin repressed the basal level of constitutive MMP1 mRNA and its promoter activity that was related to JAK/STAT, ERK1/2 and p38 signaling pathways. However, in these studies leptin's impact on tumor angiogenesis was not investigated.
Taken all together, data strongly suggest that leptin signaling plays an important role in cancer development and/or progression that could be mechanistically linked to the upregulation of pro-angiogenic and pro-proliferative factors (see
Figure 1
).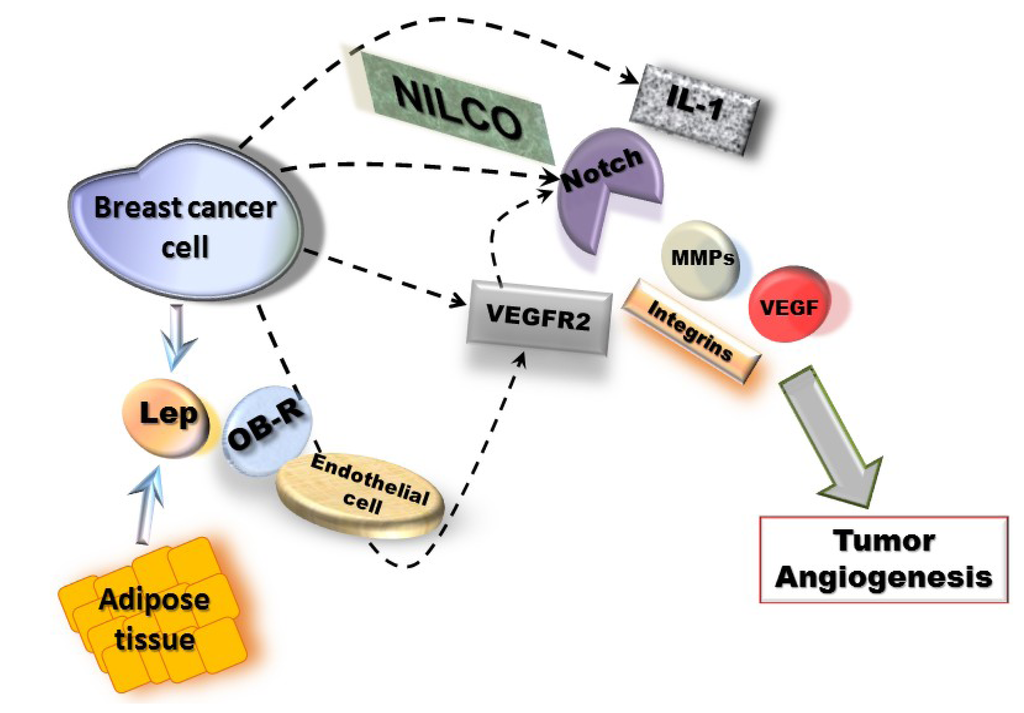 Figure 1.
Mechanisms for leptin-induced effects in breast cancer angiogenesis
.
Leptin signaling could be linked to NILCO (Notch, IL-1, leptin crosstalk outcome) [
116
] and upregulation of pro-angiogenic factors (VEGF/VEGFR2, MMPs and integrins) [
34
,
89
]. These leptin actions could involve two waves, a short-term wave, where leptin/OB-R activation could directly transactivate VEGFR2 [
45
] in endothelial cells and, a long-term wave involving NILCO, MMPs and adhesion molecules in breast cancer cells [
116
].
6. Pathway Studio 9 Analysis of Leptin Pro-Angiogenic Networks in Breast Cancer
Pathway Studio 9 software (Ariadne Genomics, Rockville, MD, USA) was used to analyze
in silico
the potential targets of leptin pro-angiogenic signals and relationships to oncogenic factors [
31
], which could also impact breast cancer angiogenesis.
Figure 2
depicts the various relationships between these molecules in breast cancer. One hundred sixty three relationships that include regulation, expression and binding of main leptin targets were detected in breast neoplasms. The proteins: leptin, IL-1, integrins, Notch and VEGF/VEGFR and vascularization and/or endothelial cell activation showed many relationships in breast neoplasms. These results are included in the
supplemental material (S1)
. Among several leptin relationships with cell processes involving cancer and angiogenesis, changes of leptin/OB-R levels were related to breast cancer (38 references). Leptin/OB-R signaling was also related to regulation of vascularization and vasculogenesis (118 references), endothelial cell function, proliferation and vessel development (39 references). Numerous relationships between leptin/OB-R and angiogenic molecules (IL-1, Notch and VEGF/VEGFR) were detected (see
Supplementary Material
). The results of this analysis underline the many facets of leptin pro-angiogenic effects in cancer.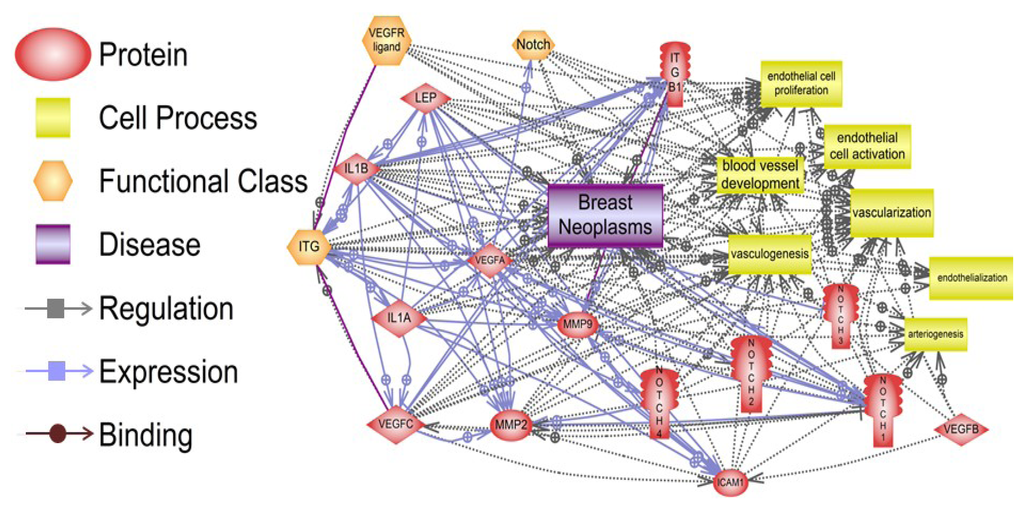 Figure 2.
Relationships between pro-angiogenic effects of leptin signaling and breast neoplasms, vascularization, and endothelial cell function. Many signaling pathways show the connections between regulation, expression and binding of leptin, IL-1, adhesion molecules (ICAM and integrins), Notch, VEGF/VEGFR and MMPs and, their impact on vessel development and endothelial cell function, which are essential for breast neoplasm development. The summary of the data processed by the Program Studio 9 [
19
] and specific molecular and cellular relationships can be found in the
supplementary material
. Notes: ITG (integrins); ITGB1 (integrin β1); IL-1A and B (IL-1α and β); Lep (leptin); ICAM (CD54, intercellular adhesion molecule 1).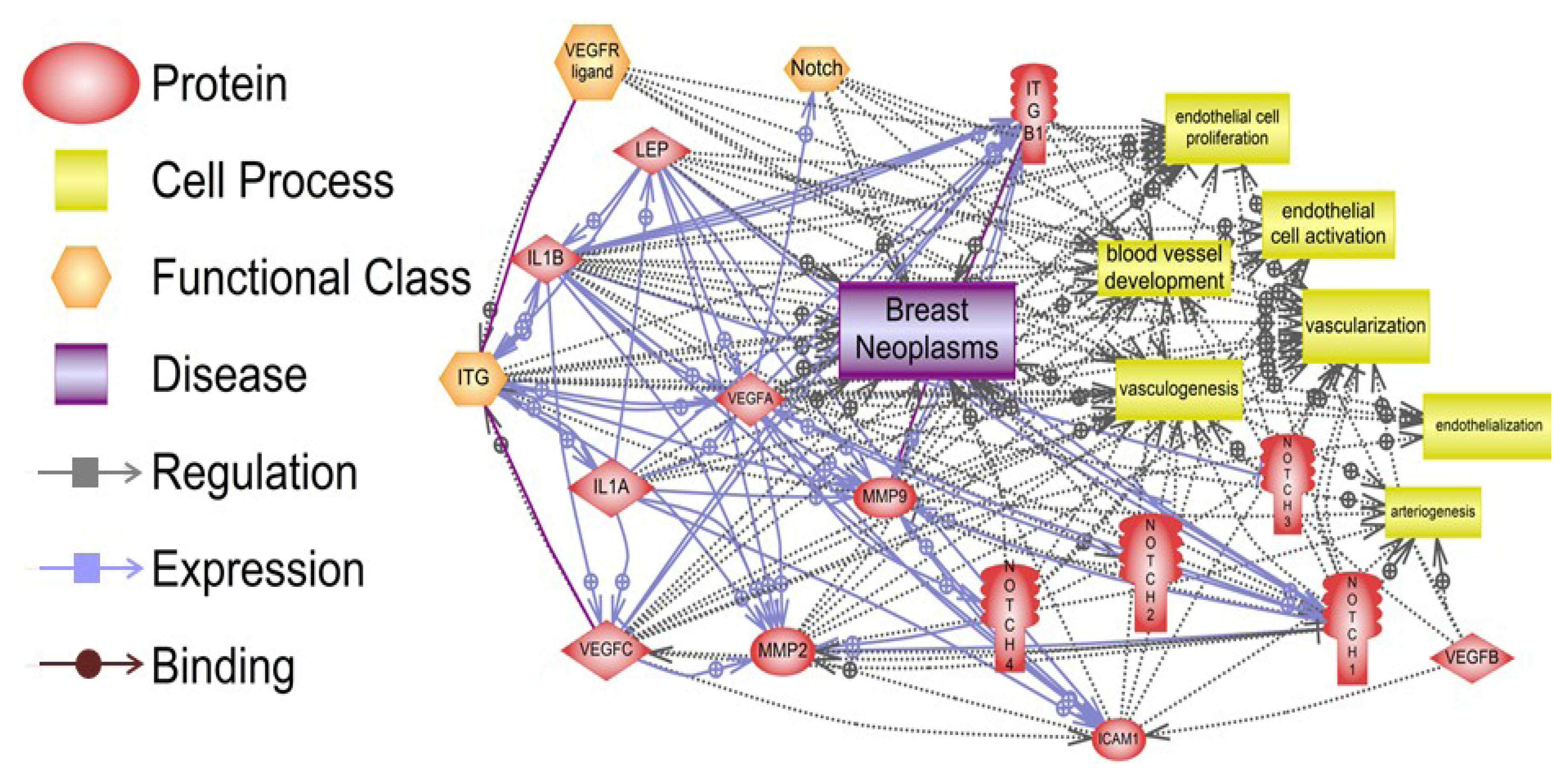 7. Conclusions and Perspectives
Pleiotropic effects of leptin in breast and other cancers involved the increase of cell proliferation linked to leptin-induced expression of cell cycle proteins and regulators and, anti-apoptotic and inflammatory factors. However, leptin pro-angiogenic actions are relevant for breast cancer progression. NILCO appears to be a central process involved in leptin's effects on tumor angiogenesis, which is mainly driven through direct activation of VEGFR2 and upregulation of VEGF/VEGFR2 expression. Failure of initially promising anti-angiogenic therapies [
126
] and the resistance to anti-angiogenic drugs mainly targeting VEGF/VEGFR2, are currently relevant problems jeopardizing the successful outcomes of these breast cancer treatments [
127
]. Compensatory and redundant effects of other angiogenic factors,
i.e.
, leptin and its crosstalk partners IL-1 and Notch, could be paramount for these failures. The rising incidence of obesity and fatality with breast and other cancers make it essential to identify patient groups that would benefit for more specific anti-angiogenic therapies. Forthcoming identification of potential biomarkers for anti-VEGF/VEGFR2 drug effectiveness could include leptin pro-angiogenic signaling and molecular targets. Therefore, combining anti-VEGF/VEGFR2 therapies with leptin signaling antagonists could be a potentially novel way to treat breast cancer.
Acknowledgments
This work was partially funded by Grants from NIH/NCI 1SC1CA138658-05; and the Georgia Research Alliance Distinguished Cancer Scientist Award to R.R.G-P; and facilities and support services at Morehouse School of Medicine (NIH RR03034 and 1C06 RR18386) and NIH/NCRR grant 1G12RR026250-03.
Conflicts of Interest
The authors declare no conflict of interest.
Supplementary Files
Supplementary File 1:
© 2013 by the authors; licensee MDPI, Basel, Switzerland. This article is an open access article distributed under the terms and conditions of the Creative Commons Attribution license (http://creativecommons.org/licenses/by/3.0/).