Radical Decisions in Cancer: Redox Control of Cell Growth and Death
1
Cellular Biology and Morphology Department, School of Medicine, University of Oviedo, Oviedo 33006, Spain
2
University Institute of Oncology of Asturias (IUOPA), University of Oviedo, Oviedo 33006, Spain
3
Functional Biology Department, Area of Microbiology, School of Medicine, University of Oviedo, Oviedo 33006, Spain
*
Author to whom correspondence should be addressed.
Received: 27 March 2012 / Revised: 28 March 2012 / Accepted: 10 April 2012 / Published: 25 April 2012
Abstract
Free radicals play a key role in many physiological decisions in cells. Since free radicals are toxic to cellular components, it is known that they cause DNA damage, contribute to DNA instability and mutation and thus favor carcinogenesis. However, nowadays it is assumed that free radicals play a further complex role in cancer. Low levels of free radicals and steady state levels of antioxidant enzymes are responsible for the fine tuning of redox status inside cells. A change in redox state is a way to modify the physiological status of the cell, in fact, a more reduced status is found in resting cells while a more oxidative status is associated with proliferative cells. The mechanisms by which redox status can change the proliferative activity of cancer cells are related to transcriptional and posttranscriptional modifications of proteins that play a critical role in cell cycle control. Since cancer cells show higher levels of free radicals compared with their normal counterparts, it is believed that the anti-oxidative stress mechanism is also increased in cancer cells. In fact, the levels of some of the most important antioxidant enzymes are elevated in advanced status of some types of tumors. Anti-cancer treatment is compromised by survival mechanisms in cancer cells and collateral damage in normal non-pathological tissues. Though some resistance mechanisms have been described, they do not yet explain why treatment of cancer fails in several tumors. Given that some antitumoral treatments are based on the generation of free radicals, we will discuss in this review the possible role of antioxidant enzymes in the survival mechanism in cancer cells and then, its participation in the failure of cancer treatments.
View Full-Text
►

▼

Figures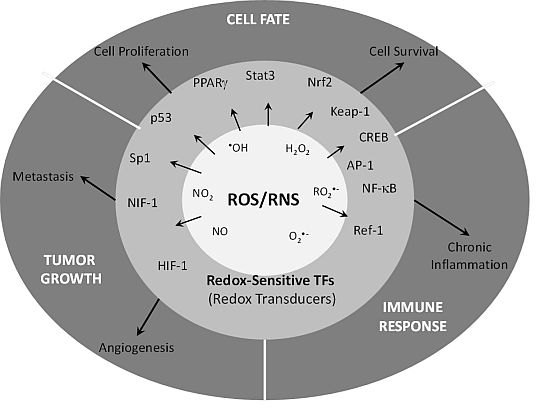 Graphical abstract

Share & Cite This Article
MDPI and ACS Style
Sainz, R.M.; Lombo, F.; Mayo, J.C. Radical Decisions in Cancer: Redox Control of Cell Growth and Death. Cancers 2012, 4, 442-474.
Related Articles
Comments
[Return to top]