Inflammatory Alterations of the Extracellular Matrix in the Tumor Microenvironment
1
Department of Molecular Biosciences, Faculty of Life Sciences, Kyoto Sangyo University, Motoyama, Kamigamo, Kita-Ku, Kyoto 603-8555, Japan
2
Department of Animal Medical Sciences, Faculty of Life Sciences, Kyoto Sangyo University, Motoyama, Kamigamo, Kita-Ku, Kyoto 603-8555, Japan
*
Author to whom correspondence should be addressed.
Received: 4 July 2011 / Revised: 28 July 2011 / Accepted: 4 August 2011 / Published: 9 August 2011
Abstract
Complex interactions between cancer cells and host stromal cells result in the formation of the "tumor microenvironment", where inflammatory alterations involve the infiltration of tumor-associated fibroblasts and inflammatory leukocytes that contribute to the acquisition of malignant characteristics, such as increased cancer cell proliferation, invasiveness, metastasis, angiogenesis, and avoidance of adaptive immunity. The microenvironment of a solid tumor is comprised not only of cellular compartments, but also of bioactive substances, including cytokines, growth factors, and extracellular matrix (ECM). ECM can act as a scaffold for cell migration, a reservoir for cytokines and growth factors, and a signal through receptor binding. During inflammation, ECM components and their degraded fragments act directly and indirectly as inflammatory stimuli in certain cases and regulate the functions of inflammatory and immune cells. One such ECM component, hyaluronan, has recently been implicated to modulate innate immune cell function through pattern recognition toll-like receptors and accelerate the recruitment and activation of tumor-associated macrophages in inflamed cancers. Here, we will summarize the molecular mechanism linking inflammation with ECM remodeling in the tumor microenvironment, with a particular emphasis on the role of hyaluronan in controlling the inflammatory response.
View Full-Text
►

▼

Figures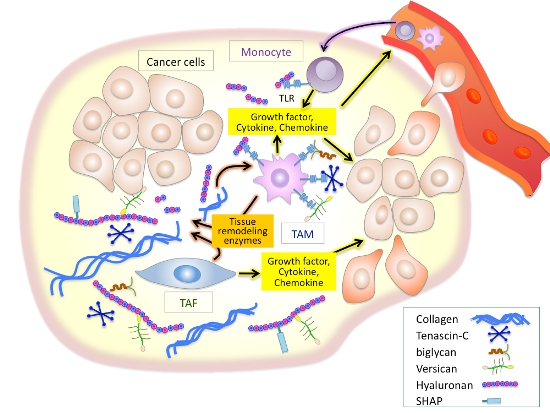 Graphical abstract

Share & Cite This Article
MDPI and ACS Style
Iijima, J.; Konno, K.; Itano, N. Inflammatory Alterations of the Extracellular Matrix in the Tumor Microenvironment. Cancers 2011, 3, 3189-3205.
Related Articles
Comments
[Return to top]