Upregulation of Leukotriene Receptors in Gastric Cancer
1
Department of Gastroenterology, Hepatology and Infectious Diseases, Otto-von-Guericke University, Leipziger Str. 44, Magdeburg 39120, Germany
2
Institute of Pathology, Otto-von-Guericke University, Leipziger Str. 44, Magdeburg 39120, Germany
3
Department of General, Visceral and Vascular Surgery, Otto-von-Guericke University Magdeburg, Leipziger Str. 44, Magdeburg 39120, Germany
*
Author to whom correspondence should be addressed.
Received: 10 June 2011 / Revised: 2 August 2011 / Accepted: 4 August 2011 / Published: 8 August 2011
Abstract
Background
: Leukotrienes (LT) mediate allergic and inflammatory processes.
Previously, we identified significant changes in the expression pattern of LT receptors in the gastric mucosa after eradication of
Helicobacter pylori
infection. The aim of the present study was to evaluate the expression of 5-lipoxygenase (5-LOX) and LT receptors in gastric cancer (GC).
Method
s: The expression of 5-LOX and receptors for LTB4 (BLT-1, BLT-2) and cysteinyl-LT (CysLT-1, CysLT-2) were analyzed by immunohistochemistry (IHC) in GC samples of 35 consecutive patients who underwent gastrectomy and in 29 tumor-free tissue specimens from gastric mucosa.
Results:
Male-to-female ratio was 24:11. The median age was 70 years (range 34–91). Twenty-two patients had GC of intestinal, six of diffuse, six of mixed and one of undifferentiated type. The IHC analysis showed a nearly ubiquitous expression of studied proteins in GC (88–97%) and in tumor-free specimens as well (89–100%). An increase in the immunoreactive score of both BLT receptors and CysLT-1 was observed in GC compared to tumor-free gastric mucosa (p < 0.001 for BLT-1; p < 0.01 for BLT-2 and CysLT-1, Mann-Whitney U-test). No differences in the IHC expression of 5-LOX and CsyLT-2 were observed between GC and tumor-free mucosa. The expression of BLT-2, CysLT-1 and CysLT-2 was increased in GC of intestinal type when compared to the diffuse type (p < 0.05; Mann-Whitney U-test).
Conclusions:
LTB4 receptors and CysLT-1 are up-regulated in GC tissue implying a role in gastric carcinogenesis.
View Full-Text
►

▼

Figures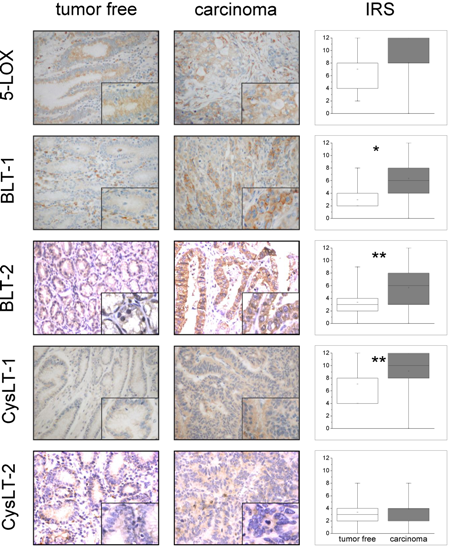 Graphical abstract

Share & Cite This Article
MDPI and ACS Style
Venerito, M.; Kuester, D.; Harms, C.; Schubert, D.; Wex, T.; Malfertheiner, P. Upregulation of Leukotriene Receptors in Gastric Cancer. Cancers 2011, 3, 3156-3168.
Related Articles
Comments
[Return to top]