Open Access This article is
freely available
re-usable
Review
Targeting the Anti-Apoptotic Protein c-FLIP for Cancer Therapy
1
Department of Pharmacology and Toxicology, Indiana University School of Medicine, 980 W. Walnut Street, R3-C524, Indianapolis, IN 46202, USA
2
Indiana University Simon Cancer Center, Indiana University School of Medicine, 980 W. Walnut Street, R3-C524, Indianapolis, IN 46202, USA
3
Herman B. Wells Center for Pediatric Research, 980 W. Walnut Street, R3-C524, Indianapolis, IN 46202, USA
*
Author to whom correspondence should be addressed.
Received: 26 February 2011; in revised form: 15 March 2011 / Accepted: 16 March 2011 / Published: 29 March 2011
Abstract
: Cellular FLICE (FADD-like IL-1beta-converting enzyme)-inhibitory protein (c-FLIP) is a major resistance factor and critical anti-apoptotic regulator that inhibits tumor necrosis factor-alpha (TNF-alpha), Fas-L, and TNF-related apoptosis-inducing ligand (TRAIL)-induced apoptosis as well as chemotherapy-triggered apoptosis in malignant cells. c-FLIP is expressed as long (c-FLIPL), short (c-FLIPS), and c-FLIPR splice variants in human cells. c-FLIP binds to FADD and/or caspase-8 or -10 in a ligand-dependent and-independent fashion, which in turn prevents death-inducing signaling complex (DISC) formation and subsequent activation of the caspase cascade. Moreover, c-FLIPL and c-FLIPS are known to have multifunctional roles in various signaling pathways, as well as activating and/or upregulating several cytoprotective signaling molecules. Upregulation of c-FLIP has been found in various tumor types, and its downregulation has been shown to restore apoptosis triggered by cytokines and various chemotherapeutic agents. Hence, c-FLIP is an important target for cancer therapy. For example, small interfering RNAs (siRNAs) that specifically knockdown the expression of c-FLIPL in diverse human cancer cell lines augmented TRAIL-induced DISC recruitment and increased the efficacy of chemotherapeutic agents, thereby enhancing effector caspase stimulation and apoptosis. Moreover, small molecules causing degradation of c-FLIP as well as decreasing mRNA and protein levels of c-FLIPL and c-FLIPS splice variants have been found, and efforts are underway to develop other c-FLIP-targeted cancer therapies. This review focuses on (1) the functional role of c-FLIP splice variants in preventing apoptosis and inducing cytokine and drug resistance; (2) the molecular mechanisms that regulate c-FLIP expression; and (3) strategies to inhibit c-FLIP expression and function.
Keywords:
c-FLIP; apoptosis; death receptors; cancer; chemotherapy
1. Introduction
Cytotoxic anticancer agents continue to serve as the mainstay modality of systemic therapy in treating human malignancies that have disseminated from the primary tumor site and cannot be managed solely by surgical removal or radiation. The major limitation of cancer chemotherapy has proven to be drug resistance, whether acquired by the malignancy after transient disease remission (e.g., after breast cancer chemotherapy), or intrinsic to the malignancy (e.g., colon cancer, pancreatic cancer, glioblastoma, and prostate cancer are typically refractory to cancer chemotherapy). Several mechanisms have been found to cause chemotherapeutic resistance in cancer cells in vitro [1-4], but whether these mechanisms are also operative in the same manner in vivo requires further study. Understanding the mechanisms of resistance to chemotherapeutic agents will assist in the design of more effective strategies to overcome resistance in cancer cells.
Defects in apoptotic signaling and redundant survival mechanisms in malignant cells contribute to drug resistance in various cancer types [5,6]. Therefore, strategies to lower the threshold for triggering apoptosis in various cancers may lead to new and more effective therapeutic regimens. Acutely induced chemosensitization occurs when a pro-apoptotic signaling program induced in neoplastic cells by a chemotherapy drug includes disabling of a cytoprotective anti-apoptotic response. This is illustrated by our discovery that acute exposure of human leukemia cells to Taxol induced a pro-apoptotic program that entails coordinate caspase activation and downregulation of the anti-apoptotic protein cellular FLICE-like inhibitory protein (c-FLIP), a catalytically inactive caspase-8/-10 homologue [7]. c-FLIP variants are involved in tumor necrosis factor-related apoptosis-inducing ligand (TRAIL) and chemotherapeutic drug resistance in a wide range of human malignancies [7-13]. The fact that Taxol has the added benefit of disabling a specific cytoprotective signal in neoplastic cells in conjunction with inducing apoptosis signaling is consistent with its often superior efficacy compared with other apoptosis-inducing chemotherapy drugs in managing diverse neoplastic diseases. Furthermore, a combination of Taxol/c-FLIP targeted therapy may improve the therapeutic response to Taxol by enhancing downregulation of c-FLIP variants in concert with drug-induced apoptosis signaling [7].
We have reported that upregulation of the pro-apoptotic TRAIL receptor DR5 may actually occur during the development of chemotherapy-induced drug resistance phenotype in cancer cells [14]. Moreover, upregulation of the pro-apoptotic signaling proteins or suppression of specific anti-survival signaling pathways by agents directed to increase pro-apoptotic proteins may acutely induce chemosensitization of resistant cancer cells. For instance, we previously demonstrated TRAIL treatment selectively triggered apoptosis in P-glycoprotein (P-gp ABCB1)-overexpressing multidrug resistant (MDR) cells [14-16]. Moreover, hypersensitivity to TRAIL was either due to (1) increased TRAIL binding to the TRAIL receptor DR5 in these cells compared to their drug sensitive counterparts [15]; or (2) up-regulation of DR5 and concomitant degradation of P-gp [14], the release of cytochrome c from mitochondria, activation of caspases-9 and -3 [14], as well as down-regulation of c-FLIP and the DNA-dependent protein kinase catalytic subunit (DNA-PKcs) by activation of caspase-3 [17]. These data also provided important determinants of TRAIL-induced sensitization of MDR cells to MDR-related agents [14,17]. Therefore, these results hold significant clinical implications for the use of TRAIL or TRAIL and chemotherapeutic drugs for treating cancers with the MDR phenotype. TRAIL holds enormous promise as a cancer therapeutic due to its highly selective apoptosis-inducing action on neoplastic versus normal cells [18,19]. Moreover, a recently published Phase I clinical trial revealed that recombinant TRAIL administration is safe and well tolerated, and that dose escalation achieved peak TRAIL serum concentrations equivalent to those associated with preclinical antitumor efficacy [20] However, to exploit the opportunity to successfully treat cancers with TRAIL, the problems of TRAIL resistance in a variety of tumor cells must first be overcome [21-23].
It is now recognized that the mechanism of action of chemotherapy drugs often involves the induction of cancer cell apoptosis, and that apoptosis resistance is a major contributing factor in chemotherapeutic drug resistance. Therefore, restoring apoptosis signaling in cancer cells with targeted therapeutics has enormous potential to improve the outcome of cancer chemotherapy by reversing a major mechanism of drug resistance. As we previously reported [24], c-FLIP is a critical target for therapeutic intervention aimed at inhibiting its transcription and posttranscription. In this review, we assess the outlook for improving the outcome of cancer therapy by targeting c-FLIP and exploring the possibility of increasing its degradation and/or decreasing its expression in order to provide a potentially safe approach to treat cancer. Novel modalities of cancer therapy that improve the efficacy of TRAIL as well as chemotherapeutic drugs and lessen the toxicity of these agents by targeting specific c-FLIP isoforms is discussed.
2. Apoptosis Signaling Pathways
Apoptosis is a mechanism of programmed cell death involving signal transduction pathways that induce cells to self-destruct in response to organismal cues, e.g., digit formation in vertebrate limbs during embryonic development, environmental hazards (e.g., radiation-induced DNA damage), or anticancer therapeutics (e.g., chemotherapeutic agents and cytokines). Two well-studied pathways are involved in apoptosis: the mitochondrion-initiated pathway (Figure 1) and the cell surface death receptors pathway (Figure 1) [25-27]. In the mitochondrial pathway, cytochrome c, certain caspases, apoptosis-inducing factor, Smac/DIABLO, and other apoptosis-inducing factors are released from the mitochondrial intramembrane space to the cytosol [28]. Once released, cytochrome c and dATP bind to apoptotic proteinase-activating factor-1 (Apaf-1), and this complex along with adenine nucleotides promote procaspase-9 autoactivation [29], which in turn activates caspases-2, -3, -6, -7, -8, and -10. Apoptosis triggered by various stimuli requires direct activation of Bax and BAK at the mitochondria by a member of the Bcl-2 homology domain-3 (BH3)-only family of proteins including Bid, Bim, or PUMA [30]. The various anti- and pro-apoptotic members of the Bcl-2 family form a network of interactions that ultimately regulate the permeabilization of the mitochondrial outer membrane and release of apoptogenic factors such as cytochrome c to the cytoplasm [31]. Apoptosis initiated by the endoplasmic reticulum (ER) stress signaling pathway is also mainly dependent on the release of cytochrome c from the mitochondrial intermembrane space into the cytosol [32]. This release is associated with the opening of the permeability transition pore (PTP) and a collapse in the mitochondrial transmembrane potential (ΔΨm) due to the intake of Ca2+ following its release into the cytosol from the ER. Recent work has demonstrated that certain members of the Bcl-2 family are present on the ER where they appear to have a comprehensive function in the maintenance of ER homeostasis, participation in ER stress signal transduction pathways, and apoptosis [32].
In the death receptor-mediated apoptosis pathway (e.g., Fas/Fas ligand interaction or TRAIL/DR5 interaction and cell death), the initiator caspases-8 and -10 activate the downstream caspases including caspase-3 [18,19,24]. Active caspases-8 and -10 are known to cleave a pro-apoptotic Bcl-2 family member, Bid, and the truncated Bid induces mitochondrial cytochrome c release [26-29], thereby linking the two pathways. After activation, both caspases-8 and -9 activate caspase-3, which in turn cleaves other caspases and many cellular proteins including fodrin, various kinases, poly(ADP-ribose) polymerase, gelsolin, and DNA fragmentation factor-45 (DFF45) [26,33-37]. A third pathway has also been identified [38]. In this pathway, as Slee et al. [38] showed, BID is cleaved in response to several death-inducing stimuli (staurosporine, UV radiation, cycloheximide, etoposide) and that BID cleavage was blocked by Bcl-2, suggesting that degradation of BID occurred distal to cytochrome c release. Moreover, addition of cytochrome c to Jurkat post-nuclear extracts triggered cleavage of BID at Asp-59 which was catalysed by caspase-3 rather than caspase-8. These results provide evidence that caspase-3 mediated cleavage of BID represents a feedback loop for the amplification of mitochondrial cytochrome c release during cytotoxic drug and UV radiation-induced apoptosis [38].
3. Cellular FLICE-Like Inhibitory Protein (c-FLIP)
4. Conclusions
It is now evident that c-FLIP variants induce resistance to death receptor ligands and chemotherapeutic agents in various cancer cells and that c-FLIP may be a relevant clinical target for counteracting therapy resistant human malignancies. The current state of the art reviewed in this article suggests that targeting c-FLIP in combination with TRAIL or standard chemotherapies has therapeutic potential for treating human cancers. As discussed, various classes of agents can downregulate c-FLIP expression. However, c-FLIP has significant structural similarity to caspase-8; this makes c-FLIP a very difficult target for developing drugs that inhibit this protein directly, since small molecules capable of blocking c-FLIP's recruitment to the DISC could simultaneously inhibit the recruitment of caspase-8 and thereby inhibit apoptosis. Therefore, to reduce or inhibit c-FLIP expression, small molecules which target c-FLIP without inhibiting caspases-8 and -10 are needed. Compounds that inhibit or downregulate c-FLIP mRNA expression will particularly be of interest. As discussed above, employing a high-throughput chemical screening strategy, a small molecule inhibitor of c-FLIP, 4-(4-Chloro-2-methylphenoxy)-N-hydroxybutanamide (CMH) or droxinostat has been identified that downregulates c-FLIPL and c-FLIPS mRNA and protein levels, reduces cell survival, and induces apoptosis. The foregoing discussion justifies optimism that future cancer therapy will be improved by innovations that combine chemotherapy with drug resistance-reversing multi-targeted therapy, e.g., combination regimens of chemotherapy and small molecule drugs that downregulate c-FLIP.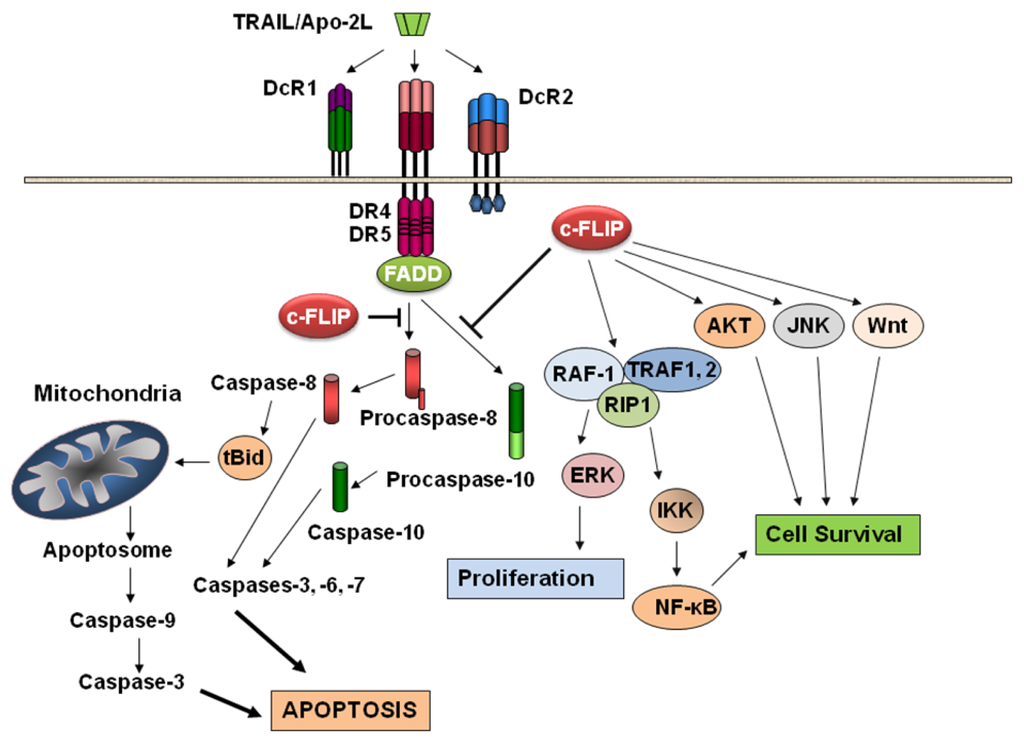 Figure 1. Schematic overview of the multifunctional roles of c-FLIP in the TRAIL-triggered apoptosis pathway as well as activating various anti-apoptotic and cell survival signaling pathways.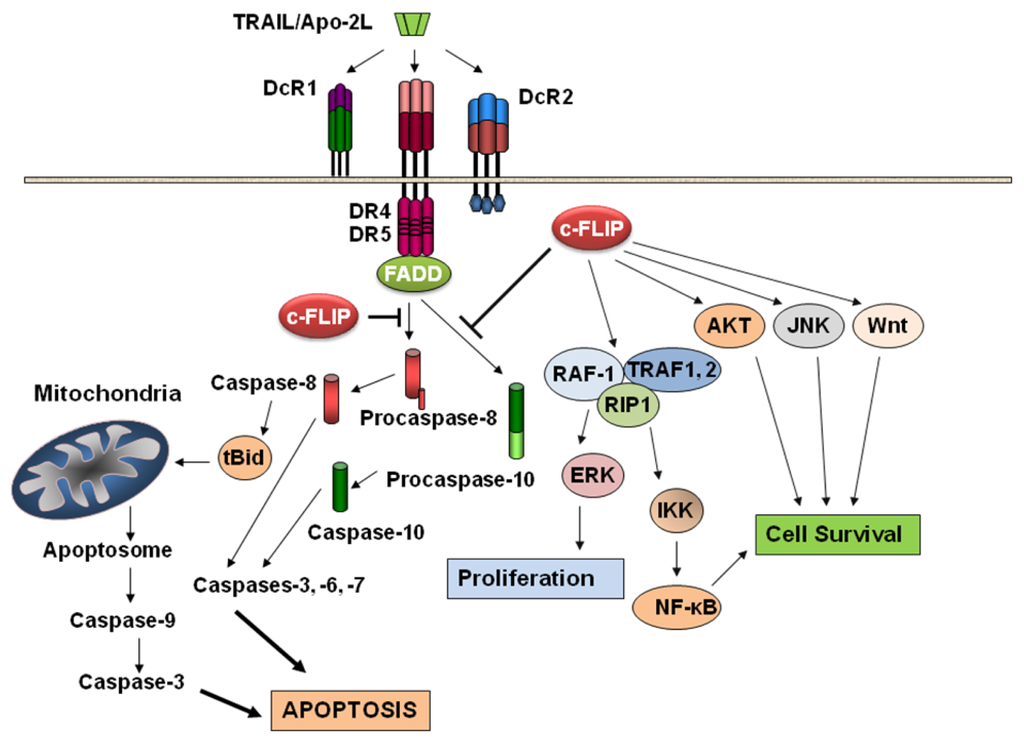 Figure 2.
Structures of c-FLIP isoforms. Three c-FLIP isoforms, c-FLIP
L
, c-FLIP
s
, and c-FLIP
R
, contain two death effector domains (DEDs) at their N-termini. In addition to two DEDs, c-FLIP
L
contains a large (p20) and a small (p12) caspase-like domain without catalytic activity. c-FLIP
S
and c-FLIP
R
consist of two DEDs and a small C-terminus [
36
].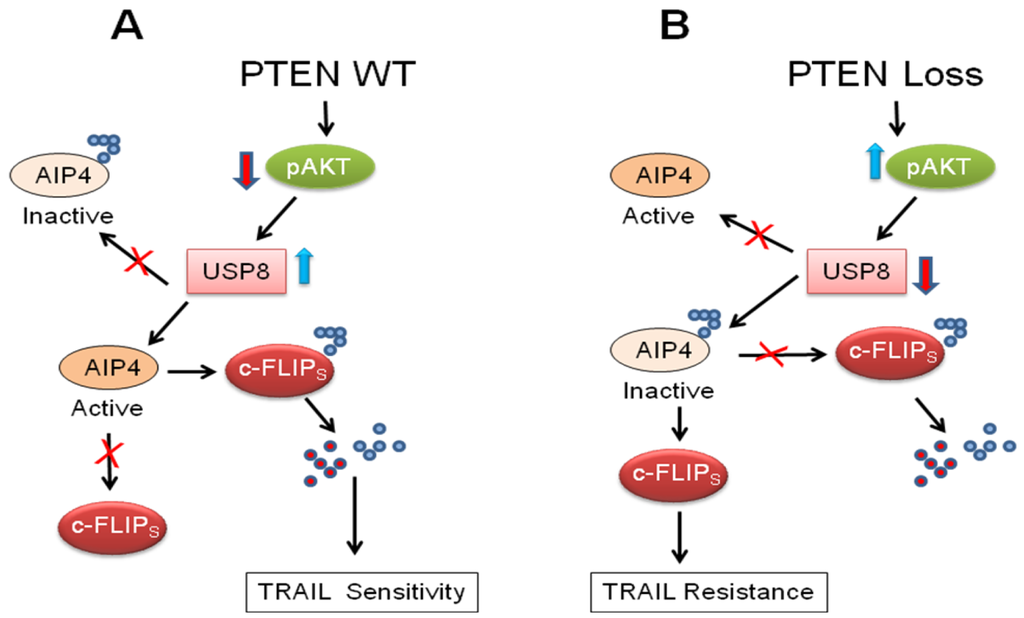 Figure 3.
Schematic model of PTEN-mediated control of c-FLIP
S
ubiquitination and TRAIL sensitivity. (
A
). USP8 interacts with AIP4 which can ubiquitinate c-FLIP
S
leading to its degradation; (
B
). Increase in pAkt decreases USP8 expression, turns off the USP8/AIP4 ubiquitin switch, resulting in c-FLIP
S
accumulation. Modified from Panner
et al.
[
114
].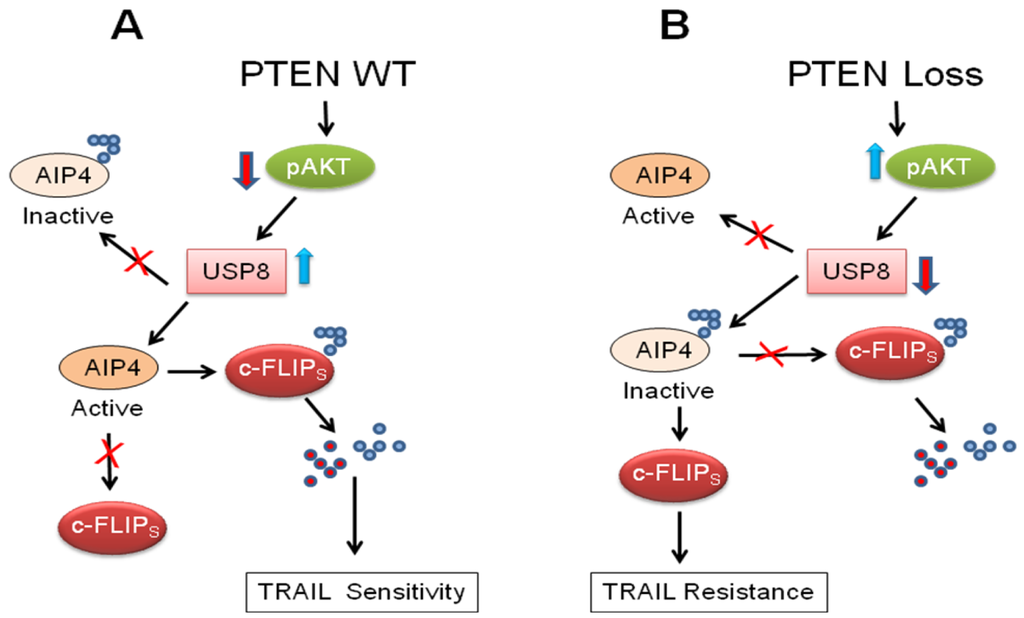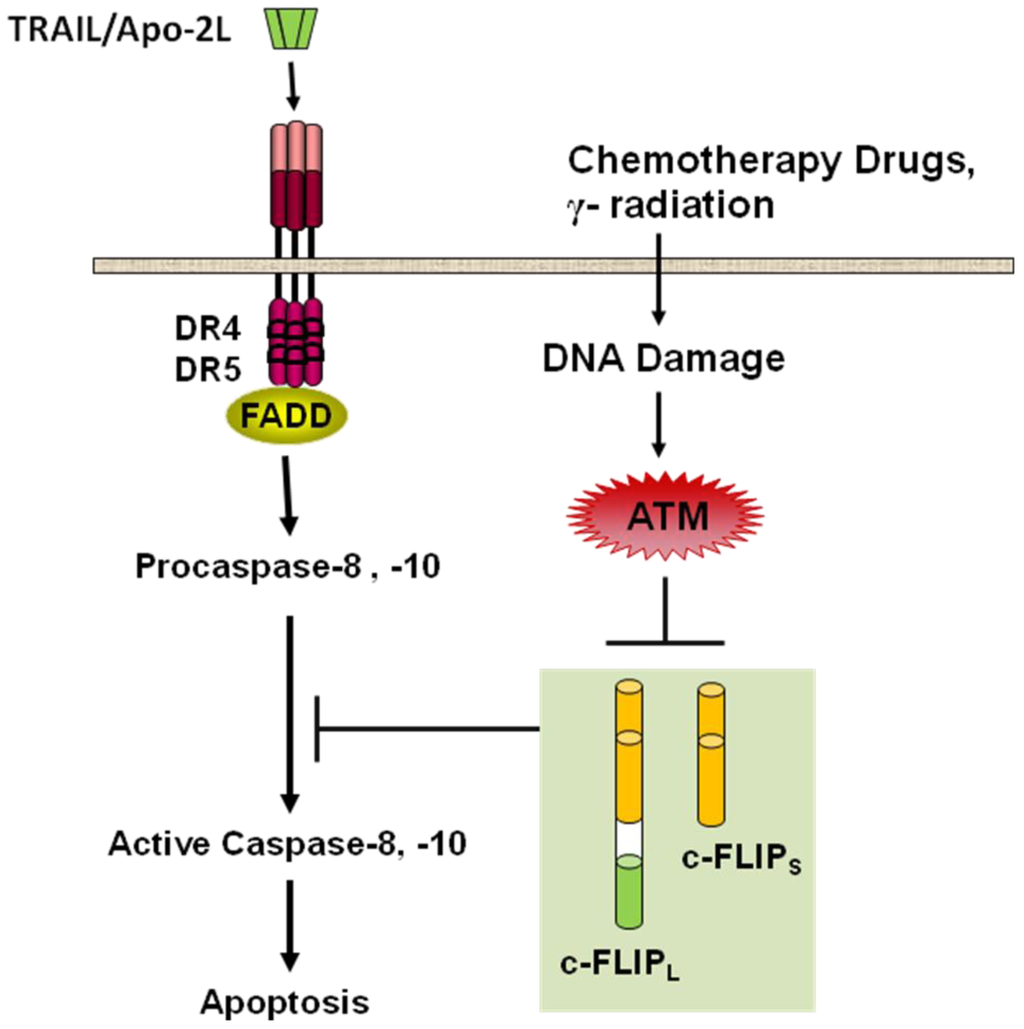 Figure 4.
ATM kinase activity downregulates c-FLIP
L
and c-FLIP
S
at the protein level and connects DNA damage signaling to TRAIL-induced apoptosis signaling pathway. DNA damaging agents induce ATM activation, which promotes c-FLIP
L
protein degradation and c-FLIP
S
downregulation through an unknown mechanism (Stagni
et al.
[
122
]).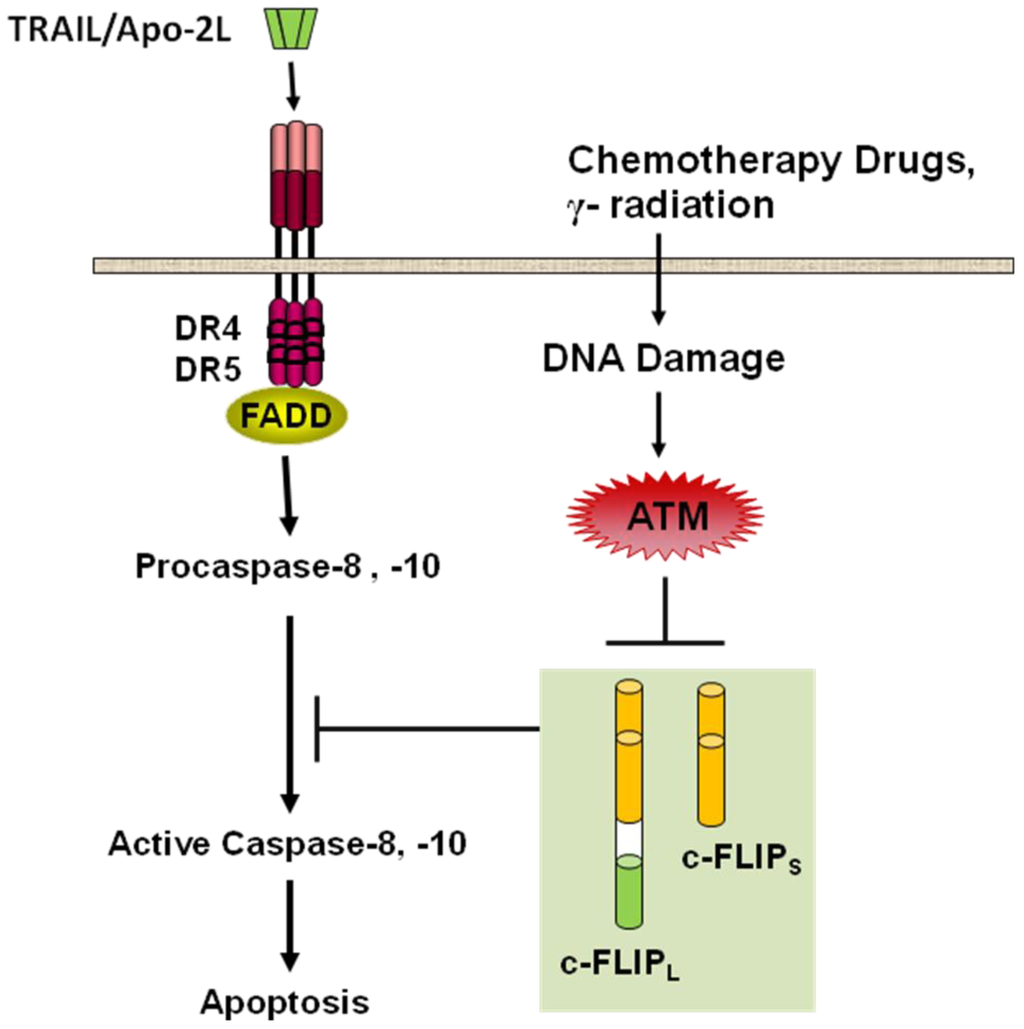 Table 1. Agents known to inhibit c-FLIP expression at the transcription level.
Mechanism of action
Agent
References
Generation of DNA adduct formation, intra- and interstrand crosslinks
Cisplatin, oxaliplatin
[69,70,143-146]
DNA intercalator
Doxorubicin
[147]
Topoisomerase I inhibitor
Camptothecin, 9-nitrocamptothecin (9-NC), irinotecan
[69,148]
Histone deacetylase inhibitor
Vorinostat, trichostatin, droxinostat (CMH), valproic acid, NCH-51, MS-275, romidepsin (FK228/depsipeptide), and AR-42
[149-154]
Anti-microtubule targeting agent
Lupeol (triterpene)
[155-157]
Inhibitor of IκB kinase (IKK) and NF-κB pathways
Celastrol, zerumbone, withaferin A, quinacrine
[158-160]
Inhibitor of TNFα-mediated NF-κB activation
Chrysin (flavonoid)
[161]
Inhibitor of mitogen-induced proliferative response
S-adenosylmethionine (SAMe)
5′-methylthioadenosine (MTA)
[162]
Inhibitor of signal transducer and activator of transcription 3 (STAT3)
CDDO-imidazolide (synthetic triterpenoid)
[163]
Ras/mTOR inhibitor
Salirasib
[164]
Table 2. Agents known to inhibit c-FLIP expression by post-transcriptional mechanisms.

| Mechanism of action | Agent | References |
| --- | --- | --- |
| Blockade of mRNA translation and RNaseH-mediated cleavage, with subsequent degradation of the mRNA:antisense DNA heteroduplex | Antisense oligonucleotide | [60] |
| c-FLIP RNA interference | SiRNAs | [24,45,116, 165,166] |
| Inhibitor of mammalian target of rapamycin (mTOR) | Rapamycin | [83] |
| Inhibitor of phosphorylation of (Roc) translation initiation factor 4E (eIF4E) Disrupts the eIF4E/eIF4G association | Rocaglamide | [87] |
| Antimicrotubule agent | Taxol (paclitaxel) | [7] |
| Protein synthesis inhibitors | Cyclohexamide and anisomycin | [167] |
| RNA synthesis inhibitor | Actinomycin D | [168,169] |
| Thymidylate synthase (TS) inhibitor | 5-fluorouracil (5-FU) | [8,122] |
| PPARγ modulation | CDDO, 15-deoxy-δ (12,14)-prostaglandin J2 (15d-PGJ2), Rosiglitazone, Troglitazone | [170-174] |
| Proteasome inhibitors | PS-34 (bortezomib), MG-132 | [80,175-186] |
| Bcr-Abl kinase inhibitor | Imatinib mesylate | [187,188] |
| Blocks the activation of NF-κB and TGF-β1/Smad signaling pathways | Silibinin (flavonoid) | [189] |
| Induces cyclin D1 phosphorylation, Increases ubiquitination of c-FLIP | SHetA2 | [190] |
| Akt and NF-κB downregulation | Genistin (isoflavone) | [191] |
| Multikinase inhibitor | Sorafenib | [192] |
| Inhibitor of AKT phosphorylation | Eupatolide | [193] |
| Elevation of c-Jun N-terminal kinase (JNK) and its substrate c-Jun | α-TEA | [194,195] |
| Inhibitor of transglutaminase 2 (TG2) | Cystamine | [196] |
| Proteasome-mediated degradation of c-FLIPS | Paxilline | [197] |
| Inhibitor of phosphorylation of AKT (pAKT) and cellular FLICE-like inhibitory protein (c-FLIP) | Tamoxifen | [198] |
| Increases reactive oxygen species (ROS) and induces proteasome-dependent degradation of c-FLIP | Isoquinoline alkaloid, Berberine (BBR) | [199] |
| Activator of signal transduction cascades | INF-γ | [200] |
| Induce ROS, activator of both death receptor- and mitochondrial-mediated apoptotic pathways | β-elemene piperazine derivatives | [201] |
| EGFR tyrosine kinase inhibitor | AG1478 | [202] |
| Down-regulates STAT3 | Kahweol, a coffee-specific diterpene | [203] |
| Phosphodiesterase inhibitor | Pentoxifylline (PTX) | [204] |
| Phosphatidylinositol 3′-kinase inhibitor | LY294002 | [205] |
Acknowledgments
We would like to thank Mary D. Kraeszig for her editorial assistance. The work in Safa's laboratory was supported by research grants from the National Cancer Institute (CA 080734, CA 90878, and CA 101743), Department of Defense (DOD) (OC 06095), the Lung Cancer Working Group (LCWG), and the Indiana University Cancer Center Translational Research Acceleration Collaboration (ITRAC) initiative.
© 2011 by the authors; licensee MDPI, Basel, Switzerland. This article is an open access article distributed under the terms and conditions of the Creative Commons Attribution license (http://creativecommons.org/licenses/by/3.0/).