Modulation of Radiation-Induced Genetic Damage by HCMV in Peripheral Blood Lymphocytes from a Brain Tumor Case-Control Study
1
Department of Epidemiology, The University of Texas M.D. Anderson Cancer Center, Houston, TX 77030, USA
2
Department of Pediatrics and Dan L. Duncan Cancer Center, The Baylor College of Medicine, Houston, TX 77030, USA
3
Department of Microbiology and Immunology, The University of Texas Medical Branch, Galveston, TX 77555, USA
*
Author to whom correspondence should be addressed.
Received: 2 March 2010 / Revised: 26 March 2010 / Accepted: 7 April 2010 / Published: 12 April 2010
Abstract
Human cytomegalovirus (HCMV) infection occurs early in life and viral persistence remains through life. An association between HCMV infection and malignant gliomas has been reported, suggesting that HCMV may play a role in glioma pathogenesis and could facilitate an accrual of genotoxic damage in the presence of g-radiation; an established risk factor for gliomas. We tested the hypothesis that HCMV infection modifies the sensitivity of cells to γ-radiation-induced genetic damage. We used peripheral blood lymphocytes (PBLs) from 110 glioma patients and 100 controls to measure the level of chromosome damage and cell death. We evaluated baseline, HCMV-, γ-radiation and HCMV + γ-radiation induced genetic instability with the comprehensive Cytokinesis-Blocked Micronucleus Cytome (CBMN-CYT). HCMV, similar to radiation, induced a significant increase in aberration frequency among cases and controls. PBLs infected with HCMV prior to challenge with γ-radiation led to a significant increase in aberrations as compared to baseline, γ-radiation and HCMV alone. With regards to apoptosis, glioma cases showed a lower percentage of induction following
in vitro
exposure to γ-radiation and HCMV infection as compared to controls. This strongly suggests that, HCMV infection enhances the sensitivity of PBLs to γ-radiation-induced genetic damage possibly through an increase in chromosome damage and decrease in apoptosis.
View Full-Text
►

▼

Figures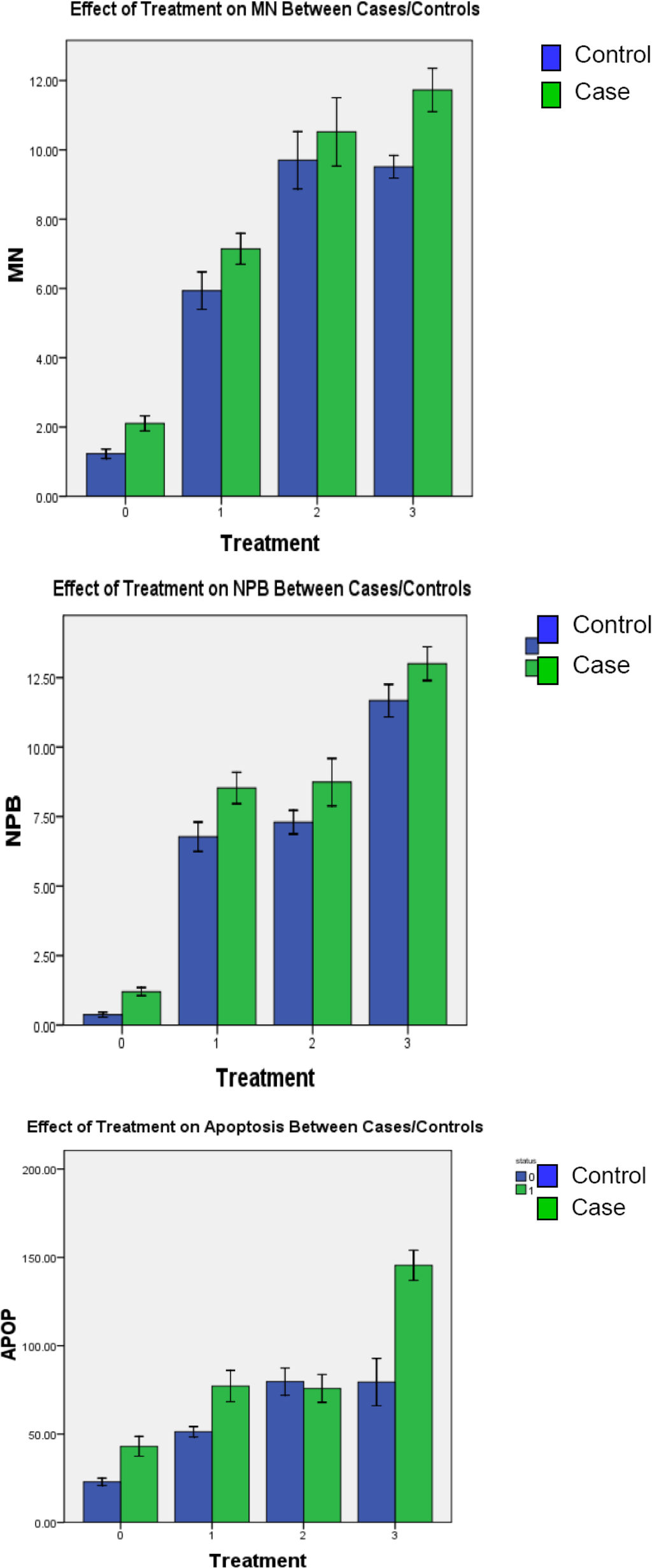 Figure 1

Share & Cite This Article
MDPI and ACS Style
Rourke, E.A.; Lopez, M.S.; Monroy, C.M.; Scheurer, M.E.; Etzel, C.J.; Albrecht, T.; Bondy, M.L.; El-Zein, R.A. Modulation of Radiation-Induced Genetic Damage by HCMV in Peripheral Blood Lymphocytes from a Brain Tumor Case-Control Study. Cancers 2010, 2, 420-435.
Related Articles
Comments
[Return to top]