Open Access This article is
freely available
re-usable
Review
Inflammatory Genetic Markers of Prostate Cancer Risk
1
Cancer Genetics Group, Children's Cancer Institute Australia for Medical Research, Lowy Cancer Research Centre, University of New South Wales, PO Box 81, Randwick, NSW 2031, Australia
2
University of New South Wales, Kensington Campus, Sydney, NSW 2052, Australia
*
Author to whom correspondence should be addressed.
Received: 6 May 2010; in revised form: 24 May 2010 / Accepted: 1 June 2010 / Published: 8 June 2010
Abstract
:
Prostate cancer is the most common cancer in Western society males, with incidence rates predicted to rise with global aging. Etiology of prostate cancer is however poorly understood, while current diagnostic tools can be invasive (digital rectal exam or biopsy) and/or lack specificity for the disease (prostate-specific antigen (PSA) testing). Substantial histological, epidemiological and molecular genetic evidence indicates that inflammation is important in prostate cancer pathogenesis. In this review, we summarize the current status of inflammatory genetic markers influencing susceptibility to prostate cancer. The focus will be on inflammatory cytokines regulating T-helper cell and chemokine homeostasis, together with the Toll-like receptors as key players in the host innate immune system. Although association studies indicating a genetic basis for prostate cancer are presently limited mainly due to lack of replication, larger and more ethnically and clinically defined study populations may help elucidate the true contribution of inflammatory gene variants to prostate cancer risk.
Keywords:
prostate cancer; inflammation; Toll like receptor (TLR); cytokine; chemokine; gene variant; inherited susceptibility
1. Introduction
The most recent statistics available from the USA. reveal prostate cancer is now the most frequently diagnosed malignancy in men [
1
]. World-wide, prostate cancer is the second most commonly diagnosed male malignancy and sixth leading cause of cancer-related male death, equating to a considerable global health burden [
2
]. Despite this vast prevalence, the number of known risk factors is limited, providing little insight into elucidating which men will be susceptible to developing the disease. The three most significant prostate cancer risk factors to date include increased age, African ancestry and a family history of the disease, with the latter supporting a genetic contribution to prostate cancer risk. Also emerging as a potential mediator of prostate cancer pathogenesis is inflammation.
Despite rising epidemiological evidence linking inflammation and prostate cancer, including an increased risk associated with prior exposure to sexually transmitted infections (STIs) [
3
,
4
], the occurrence of clinically diagnosed chronic inflammation of the prostate (prostatitis) [
5
,
6
] and an inverse correlation with the use of non-steroidal anti-inflammatory drugs (NSAIDs) [
7
,
8
], the precise mechanisms of inflammatory involvement are yet to be determined. In light of a general belief that solid tumor development is a multi-stage process, it has been proposed that regions of chronic inflammation that are coupled with focal atrophy known as proliferative inflammatory atrophy (PIA), may be a pre-cursor to prostate cancer development [
9
]. The etiology of these lesions, and whether they are likely to act directly by morphing with cancerous cells or indirectly via migration with high grade prostatic intraepithelial neoplasia (HGPIN), are points of debate. Regardless of the etiology (
i.e.
, infectious or non-infectious) of the inflammatory response, chronic inflammation can incite carcinogenesis by inducing proliferative events and post-translational DNA modifications by enhancing the secretion of growth factors such as cytokines and chemokines and inducing oxidative stress by the release of nitric oxide (NO) and reactive oxygen species (ROS) [
10
]. These inflammatory induced somatic modifications may be responsible for the progression from chronic inflammation of the prostate (prostatitis) to prostate carcinogenesis (
Figure 1
).
The inflammatory network is a complex interaction of genes and transcription factors involved in both the relatively non-specific innate immune system and the more targeted adaptive immune system. Mounting an effective immune response relies heavily on a balanced and monitored production of proteins involved in these specific pathways. Given that prostate cancer has been defined as having one of the strongest familial links of all human cancers, it has been hypothesized that genes involved in mediating, inhibiting or maintaining a host immune response may contribute to prostate cancer development and predisposition to prostate cancer risk.
In this review, we focus on inherited gene variants within key inflammatory genes that have been associated with a varied susceptibility to prostate cancer development. We discuss evidence to support this proposed hypothesis based on genome-wide association studies (GWAS) and family linkage studies, as well as large-scale and more targeted candidate gene analysis. The latter includes the toll-like receptor (TLR) family (innate immune response) and T helper (Th) influencing cytokines and chemokines (adaptive immune response).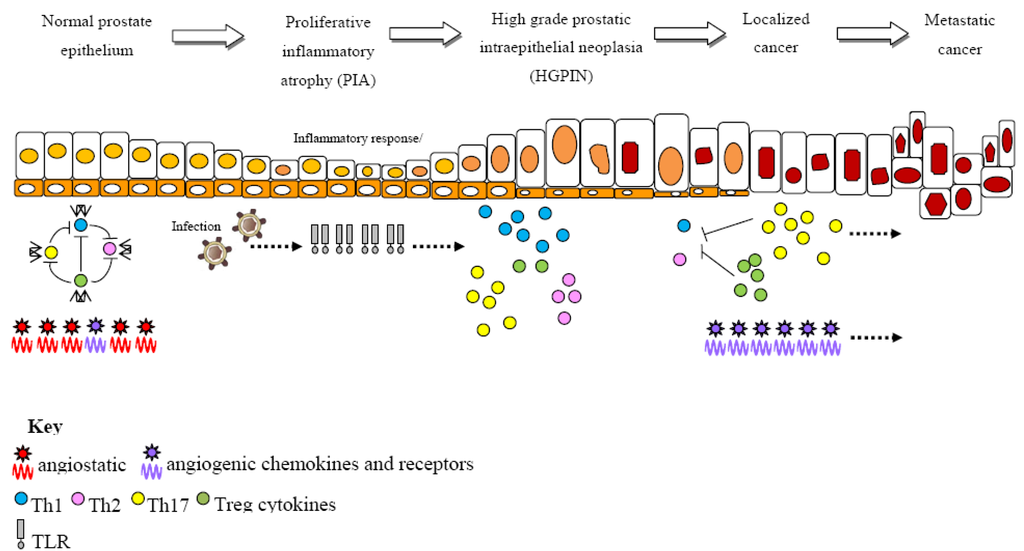 Figure 1. Multi-step process of prostate cancer development. Under normal conditions, Th cytokines are maintained in a homeostatic state via self-regulating mechanisms and angiostatic chemokines are predominant. Regions of PIA are frequently associated with inflammation, possibly triggered by an infectious agent. The inflammatory response induces TLR-expressing inflammatory cells, which mediate cell proliferation and increase cytokine and chemokine production. As the inflammatory response progresses, self-regulating mechanisms fail leading to an overproduction of Treg, Th17 cytokines and angiogenic chemokines, which enhance DNA damage, cell proliferation and angiogenesis, promoting prostate cancer progression.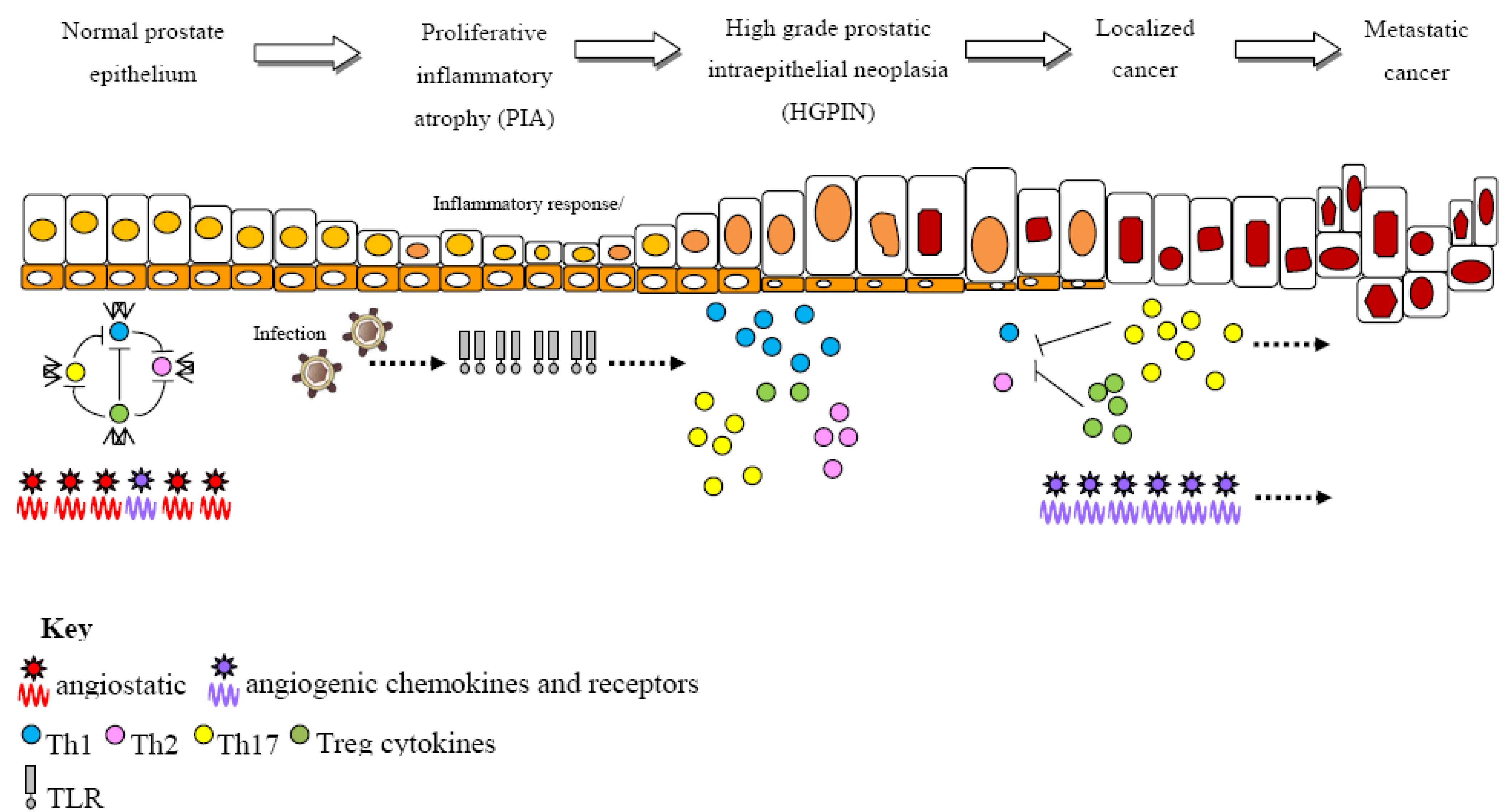 2. Non-Targeted Genome-Wide Scans for Prostate Cancer Risk
Methods for unbiased and non-targeted identification of loci contributing to inherited prostate cancer susceptibility include whole genome analysis of linkage in prostate cancer families and large scale case-control association-based approaches.
One of the first regions to be identified as a potential prostate cancer susceptibility locus using a genome wide scan is on the long arm of chromosome 1 (1q24-25), originally termed hereditary prostate cancer 1 (HPC1) [
11
]. Analysis of candidate genes within this region identified an anti-viral and anti-proliferative gene involved in the innate immune system,
RNASEL
. In addition to identifying germline mutations within this gene associated with prostate cancer risk, a common variant, R463Q, has been linked to increased susceptibility to a viral infection, namely Xenotropic MulV-related virus (XMRV), proposed to be involved in prostate cancer pathogenesis [
12
,
13
]. A second locus identified by familial linkage studies mapped to chromosomal position 8p22, which harbors an innate immune gene, macrophage scavenger receptor 1 (
MSR1
). MSR1 expression is largely restricted to macrophages and is primarily involved in bacterial elimination. Germline variants within this gene have since been associated with prostate cancer risk [
14
]. The first prostate cancer GWAS to implicate an adaptive cytokine gene variant in prostate cancer risk showed suggestive evidence that the minor allele of a non-synonymous interleukin(
IL
)
-16
variant, rs4072111, may be associated with prostate cancer risk under a recessive model of inheritance [
15
].
Follow-up association studies to confirm a role for variants within the two innate immune genes,
RNASEL
and
MSR1
, in prostate cancer susceptibility, have produced some conflicting results (reviewed in [
16
]). Similarly, there are no reported studies to verify the association observed for the
IL-16
gene variant and prostate cancer risk. Discrepant results are often achieved for prostate cancer genetic association studies, thus highlighting the complex, heterogeneous nature of the disease and the potential difficulties in determining the genetic contribution to prostate cancer risk. It is proposed that a combination of multiple low- to moderate-risk alleles may contribute to disease risk, although the most appropriate method to accurately define these associations is often disputed.
3. Targeted Candidate Gene Analysis for Prostate Cancer Risk
In an effort to clarify a potential role for immune gene variants in prostate cancer risk, one study investigated a large panel of 9,275 variants within 1,086 inflammatory genes using a large and well-defined Swedish case-control population study (CAPS). This study of 400 prostate cancer cases and 400 population-matched controls revealed a multitude of variants across the panel of genes to be significantly associated with prostate cancer risk. By determining that more than the expected number of variants were statistically significant, this report supports previous suggestions and concludes that there is likely an association between prostate cancer risk and multiple modest effect genes within the inflammatory pathways [
17
]. A targeted approach to investigate specific, candidate inflammatory gene variants might thus provide a suitable means of determining a genetic predisposition to inflammatory mediated prostate cancer. Based on the impact of TLRs, Th cytokines and chemokines in prostate cancer pathogenesis (
Figure 1
), the gene families encoding these inflammatory agents are addressed herein.
3.1. Toll-like Receptor (TLR) Variants
3.2. T helper (Th) Cytokine Variants
Th cells form a critical component of the adaptive immune system, though are important contributors to nearly all cellular components of immunity. Unique Th cell phenotypes differentiate from naïve Th cells dependant on the pathogen and subsequent cytokine stimulus present. Several mechanisms are involved in influencing this production and maintaining a balanced and effective Th cell response, most notably via self-regulating mechanisms of Th secreted cytokines. Disruption at any of these check points may lead to auto-immune and other chronic inflammatory disorders.
3.3. Chemokine variants
The largest subset of cytokines is known as the chemokine network, which comprises small (8–10 kDa) chemoattractant proteins referred to as chemokines (approximately 50) that serve as ligands for G-protein-coupled seven-transmembrane domain chemokine receptors (approximately 20). Chemokines and their receptors are grouped into four classes (C, CC, CXC and CX3C) based on the position of two of four highly conserved cysteine residues near the amino terminus of the protein. Activation of the chemokine network is essential for the regulation of signaling cascades that induce cell migration to specific sites during inflammation.
4. Conclusions
Identification of gene variants responsible for the inherited component of prostate cancer risk may contribute to the development of genetic based screening tests to assist current diagnostic strategies, facilitate defining what is essentially a heterogenous disease and more accurately identify men in the community at a greater risk of developing the disease. In addition to improving clinical management, such findings could provide novel targets for the intervention of prostate cancer therapies.
Current treatment options available for prostate cancer can be both invasive and toxic, negatively impacting on quality of life and prompting many patients (particularly those in the later stages of life) to refuse treatment. The primary goal for developing immunotherapeutics for prostate cancer is to prevent disease progression, whilst providing a cancer specific treatment that minimizes toxicity and other detrimental side-effects. Currently there are no approved immunotherapeutic treatments for prostate cancer, however advances in the field of immunology has provided a better understanding of antigen presentation, antigen recognition and tumor immune escape, making the task more feasible. Identification of variants responsible for maintaining a tumor immune response may therefore further provide more specific targets to combat the development of prostate cancer and disease progression.
Acknowledgements
We acknowledge the Cancer Institute of New South Wales (CINSW) who support both E.A.T. (CINSW PhD Scholar) and V.M.H. (CINSW Research Fellow).
© 2010 by the authors; licensee MDPI, Basel, Switzerland. This article is an open access article distributed under the terms and conditions of the Creative Commons Attribution license (http://creativecommons.org/licenses/by/3.0/).