A Miniaturized Platform for Multiplexed Drug Response Imaging in Live Tumors
1
Department of Radiology, Brigham and Women's Hospital, Harvard Medical School, 75 Francis Street, Boston, MA 02115, USA
2
Department of Pathology, Brigham and Women's Hospital, Harvard Medical School, 75 Francis Street, Boston, MA 02115, USA
*
Authors to whom correspondence should be addressed.
Academic Editor: Fiona M. Lyng
Received: 7 January 2021 / Revised: 29 January 2021 / Accepted: 1 February 2021 / Published: 6 February 2021
Simple Summary
We have developed an implantable microdevice that is placed into a live tumor, and can directly image how effective various chemotherapy drugs are at inducing cell death, without having to remove or process the tumor tissue. Currently drug optimization is performed by assessing tumor shrinkage after treating a patient with systemic doses of a chemotherapy agent; this only evaluates a single treatment at a time and typically takes weeks-months before an optimal treatment strategy is found (if found at all) for a specific patient. In contrast, using the technology presented here, a personalized cancer treatment strategy can potentially be optimized and tailored to a specific patient's tumor characteristics within several hours, without requiring surgical tissue removal or prolonged trials of potentially ineffective chemotherapies.
By observing the activity of anti-cancer agents directly in tumors, there is potential to greatly expand our understanding of drug response and develop more personalized cancer treatments. Implantable microdevices (IMD) have been recently developed to deliver microdoses of chemotherapeutic agents locally into confined regions of live tumors; the tissue can be subsequently removed and analyzed to evaluate drug response. This method has the potential to rapidly screen multiple drugs, but requires surgical tissue removal and only evaluates drug response at a single timepoint when the tissue is excised. Here, we describe a "lab-in-a-tumor" implantable microdevice (LIT-IMD) platform to image cell-death drug response within a live tumor, without requiring surgical resection or tissue processing. The LIT-IMD is inserted into a live tumor and delivers multiple drug microdoses into spatially discrete locations. In parallel, it locally delivers microdose levels of a fluorescent cell-death assay, which diffuses into drug-exposed tissues and accumulates at sites of cell death. An integrated miniaturized fluorescence imaging probe images each region to evaluate drug-induced cell death. We demonstrate ability to evaluate multi-drug response over 8 h using murine tumor models and show correlation with gold-standard conventional fluorescence microscopy and histopathology. This is the first demonstration of a fully integrated platform for evaluating multiple chemotherapy responses in situ. This approach could enable a more complete understanding of drug activity in live tumors, and could expand the utility of drug-response measurements to a wide range of settings where surgery is not feasible.
View Full-Text
►

▼

Show Figures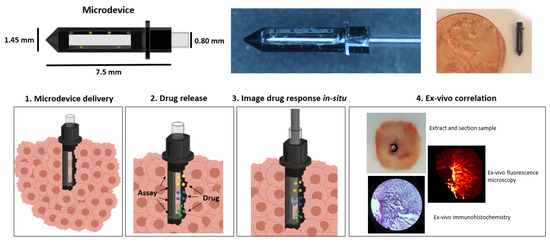 Figure 1
This is an open access article distributed under the
Creative Commons Attribution License
which permits unrestricted use, distribution, and reproduction in any medium, provided the original work is properly cited

MDPI and ACS Style
Bhagavatula, S.; Thompson, D.; Ahn, S.W.; Upadhyaya, K.; Lammers, A.; Deans, K.; Dominas, C.; Ferland, B.; Valvo, V.; Liu, G.; Jonas, O. A Miniaturized Platform for Multiplexed Drug Response Imaging in Live Tumors. Cancers 2021, 13, 653. https://doi.org/10.3390/cancers13040653
AMA Style
Bhagavatula S, Thompson D, Ahn SW, Upadhyaya K, Lammers A, Deans K, Dominas C, Ferland B, Valvo V, Liu G, Jonas O. A Miniaturized Platform for Multiplexed Drug Response Imaging in Live Tumors. Cancers. 2021; 13(4):653. https://doi.org/10.3390/cancers13040653
Chicago/Turabian Style
Bhagavatula, Sharath, Devon Thompson, Sebastian W. Ahn, Kunj Upadhyaya, Alex Lammers, Kyle Deans, Christine Dominas, Benjamin Ferland, Veronica Valvo, Guigen Liu, and Oliver Jonas. 2021. "A Miniaturized Platform for Multiplexed Drug Response Imaging in Live Tumors" Cancers 13, no. 4: 653. https://doi.org/10.3390/cancers13040653
Note that from the first issue of 2016, MDPI journals use article numbers instead of page numbers. See further details
here
.