Vitreoretinal Lymphoma
1
Center of Ophthalmology, University of Tuebingen, 72076 Tuebingen, Germany
2
Singapore National Eye Centre, 11 Third Hospital Avenue, Singapore 168751, Singapore
3
Singapore Eye Research Institute, 11 Third Hospital Avenue, Singapore 168751, Singapore
4
Department of Ophthalmology, Yong Loo Lin School of Medicine, National University of Singapore, Singapore 168751, Singapore
5
Duke-NUS Medical School, Singapore 168751, Singapore
6
Department of Ophthalmology, Feinberg School of Medicine, Northwestern University, Chicago, IL 60611, USA
7
College of Medicine & Public Health, Flinders University, Adelaide 5042, Australia
8
Institute for Pathology and Neuropathology, University of Tuebingen, 72076 Tuebingen, Germany
9
Miyata Eye Hospital, Miyakonojo, Miyazaki 885-0051, Japan
*
Author to whom correspondence should be addressed.
Academic Editors: Nathalie Cassoux and Ryuya Yamanaka
Received: 10 June 2021
/
Revised: 16 July 2021
/
Accepted: 20 July 2021
/
Published: 4 August 2021
Simple Summary
Vitreoretinal lymphoma is a variant of primary CNS lymphoma involving the retina and/or the vitreous. At the time of presentation, CNS involvement occurs in up to one-third of patients. However, 50–90% of patients develop a CNS and/or spinal cord disease within one year. Therefore, it is important to frequently examine and recognize the early symptoms of CNS involvement. This review summarizes the clinical signs, ocular diagnosis and treatment of vitreoretinal lymphoma.
Vitreoretinal lymphoma (VRL) is a rare variant of primary central nervous system lymphoma (PCNSL), mostly of diffuse large B cell lymphoma, which affects the retina and/or the vitreous with or without optic nerve involvement. The disease course is aggressive. Up to 90% of the patients develop central nervous system lymphoma within one year. The diagnosis of VRL is challenging due to nonspecific chronic and relapsing uveitis and is made by anterior chamber tab or vitreous aspirate biopsy. There is no established treatment protocol for VRL patients with bilateral involvement without CNS involvement. There are suggestions to use only intravitreal chemotherapy with methotrexate and/or rituximab. Alternatively, systemic high-dose MTX treatment or external beam radiotherapy is used. Further studies are needed to prove and confirm the prophylactic systemic therapy in preventing CNS involvement in limited VRL.
View Full-Text
►

▼

Show Figures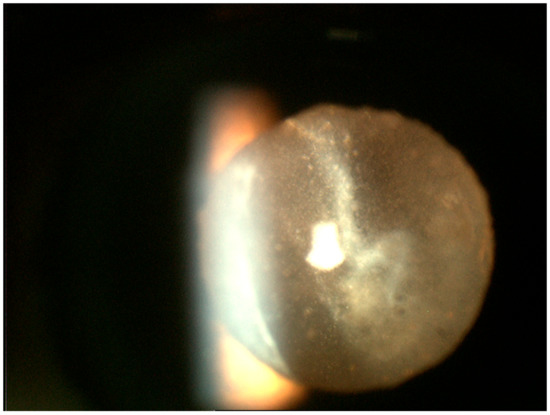 Figure 1
This is an open access article distributed under the
Creative Commons Attribution License
which permits unrestricted use, distribution, and reproduction in any medium, provided the original work is properly cited.

MDPI and ACS Style
Sobolewska, B.; Chee, S.-P.; Zaguia, F.; Goldstein, D.A.; Smith, J.R.; Fend, F.; Mochizuki, M.; Zierhut, M. Vitreoretinal Lymphoma. Cancers 2021, 13, 3921. https://doi.org/10.3390/cancers13163921
AMA Style
Sobolewska B, Chee S-P, Zaguia F, Goldstein DA, Smith JR, Fend F, Mochizuki M, Zierhut M. Vitreoretinal Lymphoma. Cancers. 2021; 13(16):3921. https://doi.org/10.3390/cancers13163921
Chicago/Turabian Style
Sobolewska, Bianka, Soon-Phaik Chee, Fatma Zaguia, Debra Anne Goldstein, Justine R. Smith, Falko Fend, Manabu Mochizuki, and Manfred Zierhut. 2021. "Vitreoretinal Lymphoma" Cancers 13, no. 16: 3921. https://doi.org/10.3390/cancers13163921
Note that from the first issue of 2016, MDPI journals use article numbers instead of page numbers. See further details
here
.