Organoids and Colorectal Cancer
1
Instituto de Investigaciones Biomédicas "Alberto Sols", Consejo Superior de Investigaciones Científicas (CSIC), Universidad Autónoma de Madrid (UAM), 28029 Madrid, Spain
2
Centro de Investigación Biomédica en Red-Cáncer (CIBERONC), 28029 Madrid, Spain
3
Instituto de Investigación Sanitaria del Hospital Universitario La Paz (IdiPAZ), 28046 Madrid, Spain
4
Servicio de Cirugía General, Hospital Universitario La Paz, 28046 Madrid, Spain
5
Servicio de Oncología Médica, Hospital Universitario La Paz, 28046 Madrid, Spain
*
Author to whom correspondence should be addressed.
†
Both authors contributed equally to this manuscript.
Academic Editors: Teresa Puig Miquel and Joaquim Ciurana Gay
Received: 27 April 2021
/
Revised: 20 May 2021
/
Accepted: 24 May 2021
/
Published: 28 May 2021
Simple Summary
Colorectal cancer is one of the most frequent and lethal types of cancer. Despite advances in recent decades, our knowledge of this disease is still limited, and novel and better therapies are needed. Organoids were recently developed as a new system to culture normal and tumor cells obtained from patients subjected to surgery or endoscopic tests. Organoids are being used to dissect the molecular and genetic bases of colorectal cancer initiation and progression. In this review, we describe how patient-derived organoids can be generated, and their use to investigate in depth the tumorigenic process. We show how this system has allowed the study of colorectal tumorigenesis features for the first time, including immunotherapy, interplay with microorganisms and, more importantly, assays of drug treatments at an individualized level. Additionally, we summarize the most recent developments of what is known as organoid technology directed towards personalized medicine.
Organoids were first established as a three-dimensional cell culture system from mouse small intestine. Subsequent development has made organoids a key system to study many human physiological and pathological processes that affect a variety of tissues and organs. In particular, organoids are becoming very useful tools to dissect colorectal cancer (CRC) by allowing the circumvention of classical problems and limitations, such as the impossibility of long-term culture of normal intestinal epithelial cells and the lack of good animal models for CRC. In this review, we describe the features and current knowledge of intestinal organoids and how they are largely contributing to our better understanding of intestinal cell biology and CRC genetics. Moreover, recent data show that organoids are appropriate systems for antitumoral drug testing and for the personalized treatment of CRC patients.
View Full-Text
►

▼

Show Figures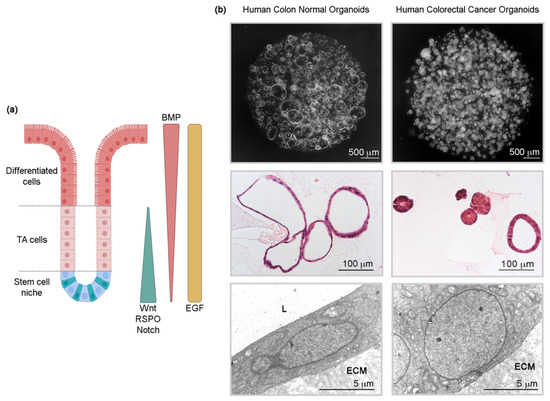 Figure 1
This is an open access article distributed under the
Creative Commons Attribution License
which permits unrestricted use, distribution, and reproduction in any medium, provided the original work is properly cited.

MDPI and ACS Style
Barbáchano, A.; Fernández-Barral, A.; Bustamante-Madrid, P.; Prieto, I.; Rodríguez-Salas, N.; Larriba, M.J.; Muñoz, A. Organoids and Colorectal Cancer. Cancers 2021, 13, 2657. https://doi.org/10.3390/cancers13112657
AMA Style
Barbáchano A, Fernández-Barral A, Bustamante-Madrid P, Prieto I, Rodríguez-Salas N, Larriba MJ, Muñoz A. Organoids and Colorectal Cancer. Cancers. 2021; 13(11):2657. https://doi.org/10.3390/cancers13112657
Chicago/Turabian Style
Barbáchano, Antonio, Asunción Fernández-Barral, Pilar Bustamante-Madrid, Isabel Prieto, Nuria Rodríguez-Salas, María Jesús Larriba, and Alberto Muñoz. 2021. "Organoids and Colorectal Cancer" Cancers 13, no. 11: 2657. https://doi.org/10.3390/cancers13112657
Note that from the first issue of 2016, MDPI journals use article numbers instead of page numbers. See further details
here
.