Omics Analysis of Educated Platelets in Cancer and Benign Disease of the Pancreas
1
Department of Medical Oncology, Cancer Center Amsterdam, Amsterdam UMC, VU University Medical Center (VUmc), 1081 HV Amsterdam, The Netherlands
2
Fondazione Pisana per la Scienza, 56017 Pisa, Italy
3
Department of Surgery, Cancer Center Amsterdam, Amsterdam UMC, VU University Medical Center (VUmc), 1081 HV Amsterdam, The Netherlands
4
Department of Neurosurgery, Cancer Center Amsterdam, Amsterdam UMC, VU University Medical Center (VUmc), 1081 HV Amsterdam, The Netherlands
5
Department of Plant Physiology and Molecular Biology, University of Plovdiv, 4002 Plovdiv, Bulgaria
6
Institute of Life Sciences, Sant'Anna School of Advanced Studies, 56127 Pisa, Italy
7
General Surgery Unit, Department of Translational Research and New Technologies in Medicine and Surgery, University of Pisa, 56126 Pisa, Italy
8
Department of Clinical and Experimental Medicine, Faculty of Health and Medical Sciences, The Leggett Building, University of Surrey, Guildford GU2 7WG, UK
9
Faculty of Health and Medical Sciences, The Leggett Building, University of Surrey, Guildford GU2 7XH, UK
*
Authors to whom correspondence should be addressed.
†
These authors contributed equally to this paper.
Received: 17 November 2020
/
Revised: 23 December 2020
/
Accepted: 24 December 2020
/
Published: 29 December 2020
Simple Summary
Tumor cells are known to produce and secrete pro-coagulants that recruit blood particles such as platelets, inducing hypercoagulability. However, platelets can also influence tumor carcinogenesis and metastasis, creating a reciprocal, vicious loop with the tumors. Confrontation of platelets with tumor cells via transfer of tumor-associated biomolecules or influencing platelets biology ("education") is an emerging concept, that has been recently proposed to create innovative platforms for biomarkers within blood-based "liquid biopsies". In this study, we explore the intrinsic regulation and the potential "education" of platelets using -omics profiling in pancreatic cancer patients. Our results showed: (i) a high activity on RNA splicing that can lead to subsequent platelets education; (ii) enrichment of specific modified forms (isomiRs) of canonical miRNAs; and (iii) inhibition of SPARC transcription by specific class of isomiRs. Moreover, we created an interactive tool to visualize expected correlations, to facilitate further investigations on additional potential biomarkers and therapeutic tools.
Pancreatic ductal adenocarcinoma (PDAC) is traditionally associated with thrombocytosis/hypercoagulation and novel insights on platelet-PDAC "dangerous liaisons" are warranted. Here we performed an integrative omics study investigating the biological processes of mRNAs and expressed miRNAs, as well as proteins in PDAC blood platelets, using benign disease as a reference for inflammatory noise. Gene ontology mining revealed enrichment of RNA splicing, mRNA processing and translation initiation in miRNAs and proteins but depletion in RNA transcripts. Remarkably, correlation analyses revealed a negative regulation on SPARC transcription by isomiRs involved in cancer signaling, suggesting a specific "education" in PDAC platelets. Platelets of benign patients were enriched for non-templated additions of G nucleotides (#ntaG) miRNAs, while PDAC presented length variation on 3′ (lv3p) as the most frequent modification on miRNAs. Additionally, we provided an actionable repertoire of PDAC and benign platelet-ome to be exploited for future studies. In conclusion, our data show that platelets change their biological repertoire in patients with PDAC, through dysregulation of miRNAs and splicing factors, supporting the presence of
de novo
protein machinery that can "educate" the platelet. These novel findings could be further exploited for innovative liquid biopsies platforms as well as possible therapeutic targets.
View Full-Text
►

▼

Show Figures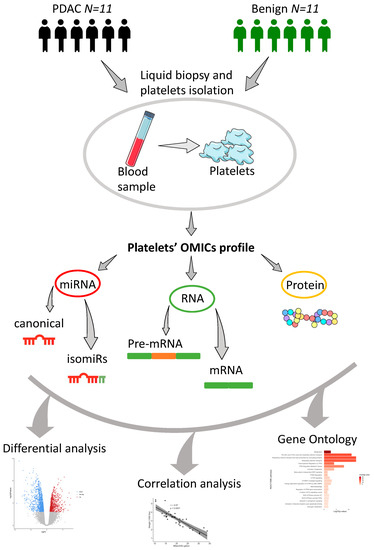 Figure 1
This is an open access article distributed under the
Creative Commons Attribution License
which permits unrestricted use, distribution, and reproduction in any medium, provided the original work is properly cited

MDPI and ACS Style
Mantini, G.; Meijer, L.L.; Glogovitis, I.; In 't Veld, S.G.J.G.; Paleckyte, R.; Capula, M.; Le Large, T.Y.S.; Morelli, L.; Pham, T.V.; Piersma, S.R.; Frampton, A.E.; Jimenez, C.R.; Kazemier, G.; Koppers-Lalic, D.; Wurdinger, T.; Giovannetti, E. Omics Analysis of Educated Platelets in Cancer and Benign Disease of the Pancreas. Cancers 2021, 13, 66. https://doi.org/10.3390/cancers13010066
AMA Style
Mantini G, Meijer LL, Glogovitis I, In 't Veld SGJG, Paleckyte R, Capula M, Le Large TYS, Morelli L, Pham TV, Piersma SR, Frampton AE, Jimenez CR, Kazemier G, Koppers-Lalic D, Wurdinger T, Giovannetti E. Omics Analysis of Educated Platelets in Cancer and Benign Disease of the Pancreas. Cancers. 2021; 13(1):66. https://doi.org/10.3390/cancers13010066
Chicago/Turabian Style
Mantini, Giulia, Laura L. Meijer, Ilias Glogovitis, Sjors G.J.G. In 't Veld, Rosita Paleckyte, Mjriam Capula, Tessa Y.S. Le Large, Luca Morelli, Thang V. Pham, Sander R. Piersma, Adam E. Frampton, Connie R. Jimenez, Geert Kazemier, Danijela Koppers-Lalic, Thomas Wurdinger, and Elisa Giovannetti. 2021. "Omics Analysis of Educated Platelets in Cancer and Benign Disease of the Pancreas" Cancers 13, no. 1: 66. https://doi.org/10.3390/cancers13010066
Note that from the first issue of 2016, MDPI journals use article numbers instead of page numbers. See further details
here
.