Role of PUM RNA-Binding Proteins in Cancer
Institute of Human Genetics, Polish Academy of Sciences, Strzeszynska 32, 60-479 Poznan, Poland
*
Authors to whom correspondence should be addressed.
Received: 5 November 2020
/
Revised: 29 December 2020
/
Accepted: 31 December 2020
/
Published: 3 January 2021
Simple Summary
PUM1 and PUM2 are RNA-binding Pumilio proteins controlling the accessibility of hundreds of mRNAs for translation in a variety of human tissues. As a result, PUMs exemplify one of the mechanisms safeguarding the cellular proteome. PUM expression is disturbed in cancer, resulting in dysregulation of their target mRNAs. These targets encode factors responsible for processes usually affected in cancer, such as proliferation, apoptosis, and the cell cycle. This review describes PUM1 and PUM2 ribonucleoprotein networks and highlights the mechanisms underlying the regulatory role of PUM proteins and, most importantly, the emerging impact of PUM dysregulation in cancer. It also emphasizes the importance of upcoming studies on PUM proteins in the context of cancer, as they may provide new therapeutic targets in the future.
Until recently, post-transcriptional gene regulation (PTGR), in contrast to transcriptional regulation, was not extensively explored in cancer, even though it seems to be highly important. PUM proteins are well described in the PTGR of several organisms and contain the PUF RNA-binding domain that recognizes the UGUANAUA motif, located mostly in the 3′ untranslated region (3′UTR) of target mRNAs. Depending on the protein cofactors recruited by PUM proteins, target mRNAs are directed towards translation, repression, activation, degradation, or specific localization. Abnormal profiles of PUM expression have been shown in several types of cancer, in some of them being different for PUM1 and PUM2. This review summarizes the dysregulation of PUM1 and PUM2 expression in several cancer tissues. It also describes the regulatory mechanisms behind the activity of PUMs, including cooperation with microRNA and non-coding RNA machineries, as well as the alternative polyadenylation pathway. It also emphasizes the importance of future studies to gain a more complete picture of the role of PUM proteins in different types of cancer. Such studies may result in identification of novel targets for future cancer therapies.
View Full-Text
►

▼

Show Figures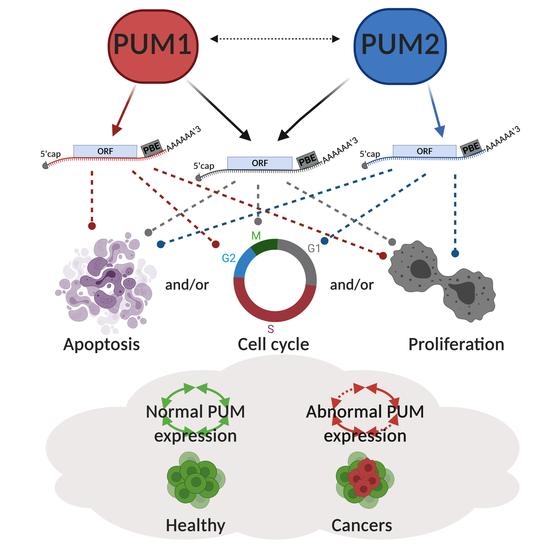 Graphical abstract
This is an open access article distributed under the
Creative Commons Attribution License
which permits unrestricted use, distribution, and reproduction in any medium, provided the original work is properly cited

MDPI and ACS Style
Smialek, M.J.; Ilaslan, E.; Sajek, M.P.; Jaruzelska, J. Role of PUM RNA-Binding Proteins in Cancer. Cancers 2021, 13, 129. https://doi.org/10.3390/cancers13010129
AMA Style
Smialek MJ, Ilaslan E, Sajek MP, Jaruzelska J. Role of PUM RNA-Binding Proteins in Cancer. Cancers. 2021; 13(1):129. https://doi.org/10.3390/cancers13010129
Chicago/Turabian Style
Smialek, Maciej J., Erkut Ilaslan, Marcin P. Sajek, and Jadwiga Jaruzelska. 2021. "Role of PUM RNA-Binding Proteins in Cancer" Cancers 13, no. 1: 129. https://doi.org/10.3390/cancers13010129
Note that from the first issue of 2016, MDPI journals use article numbers instead of page numbers. See further details
here
.