DNA Methylation in Ovarian Cancer Susceptibility
1
Department of Cancer Epidemiology, H. Lee Moffitt Cancer Center, Tampa, FL 33612, USA
2
Department of Biostatistics and Bioinformatics, H. Lee Moffitt Cancer Center, Tampa, FL 33612, USA
*
Author to whom correspondence should be addressed.
Received: 2 December 2020 / Accepted: 18 December 2020 / Published: 31 December 2020
Simple Summary
It is well established that ovarian cancer "runs in families", where ovarian and other cancers (commonly breast cancer) occur at early ages at onset and in multiple generations. After decades of genetic studies, rare high-risk genetic mutations in cancer susceptibility genes and over 40 common genetic variants with much smaller risks have been identified. However, based on familial studies, we know that additional heritable genetic risk factors exist. It is possible that epigenetic variation—differences in how DNA is read, and which genes are actively expressed (or not) —also contributes to ovarian cancer susceptibility. This review summarizes the current collection of epidemiological studies that have investigated the role of DNA methylation—one type of epigenetic mechanism—in the risk of ovarian cancer.
Epigenetic alterations are somatically acquired over the lifetime and during neoplastic transformation but may also be inherited as widespread 'constitutional' alterations in normal tissues that can cause cancer predisposition. Epithelial ovarian cancer (EOC) has an established genetic susceptibility and mounting epidemiological evidence demonstrates that DNA methylation (DNAm) intermediates as well as independently contributes to risk. Targeted studies of known EOC susceptibility genes (CSGs) indicate rare, constitutional
BRCA1
promoter methylation increases familial and sporadic EOC risk. Blood-based epigenome-wide association studies (EWAS) for EOC have detected a total of 2846 differentially methylated probes (DMPs) with 71 genes replicated across studies despite significant heterogeneity. While EWAS detect both symptomatic and etiologic DMPs, adjustments and analytic techniques may enrich risk associations, as evidenced by the detection of dysregulated methylation of
BNC2
—a known CSG identified by genome-wide associations studies (GWAS). Integrative genetic–epigenetic approaches have mapped methylation quantitative trait loci (meQTL) to EOC risk, revealing DNAm variations that are associated with nine GWAS loci and, further, one novel risk locus. Increasing efforts to mapping epigenome variation across populations and cell types will be key to decoding both the genomic and epigenomic causal pathways to EOC.
View Full-Text
►

▼

Show Figures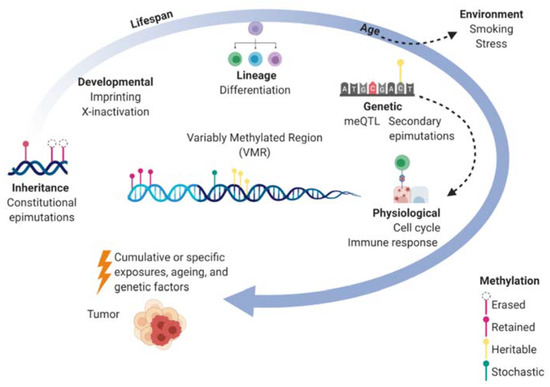 Figure 1
This is an open access article distributed under the
Creative Commons Attribution License
which permits unrestricted use, distribution, and reproduction in any medium, provided the original work is properly cited

MDPI and ACS Style
Reid, B.M.; Fridley, B.L. DNA Methylation in Ovarian Cancer Susceptibility. Cancers 2021, 13, 108. https://doi.org/10.3390/cancers13010108
AMA Style
Reid BM, Fridley BL. DNA Methylation in Ovarian Cancer Susceptibility. Cancers. 2021; 13(1):108. https://doi.org/10.3390/cancers13010108
Chicago/Turabian Style
Reid, Brett M.; Fridley, Brooke L. 2021. "DNA Methylation in Ovarian Cancer Susceptibility" Cancers 13, no. 1: 108. https://doi.org/10.3390/cancers13010108
Note that from the first issue of 2016, MDPI journals use article numbers instead of page numbers. See further details
here
.