Mass Spectrometry Imaging for Reliable and Fast Classification of Non-Small Cell Lung Cancer Subtypes
1
Institute of Pathology, University of Heidelberg, 69120 Heidelberg, Germany
2
Translational Lung Research Centre Heidelberg, Member of the German Centre for Lung Research (DZL), 69120 Heidelberg, Germany
3
Proteopath Trier, 54296 Trier, Germany
4
Institute of Pathology, TU Munich, 81675 Munich, Germany
5
Department of Thoracic Surgery, Thoraxklinik at Heidelberg University, 69120 Heidelberg, Germany
6
Institute of Pathology, Cytopathology, and Molecular Pathology, UEGP Gießen/Wetzlar/Limburg, 35578 Wetzlar, Germany
7
Bruker Daltonik, 28359 Bremen, Germany
8
Department of Thoracic Oncology, Thoraxklinik at Heidelberg University, 69120 Heidelberg, Germany
9
German Cancer Consortium (DKTK)-German Cancer Research Center (DKFZ), 69120 Heidelberg, Germany
10
Department of Hematology, Oncology and Rheumatology, University of Heidelberg, 69120 Heidelberg, Germany
11
Center for Histology, Cytology and Molecular Diagnostic Trier, 54296 Trier, Germany
12
Institute for Molecular Pathology Trier, 54296 Trier, Germany
13
Danube Private University, 3500 Krems, Austria
*
Authors to whom correspondence should be addressed.
Received: 19 July 2020 / Revised: 25 August 2020 / Accepted: 16 September 2020 / Published: 21 September 2020
Simple Summary
Diagnostic subtyping of non-small cell lung cancer is paramount for therapy stratification. Our study shows that the subtyping into pulmonary adenocarcinoma and pulmonary squamous cell carcinoma by mass spectrometry imaging is rapid and accurate using limited tissue material.
Subtyping of non-small cell lung cancer (NSCLC) is paramount for therapy stratification. In this study, we analyzed the largest NSCLC cohort by mass spectrometry imaging (MSI) to date. We sought to test different classification algorithms and to validate results obtained in smaller patient cohorts. Tissue microarrays (TMAs) from including adenocarcinoma (ADC,
n
= 499) and squamous cell carcinoma (SqCC,
n
= 440), were analyzed. Linear discriminant analysis, support vector machine, and random forest (RF) were applied using samples randomly assigned for training (66%) and validation (33%). The
m/z
species most relevant for the classification were identified by on-tissue tandem mass spectrometry and validated by immunohistochemistry (IHC). Measurements from multiple TMAs were comparable using standardized protocols. RF yielded the best classification results. The classification accuracy decreased after including less than six of the most relevant
m/z
species. The sensitivity and specificity of MSI in the validation cohort were 92.9% and 89.3%, comparable to IHC. The most important protein for the discrimination of both tumors was cytokeratin 5. We investigated the largest NSCLC cohort by MSI to date and found that the classification of NSCLC into ADC and SqCC is possible with high accuracy using a limited set of
m/z
species.
View Full-Text
►

▼

Show Figures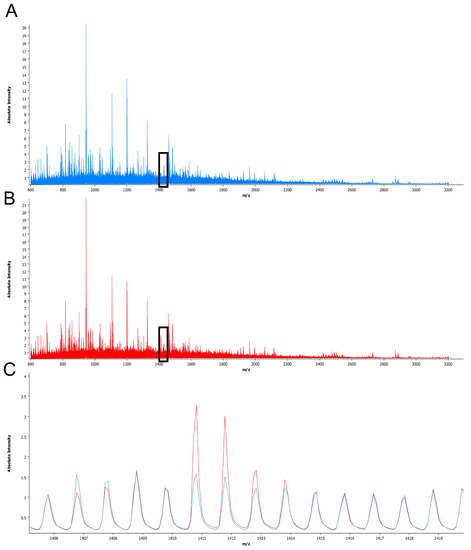 Figure 1
This is an open access article distributed under the
Creative Commons Attribution License
which permits unrestricted use, distribution, and reproduction in any medium, provided the original work is properly cited

MDPI and ACS Style
Kriegsmann, M.; Zgorzelski, C.; Casadonte, R.; Schwamborn, K.; Muley, T.; Winter, H.; Eichhorn, M.; Eichhorn, F.; Warth, A.; Deininger, S.-O.; Christopoulos, P.; Thomas, M.; Longerich, T.; Stenzinger, A.; Weichert, W.; Müller-Tidow, C.; Kriegsmann, J.; Schirmacher, P.; Kriegsmann, K. Mass Spectrometry Imaging for Reliable and Fast Classification of Non-Small Cell Lung Cancer Subtypes. Cancers 2020, 12, 2704.
Show more citation formats
Show less citations formats
Note that from the first issue of 2016, MDPI journals use article numbers instead of page numbers. See further details
here
.