Small Molecule Inhibitors of Microenvironmental Wnt/β-Catenin Signaling Enhance the Chemosensitivity of Acute Myeloid Leukemia
1
Section of Hematology, Stem Cell Research Laboratory, Department of Medicine, University of Verona, 37134 Verona, Italy
2
EA4340-BCOH, Biomarker in Cancerology and Onco-Haematology, Université de Versailles-Saint-Quentin-En-Yvelines, Université Paris Saclay, 92100 Boulogne-Billancourt, France
3
Department of Immunology, Erasmus University Medical Center, Doctor Molenwaterplein 40, 3015 GD Rotterdam, The Netherlands
4
Department of Oncology, Hematology Unit, Niguarda Hospital, 20162 Milan, Italy
5
Department of Health Sciences, University of Milan, 20146 Milan, Italy
6
Department of Diagnostics and Public Health, University and Hospital Trust of Verona, 37134 Verona, Italy
7
Fondazione Policlinico Universitario Gemelli, IRCCS, 00168 Roma, Italy
*
Author to whom correspondence should be addressed.
†
These authors contribute equally to this study.
Received: 5 September 2020 / Accepted: 17 September 2020 / Published: 21 September 2020
Simple Summary
Considering the pivotal role of Wnt/β-catenin signaling in AML development and persistence, the current study addresses in AML, the prognostic value of Wnt/β-catenin signaling molecules and the anti-leukemic value of Wnt/β-catenin inhibition. In silico analysis of RNAseq data from AML patients and flow cytometric analysis of primary AML samples revealed that higher levels of Wnt/β-catenin pathway is a poor prognostic marker. Next, we found that pharmacological interference, through small molecule inhibitors of Wnt and/or GSK-3 signaling reduces AML cell survival by sensitizing the leukemia cells to chemotherapeutic agents both in vitro and in vivo. Overall, our findings suggested that Wnt-inhibitory therapy could overcome the prognostic significance of patient risk stratification, standing as a therapeutic response for all subgroups of AML.
Wnt/β-catenin signaling has been reported in Acute Myeloid leukemia, but little is known about its significance as a prognostic biomarker and drug target. In this study, we first evaluated the correlation between expression levels of Wnt molecules and clinical outcome. Then, we studied—in vitro and in vivo—the anti-leukemic value of combinatorial treatment between Wnt inhibitors and classic anti-leukemia drugs. Higher levels of β-catenin, Ser675-phospho-β-catenin and GSK-3α (total and Ser 9) were found in AML cells from intermediate or poor risk patients; nevertheless, patients presenting high activity of Wnt/β-catenin displayed shorter progression-free survival (PFS) according to univariate analysis. In vitro, many pharmacological inhibitors of Wnt signalling, i.e., LRP6 (Niclosamide), GSK-3 (LiCl, AR-A014418), and TCF/LEF (PNU-74654) but not Porcupine (IWP-2), significantly reduced proliferation and improved the drug sensitivity of AML cells cultured alone or in the presence of bone marrow stromal cells. In vivo, PNU-74654, Niclosamide and LiCl administration significantly reduced the bone marrow leukemic burden acting synergistically with Ara-C, thus improving mouse survival. Overall, our study demonstrates the antileukemic role of Wnt/β-catenin inhibition that may represent a potential new therapeutics strategy in AML.
View Full-Text
►

▼

Show Figures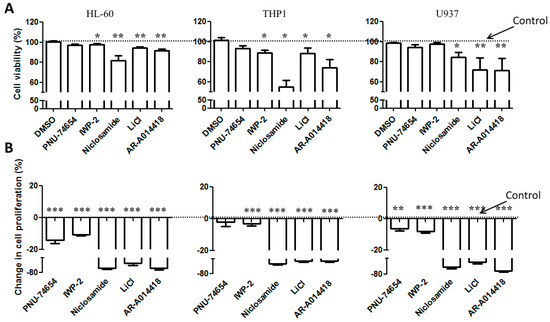 Figure 1
This is an open access article distributed under the
Creative Commons Attribution License
which permits unrestricted use, distribution, and reproduction in any medium, provided the original work is properly cited

MDPI and ACS Style
Takam Kamga, P.; Dal Collo, G.; Cassaro, A.; Bazzoni, R.; Delfino, P.; Adamo, A.; Bonato, A.; Carbone, C.; Tanasi, I.; Bonifacio, M.; Krampera, M. Small Molecule Inhibitors of Microenvironmental Wnt/β-Catenin Signaling Enhance the Chemosensitivity of Acute Myeloid Leukemia. Cancers 2020, 12, 2696.
Show more citation formats
Show less citations formats
Note that from the first issue of 2016, MDPI journals use article numbers instead of page numbers. See further details
here
.