Involvement of a Transcription factor,
Nfe2

, in Breast Cancer Metastasis to Bone

1

Division of Molecular Bioregulation, Cancer Research Institute, Kanazawa University, Kakuma-Machi, Kanazawa, Ishikawa 920-1192, Japan

2

Department of Molecular Pathophysiology, Institute of Advanced Medicine, Wakayama Medical University, 811-1 Kimiidera, Wakayama 641-8509, Japan

*

Author to whom correspondence should be addressed.

Received: 24 September 2020 / Revised: 13 October 2020 / Accepted: 13 October 2020 / Published: 16 October 2020
Simple Summary
Breast cancer patients are frequently complicated by bone metastasis, which deteriorates their life expectancy. Bone metastasis is treated with the drugs targeting osteoclast activation, which is mostly observed at the metastasis sites. However, these drugs cannot directly inhibit cancer cell growth and therefore, a novel therapeutic strategy is required to impede cancer cell proliferation at bone metastasis sites. Here, we proved that a transcription factor, NFE2, was expressed selectively in breast cancer cells at bone metastasis sites and contributed crucially to their enhanced proliferation therein, by activating Wnt pathway. Thus, NFE2 can be a novel molecular target to treat breast cancer bone metastasis.
Patients with triple negative breast cancer (TNBC) is frequently complicated by bone metastasis, which deteriorates the life expectancy of this patient cohort. In order to develop a novel type of therapy for bone metastasis, we established 4T1.3 clone with a high capacity to metastasize to bone after orthotopic injection, from a murine TNBC cell line, 4T1.0. To elucidate the molecular mechanism underlying a high growth ability of 4T1.3 in a bone cavity, we searched for a novel candidate molecule with a focus on a transcription factor whose expression was selectively enhanced in a bone cavity. Comprehensive gene expression analysis detected enhanced
Nfe2
mRNA expression in 4T1.3 grown in a bone cavity, compared with in vitro culture conditions. Moreover,
Nfe2
gene transduction into 4T1.0 cells enhanced their capability to form intraosseous tumors. Moreover,
Nfe2
shRNA treatment reduced tumor formation arising from intraosseous injection of 4T1.3 clone as well as another mouse TNBC-derived TS/A.3 clone with an augmented intraosseous tumor formation ability. Furthermore, NFE2 expression was associated with in vitro growth advantages of these TNBC cell lines under hypoxic condition, which mimics the bone microenvironment, as well as Wnt pathway activation. These observations suggest that NFE2 can potentially contribute to breast cancer cell survival in the bone microenvironment.
View Full-Text
►

▼

Show Figures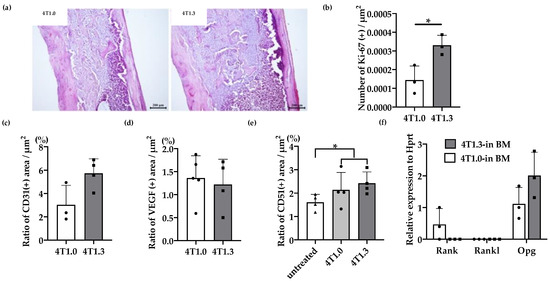 Figure 1
This is an open access article distributed under the
Creative Commons Attribution License
which permits unrestricted use, distribution, and reproduction in any medium, provided the original work is properly cited

MDPI and ACS Style
Zhang, D.; Iwabuchi, S.; Baba, T.; Hashimoto, S.-I.; Mukaida, N.; Sasaki, S.-I. Involvement of a Transcription factor, Nfe2, in Breast Cancer Metastasis to Bone. Cancers 2020, 12, 3003.
Show more citation formats
Show less citations formats
Note that from the first issue of 2016, MDPI journals use article numbers instead of page numbers. See further details
here
.