Inflammatory Breast Cancer: Clinical Implications of Genomic Alterations and Mutational Profiling
1
International Research Center, A.C.Camargo Cancer Center, São Paulo 01508-010, Brazil
2
Department of Clinical Genetics, University Hospital of Southern Denmark, 7100 Vejle, Denmark
3
Department of Genetics and Morphology, Institute of Biological Sciences, University of Brasília-UnB, Brasília 70910-900, Brazil
4
Department of Veterinary Surgery and Anesthesiology, School of Veterinary Medicine and Animal Science, São Paulo State University-UNESP, Botucatu 18618-681, Brazil
5
Department of Structural and Functional Biology, Institute of Biosciences, São Paulo State University-UNESP, Botucatu 18618-689, Brazil
6
Department of Mathematics and Computer Science, University of Southern Denmark, 5230 Odense, Denmark
7
Department of Breast and Gynecologic Oncology, Barretos Cancer Hospital, Pio XII Foundation, Barretos 14784-390, Brazil
8
Molecular Oncology Research Center, Barretos SP 14784-400, Brazil
9
Diagnósticos da América (DASA), Barueri 01525-001, Brazil
10
Department of Pathology, A.C.Camargo Cancer Center, São Paulo 01525-001, Brazil
11
TUM School of Life Sciences Weihenstephan, Technical University of Munich, 85354 Freising, Germany
12
Institute of Regional Health Research, University of Southern Denmark, 500 Odense, Denmark
*
Author to whom correspondence should be addressed.
†
F.L.C.F. and R.A.R.V. contributed equally to this work.
Received: 28 August 2020 / Revised: 28 September 2020 / Accepted: 29 September 2020 / Published: 30 September 2020
Simple Summary
Inflammatory breast cancer (IBC) is an aggressive disease with high mortality rates. Nowadays, there is no targeted treatment for this tumor type. Based on this context, we investigated the molecular profile of this disease by using well-established methodologies (high-resolution microarray platform, targeted next-generation sequencing, and immunohistochemistry) that have proven potential to unveil cancer biomarkers. We found alterations related to IBC aggressiveness and metastasis (gains of MDM4, losses of CHL1, and high homologous recombination deficiency scores), and worse overall survival (variants in HR and mismatch repair genes). We also compared the mutational profiling of our cases with literature data, which includes both non-IBC and IBC cases, validating our findings. Overall, we describe genetic alterations with the potential to be used as prognostic or predictive biomarkers and ultimately improve IBC patients' care.
Inflammatory breast cancer (IBC) is a rare and aggressive type of breast cancer whose molecular basis is poorly understood. We performed a comprehensive molecular analysis of 24 IBC biopsies naïve of treatment, using a high-resolution microarray platform and targeted next-generation sequencing (105 cancer-related genes). The genes more frequently affected by gains were
MYC
(75%) and
MDM4
(71%), while frequent losses encompassed
TP53
(71%) and
RB1
(58%). Increased MYC and MDM4 protein expression levels were detected in 18 cases. These genes have been related to IBC aggressiveness, and MDM4 is a potential therapeutic target in IBC. Functional enrichment analysis revealed genes associated with inflammatory regulation and immune response. High homologous recombination (HR) deficiency scores were detected in triple-negative and metastatic IBC cases. A high telomeric allelic imbalance score was found in patients having worse overall survival (OS). The mutational profiling was compared with non-IBC (TCGA,
n
= 250) and IBC (
n
= 118) from four datasets, validating our findings. Higher frequency of
TP53
and
BRCA2
variants were detected compared to non-IBC, while
PIKC3A
showed similar frequency. Variants in mismatch repair and HR genes were associated with worse OS. Our study provided a framework for improved diagnosis and therapeutic alternatives for this aggressive tumor type.
View Full-Text
►

▼

Show Figures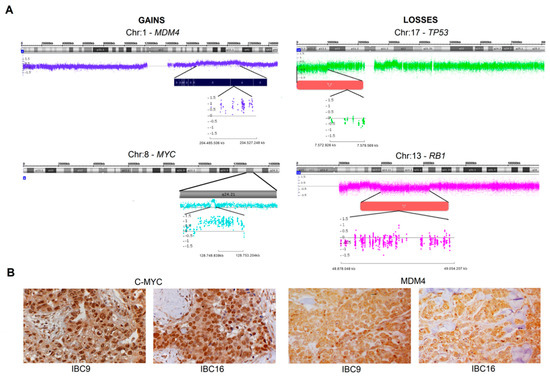 Figure 1
This is an open access article distributed under the
Creative Commons Attribution License
which permits unrestricted use, distribution, and reproduction in any medium, provided the original work is properly cited

MDPI and ACS Style
Faldoni, F.L.C.; Villacis, R.A.R.; Canto, L.M.; Fonseca-Alves, C.E.; Cury, S.S.; Larsen, S.J.; Aagaard, M.M.; Souza, C.P.; Scapulatempo-Neto, C.; Osório, C.A.B.T.; Baumbach, J.; Marchi, F.A.; Rogatto, S.R. Inflammatory Breast Cancer: Clinical Implications of Genomic Alterations and Mutational Profiling. Cancers 2020, 12, 2816.
Show more citation formats
Show less citations formats
Note that from the first issue of 2016, MDPI journals use article numbers instead of page numbers. See further details
here
.