Targeting Ca2+ Signaling in the Initiation, Promotion and Progression of Hepatocellular Carcinoma
1
Department of Medical Biochemistry, College of Medicine and Public Health, Flinders University, Adelaide 5001, South Australia, Australia
2
School of Medicine, The University of Adelaide, Adelaide 5005, South Australia, Australia
3
South Australian Health and Medical Research Institute, Adelaide 5005, South Australia, Australia
*
Author to whom correspondence should be addressed.
Received: 6 August 2020 / Revised: 20 September 2020 / Accepted: 21 September 2020 / Published: 24 September 2020
Simple Summary
Liver cancer (hepatocellular carcinoma) is a significant health burden worldwide. It is often not detected until at an advanced stage when there are few treatment options available. Changes in calcium concentrations within liver cancer cells are essential for regulating their growth, death, and migration (metastasis). Our aim was to review published papers which have identified proteins involved in calcium signaling as potential drug targets for the treatment of liver cancer. About twenty calcium signaling proteins were identified, including those involved in regulating calcium concentrations in the cytoplasm, endoplasmic reticulum and mitochondria. A few of these have turned out to be sites of action of natural products previously known to inhibit liver cancer. More systematic studies are now needed to determine which calcium signaling proteins might be used clinically for treatment of liver cancer, especially advanced stage cancers and those resistant to inhibition by current drugs.
Hepatocellular carcinoma (HCC) is a considerable health burden worldwide and a major contributor to cancer-related deaths. HCC is often not noticed until at an advanced stage where treatment options are limited and current systemic drugs can usually only prolong survival for a short time. Understanding the biology and pathology of HCC is a challenge, due to the cellular and anatomic complexities of the liver. While not yet fully understood, liver cancer stem cells play a central role in the initiation and progression of HCC and in resistance to drugs. There are approximately twenty Ca
2+
-signaling proteins identified as potential targets for therapeutic treatment at different stages of HCC. These potential targets include inhibition of the self-renewal properties of liver cancer stem cells; HCC initiation and promotion by hepatitis B and C and non-alcoholic fatty liver disease (principally involving reduction of reactive oxygen species); and cell proliferation, tumor growth, migration and metastasis. A few of these Ca
2+
-signaling pathways have been identified as targets for natural products previously known to reduce HCC. Promising Ca
2+
-signaling targets include voltage-operated Ca
2+
channel proteins (liver cancer stem cells), inositol trisphosphate receptors, store-operated Ca
2+
entry, TRP channels, sarco/endoplasmic reticulum (Ca
2+
+Mg
2+
) ATP-ase and Ca
2+
/calmodulin-dependent protein kinases. However, none of these Ca
2+
-signaling targets has been seriously studied any further than laboratory research experiments. The future application of more systematic studies, including genomics, gene expression (RNA-seq), and improved knowledge of the fundamental biology and pathology of HCC will likely reveal new Ca
2+
-signaling protein targets and consolidate priorities for those already identified.
View Full-Text
►

▼

Show Figures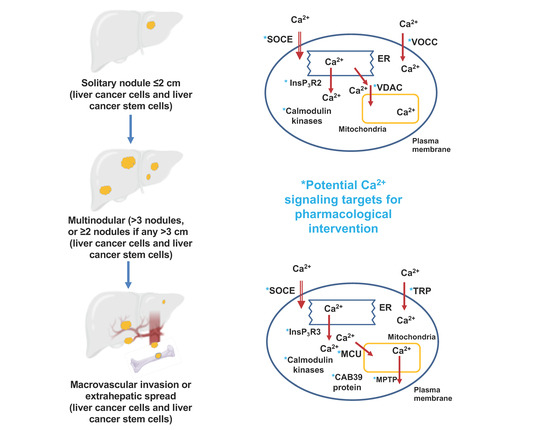 Graphical abstract
This is an open access article distributed under the
Creative Commons Attribution License
which permits unrestricted use, distribution, and reproduction in any medium, provided the original work is properly cited

Note that from the first issue of 2016, MDPI journals use article numbers instead of page numbers. See further details
here
.