Beyond Traditional Morphological Characterization of Lung Neuroendocrine Neoplasms: In Silico Study of Next-Generation Sequencing Mutations Analysis across the Four World Health Organization Defined Groups
1
1st Pathology Division, Department of Pathology and Laboratory Medicine, Fondazione IRCCS (Scientific Institute for Research, Hospitalization and Healthcare) Istituto Nazionale dei Tumori, via Venezian 1, 20133 Milan, Italy
2
Tumor Genomics Unit, Department of Research, Fondazione IRCCS Istituto Nazionale dei Tumori, via Venezian 1, 20133 Milan, Italy
3
Molecular Biotechnology and Bioinformatics, Department of Biosciences, University of Milan, Via Festa del Perdono 7, 20122 Milan, Italy
4
Medical Oncology Department, Fondazione IRCCS—Istituto Nazionale dei Tumori, via Venezian 1, 20133 Milan, Italy
5
Institute for Maternal and Child Health—IRCCS Burlo Garofolo, Via dell'Istria 65, 34137 Trieste, Italy
6
2nd Pathology Division, Department of Pathology and Laboratory Medicine, Fondazione IRCCS—Istituto Nazionale dei Tumori, via Venezian 1, 20133 Milan, Italy
7
Unit of Medical Statistics, Biometry and Bioinformatics "Giulio A. Maccacaro", Campus Cascina Rosa, Fondazione IRCCS Istituto Nazionale Tumori, via Venezian 1, 20133 Milan, Italy
8
Department of Clinical Sciences and Community Health, Laboratory of Medical Statistics, Biometry and Epidemiology "G.A. Maccacaro", Data Science Research Center, University of Milan, Via Augusto Vanzetti 5, 20133 Milan, Italy
*
Author to whom correspondence should be addressed.
†
These authors contributed equally to this article.
‡
These authors contributed equally to this article.
§
On behalf of all authors, we would like to dedicate the work is to the memory of Laura Salvaterra, a courageous woman who battled against cancer. This is an invitation to fight cancer every day in her name, even after she has left us.
Received: 6 August 2020 / Revised: 17 September 2020 / Accepted: 22 September 2020 / Published: 24 September 2020
Simple Summary
Lung neuroendocrine neoplasms (LNENs) classes, as proposed by the World Health Organization 2015, do not provide properly prognostic and therapeutic indications. In fact, high-throughput molecular analysis, based on next-generation sequencing, identified novel molecular subgroups, associated with different genomic signatures, that could pave the way for alternative therapeutic approaches. The present review, coupled with in silico molecular analysis, could show the current genomic alterations state in actual LNENS groups. Interestingly our manuscript suggests that the molecular novelties could improve the LNENs therapeutics efficacy. In more detail, we reported the differences of gene alterations and mutational rate between LNENS, confirming the central pathogenetic role given by a different mutational rate in chromatin remodeling genes and tumor suppressors TP53-RB1. In conclusion, our results underlined that a further molecular layer is needed to improve the efficacy of LNENs medical treatment.
Lung neuroendocrine neoplasms (LNENs) represent a rare and heterogeneous population of lung tumors. LNENs incidence rate has increased dramatically over the past 30 years. The current World Health Organization LNENs classification (WHO 2015), distinguished four LNENs prognostic categories, according to their morphology, necrosis amount and mitotic count: typical carcinoid (TC), atypical-carcinoid (AC), large cell neuroendocrine carcinoma (LCNEC) and small cell lung cancer (SCLC). At present, due to their rarity and biological heterogeneity there is still no consensus on the best therapeutic approach. Next-generation-sequencing analysis showed that WHO 2015 LNENs classes, could be characterized also by specific molecular alterations: frequently mutated genes involving chromatin remodeling and generally characterized by low mutational burden (MB) are frequently detected in both TC and AC; otherwise,
TP53
and
RB1
tumor suppressor genes alterations and high MB are usually detected in LCNEC and SCLC. We provide an overview concerning gene mutations in each WHO 2015 LNENs class in order to report the current LNENs mutational status as potential tool to better understand their clinical outcome and to drive medical treatment.
View Full-Text
►

▼

Show Figures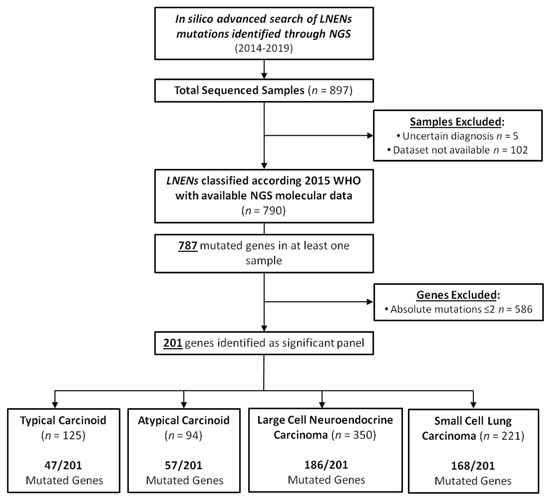 Figure 1
This is an open access article distributed under the
Creative Commons Attribution License
which permits unrestricted use, distribution, and reproduction in any medium, provided the original work is properly cited

MDPI and ACS Style
Centonze, G.; Biganzoli, D.; Prinzi, N.; Pusceddu, S.; Mangogna, A.; Tamborini, E.; Perrone, F.; Busico, A.; Lagano, V.; Cattaneo, L.; Sozzi, G.; Roz, L.; Biganzoli, E.; Milione, M. Beyond Traditional Morphological Characterization of Lung Neuroendocrine Neoplasms: In Silico Study of Next-Generation Sequencing Mutations Analysis across the Four World Health Organization Defined Groups. Cancers 2020, 12, 2753.
Show more citation formats
Show less citations formats
Note that from the first issue of 2016, MDPI journals use article numbers instead of page numbers. See further details
here
.