Intricacies of the Molecular Machinery of Catecholamine Biosynthesis and Secretion by Chromaffin Cells of the Normal Adrenal Medulla and in Pheochromocytoma and Paraganglioma
1
Department of Endocrinology, University of Groningen, University Medical Center Groningen, 9700 RB Groningen, The Netherlands
2
Department of Clinical Chemistry and Laboratory Medicine and Department of Medicine III, University Hospital Carl Gustav Carus, Technical University Dresden, 01069 Dresden, Germany
3
Division of Endocrinology, Metabolism and Diabetes and Division of Biomedical Informatics and Personalized Medicine, Department of Medicine, University of Colorado School of Medicine, University of Colorado Cancer Center, Aurora, CO 80045, USA
4
Department of Laboratory Medicine, University of Groningen, University Medical Center Groningen, 9700 RB Groningen, The Netherlands
5
Department of Medicine III, University Hospital Carl Gustav Carus, Technical University Dresden, 01307 Dresden, Germany
6
Department of Internal Medicine, Radboud University Medical Center, 6525 GA Nijmegen, The Netherlands
*
Author to whom correspondence should be addressed.
Received: 22 June 2019 / Revised: 11 July 2019 / Accepted: 12 July 2019 / Published: 6 August 2019
Abstract
The adrenal medulla is composed predominantly of chromaffin cells producing and secreting the catecholamines dopamine, norepinephrine, and epinephrine. Catecholamine biosynthesis and secretion is a complex and tightly controlled physiologic process. The pathways involved have been extensively studied, and various elements of the underlying molecular machinery have been identified. In this review, we provide a detailed description of the route from stimulus to secretion of catecholamines by the normal adrenal chromaffin cell compared to chromaffin tumor cells in pheochromocytomas. Pheochromocytomas are adrenomedullary tumors that are characterized by uncontrolled synthesis and secretion of catecholamines. This uncontrolled secretion can be partly explained by perturbations of the molecular catecholamine secretory machinery in pheochromocytoma cells. Chromaffin cell tumors also include sympathetic paragangliomas originating in sympathetic ganglia. Pheochromocytomas and paragangliomas are usually locally confined tumors, but about 15% do metastasize to distant locations. Histopathological examination currently poorly predicts future biologic behavior, thus long term postoperative follow-up is required. Therefore, there is an unmet need for prognostic biomarkers. Clearer understanding of the cellular mechanisms involved in the secretory characteristics of pheochromocytomas and sympathetic paragangliomas may offer one approach for the discovery of novel prognostic biomarkers for improved therapeutic targeting and monitoring of treatment or disease progression.
View Full-Text
►

▼

Figures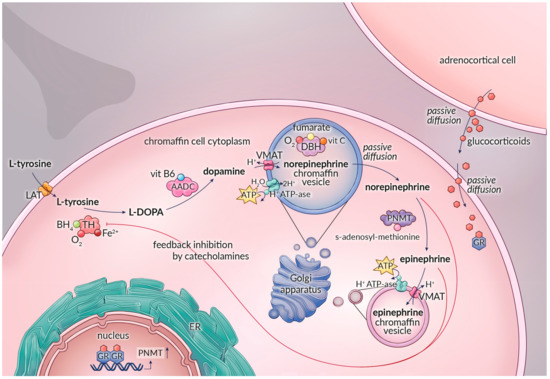 Figure 1
This is an open access article distributed under the
Creative Commons Attribution License
which permits unrestricted use, distribution, and reproduction in any medium, provided the original work is properly cited (CC BY 4.0).

Share & Cite This Article
MDPI and ACS Style
Berends, A.M.; Eisenhofer, G.; Fishbein, L.; van der Horst-Schrivers, A.N.; Kema, I.P.; Links, T.P.; Lenders, J.W.; Kerstens, M.N. Intricacies of the Molecular Machinery of Catecholamine Biosynthesis and Secretion by Chromaffin Cells of the Normal Adrenal Medulla and in Pheochromocytoma and Paraganglioma. Cancers 2019, 11, 1121.
Note that from the first issue of 2016, MDPI journals use article numbers instead of page numbers. See further details here.
Related Articles
Comments
[Return to top]