Furanoic Lipid F-6, A Novel Anti-Cancer Compound that Kills Cancer Cells by Suppressing Proliferation and Inducing Apoptosis
1
Department of Biological Sciences, Faculty of Science, Kuwait University, Safat 13060, Kuwait
2
Program in Translational Medicine, Peter Gilgan Centre for Research and Learning (PGCRL), The Hospital for Sick Children, Toronto, ON M5G 0A4, Canada
3
Department of Palliative, Rehabilitation and Integrative Medicine, The University of Texas MD Anderson Cancer Center, Houston, TX 77030, USA
4
Zebrafish Centre for Advanced Drug Discovery & Keenan Research Centre for Biomedical Science, Li Ka Shing Knowledge Institute, St. Michael's Hospital, Unity Health Toronto, Toronto, ON M5B 1W8, Canada
5
Departments of Lab Medicine and Pathobiology, and Institute of Medical Sciences, Faculty of Medicine, University of Toronto, Toronto, ON M5G 0A4, Canada
6
Department of Zoology, CMS College, Kottayam 686001, India
7
Department of Pharmacology, University of Toronto, Toronto, ON M5S 1A8, Canada
*
Author to whom correspondence should be addressed.
Received: 22 May 2019 / Revised: 24 June 2019 / Accepted: 28 June 2019 / Published: 9 July 2019
Abstract
Identifying novel anti-cancer drugs is important for devising better cancer treatment options. In a series of studies designed to identify novel therapeutic compounds, we recently showed that a C-20 fatty acid (12,15-epoxy-13,14-dimethyleicosa-12,14-dienoic acid, a furanoic acid or F-6) present in the lipid fraction of the secretions of the Arabian Gulf catfish skin (
Arius bilineatus Val.
; AGCS) robustly induces neutrophil extracellular trap formation. Here, we demonstrate that a lipid mix (Ft-3) extracted from AGCS and F-6, a component of Ft-3, dose dependently kill two cancer cell lines (leukemic K-562 and breast MDA MB-231). Pure F-6 is approximately 3.5 to 16 times more effective than Ft-3 in killing these cancer cells, respectively. Multiplex assays and network analyses show that F-6 promotes the activation of MAPKs such as Erk, JNK, and p38, and specifically suppresses JNK-mediated c-Jun activation necessary for AP-1-mediated cell survival pathways. In both cell lines, F-6 suppresses PI3K-Akt-mTOR pathway specific proteins, indicating that cell proliferation and Akt-mediated protection of mitochondrial stability are compromised by this treatment. Western blot analyses of cleaved caspase 3 (cCasp3) and poly ADP ribose polymerase (PARP) confirmed that F-6 dose-dependently induced apoptosis in both of these cell lines. In 14-day cell recovery experiments, cells treated with increasing doses of F-6 and Ft-3 fail to recover after subsequent drug washout. In summary, this study demonstrates that C-20 furanoic acid F-6, suppresses cancer cell proliferation and promotes apoptotic cell death in leukemic and breast cancer cells, and prevents cell recovery. Therefore, F-6 is a potential anti-cancer drug candidate.
View Full-Text
►

▼

Figures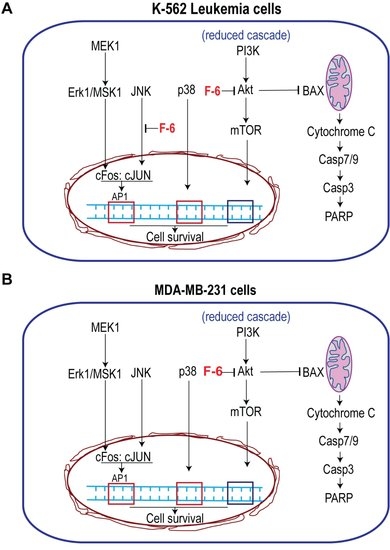 Graphical abstract
This is an open access article distributed under the
Creative Commons Attribution License
which permits unrestricted use, distribution, and reproduction in any medium, provided the original work is properly cited (CC BY 4.0).

Share & Cite This Article
MDPI and ACS Style
Al-Hassan, J.M.; Fang Liu, Y.; Khan, M.A.; Yang, P.; Guan, R.; Wen, X.-Y.; Afzal, M.; Oommen, S.; Paul, B.M.; Nair, D.; Palaniyar, N.; Pace-Asciak, C. Furanoic Lipid F-6, A Novel Anti-Cancer Compound that Kills Cancer Cells by Suppressing Proliferation and Inducing Apoptosis. Cancers 2019, 11, 960.
Note that from the first issue of 2016, MDPI journals use article numbers instead of page numbers. See further details here.
Related Articles
Comments
[Return to top]