Open Access This article is
freely available
re-usable
Review
Metabolic Regulation of Redox Balance in Cancer
1
Perlmutter Cancer Center, New York University, New York, NY 10016, USA
2
Department of Surgery, New York University, New York, NY 10016, USA
3
Department of Pathology, New York University, New York, NY 10016, USA
4
Departments of Molecular and Integrative Physiology, University of Michigan, Ann Arbor, MI 48109, USA
5
Internal Medicine, University of Michigan, Ann Arbor, MI 48109, USA
6
Rogel Cancer Center, University of Michigan, Ann Arbor, MI 48109, USA
*
Author to whom correspondence should be addressed.
Received: 30 May 2019 / Accepted: 2 July 2019 / Published: 8 July 2019
Abstract
:
Reactive oxygen species (ROS) are chemically active free radicals produced by partial reduction of oxygen that can activate discrete signaling pathways or disrupt redox homeostasis depending on their concentration. ROS interacts with biomolecules, including DNA, and can cause mutations that can transform normal cells into cancer cells. Furthermore, certain cancer-causing mutations trigger alterations in cellular metabolism that can increase ROS production, resulting in genomic instability, additional DNA mutations, and tumor evolution. To prevent excess ROS-mediated toxicity, cancer-causing mutations concurrently activate pathways that manage this oxidative burden. Hence, an understanding of the metabolic pathways that regulate ROS levels is imperative for devising therapies that target tumor cells. In this review, we summarize the dual role of metabolism as a generator and inhibitor of ROS in cancer and discuss current strategies to target the ROS axis.
Keywords:
oxidative stress; antioxidants; ROS; NADPH
Author Contributions
V.P. performed literature search, wrote the manuscript and prepared the figures. C.A.L. and D.S. supervised the literature search and contributed to the writing of the review.
Funding
V.P. was supported by a PRCRP Horizon award by the Department of Defense (W81XWH-17-1-0497). D.M.S. was supported by NCI grants 2R01CA131045 and 1R01CA174836. C.A.L. was supported by a Pancreatic Cancer Action Network/AACR Pathway to Leadership award (13-70-25-LYSS); Dale F. Frey Award for Breakthrough Scientists from the Damon Runyon Cancer Research Foundation (DFS-09-14); Junior Scholar Award from The V Foundation for Cancer Research (V2016-009); and Kimmel Scholar Award from the Sidney Kimmel Foundation for Cancer Research (SKF-16-005); a 2017 AACR NextGen Grant for Transformative Cancer Research (17-20-01-LYSS); and an ACS Research Scholar Grant (RSG-18-186-01).
Acknowledgments
The authors would like to thank Seth J. Parker, Kate Hollinshead, Nneka Mbah, Abhilasha Purohit, and Daniel Kramer for helpful feedback. Figures were made using material provided by Servier medical art at
servier.com
.
Conflicts of Interest
The authors declare that they have no competing interests.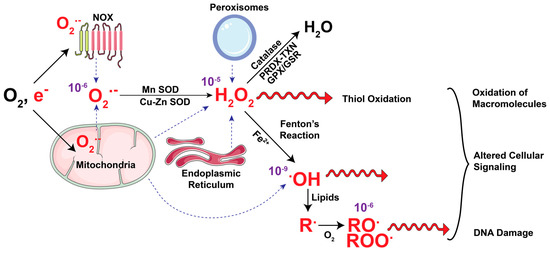 Figure 1. ROS axis: generation and detoxification of common reactive oxygen species. The mitochondrial electron transport chain (ETC) and NADPH oxidases (NOX) take up oxygen (O2) and generate superoxide (O2•−) which is dismutated in the mitochondria, peroxisome and endoplasmic reticulum by Copper-Zinc (Cu-Zn) and Manganese (Mn) superoxide dismutases (SOD) to generate hydrogen peroxide (H2O2). H2O2 is converted into water by simultaneous oxidation of the catalytic cysteine residues of the peroxiredoxin (PRDX) and thioredoxin (TXN) proteins. H2O2 is also actively nullified by the glutathione peroxidase-glutathione reductase (GPX-GSR) that recycles oxidized glutathione (GSSG, not shown) back to its reduced form (GSH, not shown). Mitochondrial O2•− radicals release Fe+ ions by damaging ETC complexes. In presence of Fe2+ ions H2O2 converts to hydroxyl radical (•OH) through Fenton's reaction. Both H2O2 and •OH interacts and oxidizes macromolecules, alters cellular signaling and causes oxidative DNA damage, which drives gene mutations. •OH initiates oxidation of lipids to alkyl (R•) groups, which then oxidize to alkoxyl (RO•) and peroxyl (ROO•) radicals. (ROS is shown in red, dotted blue arrows indicate the source of ROS and purple numbers indicate half-life of these radicals in seconds).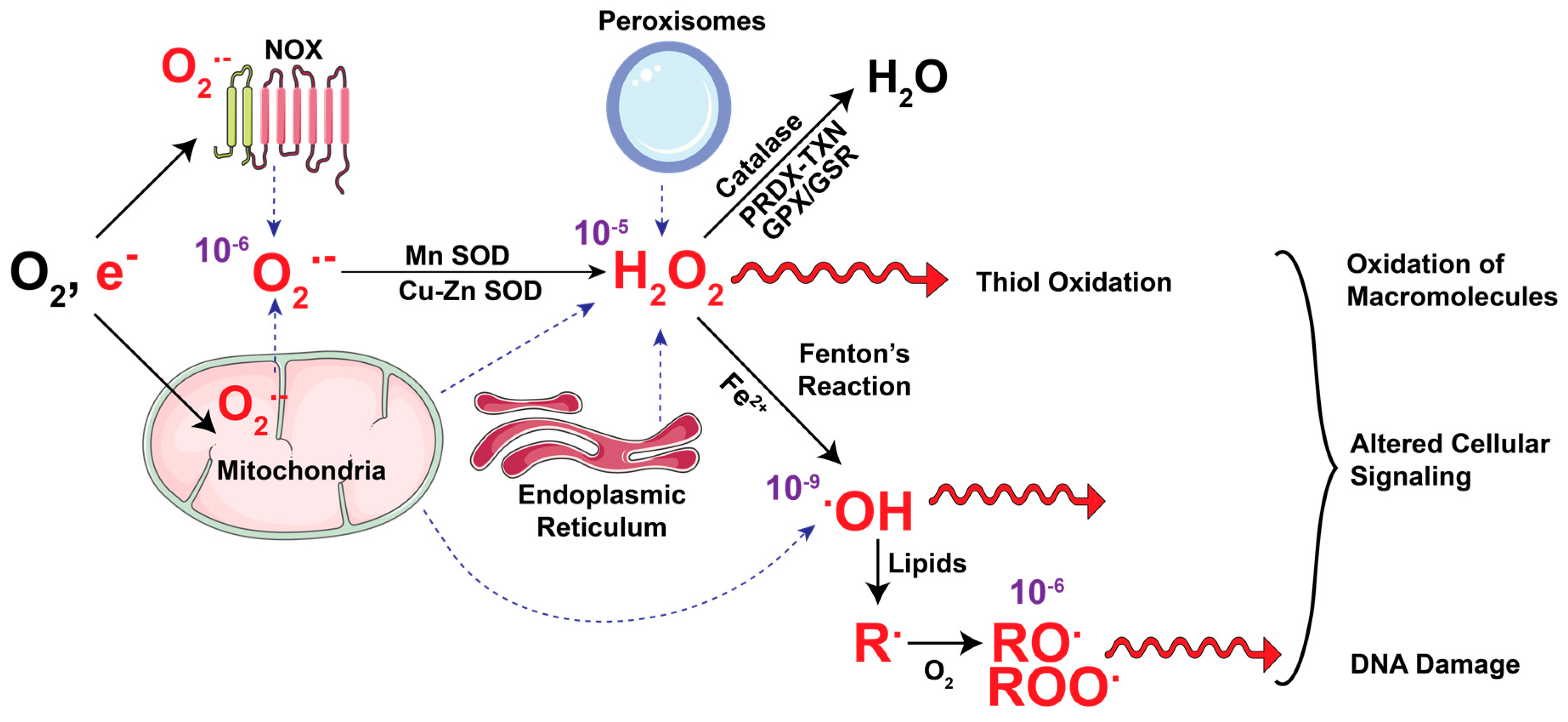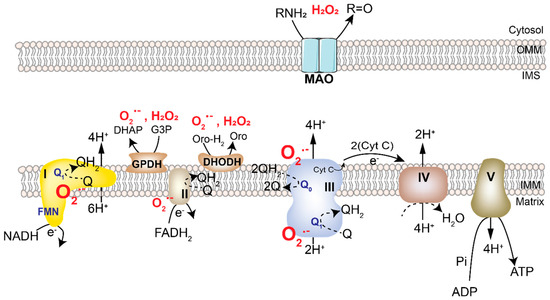 Figure 2. Mitochondrial sites that generate ROS. Mitochondria generate cellular energy in the form of ATP via the transfer of electrons through the electron transport chain (ETC), which is a set of multi-protein assemblies known as complexes I–IV. These exist in inner mitochondrial membrane (IMM). NADH and FADH2 generated in the tricarboxylic acid (TCA) cycle enter the ETC at complex I and II, respectively, and generate protons and electrons during their conversion to NAD+ and FAD. The protons generated in the process are released into the intermembrane space (IMS), where a proton gradient is established. These electrons are taken up by FMN or FAD in complex I and II, respectively, and are transferred to the iron-sulfur clusters finally generating quinol (QH2) from quinone (Q). In complex IV (Cytochrome C-oxidase), the electrons are transferred to oxygen generating water molecules. The electrochemical energy stored in the proton gradient is used to drive ATP synthase (also called complex V), which simultaneously converts matrix ADP to ATP by addition of inorganic phosphate (Pi). At complexes I, II and III of the ETC, a small amount of oxygen undergoes one-step reduction to generate superoxide ion (O2•−), which is released in the matrix or IMS. Other mitochondrial enzymes generate O2•−or dismutate it to generate H2O2. These include Glycerol-3-phosphate dehydrogenase (GPDH) and dihydroorotate dehydrogenase (DHODH) on the IMM, and monoamine oxidases (MAO) in the outer mitochondrial membrane (OMM). (ROS is shown in red).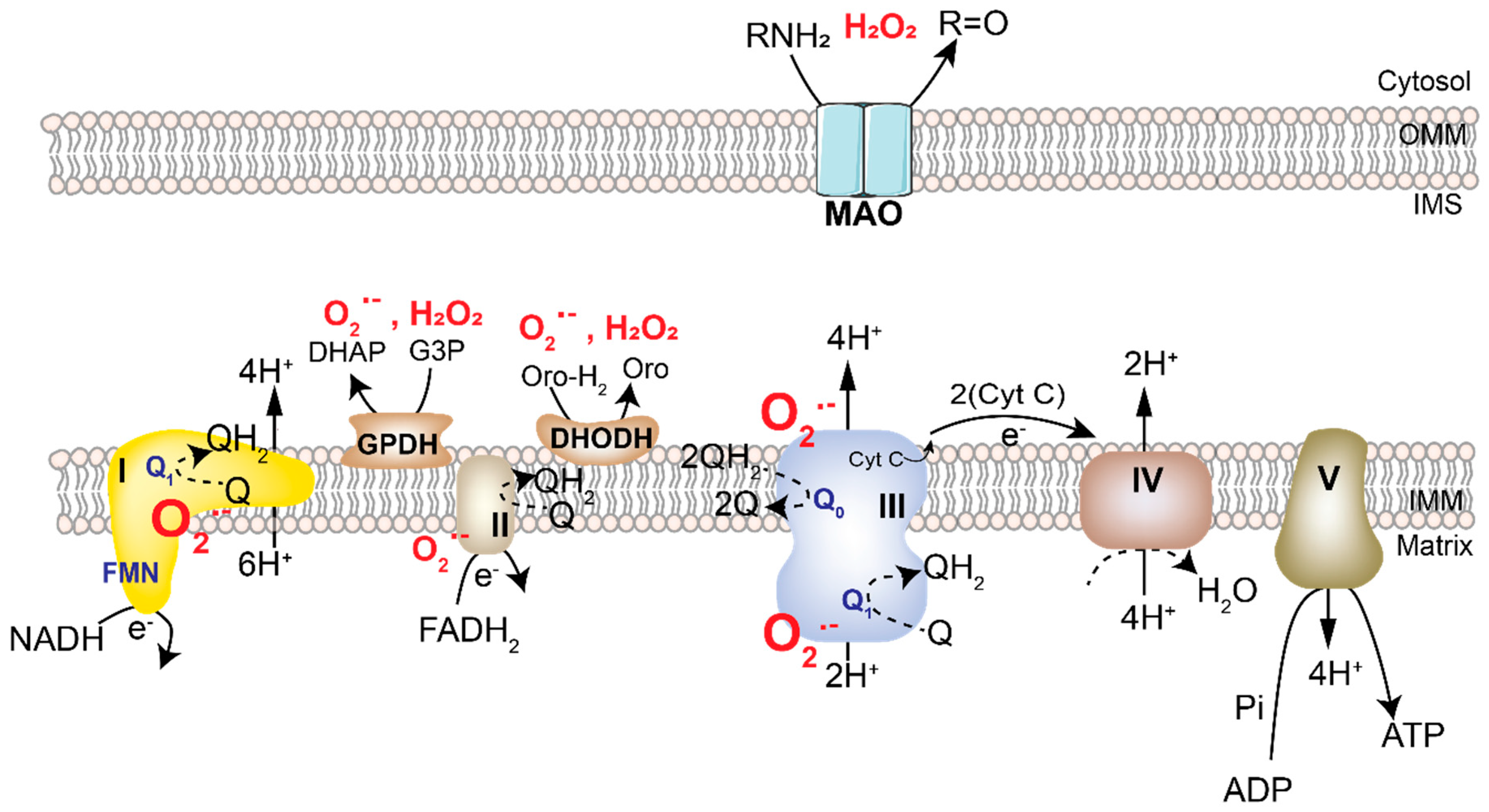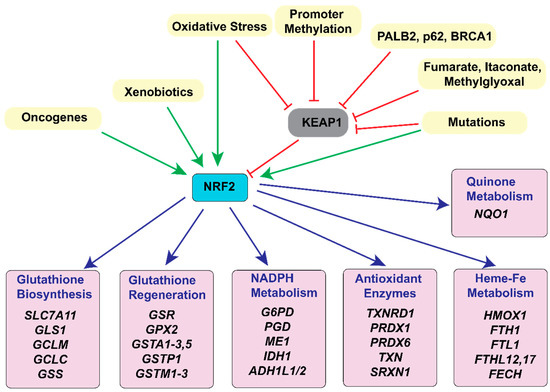 Figure 3. KEAP1-NRF2 in the regulation of metabolism and cellular antioxidant response. Nuclear factor erythroid 2-related factor 2 (NRF2) is the regulator of antioxidant response in cancer. NRF2 is activated by gene mutations, oncogene activation, xenobiotics, or oxidative stress. Oxidative stress also inactivates the principal NRF2 inhibitor in cells, Kelch-Like ECH-associated protein 1 (KEAP1), by cysteine oxidation. KEAP1 is also inhibited by mutations, promoter methylation, binding with KEAP1-sequestering proteins like PALB2, BRCA1, and p62, and interaction with metabolites such as fumarate, itaconate, and methylglyoxal. Stabilized NRF2 regulates expression of several genes involved in redox homeostasis. Shown here are NRF2-target genes involved directly in redox balance. First are genes involved in glutathione (GSH) biosynthesis: solute carrier family 7 member 11 (SLC7A11), glutaminase1 (GLS1), glutamate-cysteine ligase, modifier subunit (GCLM), glutamate-cysteine ligase catalytic subunit (GCLC), and glutathione synthetase (GSS). Glutamate generated by GLS1, a NRF2 target gene, can also be utilized for GSH biosynthesis. The second set has genes involved in GSH recycling: glutathione-disulfide reductase (GSR), glutathione peroxidase 2 (GPX2), glutathione S-transferase Alpha (GSTA), glutathione S-transferase Pi (GSTP), and glutathione S-transferase Mu (GSTM). Third set has enzymes mediating NADPH metabolism: glucose-6-phosphate dehydrogenase (G6PD), phosphogluconate dehydrogenase (PGD), malic enzyme (ME1), isocitrate dehydrogenase (IDH1), aldehyde dehydrogenase 1 family, and member L1 and L2 (ADH1L1/2). Other metabolic enzymes shown in the 4th set are: thioredoxin 1 (TXN1), thioredoxin reductase 1 (TXNRD1), peroxiredoxin 1 (PRDX1), peroxiredoxin 6 (PRDX6) and sulfiredoxin 1 (SRXN1). Fifth/Sixth set are enzymes in Heme, Iron (Fe) and quinone metabolism: heme oxygenase 1 (HMOX1), ferritin heavy chain 1 (FTH1), ferritin light chain 1 (FTL1), ferritin heavy chain 1 pseudogene 12 (FTHL12), ferritin heavy chain 1 pseudogene 17 (FTHL17), ferrochelatase (FECH) and NAD(P)H quinone dehydrogenase 1 (NQO1). (Green arrows indicate direct and red arrows indirect mechanisms of NRF2 activation. Blue arrows direct to genes transcriptionally regulated by NRF2).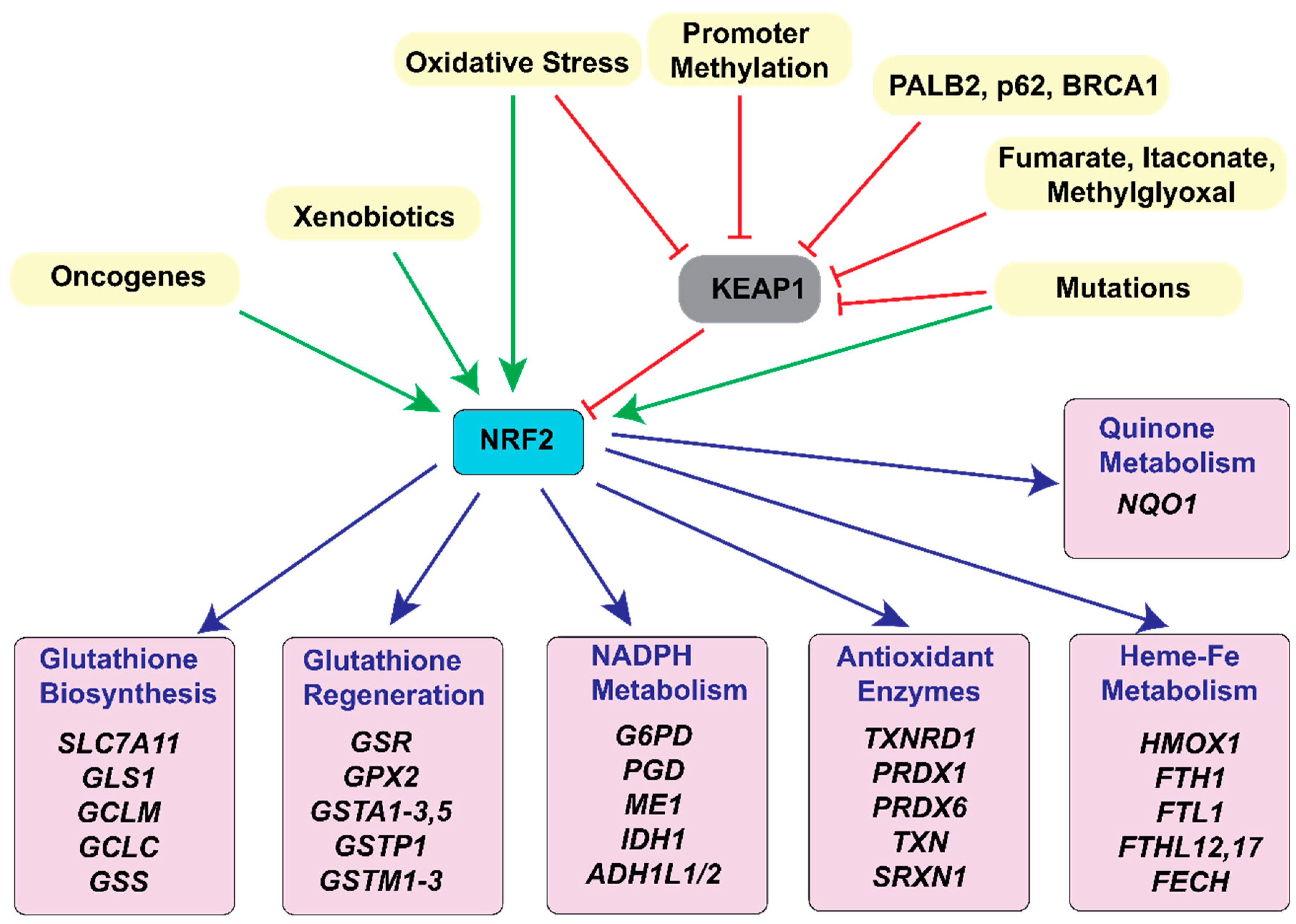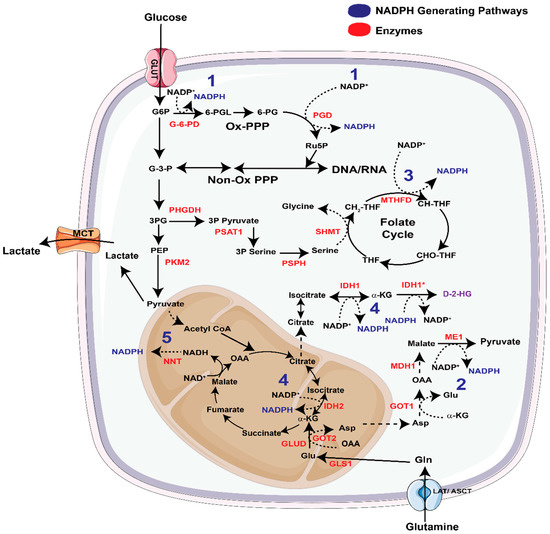 Figure 4. Altered metabolism as the source of nadph biosynthesis. The principal metabolic pathways that generate NADPH are numbered in blue with key enzymes shown in red. These include (1) the pentose phosphate pathway (PPP) in which conversion of Glucose-6-phosphate (G6P) to 6-phosphogluconolactone (6-PGL) and 6-phosphogluconate (6-PG) to ribulose-phosphate (Ru5P) generates 2 NADPH molecules. (2) Another mechanism of NADPH production is via the conversion of malate to pyruvate by malic enzyme 1. (3) The third reaction mediating NADPH production is the methylenetetrahydrofolate dehydrogenase (MTHFD)-mediated conversion of 5,10-methylenetetrahydrofolate (CH2-THF) to methenyltetrahydrofolate (CH-THF). (ME1). (4) Iso-citrate dehydrogenases (IDH) and (5) nicotinamide nucleotide transhydrogenases (NNT) are other routes of NADPH production in cancer cells. (LAT = Large neutral amino acid transporter, ASCT = Alanine, Serine Cysteine transporter, MCT = monocarboxylate transporters, GLUT = glucose transporter, G-3-P = glyceraldehyde-3-phosphate, 3P serine = 3 phosphoserine, 3P pyruvate = 3 phosphopyruvate, 3PG = 3 phosphoglycerate, PEP = Phosphoenolpyruvate, THF = tetrahydrofolate, CHOTHF = 10-formyl-tetrahydrofolate, OAA = oxaloacetate, Gln = glutamine, Glu = glutamate, α-KG = α-Ketoglutarate, Asp= Aspartic acid, G-6-PD = glucose-6-phosphate dehydrogenase, PGD = phosphogluconate dehydrogenase, PHGDH = phosphoglycerate dehydrogenase, PSAT1= phosphoserine aminotransferase 1, PSPH = phosphoserine phosphatase, SHMT = serine hydroxymethyltransferase, GLS = glutaminase, GLUD = glutamate dehydrogenase, GOT1/2 = glutamic oxaloacetic transaminase, MDH1 = malate dehydrogenase 1, IDH1* = mutant isocitrate dehydrogenase, D-2-HG = D-2-hydroxyglutarate).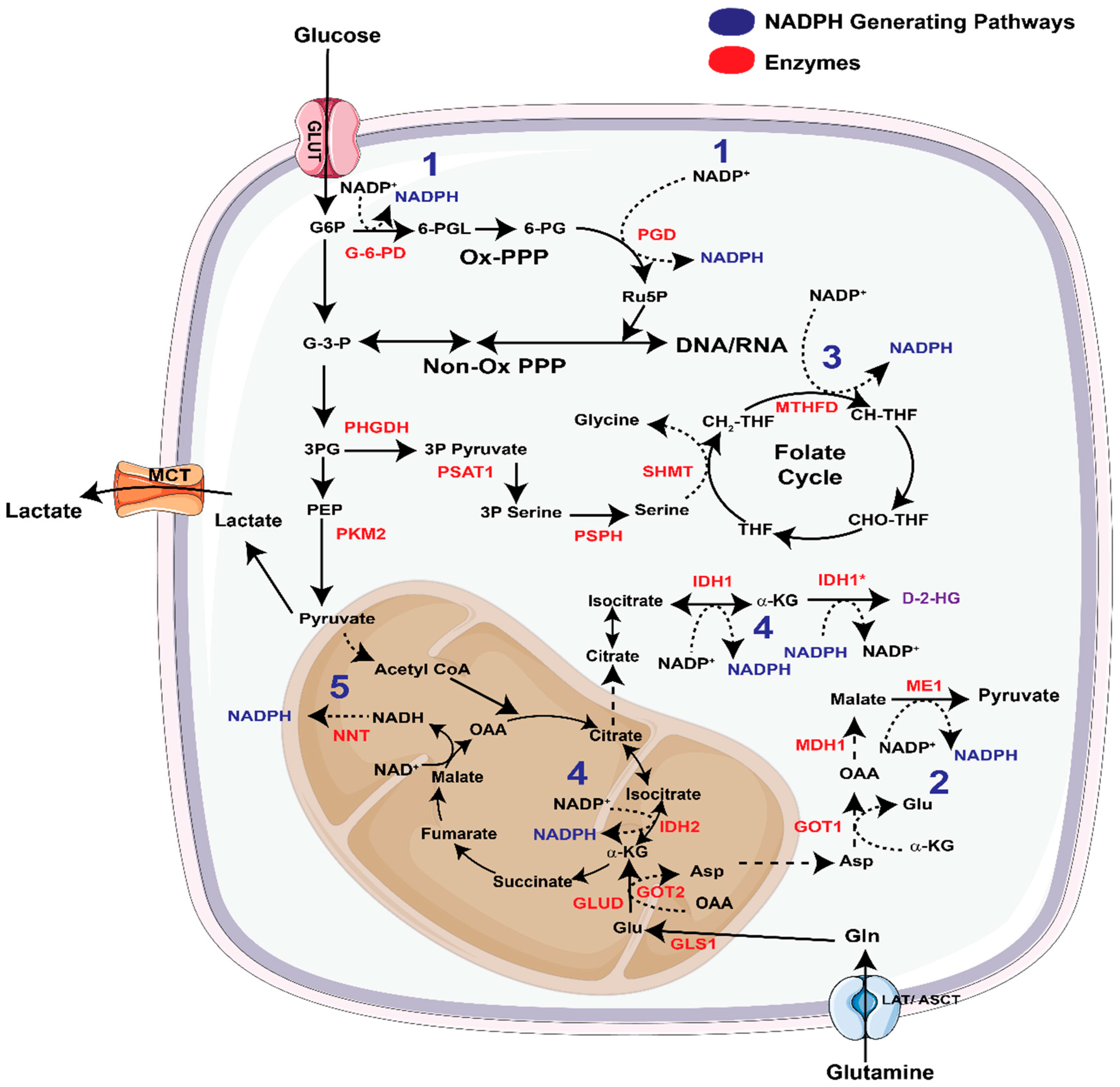 Molecule
Mechanism
Phase
Combination (Cancer type)
Clinical Trial ID
Inhibiting ROS:
Vitamin E, Tocotrienol
Lipid Antioxidant
Phase 2
Stereotactic Ablative Radiotherapy and Pentoxifylline (Lung cancer)
NCT01871454
Vitamin A
(high dose)
Lipid Antioxidant
Early Phase 1
Neoadjuvant (Lung cancer)
NCT03870529
N-acetyl cysteine
General antioxidant, to alleviate the side effects of standard therapy
Phase 1,2
Low dose phase 1, high dose with paclitaxel Phase 2 (solid tumors)
NCT03492047
Phase 2
Chemotherapy and radiation (head and neck)
NCT03982537
Activating ROS:
AG-120 (Ivosidenib) or AG881
Suppression of D-2-HG in IDH1 mutant cancers
Phase 1
(Low grade glioma)
NCT03343197
Phase 1
(myeloid cancers)
NCT03564821
Phase 1
(AML)
NCT02074839
Phase 1
(solid tumors)
NCT02073994
Phase 1,2
Azacitidine, Venetoclax (AML)
NCT03471260
Phase 3
Azacitidine (AML)
NCT03173248
ARQ761 (β-lapachone)
Nqo1 Substrate, causes oxidoreduction and production of O2•–, depletion of NAD(P)H
Phase 1
(solid tumors)
NCT01502800
Phase 1
PARP inhibitor Olaparib (solid tumors)
NCT03575078
Phase 1
Gemcitabine, nab-paclitaxel (PDA)
NCT02514031
Ascorbate (High dose ascobic acid)
NADPH and GSH depletion, Increasing H2O2 Levels
Phase 1,2
(soft tissue sarcomas)
NCT03508726
Phase 1
Gemcitabine and radiation (PDA)
NCT01852890
Phase 2
nab-paclitaxel with gemcitabine (PDA)
NCT02905578
Phase 2
Gemcitabine and radiation (PDA)
NCT03541486 (XACT-PANC-2)
Phase 1
Temozolomide and radiation (GBM)
NCT01752491
Phase 2
Temozolomide and radiation (GBM)
NCT02344355
Phase 1
low dose melphalan + high dose ascorbate acid (Myeloma)
NCT03602235
Phase 1,2
Tyrosine Kinase Inhibitors (Lung cancer)
NCT03799094
Phase 2
Radiotherapy with carboplatin and paclitaxel (Lung cancer)
NCT02905591
(XACT-LUNG)
Phase 2
carboplatin and paclitaxel (Lung cancer)
NCT02420314
Phase 2
(solid tumors)
NCT03146962
CB-839
Glutaminase Inhibitor
Phase 1,2
Nivolumab (RCC, Lung)
NCT02771626
Phase 2
Everolimus (RCC)
NCT03163667
Phase 2
Cabozantinib (RCC)
NCT03428217
Phase 1,2
Osimertinib (Lung cancer, EGFR mutation)
NCT03831932
Phase 1
Niraparib (platinum resistant BRCA wild-type ovarian cancer)
NCT03944902
Phase 2
paclitaxel (TNBC)
NCT03057600
Phase 1,2
Panitumumab and irinotecan hydrochloride (CC)
NCT03263429
Phase 1,2
Capecitabine (solid tumors, CC)
NCT02861300
Phase 1
Carfilzomib, and dexamethasone (plasma cell myeloma)
NCT03798678
Phase 1
Single agent, combination with standard chemotherapy (Solid tumors)
NCT02071862
Phase 1,2
CDK4/6 Inhibitor Palbociclib (solid tumors)
NCT03965845
Phase 1,2
Talazoparib (solid tumors)
NCT03875313
Phase 2
(KEAP1, NRF2, STK11/LKB1 mutant solid tumors)
NCT03872427
AML= acute myeloid leukemia, GBM = glioblastoma multiforme, MM = multiple myeloma, PDA = pancreatic ductal adenocarcinoma, RCC = renal cell carcinoma, TNBC = triple negative breast cancer, KEAP1 = Kelch-like ECH-associated protein 1, NRF2 = Nuclear factor erythroid 2-related factor 2, STK11/LKB1 = Serine/Threonine Kinase 11/Liver Kinase B1.

© 2019 by the authors. Licensee MDPI, Basel, Switzerland. This article is an open access article distributed under the terms and conditions of the Creative Commons Attribution (CC BY) license (http://creativecommons.org/licenses/by/4.0/).