Human Aquaporin-5 Facilitates Hydrogen Peroxide Permeation Affecting Adaption to Oxidative Stress and Cancer Cell Migration
1
Research Institute for Medicines (iMed.ULisboa), Faculty of Pharmacy, Universidade de Lisboa, 1649-003 Lisboa, Portugal
2
Department of Biochemistry and Human Biology, Faculty of Pharmacy, Universidade de Lisboa, 1649-003 Lisboa, Portugal
3
Department of Biology, University of Copenhagen, Universitetsparken 13, DK-2100 Copenhagen OE, Denmark
4
Centro de Química e Bioquímica, Centro de Química Estrutural e Departamento de Química e Bioquímica, Faculdade de Ciências, Universidade de Lisboa, 1749-016 Lisboa, Portugal
*
Author to whom correspondence should be addressed.
Received: 12 June 2019 / Revised: 28 June 2019 / Accepted: 2 July 2019 / Published: 3 July 2019
Abstract
Reactive oxygen species (ROS), including H
2
O
2
, contribute to oxidative stress and may cause cancer initiation and progression. However, at low concentrations, H
2
O
2
can regulate signaling pathways modulating cell growth, differentiation, and migration. A few mammalian aquaporins (AQPs) facilitate H
2
O
2
diffusion across membranes and participate in tumorigenesis. AQP3 and AQP5 are strongly expressed in cancer tissues and AQP3-mediated H
2
O
2
transport has been related to breast cancer cell migration, but studies with human AQP5 are lacking. Here, we report that, in addition to its established water permeation capacity, human AQP5 facilitates transmembrane H
2
O
2
diffusion and modulates cell growth of AQP5-transformed yeast cells in response to oxidative stress. Mutagenesis studies revealed that residue His173 located in the selective filter is crucial for AQP5 permeability, and interactions with phosphorylated Ser183 may regulate permeation through pore blockage. Moreover, in human pancreatic cancer cells, the measured AQP5-mediated H
2
O
2
influx rate indicates the presence of a highly efficient peroxiporin activity. Cell migration was similarly suppressed by AQP3 or AQP5 gene silencing and could be recovered by external oxidative stimuli. Altogether, these results unveiled a major role for AQP5 in dynamic fine-tuning of the intracellular H
2
O
2
concentration, and consequently in activating signaling networks related to cell survival and cancer progression, highlighting AQP5 as a promising drug target for cancer therapies.
View Full-Text
►

▼

Figures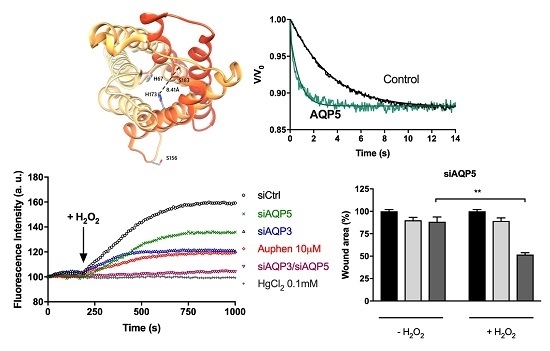 Graphical abstract
This is an open access article distributed under the
Creative Commons Attribution License
which permits unrestricted use, distribution, and reproduction in any medium, provided the original work is properly cited (CC BY 4.0).

Share & Cite This Article
MDPI and ACS Style
Rodrigues, C.; Pimpão, C.; Mósca, A.F.; Coxixo, A.S.; Lopes, D.; da Silva, I.V.; Pedersen, P.A.; Antunes, F.; Soveral, G. Human Aquaporin-5 Facilitates Hydrogen Peroxide Permeation Affecting Adaption to Oxidative Stress and Cancer Cell Migration. Cancers 2019, 11, 932.
Note that from the first issue of 2016, MDPI journals use article numbers instead of page numbers. See further details here.
Related Articles
Comments
[Return to top]