Exploiting Mitochondrial Vulnerabilities to Trigger Apoptosis Selectively in Cancer Cells
Department of Chemistry and Biochemistry, University of Windsor, Windsor, ON N9E 3P4, Canada
*
Author to whom correspondence should be addressed.
Received: 10 May 2019 / Revised: 19 June 2019 / Accepted: 25 June 2019 / Published: 29 June 2019
Abstract
The transformation of normal cells to the cancerous stage involves multiple genetic changes or mutations leading to hyperproliferation, resistance to apoptosis, and evasion of the host immune system. However, to accomplish hyperproliferation, cancer cells undergo profound metabolic reprogramming including oxidative glycolysis and acidification of the cytoplasm, leading to hyperpolarization of the mitochondrial membrane. The majority of drug development research in the past has focused on targeting DNA replication, repair, and tubulin polymerization to induce apoptosis in cancer cells. Unfortunately, these are not cancer-selective targets. Recently, researchers have started focusing on metabolic, mitochondrial, and oxidative stress vulnerabilities of cancer cells that can be exploited as selective targets for inducing cancer cell death. Indeed, the hyperpolarization of mitochondrial membranes in cancer cells can lead to selective importing of mitocans that can induce apoptotic effects. Herein, we will discuss recent mitochondrial-selective anticancer compounds (mitocans) that have shown selective toxicity against cancer cells. Increased oxidative stress has also been shown to be very effective in selectively inducing cell death in cancer cells. This oxidative stress could lead to mitochondrial dysfunction, which in turn will produce more reactive oxygen species (ROS). This creates a vicious cycle of mitochondrial dysfunction and ROS production, irreversibly leading to cell suicide. We will also explore the possibility of combining these compounds to sensitize cancer cells to the conventional anticancer agents. Mitocans in combination with selective oxidative-stress producing agents could be very effective anticancer treatments with minimal effect on healthy cells.
View Full-Text
►

▼

Figures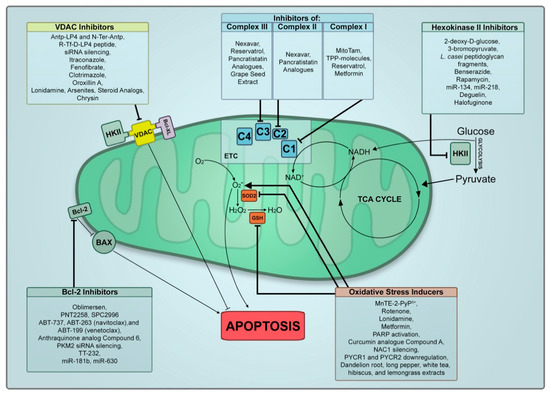 Figure 1
This is an open access article distributed under the
Creative Commons Attribution License
which permits unrestricted use, distribution, and reproduction in any medium, provided the original work is properly cited (CC BY 4.0).

Share & Cite This Article
MDPI and ACS Style
Nguyen, C.; Pandey, S. Exploiting Mitochondrial Vulnerabilities to Trigger Apoptosis Selectively in Cancer Cells. Cancers 2019, 11, 916.
Note that from the first issue of 2016, MDPI journals use article numbers instead of page numbers. See further details here.
Related Articles
Comments
[Return to top]