Open Access This article is
freely available
re-usable
Article
Aberrant MicroRNA Expression and Its Implications for Uveal Melanoma Metastasis
1
Department of Ophthalmology, Erasmus University MC, 3015 GD Rotterdam, The Netherlands
2
Department of Clinical Genetics, Erasmus University MC, 3015 GD Rotterdam, The Netherlands
3
Department of Molecular Genetics, Erasmus University MC, 3015 GD Rotterdam, The Netherlands
4
Department of Pathology, Section Ophthalmic Pathology, Erasmus University MC, 3015 GD Rotterdam, The Netherlands
5
The Rotterdam Eye Hospital, 3011 BH Rotterdam, The Netherlands
6
Department of Medical Oncology, Erasmus University MC, 3015 GD Rotterdam, The Netherlands
*
Author to whom correspondence should be addressed.
Received: 14 May 2019 / Accepted: 10 June 2019 / Published: 12 June 2019
Abstract
:
Uveal melanoma (UM) is the most frequently found primary intra-ocular tumor in adults. It is a highly aggressive cancer that causes metastasis-related mortality in up to half of the patients. Many independent studies have reported somatic genetic changes associated with high metastatic risk, such as monosomy of chromosome 3 and mutations in
BAP1
. Still, the mechanisms that drive metastatic spread are largely unknown. This study aimed to elucidate the potential role of microRNAs in the metastasis of UM. Using a next-generation sequencing approach in 26 UM samples we identified thirteen differentially expressed microRNAs between high-risk UM and low/intermediate-risk UM, including the known oncomirs microRNA-17-5p, microRNA-21-5p, and miR-151a-3p. Integration of the differentially expressed microRNAs with expression data of predicted target genes revealed 106 genes likely to be affected by aberrant microRNA expression. These genes were involved in pathways such as cell cycle regulation, EGF signaling and EIF2 signaling. Our findings demonstrate that aberrant microRNA expression in UM may affect the expression of genes in a variety of cancer-related pathways. This implies that some microRNAs can be responsible for UM metastasis and are promising potential targets for future treatment.
Keywords:
uveal melanoma; metastasis; microRNAs; mRNA expression; IPA pathway analysis
4. Materials and Methods
4.1. Tissue Samples
26 patients diagnosed with UM were selected from our Rotterdam Ocular Melanoma Studygroup (ROMS) database. The specimens were collected from enucleated eyes between 1995 and 2010 at the Erasmus University Medical Centre and the Rotterdam Eye Hospital (Rotterdam, The Netherlands). Shortly after surgery, half of the tumor was snap-frozen in liquid nitrogen to allow for DNA and RNA extraction. The other half of the eye was formalin-fixed paraffin-embedded and stained with hematoxylin and eosin for routine histological examination by an ophthalmic pathologist to verify neoplastic nature. This study was performed according to the guidelines of the Declaration of Helsinki (MEC-2009-375, 12 November 2009) and informed consents were obtained at the time of diagnosis.
4.3. Isolation and Sequencing of Small RNA and mRNA
Total RNA was isolated from sections of snap-frozen tumor samples, using the Qiagen miRNeasy isolation kit (Qiagen) according to the manufacturer's manual. The quantity and purity of the RNA was determined using Bioanalyzer (Agilent Genomics, Santa Clara, CA, USA). A total amount of 4 μg RNA (RIN > 7.0) was used for the preparation of the small RNA and larger RNA libraries using the Ion Total RNA-seq kit (Thermofisher Scientific, Waltham, MA, USA) following the manufacturer's protocol. Both RNA libraries were subsequently sequenced with the Ion Proton sequencer (Thermofisher Scientific).
4.4. Analysis of the Sequencing Data
Adapter sequences, low quality reads, and reads containing poly-N were removed from the generated RNA sequenced data using the Torrent Suite Software V 4.4.3 (Thermofisher Scientific, Waltham, MA, USA). Reads shorter than 15 nucleotides were removed from downstream analysis in the small RNA dataset. The remaining reads were aligned against a miRBase reference genome using an in-house developed script [
55
]. Read per million mapped reads (RPM) was applied to quantify the expression of each miRNAs. Differential expression and fold changes of miRNAs between each of the patients sets was determined using the statistical package DEseq, with the cut-off FDR < 0.05 (v.1.32.0) [
56
]. The miRNAs at low expression levels were removed by requiring an average of at least 250 RPM. Short Time-Series Expression Miner [
57
], under the K-mean clustering method, was used to perform the miRNA expression clustering analysis. The long sequencing reads (>25 bp) were aligned to the human reference genome (hg19) with TopHat2 [
58
]. Genes at low expression level were removed by the requiring an average of at least 10 RPM. Differentially expressed genes were identified using DEseq [
59
] with the cut-off fold discovery rate (FDR) < 0.05. Genes were considered to be differentially expressed if they had at least a log2FC of 1.5. The selected resulting genes were used as input for Ingenuity Pathway Analysis (IPA) (Qiagen) for the canonical pathway analysis. All analyses were performed using R statistical environment version 3.5.
4.5. miRNA Target Gene Prediction and Validation
To obtain functional information from the differentially expressed miRNAs we integrated mRNA expression data with the miRNA expression data by cluster analysis. A list of putative target genes from the differentially expressed miRNAs was composed using miRwalk 3.0 [
60
], Targetscan 7.2 [
61
], Diana micro-T 5.0 [
62
], and miRDB 6.0 [
63
]. Genes were considered to be target genes if they were reported by at least two different prediction algorithms.
4.6. Acquisition of TCGA Data
miRNA expression data of 80 UM samples [
39
] were retrieved from the publicly accessible data repository at the Genomic Data Commons Data Portal (
https://portal.gdc.cancer.gov/
).
5. Conclusions
In this study we elucidated the potential role of miRNAs in the early metastasis of UM by integrating miRNA and mRNA sequencing data derived from 26 UM samples. We showed that differentially expressed miRNAs could play an important role in several oncogenic pathways, such as cell cycle regulation and EGF signaling, which could contribute to the early metastasis of UM. These results do not only bring us one step closer to unraveling the mechanisms that drive UM metastasis, but it also provides us with a promising potential target for future treatment. Targeting these differentially expressed miRNAs could compensate for the deregulation of oncogenic pathways and, thereby, aid in UM treatment.
Supplementary Materials
The following are available online at
https://www.mdpi.com/2072-6694/11/6/815/s1
. Figure S1: Volcano plot with DE-miRNAs high- vs. intermediate-risk UM, high- vs. low-risk UM, and low- vs. intermediate-risk UM. Figure S2: miRNA expression analysis of TCGA cohort. Figure S3: Overlap in the target genes predicted by four different algorithms (Diana, miRDB, miRWalk, and Targetscan). Figure S4: Heatmap showing the differential expression of the four cell-cycle related genes; CDK6, CCND2, E2F8 and HDAC4. Table S1: IPA target analysis.
Author Contributions
Conceptualization and design of the study was done by A.d.K and E.K. Patient samples were provided by R.M.V., H.W.M. and E.K. The experiments were performed and analyzed by K.N.S, J.C. and K.D.; J.V. and T.B. contributed to the experiments and data acquisition. E.A.C.W. and J.P. made important contributions to the interpretation of the results. Original draft preparation was done by K.N.S., A.d.K. and E.K. All authors reviewed and edited the manuscript.
Funding
This research was funded by a grant of the Combined Ophthalmic Research Rotterdam.
Conflicts of Interest
All of the authors declare no conflict of interest.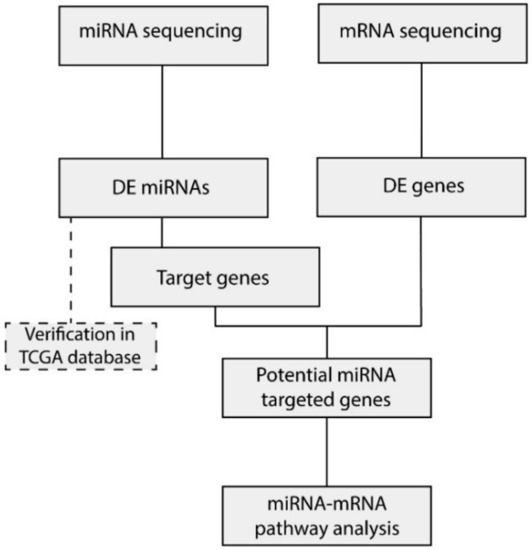 Figure 1. Sample overview and analysis. Flowchart indicating the downstream analysis of the miRNA and mRNA sequencing data. Differentially expressed (DE) miRNAs between the high-risk samples and low/intermediate-risk samples were integrated with the DE genes extracted from the mRNA data. Subsequently, pathway analysis was performed in order to identify which canonical pathways were affected by differential miRNA expression.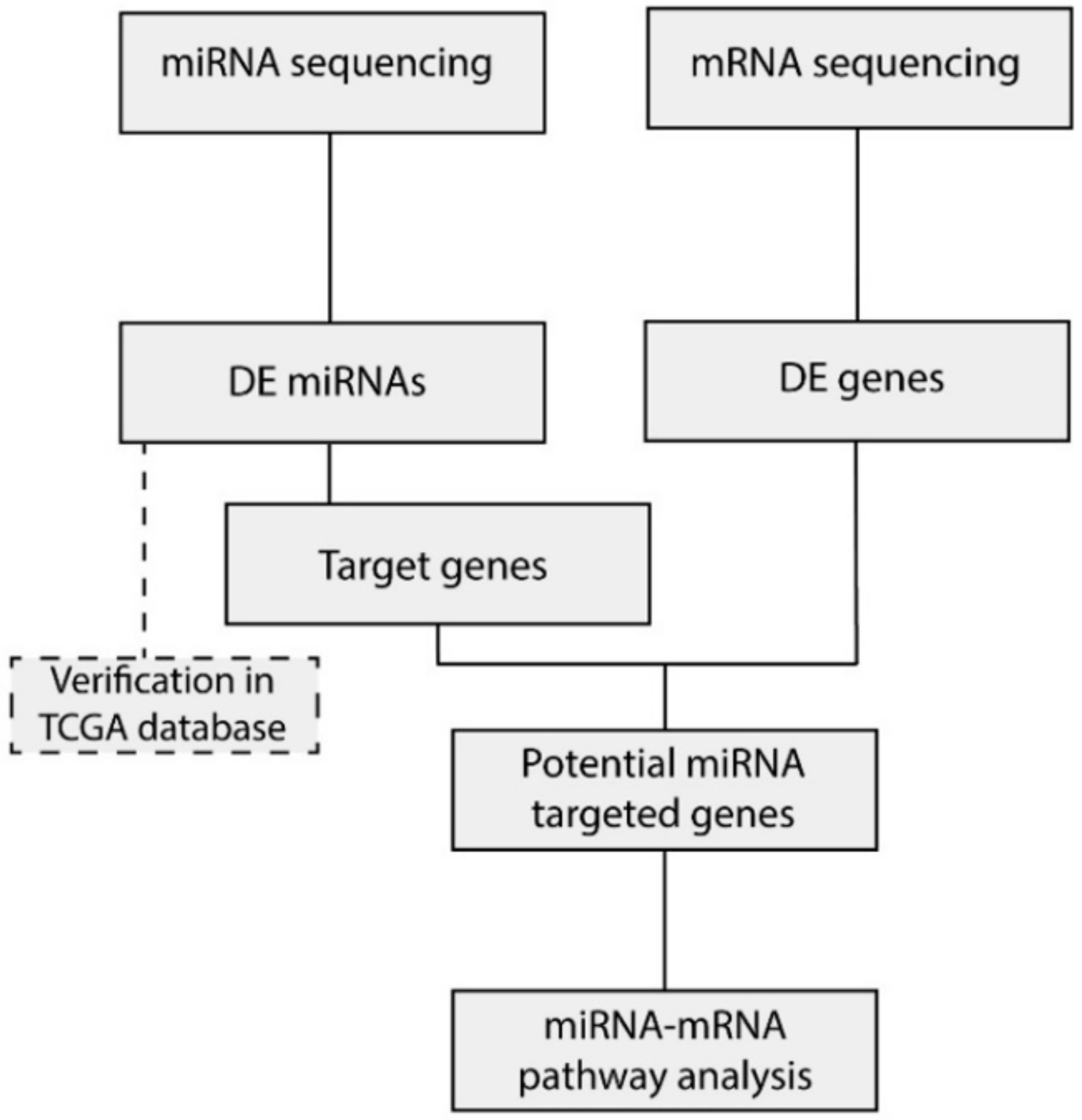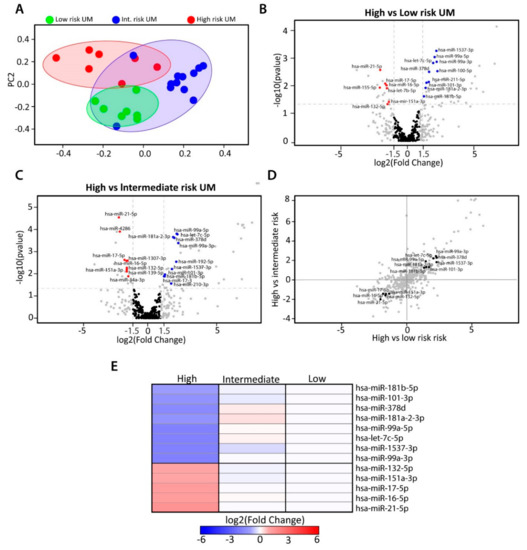 Figure 2. Differential miRNA expression within UM subtypes. (A) Principal Component Analysis (PCA) plot showing the unsupervised clustering based on total miRNA expression of all samples. (B) Volcano plot indicating which miRNAs are differentially expressed between high- vs. low-risk UM. (C) High- vs. intermediate-risk UM. Blue dots indicate downregulation and red dots indicate upregulation of the miRNA (D) The correlation between high- vs. low-risk and high- vs. intermediate-risk UM (E) Heatmap showing the set of 13 miRNAs identified to be potentially involved in the high-metastatic-risk UM.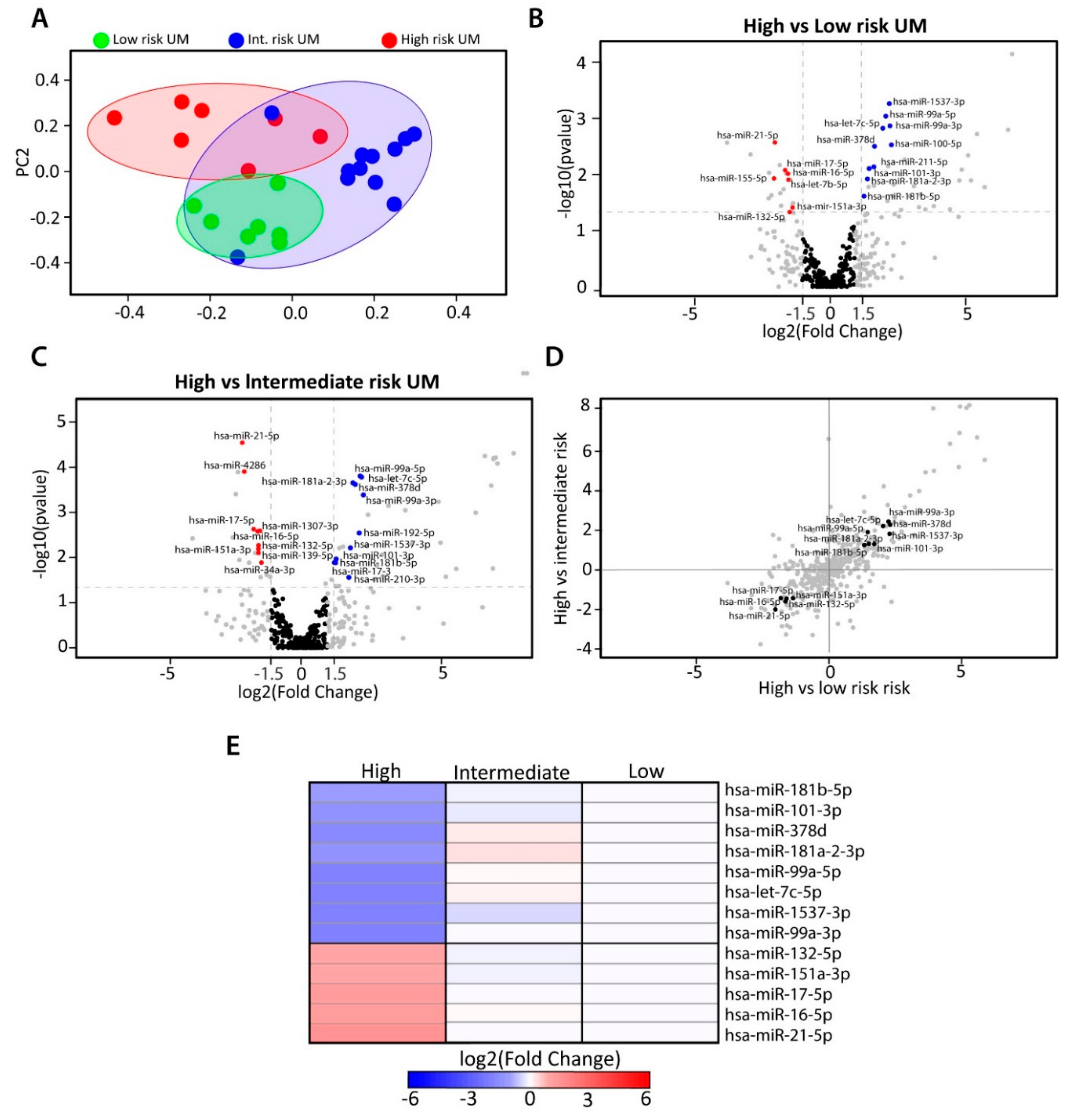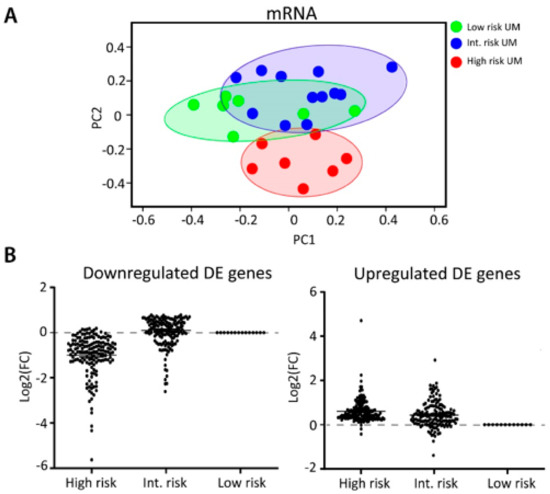 Figure 3. Integration of miRNA and mRNA data. (A) PCA plot showing the unsupervised clustering of all samples based on total mRNA expression. (B) DE genes were clustered according to gene expression pattern. One group contained all genes that showed downregulation in the high-risk group, compared to the low-risk group. The other group contained genes that were upregulated in the high-risk group.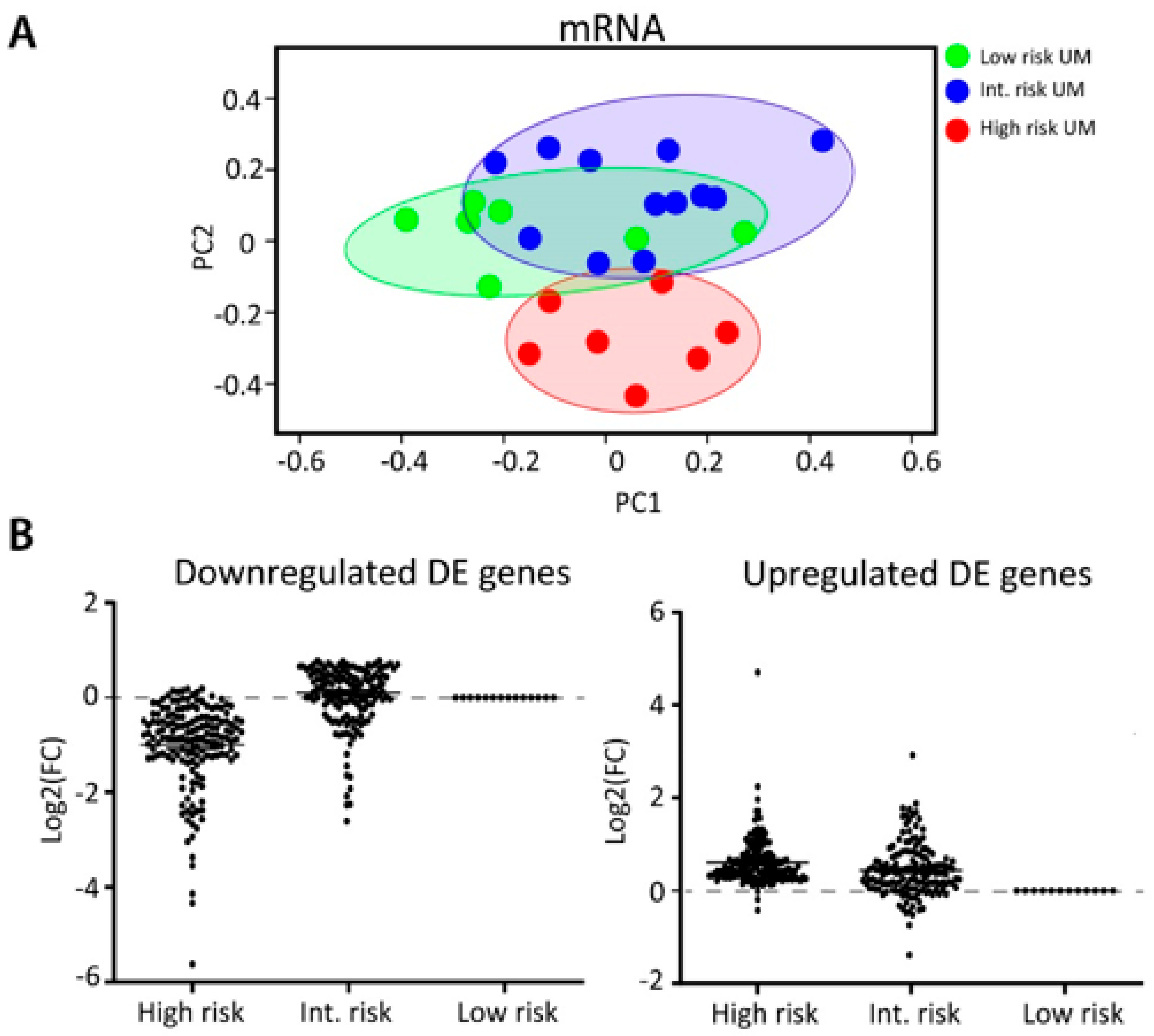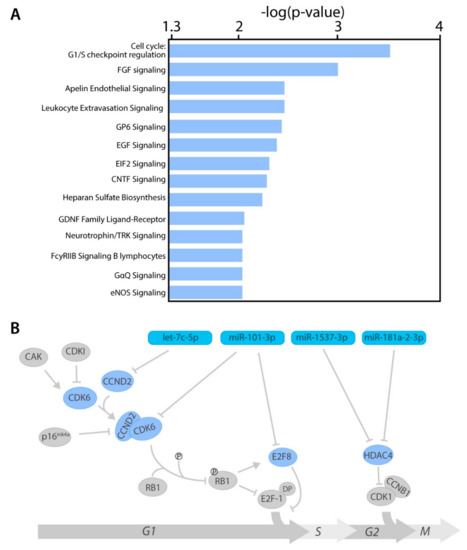 Figure 4.
Ingenuity Pathway Analysis. (
A
) Ingenuity pathways with at least three target genes and a log (
p
-value) above 2. (
B
) A cluster analysis visualizing the involvement of DE-miRNAs in the cell cycle. The light blue nodes indicate genes targeted by DE-miRNAs (darker blue nodes), whereas the grey genes are not.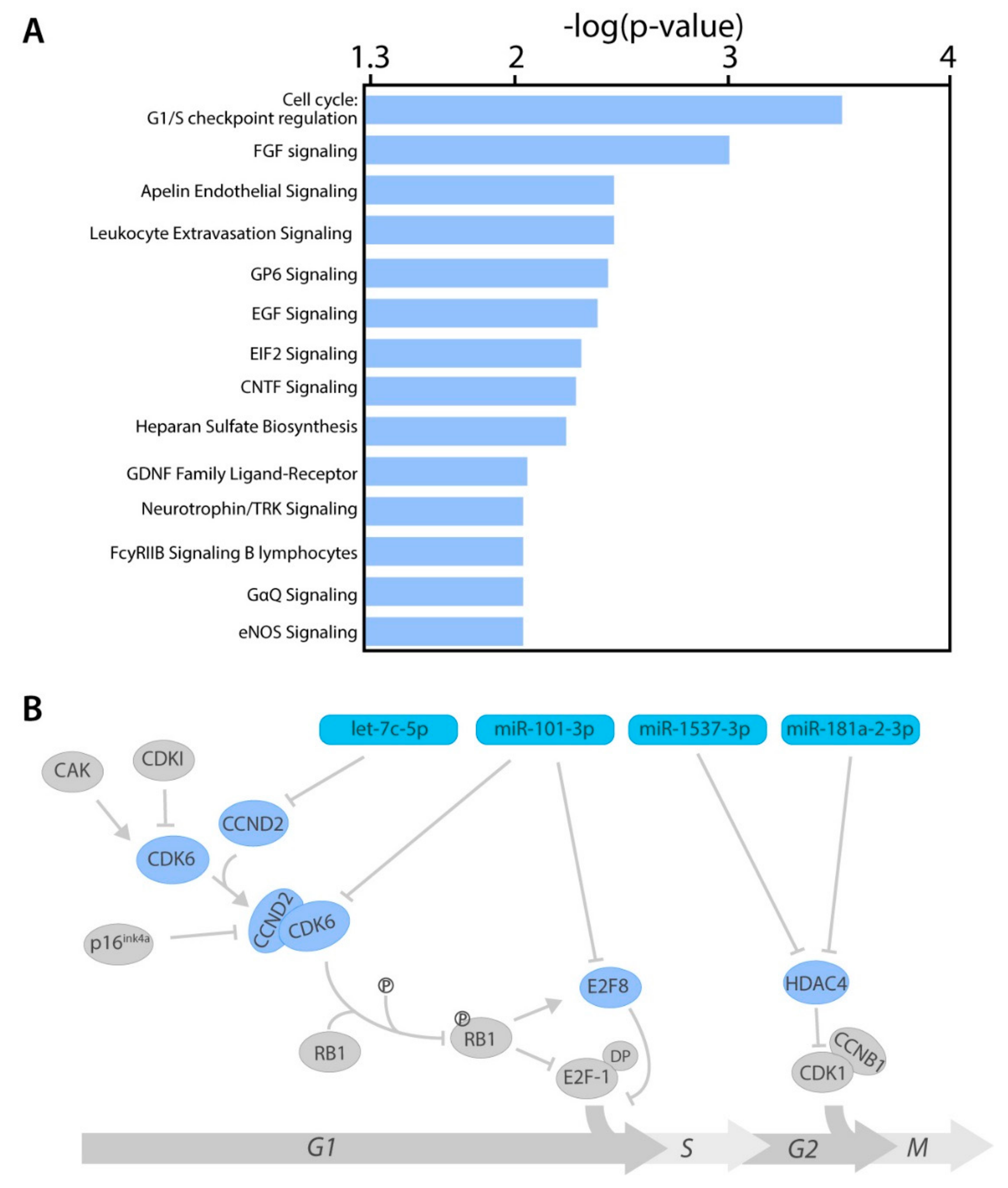 Table 1. The clinical, histological, and molecular characteristics of all 26 uveal melanoma (UM) patients.
Patients Characteristics
Low Risk Group
Intermediate Risk Group
High Risk Group
(

n

= 7)
(

n

= 12)
(

n

= 7)
Age
Mean ± SD
58 ± 9
50 ± 15
69 ± 14
Gender, N (%)
Male
5 (71)
5 (42)
1 (14)
Female
2 (29)
7 (58)
6 (86)
Disease free survival
Mean ± SD
145.1 ± 45.1
103.3 ± 50.6
28.2 ± 9.26
Mutation status, N (%)
GNAQ
4 (57)
7 (58)
4 (57)
GAN11
3 (43)
5 (42)
3 (43)
EIF1AX
7 (100)
0 (0)
0 (0)
SF3B1
0 (0)
12 (100)
0 (0)
BAP1
0 (0)
0 (0)
7 (100)
Monosomy 3, N (%)
Present
0 (0)
0 (0)
7 (100)
Absent
7 (100)
11 (92)
0 (0)
NE
0(0)
1 (8)
0 (0)
BAP1 IHC, N (%)
Positive
7 (100)
12 (100)
0 (0)
Negative
0 (0)
0 (0)
7 (100)
Metastasis
Present
0 (0)
9 (75)
7 (100)
Absent
7 (0)
3 (25)
0 (0)

Table 2. The predicted target genes that show anti-correlation with a specific DE miRNA. An asterisk indicates that more than one miRNA regulates the gene.
| miRNA | Target Gene |
| --- | --- |
| let-7c-5p | ACSL6, AGO4, CACNB4, CCND2, CUX1, ESPL1, FRMD4B, LINGO1, MTDH, PALD1, PARP8, RDX, RGS16 *, RNF217, STARD13 |
| miR-16-5p | CNTN3, COL24A1, DIXDC1, ESRRG, EXTL3, FAM110C, FGF2, HS3ST5, ITPR1, MBNL2, OTUD4, PDK4, SLC6A11, SLC7A2, SNRK, SOX5 *, SYT3, VEGFA, ZMAT3 |
| miR-17-5p | ARAP2, CDC5L, DCBLD2, ENPP5, ETV1, HMGB3, NR4A3, NTNG1, PCDHA6, SESN3, SLC12A3, TUSC2 |
| miR-21-5p | AMER1 *, BCL11A, CSRNP3, IRAK1BP1, LIFR, MEF2C, NKIRAS1, PAIP2B, PCSK6, PDZD2, PRPF4B, STATB1, SCN8A *, SLC22A15, SPRY1, ST6GAL, TIMP3 |
| miR-99a-5p | FGFR3, HS3STB1 |
| miR-99a-3p | GIMAP1 |
| miR-101-3p | ASAP1, ATAD2B, C8orf44-SGK3, CDK6, CLDN11, E2F8, HSD11B2, IMPA1, ITGA8, MAGI2 *, MYCN, PBX3 *, PHACTR2, SALL1, SGK3, SH3PXD2A, SORL1, SRGAP *, STOX2, TRIB1, TSHZ3, ZDHHC21 |
| miR-132-5p | ANO10, DUSP7 |
| miR-151a-3p | SEC22C |
| miR-181a-2-3p | HDAC4 *, PAG1, RBMS3, ZFP62 |
| miR-181b-5p | DERL1, FBXL17, MBOAT2, PLAG, SLC7A, YTHDF3 * |
| miR-378d | PHF21B, PTPN11 |
| miR-1537-3p | NSMAF, SNX8, SPC25, TNFSF15 |
* Targeted by multiple DE miRNAs.

© 2019 by the authors. Licensee MDPI, Basel, Switzerland. This article is an open access article distributed under the terms and conditions of the Creative Commons Attribution (CC BY) license (http://creativecommons.org/licenses/by/4.0/).