p53-Dependent Apoptotic Effect of Puromycin via Binding of Ribosomal Protein L5 and L11 to MDM2 and Its Combination Effect with RITA or Doxorubicin
1
College of Kyung Hee Medicine, Kyung Hee University, Seoul 02447, Korea
2
Department of Biomedical Sciences, College of Medicine, University of Ulsan, Asan Medical Center, Seoul 05505, Korea
*
Author to whom correspondence should be addressed.
Received: 12 April 2019 / Accepted: 23 April 2019 / Published: 24 April 2019
Abstract
Among ribosomal proteins essential for protein synthesis, the functions of ribosomal protein L5 (RPL5) and RPL11 still remain unclear to date. Here, the roles of RPL5 and RPL11 were investigated in association with p53/p21 signaling in the antitumor effect of puromycin mainly in HCT116 and H1299 cancer cells. Cell proliferation assays using 3-[4,5-dimethylthiazole-2-yl]-2,5-diphenyltetrazolium bromide (MTT) assays and colony formation assays, cell cycle analysis, Reverse transcription polymerase chain reaction (RT-PCR) and Western blotting were performed in cancer cells. Puromycin exerted cytotoxic and anti-proliferative effects in p53 wild-type HCT116 more than in p53 null H1299 cells. Consistently, puromycin increased sub-G1, cleaved Poly (ADP-ribose) polymerase (PARP), activated p53, p21, and Mouse double minute 2 homolog (MDM2), and attenuated expression of c-Myc in HCT116 cells. Notably, puromycin upregulated the expression of RPL5 and RPL11 to directly bind to MDM2 in HCT116 cells. Conversely, deletion of RPL5 and RPL11 blocked the activation of p53, p21, and MDM2 in HCT116 cells. Also, puromycin enhanced the antitumor effect with reactivating p53 and inducing tumor apoptosis (RITA) or doxorubicin in HCT116 cells. These findings suggest that puromycin induces p53-dependent apoptosis via upregulation of RPL5 or RPL11 for binding with MDM2, and so can be used more effectively in p53 wild-type cancers by combination with RITA or doxorubicin.
View Full-Text
►

▼

Figures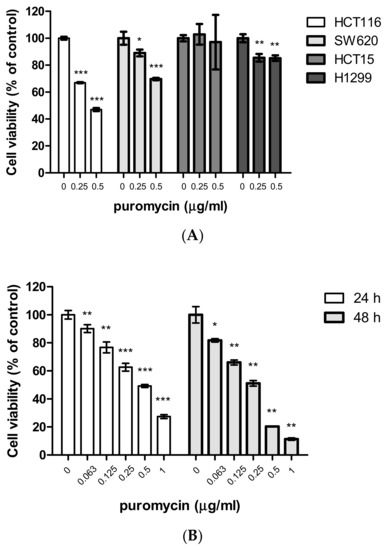 Figure 1
This is an open access article distributed under the
Creative Commons Attribution License
which permits unrestricted use, distribution, and reproduction in any medium, provided the original work is properly cited (CC BY 4.0).

Share & Cite This Article
MDPI and ACS Style
Jung, J.H.; Lee, H.; Kim, J.-H.; Sim, D.Y.; Ahn, H.; Kim, B.; Chang, S.; Kim, S.-H. p53-Dependent Apoptotic Effect of Puromycin via Binding of Ribosomal Protein L5 and L11 to MDM2 and Its Combination Effect with RITA or Doxorubicin. Cancers 2019, 11, 582.
Note that from the first issue of 2016, MDPI journals use article numbers instead of page numbers. See further details here.
Related Articles
Comments
[Return to top]