HNRNPL Restrains
miR-155

Targeting of BUB1 to Stabilize Aberrant Karyotypes of Transformed Cells in Chronic Lymphocytic Leukemia

1

Ageing Research Center and Translational medicine-CeSI-MeT, 66100 Chieti, Italy

2

Department of Medical, Oral and Biotechnological Sciences, "G. d'Annunzio" University Chieti-Pescara, 66100 Chieti, Italy

3

Department of Medicine and Aging Sciences, "G. d'Annunzio" University Chieti-Pescara, 66100 Chieti, Italy

4

Department of Cancer Biology and Genetics, Comprehensive Cancer Center, The Ohio State University, Columbus, OH 43210, USA

5

Institute of Hematology, Catholic University of the Sacred Heart, 00168 Rome, Italy

6

Department of Medicine, Moores Cancer Center, University of California at San Diego, La Jolla, CA 92093, USA

7

Chronic Lymphocytic Leukemia Research Consortium, San Diego, CA 92093, USA

*

Author to whom correspondence should be addressed.

†

These authors contributed equally to this work.

Received: 20 March 2019 / Revised: 15 April 2019 / Accepted: 19 April 2019 / Published: 23 April 2019
Abstract
Aneuploidy and overexpression of
hsa-miR-155-5p
(
miR-155
) characterize most solid and hematological malignancies. We recently demonstrated that
miR-155
sustains aneuploidy at early stages of in vitro cellular transformation. During in vitro transformation of normal human fibroblast, upregulation of
miR-155
downregulates spindle checkpoint proteins as the mitotic checkpoint serine/threonine kinase budding uninhibited by benzimidazoles 1 (BUB1), the centromere protein F (CENPF) and the zw10 kinetochore protein (ZW10), compromising the chromosome alignment at the metaphase plate and leading to aneuploidy in daughter cells. Here we show that the heterogeneous nuclear ribonucleoprotein L (HNRNPL) binds to the polymorphic marker D2S1888 at the 3′UTR of
BUB1
gene, impairs the
miR-155
targeting, and restores BUB1 expression in chronic lymphocytic leukemia. This mechanism occurs at advanced passages of cell transformation and allows the expansion of more favorable clones. Our findings have revealed, at least in part, the molecular mechanisms behind the chromosomal stabilization of cell lines and the concept that, to survive, tumor cells cannot continuously change their genetic heritage but need to stabilize the most suitable karyotype.
View Full-Text
►

▼

Figures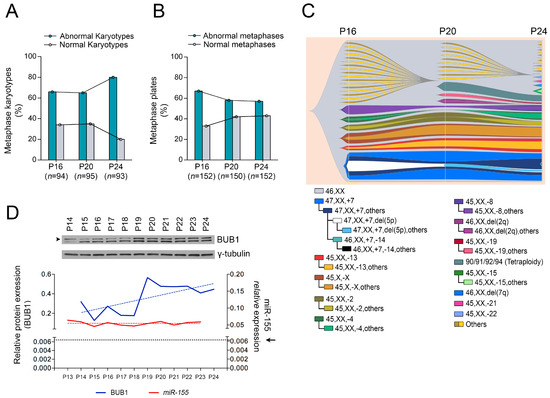 Figure 1
This is an open access article distributed under the
Creative Commons Attribution License
which permits unrestricted use, distribution, and reproduction in any medium, provided the original work is properly cited (CC BY 4.0).

Share & Cite This Article
MDPI and ACS Style
Pagotto, S.; Veronese, A.; Soranno, A.; Balatti, V.; Ramassone, A.; Guanciali-Franchi, P.E.; Palka, G.; Innocenti, I.; Autore, F.; Rassenti, L.Z.; Kipps, T.J.; Mariani-Costantini, R.; Laurenti, L.; Croce, C.M.; Visone, R. HNRNPL Restrains miR-155 Targeting of BUB1 to Stabilize Aberrant Karyotypes of Transformed Cells in Chronic Lymphocytic Leukemia. Cancers 2019, 11, 575.
Note that from the first issue of 2016, MDPI journals use article numbers instead of page numbers. See further details here.
Related Articles
Comments
[Return to top]