Sequestration of 9-Hydroxystearic Acid in FAHFA (Fatty Acid Esters of Hydroxy Fatty Acids) as a Protective Mechanism for Colon Carcinoma Cells to Avoid Apoptotic Cell Death
1
Instituto de Biología y Genética Molecular, Consejo Superior de Investigaciones Científicas (CSIC), Universidad de Valladolid, 47003 Valladolid, Spain
2
Laboratorio de Investigaciones Bioquímicas de la Facultad de Medicina (LIBIM), Instituto de Química Básica y Aplicada del Nordeste Argentino (IQUIBA-NEA), Universidad Nacional del Nordeste, Consejo Nacional de Investigaciones Científicas y Técnicas (UNNE-CONICET), Corrientes 3400, Argentina
3
Centro de Investigación Biomédica en Red de Diabetes y Enfermedades Metabólicas Asociadas (CIBERDEM), 28029 Madrid, Spain
*
Author to whom correspondence should be addressed.
†
These authors contributed equally to this work and share first authorship.
Received: 28 March 2019 / Revised: 9 April 2019 / Accepted: 11 April 2019 / Published: 12 April 2019
Abstract
Hydroxy fatty acids are known to cause cell cycle arrest and apoptosis. The best studied of them, 9-hydroxystearic acid (9-HSA), induces apoptosis in cell lines by acting through mechanisms involving different targets. Using mass spectrometry-based lipidomic approaches, we show in this study that 9-HSA levels in human colorectal tumors are diminished when compared with normal adjacent tissue. Since this decrease could be compatible with an escape mechanism of tumors from 9-HSA-induced apoptosis, we investigated different features of the utilization of this hydroxyfatty acid in colon. We show that in colorectal tumors and related cell lines such as HT-29 and HCT-116, 9-HSA is the only hydroxyfatty acid constituent of branched fatty acid esters of hydroxyfatty acids (FAHFA), a novel family of lipids with anti-inflammatory properties. Importantly, FAHFA levels in tumors are elevated compared with normal tissue and, unlike 9-HSA, they do not induce apoptosis of colorectal cell lines over a wide range of concentrations. Further, the addition of 9-HSA to colon cancer cell lines augments the synthesis of different FAHFA before the cells commit to apoptosis, suggesting that FAHFA formation may function as a buffer system that sequesters the hydroxyacid into an inactive form, thereby restricting apoptosis.
View Full-Text
►

▼

Figures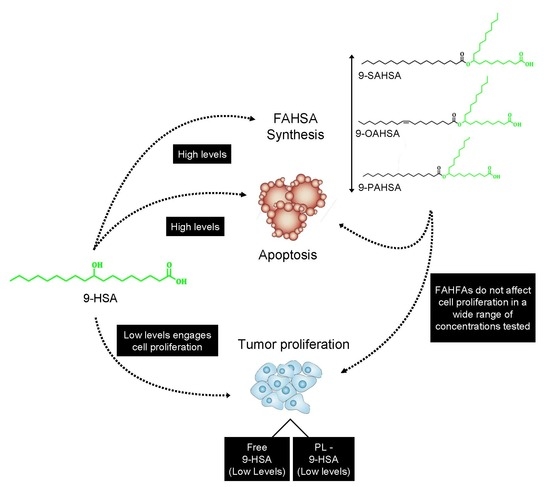 Graphical abstract
This is an open access article distributed under the
Creative Commons Attribution License
which permits unrestricted use, distribution, and reproduction in any medium, provided the original work is properly cited (CC BY 4.0).

Share & Cite This Article
MDPI and ACS Style
Rodríguez, J.P.; Guijas, C.; Astudillo, A.M.; Rubio, J.M.; Balboa, M.A.; Balsinde, J. Sequestration of 9-Hydroxystearic Acid in FAHFA (Fatty Acid Esters of Hydroxy Fatty Acids) as a Protective Mechanism for Colon Carcinoma Cells to Avoid Apoptotic Cell Death. Cancers 2019, 11, 524.
Note that from the first issue of 2016, MDPI journals use article numbers instead of page numbers. See further details here.
Related Articles
Comments
[Return to top]