A Novel ALDH1A1 Inhibitor Targets Cells with Stem Cell Characteristics in Ovarian Cancer
1
Department of Obstetrics and Gynecology, Northwestern University, Chicago, IL 60611, USA
2
Department of Obstetrics and Gynecology, Indiana University, Indianapolis, IN 46202, USA
3
Department of Biochemistry and molecular Biology, Indiana University, Indianapolis, IN 46202, USA
4
Melvin and Bren Simon Cancer Center, Indianapolis, IN 46202, USA
5
Robert H Lurie Comprehensive Cancer Center, Chicago, IL 60611, USA
6
Jesse Brown VA Medical Center, Chicago, IL 60612, USA
*
Author to whom correspondence should be addressed.
Received: 8 February 2019 / Revised: 30 March 2019 / Accepted: 3 April 2019 / Published: 8 April 2019
Abstract
A small of population of slow cycling and chemo-resistant cells referred to as cancer stem cells (CSC) have been implicated in cancer recurrence. There is emerging interest in developing targeted therapeutics to eradicate CSCs. Aldehyde-dehydrogenase (ALDH) activity was shown to be a functional marker of CSCs in ovarian cancer (OC). ALDH activity is increased in cells grown as spheres versus monolayer cultures under differentiating conditions and in OC cells after treatment with platinum. Here, we describe the activity of CM37, a newly identified small molecule with inhibitory activity against ALDH1A1, in OC models enriched in CSCs. Treatment with CM37 reduced OC cells' proliferation as spheroids under low attachment growth conditions and the expression of stemness-associated markers (
OCT4
and
SOX2
) in ALDH+ cells fluorescence-activated cell sorting (FACS)-sorted from cell lines and malignant OC ascites. Likewise, siRNA-mediated
ALDH1A1
knockdown reduced OC cells' proliferation as spheres, expression of stemness markers, and delayed tumor initiation capacity in vivo. Treatment with CM37 promoted DNA damage in OC cells, as evidenced by induction of γH2AX. This corresponded to increased expression of genes involved in DNA damage response, such as
NEIL3
, as measured in ALDH+ cells treated with CM37 or in cells where
ALDH1A1
was knocked down. By inhibiting ALDH1A1, CM37 augmented intracellular ROS accumulation, which in turn led to increased DNA damage and reduced OC cell viability. Cumulatively, our findings demonstrate that a novel ALDH1A1 small molecule inhibitor is active in OC models enriched in CSCs. Further optimization of this new class of small molecules could provide a novel strategy for targeting treatment-resistant OC.
View Full-Text
►

▼

Figures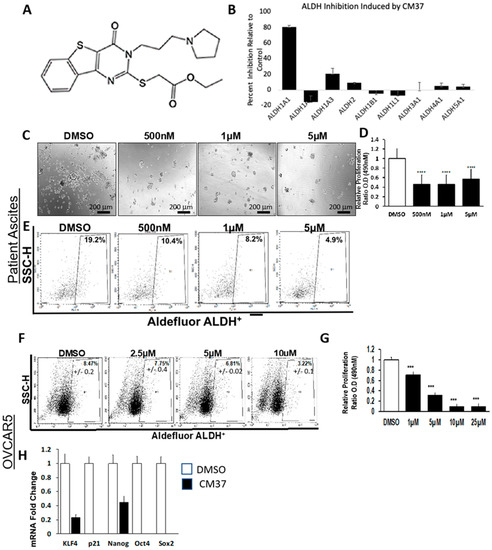 Figure 1
This is an open access article distributed under the
Creative Commons Attribution License
which permits unrestricted use, distribution, and reproduction in any medium, provided the original work is properly cited (CC BY 4.0).

Share & Cite This Article
MDPI and ACS Style
Nwani, N.G.; Condello, S.; Wang, Y.; Swetzig, W.M.; Barber, E.; Hurley, T.; Matei, D. A Novel ALDH1A1 Inhibitor Targets Cells with Stem Cell Characteristics in Ovarian Cancer. Cancers 2019, 11, 502.
Note that from the first issue of 2016, MDPI journals use article numbers instead of page numbers. See further details here.
Related Articles
Comments
[Return to top]