Epsilon-Globin HBE1 Enhances Radiotherapy Resistance by Down-Regulating BCL11A in Colorectal Cancer Cells
1
Immunotherapy Convergence Research Center, Korea Research Institute of Bioscience and Biotechnology, Daejeon 34141, Korea
2
Department of Biochemistry, College of Natural Sciences, Chungbuk National University, Cheongju 28644, Korea
3
Environmental Disease Research Center, Korea Research Institute of Bioscience and Biotechnology, Daejeon 34141, Korea
4
Department of Biomolecular Science, University of Science and Technology (UST), Daejeon 34141, Korea
*
Author to whom correspondence should be addressed.
†
These authors contributed equally to this work.
Received: 12 February 2019 / Revised: 27 March 2019 / Accepted: 2 April 2019 / Published: 8 April 2019
Abstract
Resistance to radiotherapy is considered an important obstacle in the treatment of colorectal cancer. However, the mechanisms that enable tumor cells to tolerate the effects of radiation remain unclear. Moreover, radiotherapy causes accumulated mutations in transcription factors, which can lead to changes in gene expression and radiosensitivity. This phenomenon reduces the effectiveness of radiation therapy towards cancer cells. In the present study, radiation-resistant (RR) cancer cells were established by sequential radiation exposure, and hemoglobin subunit epsilon 1 (HBE1) was identified as a candidate radiation resistance-associated protein based on RNA-sequencing analysis. Then, compared to radiosensitive (RS) cell lines, the overexpression of HBE1 in RR cell lines was used to measure various forms of radiation-induced cellular damage. Consequently, HBE1-overexpressing cell lines were found to exhibit decreased radiation-induced intracellular reactive oxygen species (ROS) production and cell mortality. Conversely, HBE1 deficiency in RR cell lines increased intracellular ROS production, G2/M arrest, and apoptosis, and decreased clonogenic survival rate. These effects were reversed by the ROS scavenger N-acetyl cysteine. Moreover, HBE1 overexpression was found to attenuate radiation-induced endoplasmic reticulum stress and apoptosis via an inositol-requiring enzyme 1(IRE1)—Jun amino-terminal kinase (JNK) signaling pathway. In addition, increased HBE1 expression induced by γ-irradiation in RS cells attenuated expression of the transcriptional regulator BCL11A, whereas its depletion in RR cells increased BCL11A expression. Collectively, these observations indicate that the expression of HBE1 during radiotherapy might potentiate the survival of radiation-exposed colorectal cancer cells.
View Full-Text
►

▼

Figures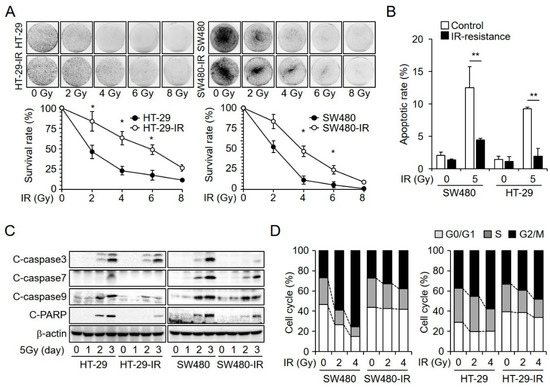 Figure 1
This is an open access article distributed under the
Creative Commons Attribution License
which permits unrestricted use, distribution, and reproduction in any medium, provided the original work is properly cited (CC BY 4.0).

Share & Cite This Article
MDPI and ACS Style
Park, S.Y.; Lee, S.-J.; Cho, H.J.; Kim, J.-T.; Yoon, H.R.; Lee, K.H.; Kim, B.Y.; Lee, Y.; Lee, H.G. Epsilon-Globin HBE1 Enhances Radiotherapy Resistance by Down-Regulating BCL11A in Colorectal Cancer Cells. Cancers 2019, 11, 498.
Note that from the first issue of 2016, MDPI journals use article numbers instead of page numbers. See further details here.
Related Articles
Comments
[Return to top]