Exosomal miRNAs as Novel Pharmacodynamic Biomarkers for Cancer Chemopreventive Agent Early Stage Treatments in Chemically Induced Mouse Model of Lung Squamous Cell Carcinoma
1
Center for Disease Prevention and Department of Pharmacology and Toxicology, Medical College of Wisconsin, Milwaukee, WI 53226, USA
2
Department of Pathology, Medical College of Wisconsin, Milwaukee, WI 53226, USA
3
Chemopreventive Agent Development Research Group, Division of Cancer Prevention, National Cancer Institute, Bethesda, MD 20892, USA
*
Author to whom correspondence should be addressed.
†
These authors contributed equally to this work.
Received: 5 March 2019 / Revised: 29 March 2019 / Accepted: 2 April 2019 / Published: 4 April 2019
Abstract
Background: Chemopreventive agent (CPA) treatment is one of the main preventive options for lung cancer. However, few studies have been done on pharmacodynamic biomarkers of known CPAs for lung cancer. Materials and methods: In this study, we treated mouse models of lung squamous cell carcinoma with three different CPAs (MEK inhibitor: AZD6244, PI-3K inhibitor: XL-147 and glucocorticoid: Budesonide) and examined circulating exosomal miRNAs in the plasma of each mouse before and after treatment. Results: Compared to baselines, we found differentially expressed exosomal miRNAs after AZD6244 treatment (
n
= 8, FDR < 0.05;
n
= 55, raw
p
-values < 0.05), after XL-147 treatment (
n
= 4, FDR < 0.05;
n
= 26, raw
p
-values < 0.05) and after Budesonide treatment (
n
= 1, FDR < 0.05;
n
= 36, raw
p
-values < 0.05). In co-expression analysis, we found that modules of exosomal miRNAs reacted to CPA treatments differently. By variable selection, we identified 11, 9 and nine exosomal miRNAs as predictors for AZD6244, XL-147 and Budesonide treatment, respectively. Integrating all the results, we highlighted 4 miRNAs (mmu-miR-215-5p, mmu-miR-204-5p, mmu-miR-708-3p and mmu-miR-1298-5p) as the key for AZD6244 treatment, mmu-miR-23a-3p as key for XL-147 treatment, and mmu-miR-125a-5p and mmu-miR-16-5p as key for Budesonide treatment. Conclusions: This is the first study to use circulating exosomal miRNAs as pharmacodynamic biomarkers for CPA treatment in lung cancer.
View Full-Text
►

▼

Figures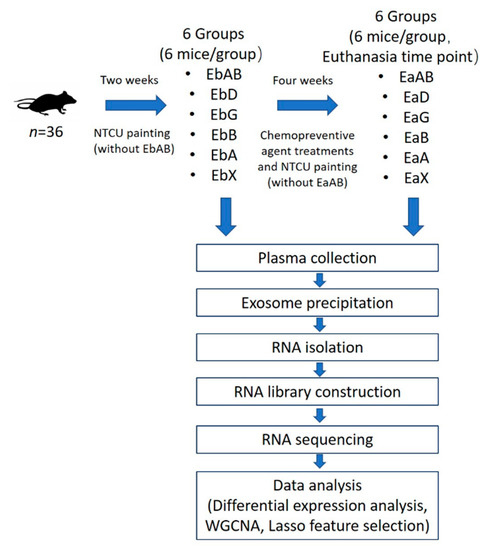 Figure 1
This is an open access article distributed under the
Creative Commons Attribution License
which permits unrestricted use, distribution, and reproduction in any medium, provided the original work is properly cited (CC BY 4.0).

Share & Cite This Article
MDPI and ACS Style
Zhou, Y.; Zhang, Q.; Du, M.; Xiong, D.; Wang, Y.; Mohammed, A.; Lubet, R.A.; Wang, L.; You, M. Exosomal miRNAs as Novel Pharmacodynamic Biomarkers for Cancer Chemopreventive Agent Early Stage Treatments in Chemically Induced Mouse Model of Lung Squamous Cell Carcinoma. Cancers 2019, 11, 477.
Note that from the first issue of 2016, MDPI journals use article numbers instead of page numbers. See further details here.
Related Articles
Comments
[Return to top]