ROS Production and Distribution: A New Paradigm to Explain the Differential Effects of X-ray and Carbon Ion Irradiation on Cancer Stem Cell Migration and Invasion
1
Laboratoire de Radiobiologie Cellulaire et Moléculaire, Faculté de Médecine Lyon-Sud, Univ Lyon, Université Lyon 1, UMR CNRS5822/IN2P3, IPNL, PRISME, 69921 Oullins CEDEX, France
2
Centre Hospitalier Lyon-Sud, Service de Biochimie et Biologie Moléculaire, Hospices Civils de Lyon, 69495 Pierre-Bénite, France
3
Advanced Medical Instrumentation Unit, Okinawa Institute of Science and Technology Graduate University, Okinawa 904-0495, Japan
4
Department of Radiation Effects Research, National Institute of Radiological Sciences, National Institute for Quantum and Radiological Science and Technology, Inage-ku, Chiba 263-8555, Japan
5
Univ Lyon, Université Lyon 1, UMR CNRS5822 /IN2P3, IPNL, PRISME, PHABIO, 69322 Villeurbanne, France
6
Département de Radiothérapie, Institut de Cancérologie de la Loire Lucien Neuwirth, 42270 St Priest en Jarez, France
7
Department of Basic Medical Sciences for Radiation Damages, National Institute of Radiological Sciences, Inage-ku, 263-8555 Chiba, Japan
8
Université de Reims Champagne-Ardenne, CNRS UMR 7369, CHU de Reims, 51100 Reims, France
*
Author to whom correspondence should be addressed.
Received: 12 February 2019 / Revised: 26 March 2019 / Accepted: 1 April 2019 / Published: 3 April 2019
Abstract
Although conventional radiotherapy promotes the migration/invasion of cancer stem cells (CSCs) under normoxia, carbon ion (C-ion) irradiation actually decreases these processes. Unraveling the mechanisms of this discrepancy, particularly under the hypoxic conditions that pertain in niches where CSCs are preferentially localized, would provide a better understanding of the origins of metastases. Invasion/migration, proteins involved in epithelial-to-mesenchymal transition (EMT), and expression of MMP-2 and HIF-1α were quantified in the CSC subpopulations of two head-and-neck squamous cell carcinoma (HNSCC) cell lines irradiated with X-rays or C-ions. X-rays triggered HNSCC-CSC migration/invasion under normoxia, however this effect was significantly attenuated under hypoxia. C-ions induced fewer of these processes in both oxygenation conditions. The differential response to C-ions was associated with a lack of HIF-1α stabilization, MMP-2 expression, or activation of kinases of the main EMT signaling pathways. Furthermore, we demonstrated a major role of reactive oxygen species (ROS) in the triggering of invasion/migration in response to X-rays. Monte-Carlo simulations demonstrated that HO
●
radicals are quantitatively higher after C-ions than after X-rays, however they are very differently distributed within cells. We postulate that the uniform distribution of ROS after X-rays induces the mechanisms leading to invasion/migration, which ROS concentrated in C-ion tracks are unable to trigger.
View Full-Text
►

▼

Figures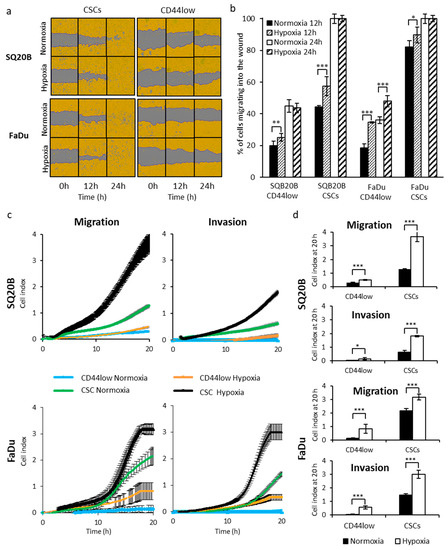 Figure 1
This is an open access article distributed under the
Creative Commons Attribution License
which permits unrestricted use, distribution, and reproduction in any medium, provided the original work is properly cited (CC BY 4.0).

Share & Cite This Article
MDPI and ACS Style
Wozny, A.-S.; Vares, G.; Alphonse, G.; Lauret, A.; Monini, C.; Magné, N.; Cuerq, C.; Fujimori, A.; Monboisse, J.-C.; Beuve, M.; Nakajima, T.; Rodriguez-Lafrasse, C. ROS Production and Distribution: A New Paradigm to Explain the Differential Effects of X-ray and Carbon Ion Irradiation on Cancer Stem Cell Migration and Invasion. Cancers 2019, 11, 468.
Note that from the first issue of 2016, MDPI journals use article numbers instead of page numbers. See further details here.
Related Articles
Comments
[Return to top]