TRAILblazing Strategies for Cancer Treatment
1
Department of General and Visceral Surgery, Ulm University Hospital, Albert-Einstein-Allee 23, 89081 Ulm, Germany
2
Institute for Experimental Cancer Research, University of Kiel, 24105 Kiel, Germany
3
Clinic for General Surgery, Visceral, Thoracic, Transplantation and Pediatric Surgery, University Hospital Schleswig-Holstein, 24105 Kiel, Germany
4
Department of Translational Genomics, University Hospital Cologne, Weyertal 115b, 50931 Cologne, Germany
5
Cologne Excellence Cluster on Cellular Stress Response in Aging-Associated Diseases (CECAD), University of Cologne, Joseph-Stelzmann Straße 26, 50931 Cologne, Germany
*
Author to whom correspondence should be addressed.
Received: 11 March 2019 / Revised: 25 March 2019 / Accepted: 26 March 2019 / Published: 30 March 2019
Abstract
In the late 1990s, tumor necrosis factor (TNF)-related apoptosis-inducing ligand (TRAIL), a member of the TNF-family, started receiving much attention for its potential in cancer therapy, due to its capacity to induce apoptosis selectively in tumour cells in vivo. TRAIL binds to its membrane-bound death receptors TRAIL-R1 (DR4) and TRAIL-R2 (DR5) inducing the formation of a death-inducing signalling complex (DISC) thereby activating the apoptotic cascade. The ability of TRAIL to also induce apoptosis independently of p53 makes TRAIL a promising anticancer agent, especially in p53-mutated tumour entities. Thus, several so-called TRAIL receptor agonists (TRAs) were developed. Unfortunately, clinical testing of these TRAs did not reveal any significant anticancer activity, presumably due to inherent or acquired TRAIL resistance of most primary tumour cells. Since the potential power of TRAIL-based therapies still lies in TRAIL's explicit cancer cell-selectivity, a desirable approach going forward for TRAIL-based cancer therapy is the identification of substances that sensitise tumour cells for TRAIL-induced apoptosis while sparing normal cells. Numerous of such TRAIL-sensitising strategies have been identified within the last decades. However, many of these approaches have not been verified in animal models, and therefore potential toxicity of these approaches has not been taken into consideration. Here, we critically summarise and discuss the status quo of TRAIL signalling in cancer cells and strategies to force tumour cells into undergoing apoptosis triggered by TRAIL as a cancer therapeutic approach. Moreover, we provide an overview and outlook on innovative and promising future TRAIL-based therapeutic strategies.
View Full-Text
►

▼

Figures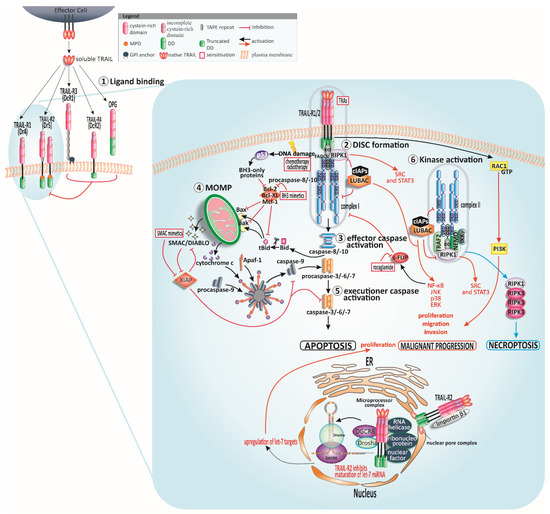 Figure 1
This is an open access article distributed under the
Creative Commons Attribution License
which permits unrestricted use, distribution, and reproduction in any medium, provided the original work is properly cited (CC BY 4.0).

Share & Cite This Article
MDPI and ACS Style
Kretz, A.-L.; Trauzold, A.; Hillenbrand, A.; Knippschild, U.; Henne-Bruns, D.; von Karstedt, S.; Lemke, J. TRAILblazing Strategies for Cancer Treatment. Cancers 2019, 11, 456.
Note that from the first issue of 2016, MDPI journals use article numbers instead of page numbers. See further details here.
Related Articles
Comments
[Return to top]