Impact of Curcumin (with or without Piperine) on the Pharmacokinetics of Tamoxifen
1
Department of Medical Oncology, Erasmus MC Cancer Institute, Dr. Molewaterplein 40, 3015 GD Rotterdam, The Netherlands
2
Department of Internal Medicine, Elisabeth Tweesteden Hospital, Hilvarenbeekseweg 60, 5022 GC Tilburg, The Netherlands
3
Department of Internal Medicine, Alrijne Hospital, Simon Smitweg 1, 2353 GA Leiderdorp, The Netherlands
4
Department of Internal Medicine, Franciscus Gasthuis & Vlietland, Kleiweg 500, 3045 PM Rotterdam, The Netherlands
5
Department of Clinical Chemistry, Erasmus MC, Dr. Molewaterplein 40, 3015 GD Rotterdam, The Netherlands
6
Department of Hospital Pharmacy, Erasmus MC, Dr. Molewaterplein 40, 3015 GD Rotterdam, The Netherlands
*
Author to whom correspondence should be addressed.
Received: 14 February 2019 / Revised: 12 March 2019 / Accepted: 18 March 2019 / Published: 22 March 2019
Abstract
Tamoxifen is a prodrug that is primarily metabolized into the pharmacologically active metabolite endoxifen and eventually into inactive metabolites. The herb curcumin may increase endoxifen exposure by affecting phase II metabolism. We compared endoxifen and tamoxifen exposure in breast cancer patients with or without curcumin, and with addition of the bio-enhancer piperine. Tamoxifen (20–30mg per day (q.d.)) was either given alone, or combined with curcumin (1200 mg three times daily (t.i.d.)) +/− piperine (10 mg t.i.d.). The primary endpoint of this study was the difference in geometric means for the area under the curve (AUC) of endoxifen. Genotyping was performed to determine CYP2D6 and CYP3A4 phenotypes. The endoxifen AUC
0–24h
decreased with 7.7% (95%CI: −15.4 to 0.7%;
p
= 0.07) with curcumin and 12.4% (95%CI: −21.9 to −1.9%;
p
= 0.02) with curcumin and piperine, compared to tamoxifen alone. Tamoxifen AUC
0–24h
showed similar results. For patients with an extensive CYP2D6 metabolism phenotype (EM), effects were more pronounced than for intermediate CYP2D6 metabolizers (IMs). In conclusion, the exposure to tamoxifen and endoxifen was significantly decreased by concomitant use of curcumin (+/− piperine). Therefore, co-treatment with curcumin could lower endoxifen concentrations below the threshold for efficacy (potentially 20–40% of the patients), especially in EM patients.
View Full-Text
►

▼

Figures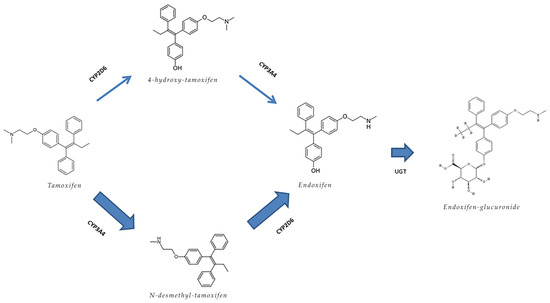 Figure 1
This is an open access article distributed under the
Creative Commons Attribution License
which permits unrestricted use, distribution, and reproduction in any medium, provided the original work is properly cited (CC BY 4.0).

Share & Cite This Article
MDPI and ACS Style
Hussaarts, K.G.; Hurkmans, D.P.; Oomen-de Hoop, E.; van Harten, L.J.; Berghuis, S.; van Alphen, R.J.; Spierings, L.E.; van Rossum-Schornagel, Q.C.; Vastbinder, M.B.; van Schaik, R.H.; van Gelder, T.; Jager, A.; van Leeuwen, R.W.; Mathijssen, R.H. Impact of Curcumin (with or without Piperine) on the Pharmacokinetics of Tamoxifen. Cancers 2019, 11, 403.
Note that from the first issue of 2016, MDPI journals use article numbers instead of page numbers. See further details here.
Related Articles
Comments
[Return to top]