Replacement of miR-155 Elicits Tumor Suppressive Activity and Antagonizes Bortezomib Resistance in Multiple Myeloma
1
Department of Experimental and Clinical Medicine, Magna Graecia University of Catanzaro, 88100 Catanzaro, Italy
2
Department of Oncology and Hemato-oncology, University of Milan and Hematology, Fondazione Cà Granda IRCCS Policlinico, 20122 Milan, Italy
3
Department of Hematology and Oncology, Cantonal Hospital St. Gallen, 9000 St. Gallen, Switzerland
4
Sbarro Institute for Cancer Research and Molecular Medicine, Center for Biotechnology, College of Science and Technology, Temple University, Philadelphia, PA 19122, USA
*
Authors to whom correspondence should be addressed.
Received: 13 December 2018 / Revised: 3 February 2019 / Accepted: 14 February 2019 / Published: 18 February 2019
Abstract
Aberrant expression of microRNAs (miRNAs) has been associated to the pathogenesis of multiple myeloma (MM). While miR-155 is considered a therapeutic target in several malignancies, its role in MM is still unclear. The analysis of miR-155 expression indicates its down-regulation in MM patient-derived as compared to healthy plasma cells, thus pointing to a tumor suppressor role in this malignancy. On this finding, we investigated miR-155 replacement as a potential anti-tumor strategy in MM. The miR-155 enforced expression triggered anti-proliferative and pro-apoptotic effects in vitro. Given the lower miR-155 levels in bortezomib-resistant as compared to sensitive MM cells, we analyzed the possible involvement of miR-155 in bortezomib resistance. Importantly, miR-155 replacement enhanced bortezomib anti-tumor activity both in vitro and in vivo in a xenograft model of human MM. In primary MM cells, we observed an inverse correlation between miR-155 and the mRNA encoding the proteasome subunit gene PSMβ5, whose dysregulation has been largely implicated in bortezomib resistance, and we validated PSMβ5 3′UTR mRNA targeting, along with reduced proteasome activity, by miR-155. Collectively, our findings demonstrate that miR-155 elicits anti-MM activity, likely via proteasome inhibition, providing the framework for miR-155-based anti-MM therapeutic strategies.
View Full-Text
►

▼

Figures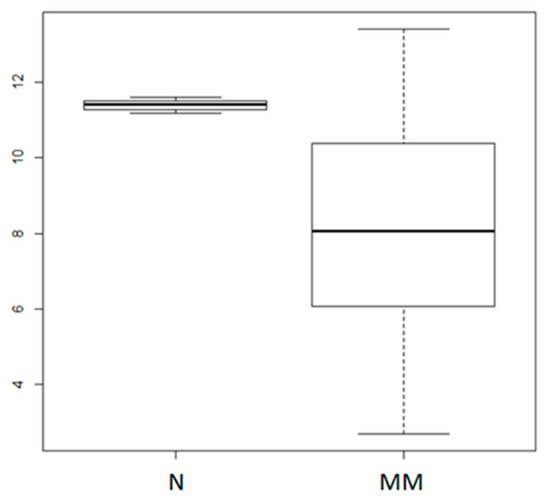 Figure 1
This is an open access article distributed under the
Creative Commons Attribution License
which permits unrestricted use, distribution, and reproduction in any medium, provided the original work is properly cited (CC BY 4.0).

Share & Cite This Article
MDPI and ACS Style
Amodio, N.; Gallo Cantafio, M.E.; Botta, C.; Agosti, V.; Federico, C.; Caracciolo, D.; Ronchetti, D.; Rossi, M.; Driessen, C.; Neri, A.; Tagliaferri, P.; Tassone, P. Replacement of miR-155 Elicits Tumor Suppressive Activity and Antagonizes Bortezomib Resistance in Multiple Myeloma. Cancers 2019, 11, 236.
Note that from the first issue of 2016, MDPI journals use article numbers instead of page numbers. See further details here.
Related Articles
Comments
[Return to top]