Exploring lncRNA-Mediated Regulatory Networks in Endometrial Cancer Cells and the Tumor Microenvironment: Advances and Challenges
1
Department of Obstetrics and Gynecology, Hokkaido University School of Medicine, Hokkaido University, Sapporo 060-8638, Japan
2
Department of Gynecology, State Key Laboratory of Oncology in South China, Sun Yat-sen University Cancer Center, Guangzhou 510060, China
3
Department of Pathology and Laboratory Medicine, University of Tennessee Health Science Center, Memphis, TN 38163, USA
4
Center for Cancer Research, University of Tennessee Health Science Center, Memphis, TN 38163, USA
5
Division of Gynecologic Oncology, National Hospital Organization, Hokkaido Cancer Center, Sapporo 003-0804, Japan
*
Authors to whom correspondence should be addressed.
†
These authors contributed equally to this work.
Received: 17 January 2019 / Revised: 7 February 2019 / Accepted: 10 February 2019 / Published: 16 February 2019
Abstract
Recent studies have revealed both the promise and challenges of targeting long non-coding RNAs (lncRNAs) to diagnose and treat endometrial cancer (EC). LncRNAs are upregulated or downregulated in ECs compared to normal tissues and their dysregulation has been linked to tumor grade, FIGO stage, the depth of myometrial invasion, lymph node metastasis and patient survival. Tumor suppressive lncRNAs (GAS5, MEG3, FER1L4 and LINC00672) and oncogenic lncRNAs (CCAT2, BANCR, NEAT1, MALAT1, H19 and Linc-RoR) have been identified as upstream modulators or downstream effectors of major signaling pathways influencing EC metastasis, including the PTEN/PI3K/AKT/mTOR, RAS/RAF/MEK/ERK, WNT/β-catenin and p53 signaling pathways. TUG1 and TDRG1 stimulate the VEGF-A pathway. PCGEM1 is implicated in activating the JAK/STAT3 pathway. Here, we present an overview of the expression pattern, prognostic value, biological function of lncRNAs in EC cells and their roles within the tumor microenvironment, focusing on the influence of lncRNAs on established EC-relevant pathways. We also describe the emerging classification of EC subtypes based on their lncRNA signature and discuss the clinical implications of lncRNAs as valuable biomarkers for EC diagnosis and potential targets for EC treatment.
View Full-Text
►

▼

Figures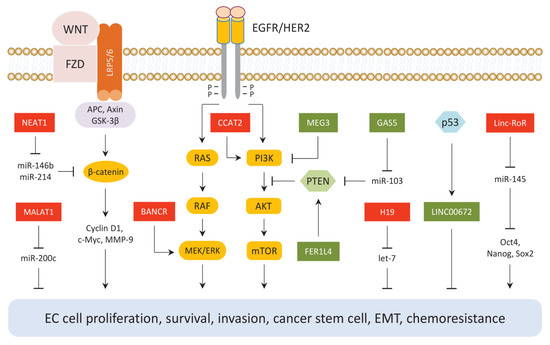 Figure 1
This is an open access article distributed under the
Creative Commons Attribution License
which permits unrestricted use, distribution, and reproduction in any medium, provided the original work is properly cited (CC BY 4.0).

Share & Cite This Article
MDPI and ACS Style
Dong, P.; Xiong, Y.; Yue, J.; J. B. Hanley, S.; Kobayashi, N.; Todo, Y.; Watari, H. Exploring lncRNA-Mediated Regulatory Networks in Endometrial Cancer Cells and the Tumor Microenvironment: Advances and Challenges. Cancers 2019, 11, 234.
Note that from the first issue of 2016, MDPI journals use article numbers instead of page numbers. See further details here.
Related Articles
Comments
[Return to top]