Open Access This article is
freely available
re-usable
Review
Tumor Endothelial Heterogeneity in Cancer Progression
1
Department of Vascular Biology and Molecular Pathology, Hokkaido University Graduate School of Dental Medicine, Sapporo 060-8586, Japan
2
Vascular Biology, Frontier Research Unit, Institute for Genetic Medicine, Hokkaido University, Sapporo 060-0815, Japan
3
Department of Renal and Genitourinary Surgery, Hokkaido University Graduate School of Medicine, Sapporo 060-8636, Japan
4
Department of Cardiovascular and Thoracic Surgery, Hokkaido University Faculty of Medicine, Sapporo 060-8638, Japan
*
Author to whom correspondence should be addressed.
Received: 15 September 2019 / Accepted: 2 October 2019 / Published: 9 October 2019
Abstract
:
Tumor blood vessels supply nutrients and oxygen to tumor cells for their growth and provide routes for them to enter circulation. Thus, angiogenesis, the formation of new blood vessels, is essential for tumor progression and metastasis. Tumor endothelial cells (TECs) that cover the inner surfaces of tumor blood vessels reportedly show phenotypes distinct from those of their normal counterparts. As examples, TECs show cytogenetic abnormalities, resistance to anticancer drugs, activated proliferation and migration, and specific gene expression patterns. TECs contain stem-like cell populations, which means that the origin of TECs is heterogeneous. In addition, since some abnormal phenotypes in TECs are induced by factors in the tumor microenvironment, such as hypoxia and tumor cell-derived factors, phenotypic diversity in TECs may be caused in part by intratumoral heterogeneity. Recent studies have identified that the interaction of tumor cells and TECs by juxtacrine and paracrine signaling contributes to tumor malignancy. Understanding TEC abnormality and heterogeneity is important for treatment of cancers. This review provides an overview of the diversity of TECs and discusses the interaction between TECs and tumor cells in the tumor microenvironment.
Keywords:
tumor endothelial cell; metastasis; heterogeneity; angiocrine factor
1. Introduction
Cancer is one of the leading causes of death in most of the advanced countries, and the main cause of cancer death is distant metastasis. Hematogenous metastasis is still incurable, although patient survival has improved. Understanding and overcoming tumor progression and metastasis are crucial in cancer therapy. Tumor tissues require oxygen and nutrients to grow, and these are supplied by blood flow to the tumor. Without neovascularization, most tumors may become dormant at a diameter of 2–3 mm [
1
]. Blood vessels support tumor cell expansion by providing the routes from intravasation in primary tumors to extravasation in distant organs. Tumor blood vessels play an important role in tumor growth and dissemination.
Antiangiogenic therapy was proposed by Dr. Folkman [
1
]. Since solid tumors are dependent on neovascularization for their growth, Folkman suggested that the prevention of neovascularization may restrict tumor growth to a very small diameter [
1
]. Angiogenic inhibitors such as bevacizumab, a humanized anti-vascular endothelial growth factor (VEGF) antibody [
2
], have been used for the past 15 years. Because VEGF is known as a permeability factor [
3
,
4
,
5
], antiangiogenic therapy not only suppresses the growth of tumors, it also normalizes blood vessel structures and improves the delivery of oxygen and drugs, which potentially affects both radiotherapy and chemotherapy [
6
,
7
]. However, the clinical benefits of antiangiogenic therapies have been limited, resulting in slight improvements in prognosis, such as enhancing progression-free survival [
8
]. In addition, resistance to antiangiogenic therapy has emerged because of the complex interaction between tumor cells and stromal cells, including endothelial cells (ECs), which allows for tumor cells to escape these targeted therapies [
9
].
Tumor endothelial cells (TECs) that cover the inner surfaces of tumor blood vessels are the primary targets of antiangiogenic therapy. Several reports have demonstrated that TECs are abnormal, and their abnormality is one of the causes of resistance to antiangiogenic therapy. In addition, TECs show intertumoral and intratumoral heterogeneity in terms of communicating with the surrounding tumor microenvironment. Reviewing how to overcome cancer from a TEC perspective, we focus on the abnormality and diversity of TECs, incorporating a discussion regarding the interaction between TECs and tumor cells in the tumor microenvironment.
2. Abnormalities of TECs
2.1. Tumor Blood Vessels and Normal Blood Vessels
2.2. Differential Characteristics of Tumor and Normal Endothelial Cells
3. Heterogeneity of TECs
3.1. Different Roles in ECs during Angiogenesis
Angiogenesis starts in response to cues in injury or pathological condition. VEGF and other proangiogenic factors stimulate quiescent ECs and activate to adopt angiogenic phenotype. Three types of cells, namely tip, stalk, and phalanx cells, are known to coordinate the sprouting of capillaries from pre-existing vessels. Migrating tip cells lead the nascent vessel sprouts at the forefront. Proliferating stalk cells trail the tip cells and elongate blood vessels [
39
]. Acquiescent phalanx cells form continuous monolayers, forming a tight barrier. These specializations of ECs are transient and reversible by altering the balance between proangiogenic factors, such as VEGF, and suppressors of EC proliferation, such as Dll4-Notch activity [
40
,
41
]. Tip cells migrate in response to the VEGF gradient, while stalk cells that proliferate are dependent on the VEGF concentration [
42
]. Phalanx cells secrete soluble Flt1 (VEGFR-1), which neutralizes VEGF activity to end angiogenesis [
43
].
These ECs differ in their metabolism [
44
,
45
]. Since angiogenic sprouting is metabolically demanding [
46
], ECs rely on glycolysis [
44
], which is stimulated by the regulator PFKFB3. ECs can interchange their position depending on their metabolic condition during angiogenesis. Stalk cells overtake the tip cell position when they express higher levels of PFKFB3 [
44
]. This specialization is one of the heterogeneities of ECs in a tumor microenvironment.
3.2. Origin of TECs
Angiogenesis is the process of sprouting from a pre-existing vessel, while vasculogenesis is mediated by the mobilization of precursor cells, such as endothelial progenitor cells (EPCs) from bone marrow. EPCs were named by Asahara et al., who isolated from adult peripheral blood mononuclear cells showing the same characteristics as the embryonic angioblasts [
47
,
48
,
49
]. Although the identity and the contribution of EPCs in tumors are controversial and are still under discussion, several studies have shown that EPCs are incorporated into newly formed tumor blood vessels [
50
,
51
,
52
,
53
]. The surface markers of EPCs are classically expected to express CD34, VEGFR-2, and CD133 [
49
]. Numerous studies have aimed to target EPCs to develop novel therapeutic strategies, since EPCs or circulating endothelial precursor cells contribute to tumor angiogenesis [
50
,
51
].
ECs are heterogeneous [
54
]; for example, the EC structure and function are different depending on vascular size, which is described in terms of the macrovasculature, including arterial and venous, and in terms of microvascular capillaries [
55
]. Morphology and marker expression in ECs show differences depending on the EC origin [
56
,
57
]. Organ-specific or tissue-specific phenotypes in ECs have also been reported [
55
,
58
,
59
]. ECs show heterogeneity in structure and function, and in time and space [
60
]. TEC heterogeneity can be caused by the surrounding endothelial heterogeneity, with an activating angiogenic switch.
The concept that tumor cells could generate TECs was introduced by some groups of investigators. Streubel et al., demonstrated that chromosomal aberrations were shared by B-cell lymphoma cells and TECs, which means that TECs in B-cell lymphomas are in part tumor related [
61
]. In glioblastomas, some studies reported that glioblastoma stem cells may give rise to TECs [
62
,
63
,
64
]. Ricchi-Vitiani et al., showed that various TECs in glioblastoma carry the same genomic alteration as tumor cells, which indicates that some TECs have neoplastic origin [
62
]. Want et al., also demonstrated that members of a subpopulation of TECs share the same somatic mutations as glioblastoma cells, and that the stem-cell-like CD133+ fraction includes a subset of CD144-expressing cells [
63
]. Soda et al., demonstrated that tumor cells directly transdifferentiate into CD31+CD34+ ECs, which may play a role in resistance found toward anti-VEGF therapy [
64
]. On the contrary, another study showed that glioblastoma cells give rise to pericytes rather than to ECs, using lineage tracing with pericyte- or EC-specific promoter-driven fluorescent reporters [
65
]. The study reported that such an event wherein glioblastoma stem cells give rise to ECs may be very rare because ECs rarely carry the cancer genetic mutations, as other groups of investigators have demonstrated [
65
,
66
,
67
] Transdifferentiation to ECs in tumors may occur in other cell types. In multiple myeloma, tumor-derived pleiotrophin and macrophage colony-stimulating factor stimulate monocytes to induce the expression of EC markers, and the cells become transdifferentiated into ECs that incorporate into tumor blood vessels [
68
]. Since Fernandez et al., demonstrated that monocyte-derived immature dendritic cells behave as endothelial-like cells in the presence of specific cytokines such as VEGF [
69
,
70
], it has been proposed that dendritic cells may possibly transdifferentiate into TECs in a cytokine-rich tumor microenvironment. These variations could lead to TEC diversity.
3.3. Stem Cell Population in TECs
TEC heterogeneity and diversity have also been reported at functional and molecular levels [
71
]. TECs upregulate aldehyde dehydrogenase (ALDH) expression. There are two populations in TECs, such that some have high ALDH activity and some have low. ALDH
high
TECs formed more tubes on Matrigel and sustained the tubular networks longer, with the upregulation of VEGFR2 expression, than ALDH
low
TECs did [
72
]. The ALDH
high
population was resistant to fluorouracil (5-FU) in vitro and in vivo, with upregulation of stem-related genes compared with ALDH
low
TECs [
37
]. Naito et al., reported that vascular-resident stem/progenitor-like ECs, which form a minor population in tumors, contribute to tumor angiogenesis. Because of their ability to efflux Hoechst 33342 dye, they are termed side population cells, and cause drug resistance [
73
]. These reports suggested that the heterogeneity of ECs in tumor tissues may be a mechanism contributing to resistance to anticancer and antiangiogenic therapy (
Figure 2
).
3.4. The Effect of Tumor Microenvironment on TEC Heterogeneity
4. The Role of TECs in Cancer Progression
5. Conclusions
In this review, we addressed the abnormality and heterogeneity of TECs to understand their roles in the tumor microenvironment. The functions of ECs in newly formed blood vessels in tumor tissues are not only to transport nutrients and oxygen for tumor survival and growth, but also to actively promote tumor progression and chemoresistance.
Antiangiogenic therapy has been widely used in many types of tumors; however, since it is now clear that TECs are heterogeneous, to overcome and regulate tumor angiogenesis is a difficult and urgent task. To understand the complex situation in the tumor microenvironment, companion diagnostics to monitor vascularization is required. In addition, both angiogenesis and vasculogenesis need to be targeted to regulate aberrant excessive blood vessels. Targeting multiple growth factors as combination therapy have shown improved outcomes, but the therapeutic effects are sometimes not enough. Another therapy, such as combination with immunotherapy or targeting EC metabolism is expected to normalize tumor microenvironment to cure cancer disease.
Author Contributions
N.M., D.A.A., H.K., Y.H., and K.H. conceived and wrote the review.
Funding
This research was partially funded by JSPS Grants-in-Aid for Scientific Research on Integrated analysis and regulation of cellular diversity Innovative Areas to K.H. (JP18H05092), JSPS Grants-in-Aid for Scientific Research to N.M. (JP18K09715), D.A.A. (JP19K19220), H.K. (JP19K18549), Y.H. (JP18H02891), and K.H. (JP18H02996), Grants from Japan Agency for Medical Research and Development (AMED) to K.H. (JP19ck0106406h0002).
Conflicts of Interest
The authors declare no conflict of interest.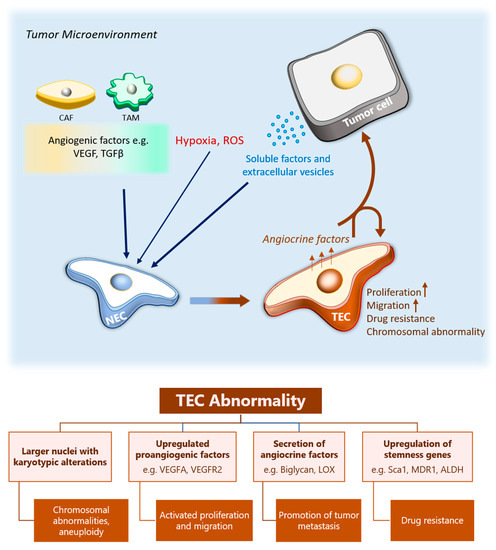 Figure 1. TEC abnormality. Soluble factors and extracellular vesicles released from tumor cells, CAFs and TAMs, induce endothelial cells in pre-existing blood vessels to initiate angiogenesis to form tumor blood vessels. In the process, the NECs are transformed into TECs in the formed tumor vessels. Additionally, hypoxia and ROS in the TME may contribute to the TEC phenotype. TECs have higher proliferative and migration abilities as compared to the NECs. They have an abnormal karyotype characterized by various chromosomal abnormalities and aneuploidy. The genetic changes that occur lead to the upregulated expression of proangiogenic genes e.g., VEGFA and angiocrine factors such as biglycan, which induces angiogenic function in the TECs and may also affect the tumor cells. Furthermore, the upregulation of stemness genes such as MDR1 and ALDH lead to the development of a drug resistant phenotype in the TECs. ROS, reactive oxygen species; TEC tumor endothelial cells; NEC, normal endothelial cell; CAF, cancer-associated fibroblast; TAM, tumor-associated macrophages; TME, tumor microenvironment.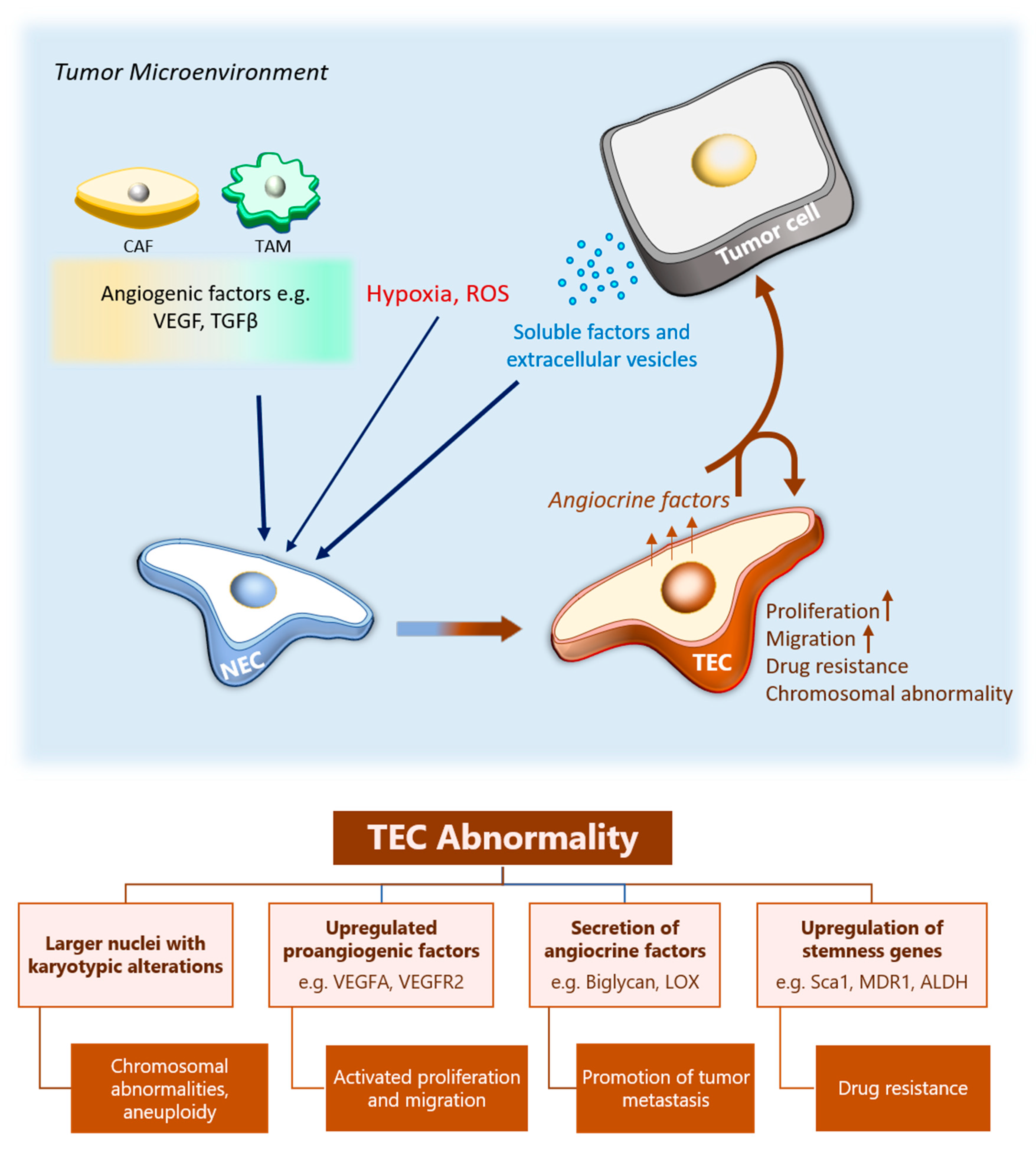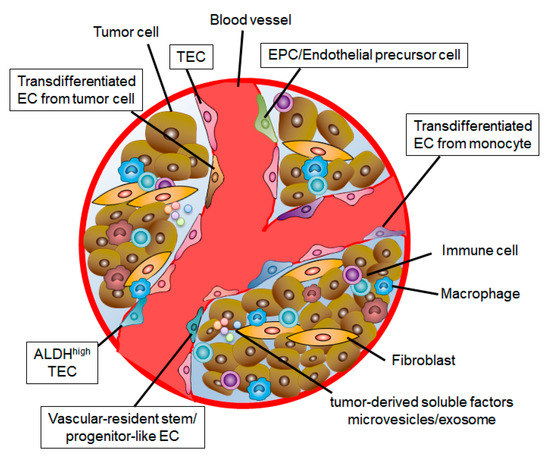 Figure 2. TEC heterogeneity in the tumor microenvironment. TECs are derived from multiple cells. TECs acquire their specific characteristics by several factors in the tumor microenvironment. These variations could lead to TEC diversity.
| Angiocrine Factors | Functions | Refs |
| --- | --- | --- |
| Angiopoietin-2 (Ang2) | Recruit innate immune cells | [96] |
| Basic fibroblast growth factor (bFGF) | Organogenesis and tumorigenesis | [89,97] |
| Biglycan | Stimulate tumor cell intravasation | [79] |
| Bone morphogenetic protein-2, 4 (BMP2, 4) | Tumorigenesis | [98] |
| Calcineurin | Vascular stabilization and promote metastatic outgrowth | [99] |
| C-X-C motif chemokine 12 (CXCL12) | Tumorigenesis and tumor progression | [100,101] |
| Endothelin-1 | Promote tumor growth | [102] |
| Granulocyte colony stimulating factor (G-CSF) | Promote leukemic cell proliferation | [103] |
| Granulocyte macrophage colony stimulating factor (GM-CSF) | Angiogenesis | [104] |
| Insulin growth factor binding protein-7 (IGFBP7) | Tumor-suppressive checkpoint | [105] |
| Insulin growth factor-1 (IGF1) | Stimulate chemoresistance and angiogenesis | [105,106] |
| Interleukin-3 (IL-3) | Promote leukemic cell proliferation | [103] |
| Interleukin-6 (IL-6) | Macrophage activation and tumor progression | [107] |
| Interleukin-8 (IL-8) | Angiogenesis and tumor progression | [108] |
| Jagged-1 (Jag1) | Promote tumor invasiveness and chemoresistance | [90] |
| laminin α4 (LAMA4) | Tumorigenesis | [109] |
| Lysyl oxidase (Lox) | Angiogenesis and stimulate tumor cell intravasation | [30] |
| Nitric oxide (NO) | Tumorigenesis | [110] |
| Platelet-derived growth factor (PDGF) | Angiogenesis and tumorigenesis | [94] |
| Placental growth factor (PGF) | Angiogenesis and tumorigenesis | [111] |
| Pentraxin 3 (PTX3) | Stimulate TEC proliferation | [31] |
| Slit2 | Tumor suppression | [95] |
| Suprabasin | Angiogenesis | [112] |
| Transforming growth factor beta (TGF-β) | Tumorigenesis and tumor progression | [113] |
| Vascular endothelial growth factor-A (VEGFA) | Angiogenesis and autocrine loop | [114] |

© 2019 by the authors. Licensee MDPI, Basel, Switzerland. This article is an open access article distributed under the terms and conditions of the Creative Commons Attribution (CC BY) license (http://creativecommons.org/licenses/by/4.0/).