Open Access This article is
freely available
re-usable
Review
Obesity-Induced TNFα and IL-6 Signaling: The Missing Link between Obesity and Inflammation—Driven Liver and Colorectal Cancers
Max Planck Institute for Metabolism Research, Cologne Excellence Cluster on Cellular Stress Responses in Aging-associated Diseases (CECAD), Center for Endocrinology, Diabetes and Preventive Medicine (CEDP), 50931 Cologne, Germany
*
Author to whom correspondence should be addressed.
Received: 16 November 2018 / Accepted: 21 December 2018 / Published: 27 December 2018
Abstract
:
Obesity promotes the development of numerous cancers, such as liver and colorectal cancers, which is at least partly due to obesity-induced, chronic, low-grade inflammation. In particular, the recruitment and activation of immune cell subsets in the white adipose tissue systemically increase proinflammatory cytokines, such as tumor necrosis factor α (TNFα) and interleukin-6 (IL-6). These proinflammatory cytokines not only impair insulin action in metabolic tissues, but also favor cancer development. Here, we review the current state of knowledge on how obesity affects inflammatory TNFα and IL-6 signaling in hepatocellular carcinoma and colorectal cancers.
Keywords:
Obesity; low-grade inflammation; liver and colon cancer; IL-6 and TNF; signaling
1. Obesity-Induced Inflammation Impairs Insulin Action
Insulin binding to the insulin receptor (IR) results in the activation of the intrinsic tyrosine kinase of IR and subsequent tyrosine phosphorylation of the IRS1, ultimately causing protein kinase B (AKT) activation. Obesity increases systemic levels of tumor necrosis factor α (TNFα) and interleukin-6 (IL-6). TNFα signaling activates intracellular c-JUN N terminal kinase (JNK) and IκB kinase (IKK). Both blunt insulin signaling by inhibitory phosphorylation of IRS1 at serine 307. TNFα signaling triggers the production of ceramides through the sphingomyelin phosphodiesterase (SM). Ceramides suppress the phosphorylation of IR, thereby inhibiting the insulin signaling pathway. IL-6 binds to the IL-6 receptor α (IL-6Rα), which recruits two glycoprotein 130 (GP130) receptor molecules to activate janus kinase (JAK). JAK phosphorylates tyrosine residues of the GP130 receptor and thereby induces activation of signal transducer and activator of transcription 3 (STAT3). Phosphorylated STAT3 translocates into the nucleus and induces target gene expression. In turn, suppressor of cytokine signaling 3 (SOCS3) is expressed and inhibits the IL-6 signaling pathway and ubiquitinates IRS1, resulting in its degradation.
2. TNFα and Its Bivalent Role in Liver Homeostasis
TNFα is one of the master regulators of liver homeostasis. It mediates hepatocyte proliferation, but also controls hepatocyte apoptosis and necroptosis [
39
,
40
]. Secreted TNFα binds either TNF receptor 1 (TNFR1) or TNF receptor 2 (TNFR2) [
41
]. However, the main signal transduction occurs via TNFR1. TNFR activates proinflammatory nuclear factor κB (NF-κB) and mitogen-activated protein (MAP) kinase pathways rapidly through signaling complex I [
42
], which is composed of the adaptor molecule TNF type 1-associated DEATH domain protein (TRADD), the kinase receptor interacting serine/threonine-protein kinase 1 (RIP1), as well as TNFR-associated factor 2 (TRAF2). The NF-κB heterodimer composed of p65 and p50 is sequestered in the cytosol by inhibitor of κBα (IκBα), when cells are not exposed to TNFα. TNFα-mediated activation of the IKK complex, which is comprised of the two catalytic subunits, IKK1 and IKK2, as well as the regulatory subunit NF-κB essential modulator (NEMO), induces classical NF-κB pathway activation through IKK-mediated phosphorylation and degradation of IκBα (
Figure 2
). Degradation of IκBα leads to nuclear translocation of the p65/p50 heterodimer and subsequently the induction of NF-κB-dependent target gene expression such as proinflammatory and cell survival genes [
43
]. NF-κB induces transcription of antiapoptotic target genes such as cellular inhibitors of apoptosis (cIAPs), cIAP1, cIAP2, X-linked inhibitor of apoptosis protein (XIAP), and B cell lymphoma 2 (Bcl2) family members [
44
,
45
].
In addition to IKK complex/NF-κB signaling, the JNK pathway has emerged as one of the key regulators of hepatic inflammation (
Figure 2
) [
46
]. Here, TNFR activation leads to the formation of complex I and activation of transforming growth factor
β
-activated kinase 1 (TAK1) [
46
]. TAK1 further activates mitogen-activated protein kinase kinase 4 (MKK4) and MKK7, which subsequently leads to JNK activation and downstream cJUN activation.
3. TNFα: A Key Driver of Hepatocellular Carcinoma (HCC) Development
4. Hepatic IL-6 Signaling: Cytokine with Versatile Functions
The pleiotropic glycoprotein IL-6 is an important signaling molecule in the activation of the immune system in response to infections and systemic inflammation [
75
]. IL-6 activates T cells, promotes B cell differentiation, and regulates the acute-phase response in the liver [
76
,
77
,
78
]. It also affects lipid metabolism, insulin resistance, and mitochondrial activity [
79
,
80
]. IL-6 further plays a role in vascular diseases, the neuroendocrine system, as well as neuropsychological behavior [
81
,
82
,
83
,
84
], hence, emphasizing the pleiotropic characteristics of this cytokine. Moreover, IL-6 was shown to maintain chronic inflammation and thus promotes disease progression, for example, autoimmune encephalomyelitis [
85
], arthritis [
86
,
87
], pristine-induced lupus [
88
], plasmacytomas [
89
,
90
,
91
], and various cancers including HCC [
51
,
92
,
93
,
94
,
95
,
96
,
97
].
The expression of IL-6 is induced by TNFα and IL-1 [
98
]. Furthermore, the Toll-like receptors, prostaglandins, adipokines, stress responses, and others are also involved in the induction of IL-6 expression [
98
]. The canonical IL-6 signaling pathway is transduced through the IL-6Rα (
Figure 2
), a transmembrane receptor found on hepatocytes, macrophages, T-lymphocytes, and endothelial cells [
75
]. For signal transduction, the IL-6Rα alone is not sufficient, but the ubiquitously expressed GP130 receptor molecule is necessary to induce downstream signaling [
76
,
77
,
78
]. Binding of IL-6 to the IL-6Rα chain recruits two GP130 chains, which activates JAK/STAT pathways [
79
,
80
]. JAK phosphorylates five tyrosine residues of GP130 and thereby induces intracellular signaling cascades including STAT3, phosphoinositide-3-kinase (PI3K)/ protein kinase B (AKT), and mitogen-activated protein kinase (MAPK) [
99
,
100
,
101
,
102
,
103
,
104
,
105
,
106
]. Besides the membrane-bound IL-6Rα, a soluble form (sIL-6Rα), which induces IL-6 trans-signaling, has been described [
107
]. In humans, the sIL-6Rα is either produced by alternative splicing [
108
] or by A disintegrin and metalloproteinase domain 10 (ADAM10)- and ADAM17-mediated shedding of the membrane-bound receptor; the latter has also been seen in mice [
109
]. Through association of IL-6 with sIL-6Rα, this complex can directly bind to ubiquitously expressed GP130 receptors on the cell membrane, enabling IL-6 stimulation of cells, which do not express the membrane-bound IL-6Rα [
90
,
91
].
Various cell types express the IL-6Rα, but the cell-specific effects of IL-6 signaling differ depending on the target cells. Under nonpathological conditions, deficiency of hepatic IL-6 signaling was shown to impair insulin sensitivity and glucose tolerance via accelerated TNFα expression [
33
]. Moreover, previous studies focusing on IL-6 signaling in immune cells attribute IL-6 an important role in the control of macrophage polarization, favoring the anti-inflammatory M2 state [
32
]. IL-6 signaling in NK cells was shown to drive their reprogramming into cells with myeloid gene expression and thereby impair insulin action in obesity [
14
].
5. IL-6 Signaling: A Fatal Player in Obesity-Induced HCC
6. Obesity Disturbs the Balance of Inflammatory Effectors and Inhibitors
Collectively, obesity-associated increases of systemic TNFα and IL-6 might impact HCC initiation and progression via redundant and opposing functions of downstream signaling molecules. Therefore, further detailed analyses of signaling capacities in obesity and HCC are required to develop novel approaches to combat this fatal disease.
7. Obesity-Induced Inflammation and CRC
Taken together, these studies demonstrate that TNFα and IL-6, either induced by obesity or the colonic tumor microenvironment, exert their function mainly on infiltrating immune cells and, to a lesser extent, on intestinal cells to promote CRC. Therefore, future studies will be required to pinpoint exact signaling pathways in obesity and cancer that are amenable for cancer therapy.
8. Conclusions
The obesity epidemic is expected to still rise during the next years, and the prevalence of obesity-associated cancer, as well as its treatment expenses, will increase, representing enormous socioeconomic efforts. Given that inflammatory pathways can exert redundant or opposing functions depending on context and cell type, future studies will be required to define exact signaling pathways that contribute to obesity and cancer and are amenable for anticancer therapies.
Funding
This research was funded by the DFG SFB670-associated project and KFO 286 RP5 as well as from the German Cancer Aid foundation.
Conflicts of Interest
The authors declare no conflict of interest.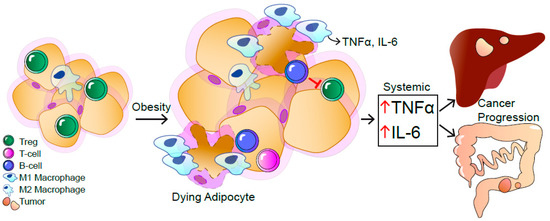 Figure 1. The obesity-induced, systemic, low-grade inflammation contributes to the progression of hepatocellular carcinoma (HCC) and colorectal cancer (CRC). As a response to mechanical and endoplasmatic reticulum stress in obesity, immune cells are recruited to the white adipose tissue (WAT). Dying adipocytes are surrounded by macrophages visible as crown-like structures. In obese WAT, the number of M1-polarized macrophages is increased that release inflammatory cytokines like tumor necrosis factor α (TNFα) and Interleukin-6 (IL-6), resulting in a local and systemic low-grade inflammation. B and T cells are recruited to the obese WAT. Infiltrating B cells inhibit regulatory T cells, further contributing to systemic inflammation accompanied with elevated IL-6 and TNFα levels, causing HCC and CRC.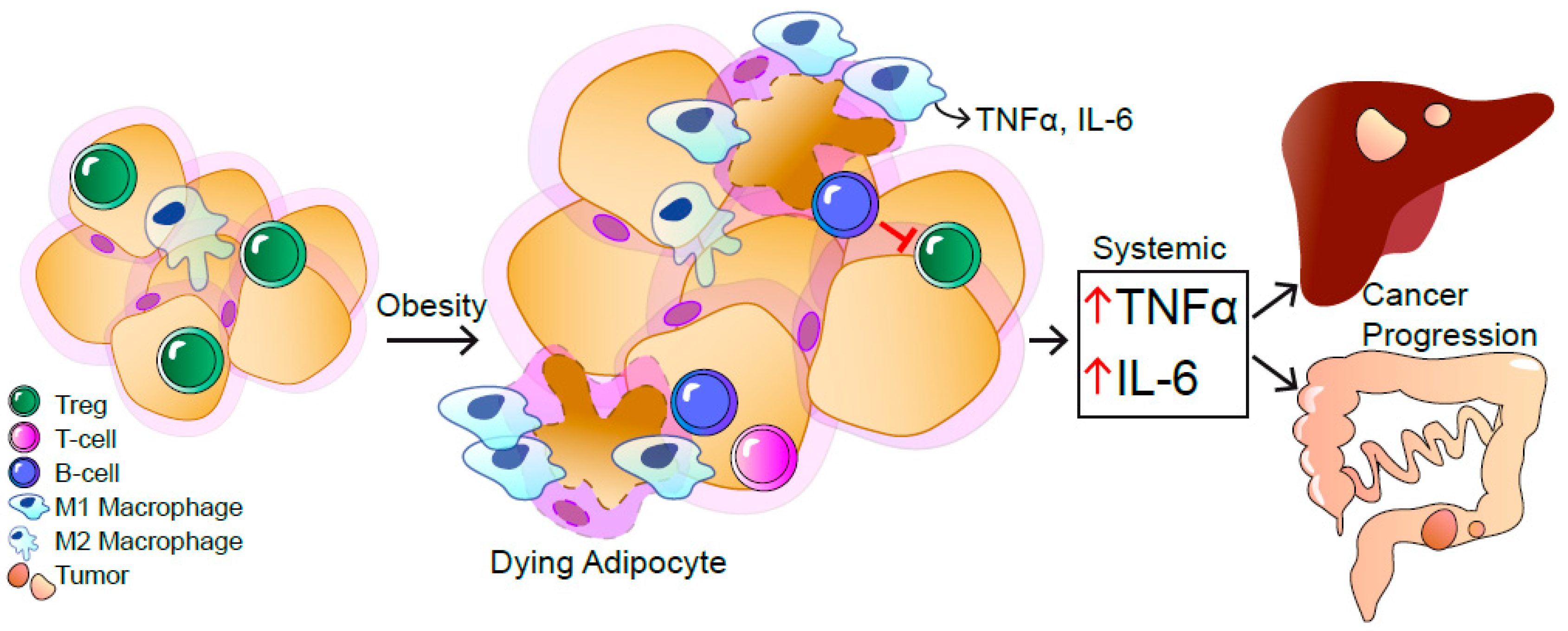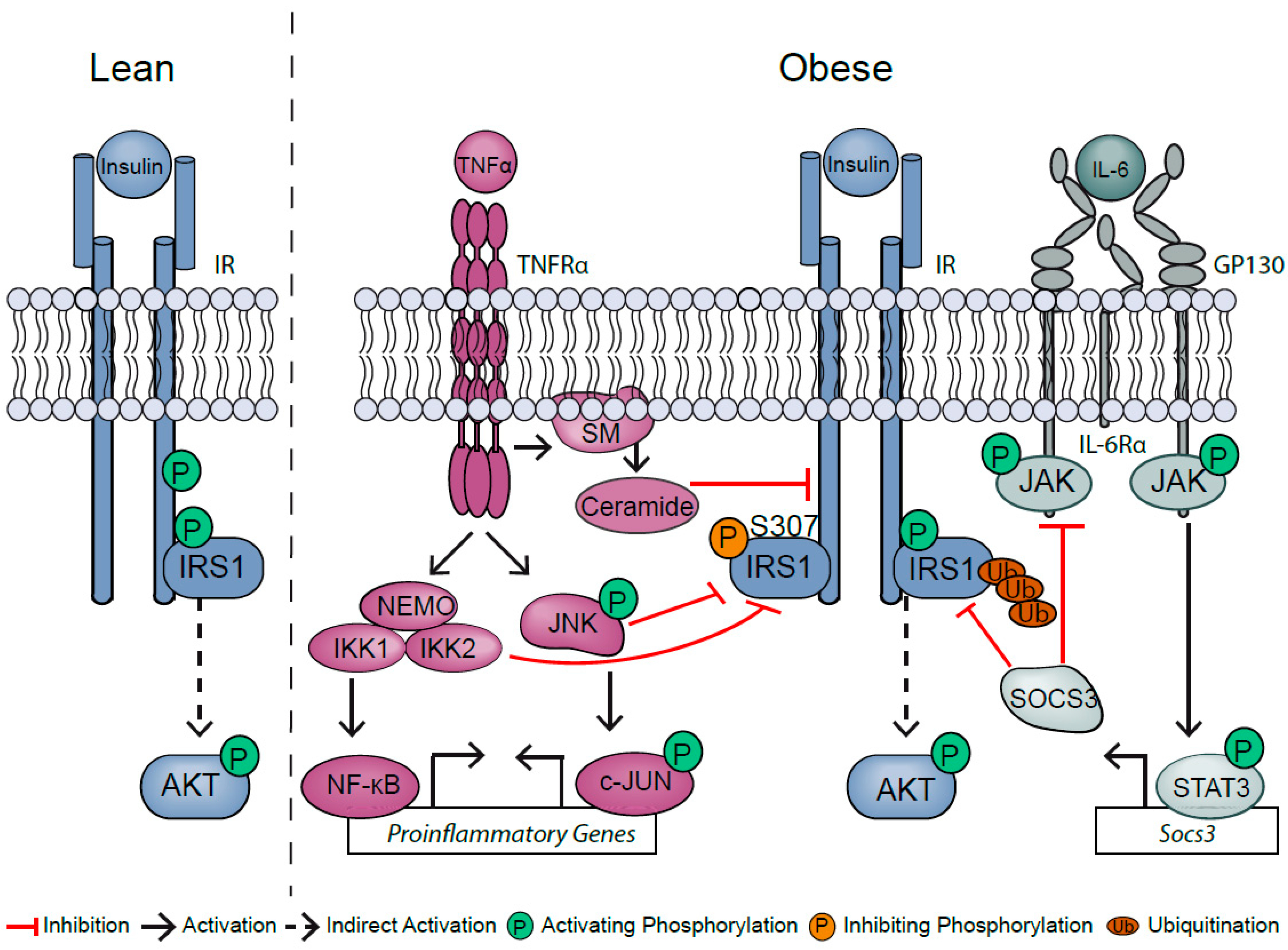 © 2018 by the authors. Licensee MDPI, Basel, Switzerland. This article is an open access article distributed under the terms and conditions of the Creative Commons Attribution (CC BY) license (http://creativecommons.org/licenses/by/4.0/).