Detection of TP53 Mutations in Tissue or Liquid Rebiopsies at Progression Identifies ALK+ Lung Cancer Patients with Poor Survival
1
Department of Thoracic Oncology, Heidelberg University Hospital, 69126 Heidelberg, Germany
2
Translational Lung Research Center Heidelberg (TLRC-H), Member of the German Center for Lung Research (DZL), 69120 Heidelberg, Germany
3
Division of Cancer Genome Research, German Cancer Research Center (DKFZ) and National Center for Tumor Diseases (NCT), 69120 Heidelberg, Germany
4
German Cancer Consortium (DKTK), 69120 Heidelberg, Germany
5
Institute of Pathology, Heidelberg University Hospital, 69120 Heidelberg, Germany
6
Diagnostic and Interventional Radiology with Nuclear Medicine, Thoraxklinik at Heidelberg University Hospital, 69126 Heidelberg, Germany
7
Department of Diagnostic and Interventional Radiology, Heidelberg University Hospital, 69120 Heidelberg, Germany
8
Department of Pneumology, Thoraxklinik at Heidelberg University Hospital, 69126 Heidelberg, Germany
9
Department of Surgery, Thoraxklinik at Heidelberg University Hospital, 69126 Heidelberg, Germany
10
Translational Research Unit, Thoraxklinik at Heidelberg University Hospital, 69126 Heidelberg, Germany
11
BIH-Genomics Core Unit, Charité-Universitätsmedizin Berlin, 13125 Berlin, Germany
*
Authors to whom correspondence should be addressed.
†
These authors contributed equally to this work.
Received: 10 December 2018 / Revised: 15 January 2019 / Accepted: 18 January 2019 / Published: 21 January 2019
Abstract
Anaplastic lymphoma kinase (ALK) sequencing can identify resistance mechanisms and guide next-line therapy in ALK+ non-small-cell lung cancer (NSCLC), but the clinical significance of other rebiopsy findings remains unclear. We analysed all stage-IV ALK+ NSCLC patients with longitudinally assessable TP53 status treated in our institutions (n = 62). Patients with TP53 mutations at baseline (TP53mutbas, n = 23) had worse overall survival (OS) than patients with initially wild-type tumours (TP53wtbas, n = 39, 44 vs. 62 months in median, p = 0.018). Within the generally favourable TP53wtbas group, detection of TP53 mutations at progression defined a "converted" subgroup (TP53mutconv, n = 9) with inferior OS, similar to that of TP53mutbas and shorter than that of patients remaining TP53 wild-type (TP53wtprogr, 45 vs. 94 months, p = 0.043). Progression-free survival (PFS) under treatment with tyrosine kinase inhibitors (TKI) for TP53mutconv was comparable to that of TP53mutbas and also shorter than that of TP53wtprogr cases (5 and 8 vs. 13 months, p = 0.0039). Fewer TP53wtprogr than TP53mutbas or TP53mutconv cases presented with metastatic disease at diagnosis (67% vs. 91% or 100%, p < 0.05). Thus, acquisition of TP53 mutations at progression is associated with more aggressive disease, shorter TKI responses and inferior OS in ALK+ NSCLC, comparable to primary TP53 mutated cases.
View Full-Text
►

▼

Figures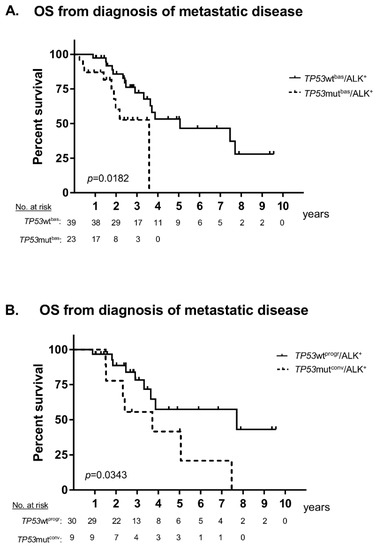 Figure 1
This is an open access article distributed under the
Creative Commons Attribution License
which permits unrestricted use, distribution, and reproduction in any medium, provided the original work is properly cited (CC BY 4.0).

Share & Cite This Article
MDPI and ACS Style
Christopoulos, P.; Dietz, S.; Kirchner, M.; Volckmar, A.-L.; Endris, V.; Neumann, O.; Ogrodnik, S.; Heussel, C.-P.; Herth, F.J.; Eichhorn, M.; Meister, M.; Budczies, J.; Allgäuer, M.; Leichsenring, J.; Zemojtel, T.; Bischoff, H.; Schirmacher, P.; Thomas, M.; Sültmann, H.; Stenzinger, A. Detection of TP53 Mutations in Tissue or Liquid Rebiopsies at Progression Identifies ALK+ Lung Cancer Patients with Poor Survival. Cancers 2019, 11, 124.
Note that from the first issue of 2016, MDPI journals use article numbers instead of page numbers. See further details here.
Related Articles
Comments
[Return to top]