Varlitinib Downregulates HER/ERK Signaling and Induces Apoptosis in Triple Negative Breast Cancer Cells
1
Comprehensive Breast Health Center, Taipei Veterans General Hospital, No.201, Sec.2, Shih-Pai Rd., Taipei 112, Taiwan
2
Division of Medical Oncology, Department of Oncology, Taipei Veterans General Hospital, No.201, Sec.2, Shih-Pai Rd., Taipei 112, Taiwan
3
School of Medicine, National Yang-Ming University, No.155, Sec.2, Li-Nong Street, Taipei 112, Taiwan
4
Division of Transfusion Medicine, Department of Medicine, Taipei Veterans General Hospital, No.201, Sec.2, Shih-Pai Rd., Taipei 112, Taiwan
5
Department of Pathology, Show Chwan Memorial Hospital, No.542, Sec.1, Chung-Shan Rd., Changhua City 500, Taiwan
6
School of Medicine, Fu Jen Catholic University, No.510, Zhong-zheng Rd., Xin-zhuang Dist., New Taipei City 24205, Taiwan
7
Division of Hematology and Oncology, Department of Medicine, Yang-Ming Branch of Taipei City Hospital, No.145, Zhengzhou Rd., Datong Dist., Taipei 103, Taiwan
8
Department of Medical Genetics, National Taiwan University Hospital, No.7, Chung-Shan South Rd., Taipei 100, Taiwan
9
Graduate institute of medical genomics and proteomics, National Taiwan University, No.1, Sec.4, Roosevelt Rd., Taipei 106, Taiwan
10
Hematology/Oncology, Tri-Service General Hospital, National Defense Medical Center, No.325, Sec.2, Cheng-gong Rd., Taipei 114, Taiwan
11
Department of Surgery, Taipei Veterans General Hospital, Taipei 112, Taiwan
*
Author to whom correspondence should be addressed.
Received: 29 December 2018 / Accepted: 15 January 2019 / Published: 17 January 2019
Abstract
Triple-negative breast cancer (TNBC) is a complex disease associated with the aggressive phenotype and poor prognosis. TNBC harbors heterogeneous molecular subtypes with no approved specific targeted therapy. It has been reported that HER receptors are overexpressed in breast cancer including TNBC. In this study, we evaluated the efficacy of varlitinib, a reversible small molecule pan-HER inhibitor in TNBC. Our results showed that varlitinib reduced cell viability and induced cell apoptosis in most TNBC cell lines but not in MDA-MB-231 cells. MEK and ERK inhibition overcame resistance to varlitinib in MDA-MB-231 cells. Varlitinib inhibited HER signaling which led to inhibition of migration, invasion and mammosphere formation of TNBC cells as well as significant suppression of tumor growth of MDA-MB-468 xenograft mouse model. In summary, these results suggest that HER signaling plays an important role in TNBC progression and that pan-HER inhibition is potentially an effective treatment for TNBC patients.
View Full-Text
►

▼

Figures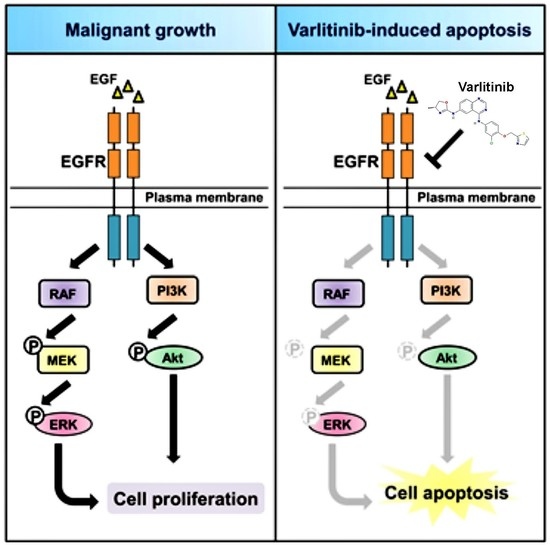 Graphical abstract
This is an open access article distributed under the
Creative Commons Attribution License
which permits unrestricted use, distribution, and reproduction in any medium, provided the original work is properly cited (CC BY 4.0).

Share & Cite This Article
MDPI and ACS Style
Liu, C.-Y.; Chu, P.-Y.; Huang, C.-T.; Chen, J.-L.; Yang, H.-P.; Wang, W.-L.; Lau, K.-Y.; Lee, C.-H.; Lan, T.-Y.; Huang, T.-T.; Lin, P.-H.; Dai, M.-S.; Tseng, L.-M. Varlitinib Downregulates HER/ERK Signaling and Induces Apoptosis in Triple Negative Breast Cancer Cells. Cancers 2019, 11, 105.
Note that from the first issue of 2016, MDPI journals use article numbers instead of page numbers. See further details here.
Related Articles
Comments
[Return to top]